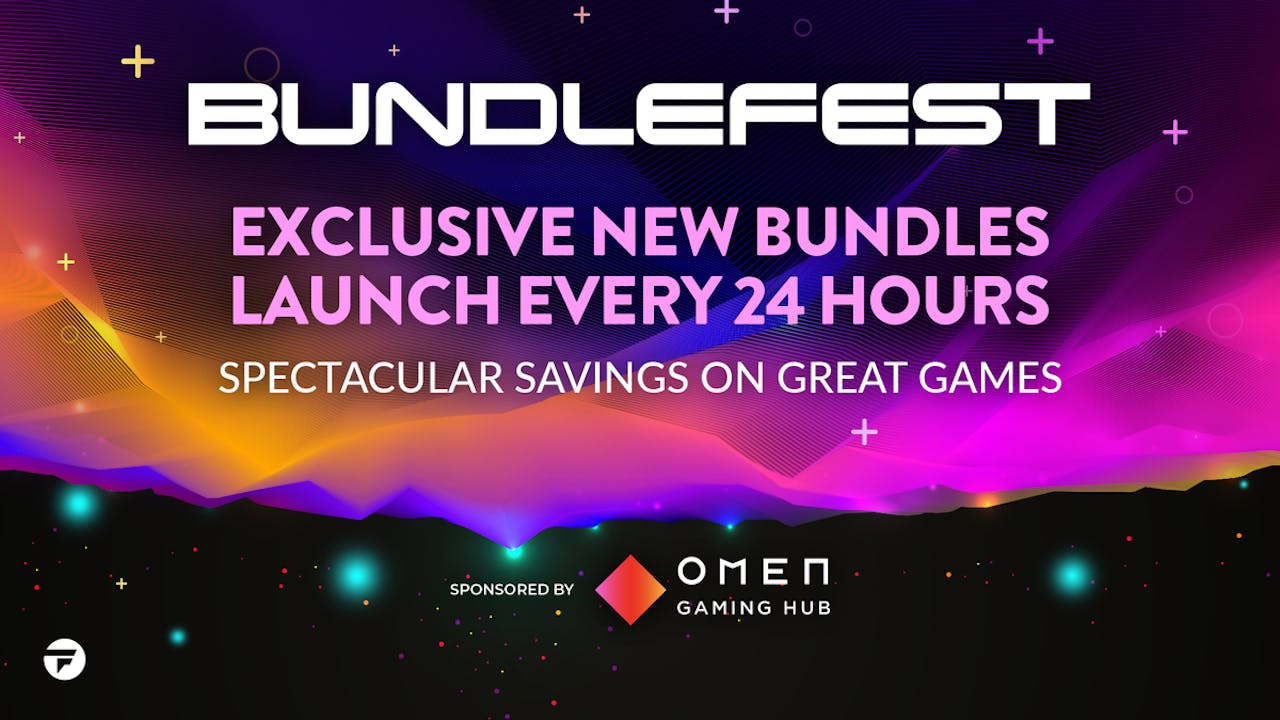 BundleFest is here with bundles, bundles, and more bundles, with our sponsorship partner OMEN Gaming Hub! If you've been waiting to build up your game catalogue, then you can do no better than BundleFest. What's more, we've kicked things off in style with the Killer 25, giving you 25 games for $25, so it's an instant game collection!
What's more, we've got a contest for you where you can win a bundle of games that you choose, and more things to come over the coming week, so keep your eyes glued to this blog for daily updates!
DAY 5 - Prestige Collection - Build your own Bundle
Finishing off this fine BundleFest is the Prestige Collection - Build your own Bundle - May 2023! You don't get more prestigious than being the one bundle to end the week on, and with 19 games to choose from you're spoilt for choice!
Craft your own bundle of two, three, or four games, choosing from post-apocalyptic, Halloween-themed, gang-driven, or influenced by real life! Is it a chair or is it Prey Digital Deluxe? How dirty is that GRIME? Do you really still not own The Elder Scrolls V: Skyrim Special Edition?
DAY 4 - Build your own Breakout Bundle & more
Kicking off the penultimate day of BundleFest is the Build your own Breakout Bundle with 20 games we've never bundled before! Curate a bundle all of your own in a batch of three, five, or eight titles, such as the roguelike Void Scrappers, the platformer Gunborg: Dark Matters, or the stealth action of UNDETECTED!
The day isn't over though, as the Mystery on the Move Bundle has a bunch of Steam Deck compatible games for you to check out! Grab the bundle to get three games perfect for any handheld gaming session, for one price! Will you get some puzzles? RPGs? Some of each? Who knows? Well, you'll know once you buy the bundle!
Finally for today we have All-In-One Game Maker 2D Asset Packs, which has three tiers of music, sprites, tilesets, and more! If you're working on a Game Maker game and need some monsters or a forest? This bundle is what you need.
Get ready to take your gaming on the go with our latest Mystery Gaming Bundle! The Mystery on the Move Bundle features a curated selection of games that are all compatible...
DAY 3 - Build your own Quest VR Collection & Dollar Collections
The third day of BundleFest has some of our most popular items: Dollar Collections! That's right, you can pick up any of the 17 bundles and packs on offer for just $1. Whether you want some space action with the Starpoint Gemini 2 Gold Pack, want to flex some brain power with the Creative Writing & Art Pocket Pack, read some Japanese fiction with the Manga Comics Pocket Pack — just go check them all out, I can't list them all!
Next up, the Build your own Quest VR Collection with 24 games to choose from, to make a bundle of four, seven, or 10! Can you become a Prison Boss VR? Can you score a perfect game in ForeVR Bowl? How about taking on hordes of the undead in Zombieland: Headshot Fever? Of course, you could just become the champ in Creed: Rise to Glory - Championship Edition!
Welcome to the ultimate VR adventure with the Build your own Quest VR Collection! Immerse yourself in an epic journey with the most exciting and action-packed titles available...
DAY 2 - Play on the Go PREMIUM EDITION - Build your own Bundle, Bethesda VR Collection & more
The second day of BundleFest brings some games that will work great on the Steam Deck with the Play on the Go PREMIUM EDITION - Build your own Bundle. Choose from 20 games to put together your perfect bundle of two, three, or five games! Pick from AMID EVIL, Dusk Diver, Cobra Kai: The Karate Kid Saga Continues, Lair of the Clockwork God, and many more!
We also have the Bethesda VR Collection which gives you four action-packed games from Bethesda Softworks, right in front of your face! Head to The Commonwealth to fight feral ghouls in Fallout 4 VR, revisit Tamriel in The Elder Scrolls V: Skyrim VR, combat demons in DOOM VFR, and take on the Nazi scourge in Wolfenstein: Cyberpilot!
And the Confident Game Design & Development eLearning Bundle, with 10 courses from One Education about using Inkscape, Gamemaker Studio 2, and more! Spread across three tiers, enhance your knowledge from as little as $4.99 / £4.95 / €5.55!
Step into the immersive world of virtual reality with the Bethesda VR Collection! Packed with legendary titles from the renowned game studio, this collection brings the best...
DAY 1 - Killer Bundle 26
If you've ever wanted to get 24 games and two DLC in one bundle and pay less than $1 for each title, then the Killer Bundle 26 is exactly what you need!
See how strange Oddworld: Soulstorm Enhanced Edition is (as well as every other Oddworld game!), try to keep dry in Rain World, and summit The Ascent if you can. Okay, maybe I should have stopped after "every other Oddworld game", because not only have we never bundled every Oddworld game, but you're also getting a bunch of other titles for one price!
Welcome to Killer Bundle 26, the ultimate collection boasting 24 games and 2 DLC. Packed with a diverse range of titles, this bundle takes your gaming experience to the next...
What is OMEN Optimizer?
The optimizer feature will enhance the performance of your gaming PC for each game you play. The system vitals dashboard feature will display your PC's key metrics in real time, so you can monitor and troubleshoot your system's performance. Grab it here!
Make sure to sign up to our newsletter to make sure you don't miss anything!
---
---
Share this post