The upcoming releases and announcements from Ubisoft's recent event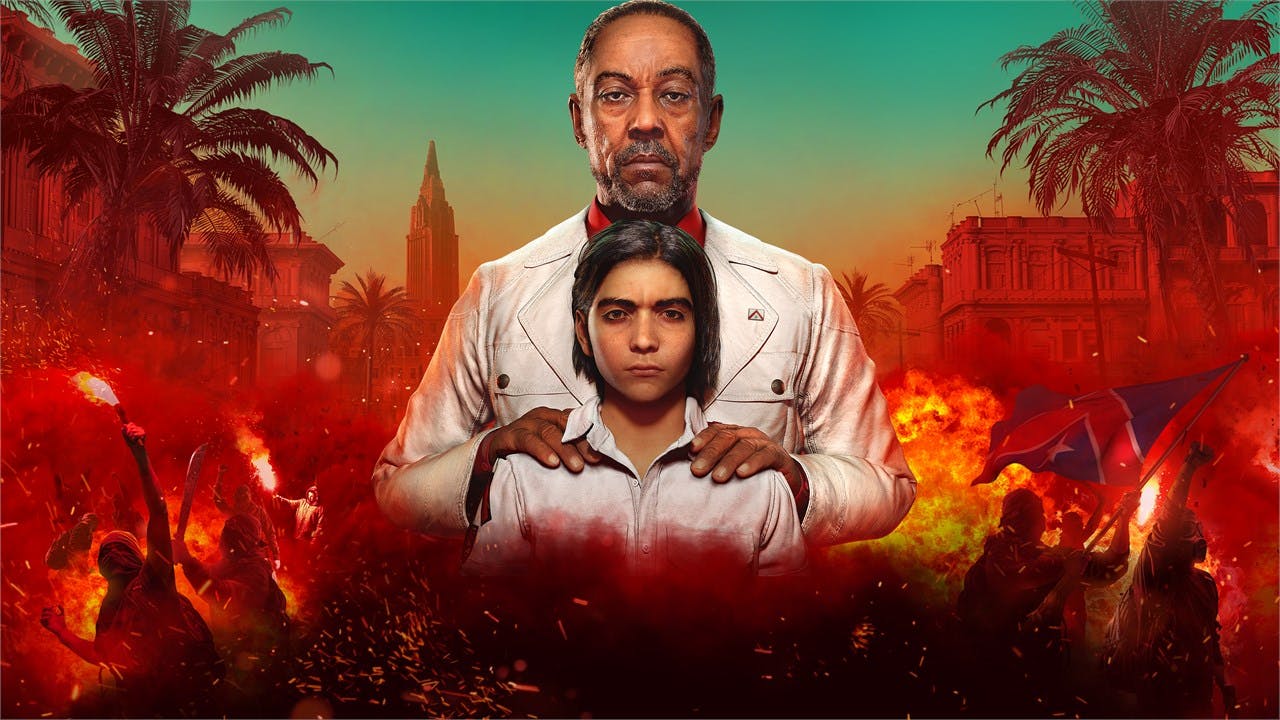 Enhance your experience with the Assassin's Creed Odyssey ULTIMATE EDITION, including the deluxe pack and Season Pass.
With no E3 this year due to the COVID-19 pandemic, game studios and major developers & publishers have been announcing new details and showcasing their work via their own mini shows across the web.
Over the weekend, Ubisoft to centre stage for its Ubisoft Forward event to bring us up to speed on what's happening with upcoming releases, as well as some brand new game reveals.
If you didn't watch the event live and want to catch up on the main announcements, here are five key things that happened during Ubisoft Forward.
Far Cry 6 was officially announced
"And we would have gotten away with it too, if it weren't for you meddling leaks"
News had already circulated last week that we should expect a new Far Cry game announcement during #UbiForward, and now the developer/publisher has officially unveiled Far Cry 6, which will take players to into the heart of a modern-day guerrilla revolution set in Yara - a tropical paradise frozen in time. The main antagonist this time around is President Anton Castillo, played by The Mandalorian and Breaking Bad actor Giancarlo Esposito, who has vowed to restore his country to its former glory while grooming his son, Diego, to follow in his footsteps.
Creating such a paradise must come at a price as enriching his country means subjugating those who don't adhere to his vision. In this island nation in turmoil, players will experience the adrenaline and chaos of guerrilla combat as they are swept up in a revolutionary movement to take down a tyrant.
Gamers and the media have been quick to notice striking similarities between Diego and Vaas Montenegro, one of the antagonists from Far Cry 3, which - if true - could mean that Far Cry 6 is a prequel game to FC3.
The game launches on February 18th, 2021 for Xbox Series X, PlayStation 5, Xbox One, PlayStation 4, PC & PC via Epic and Stadia.
More Assassin's Creed Valhalla gameplay footage
We'd seen a few snippets of Ubisoft's new Assassin's Creed Valhalla game earlier this year, but gamers got to see a lot more in-depth features that will be appearing in the game during the Ubisoft Forward event. In your epic invasion of old England, you'll take on the role of brand new protagonist Eivor, who is fully customizable and players can choose whether they are male or female, we also found out during this event that players can actually switch between the two genders at any point during the game, rather than selecting one and sticking with it as seen in Assassin's Creed Odyssey (Alexios or Kassandra).
Those of you who have played recent releases like Odyssey and Assassin's Creed Origins will have a familiar sense of the combat system and vast exploration, but Ubisoft has made some subtle tweaks to ensure that fans get a taste of nostalgia along with some new features. The hidden blade mechanic is back, meaning one-shot kills also return rather than the level system seen in Odyssey and Origins (e.g stealth attacking a guard higher ranked than you will not kill them).
Each main region of old England (East Anglia, London, Mercia, etc) will also have their own unique sagas, stories and challenges, so players will not be simply accepting a quest from one character to run across the map the find their papers, or goat, or whatever. Your actions will also have repercussions on how certain stories unfold.
In the demo during Ubisoft Forward, Eivor is given the option to either show mercy or kill a defeated Viking clan chief. The decision you make here will then affect future encounters with said character and those close to you. One feature which will have no doubt sent most gamers into hype overdrive is that you can, in fact, recruit a CAT to your longship.
Well, when we say recruit we mean that the cat sits near the front of the ship looking all furry and cozy, don't expect it to jump off the side of the ship wielding axes and a helmet!
In addition, the health recovery system has had a revamp, meaning players' health will not automatically refill when out of danger as it did in previous instalments in the series. Instead, players must fish and hunt for food and carry supplies into battle in order to regain health - though we suspect that skill upgrades later down your Viking journey will probably help regenerate health.
There's also a stamina bar, which means Eivor can't just go swinging his/her weapons around in a mad rage without consequences.
Other new features include 'flyting', which was the Nordic age's equivalent to rap battles, as well as settlement building, meaning Eivor and his/her crew can build a home from home. Parkour still plays a big role in the game, so say the devs, and fans of Assassin's Creed 3 will feel at home running across trees to capture floating collectables.
Assassin's Creed Valhalla launches on November 17th, 2020 for Xbox One, PlayStation 4, PC, Stadia and Epic Games Store. Plus, fans who buy AC Valhalla will be able to upgrade to the next-gen version (Xbox Series X or PlayStation 5) at no additional cost*.
Watch Dogs: Legion has an official release date
From the coverage at last year's E3 event, Watch Dogs: Legion look like it was shaping up to be a great open-world game. As well as confirming the official release date, Ubisoft showcased some more gameplay footage during Ubi Forward.
For those catching up on WD: Legion for the first time, the action-adventure puts players in the middle of London during its downfall. With an all-seeing surveillance state oppressing the people, private militaries such as 'Albion' now control the streets and a powerful crime syndicate is preying on the vulnerable.
Unlike previous games in the Watch Dogs series where you control a set protagonist hacker, Watch Dogs: Legion is stepping it up a gear by allowing you to recruit and play as any citizen you come across in the game - and depending on who you choose will grant you specific skill traits and features based on each individual. Opt for a royal guard, street thug, Albion soldier or even a 'helpless' old granny.
Watch Dogs: Legion launches on October 29th, 2020 for Xbox One, PlayStation 4, Stadia, PC on Epic Games and Uplay. As with Far Cry 6, the game will also be available on UPLAY+, Ubisoft's subscription service, and will also be available on the Xbox Series X and PlayStation 5.
Hyper Scape is a free-to-play battle royale
Battle royale? never heard of it!
Ubisoft has also added a new title to this bulging genre with the announcement of Hyper Scape, a 'free-to-play, fast-paced urban battle royale FPS' developed by Ubisoft Montreal. The game takes place in the distant future of 2054, where up to 100 Contenders head into the virtual city of Neo-Arcadia to engage in action-packed matches to be crowned champion.
A beta for the PC version of the game is live right now and the game is compatible with the unique Hyper Scape Crowncast, a Twitch extension developed in partnership with Twitch, which offers a unique viewing experience as well as new tools for streamers to interact with their community. There's no release date confirmed just yet, but the game will launch on PC and console.
New Tom Clancy game coming to mobile
Sam Fisher AKA Splinter Cell is back... in a mobile game!
Bringing together the lore of Ghost Recon, Splinter Cell, The Division and Rainbow Six Siege - action RPG Tom Clancy's Elite Squad lets players assemble a team of legendary characters from the Tom Clancy universe including Caveira, El Sueno, Montagne, Nomad and many more. Assemble and upgrade the most iconic Tom Clancy heroes and villains as you lead them in stunning real-time 5v5 battles - leading your team into most iconic battlefields from the Clancy-verse.
As the commander, you'll have to challenge other squads in the Arena for intense PvP battles and join forces in epic Guild Wars. The game also includes a campaign mode, featuring a unique Tom Clancy storyline where players will have to face a new threat to save the world.
Tom Clancy's Elite Squad launches worldwide on August 27th, 2020 for iOS and Android devices, and players can pre-register now from the App Store and on Google Play to unlock an exclusive in-game reward - a weapon for Montagne, the iconic operator from Tom Clancy's Rainbow Six Siege.
---
---
Share this post