Our take on Codemasters latest racing sim in the formidable Formula 1 series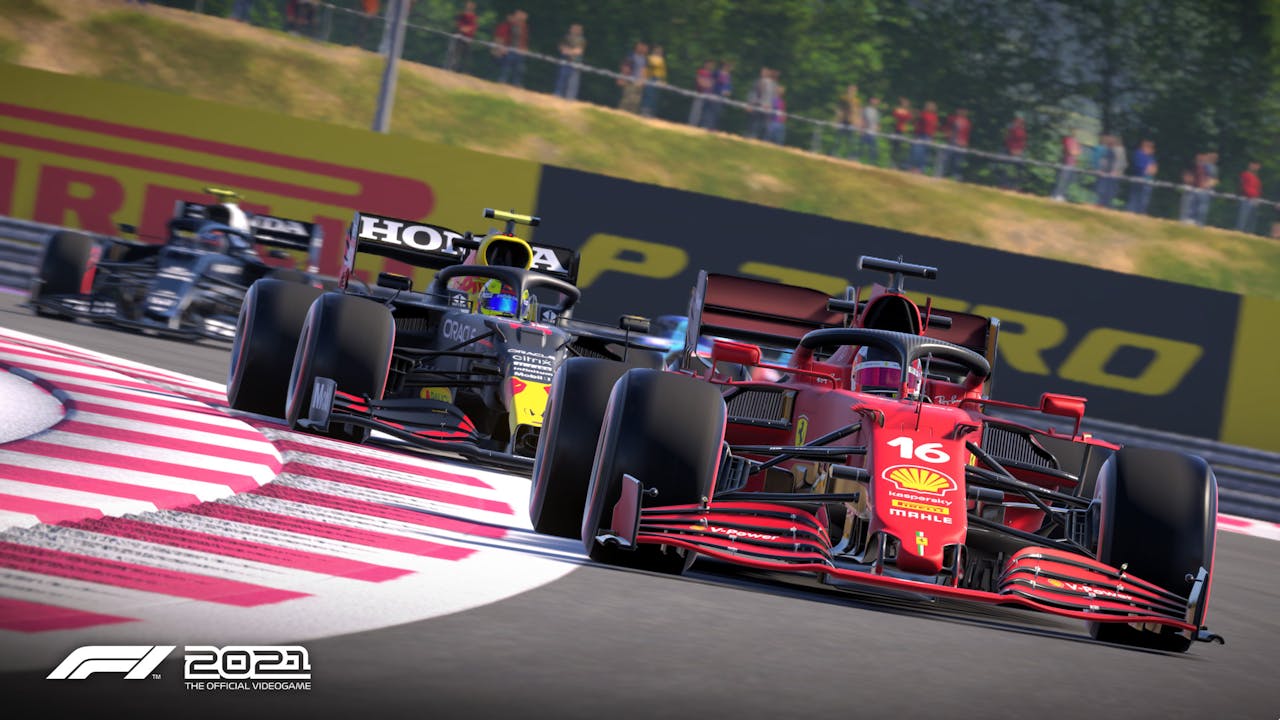 The next exciting chapter of the F1 game series is here, and with it comes a new batch of modes and the intense racing experience that gamers expect from Codemasters.
F1 2021 lets you get even closer to the official Formula One Championship and its star-studded roster of drivers and teams, with stunning tracks to compete on including new circuits* Portimao (Portugal), Imola (Italy), and Jeddah (Saudi Arabia). We entered the race and decided to immerse ourselves in the world of F1, and what the latest instalment in the series could deliver.
Here in our review, we take a look at five things F1 2021 got right.
Great story mode
F1 2018 was my last venture out onto the track (virtually that is) to experience the thrill of Formula One. Back then, the newest feature introduced was media rep Claire and her trusted cameraman, and the choices you made when replying to her would impact your reputation with the media and your hard working team.
F1 2021, however, brings so much more and I was really keen to get stuck into the new 'Braking Point' story mode - an evolution from the story told in F1 2019 where players took part in the Formula Two Championships with the end-goal on being signed by one of the prestigious F1 academies.
In Braking Point, you take on the role of Aidan Jackson, racing for one of three teams as you end your F2 career and move up to the 'big playground' and rub shoulders with F1 stardom. Of course, it wouldn't be an F1 story mode without a bitter rivalry between up and coming drivers as Devon Butler makes his cocky, self-congratulatory presence known throughout.
The story mode reminded me a little of one of EA's older games, Fight Night Champion - a game which, to this day, I still play as an enjoyable boxing sim despite being two generations old in console years. Fight Night Champion offered up various scenarios during boxing matches, like your prominent hand being busted or your opponent having a chin of steel - which meant that you'd have to go to town with body shots.
Braking Point has scenarios like this that spice up your racing experience (well, you don't punch anyone as far as I remember). You'll have to deal with punctures, power performance issues and other issues occurring on the track, forcing you to drop places on the grid and push yourself to regain a place among the point-earner or on the podium.
Your team and even your mum will call you between races during your downtime (I never dared to reject any call) and you can also catch up on the latest headlines, check through your emails on you race objectives and media opportunities, and unlock rewards based on XP earned from race performances - with new helmets, poses and car liveries to unlock.
Claire AKA 'give me a scoop on the drama' will often try to kick the hornet's nest, and by kick I mean acrobatically dropkick it, but you can keep everyone calm and collected by choosing the diplomatic route with your responses - including dealing with in-team feuds between you and racing partner, Casper Akkerman.
It's a fun alternative to the standard Career Mode setup that hardcore racing sim fans are accustomed to, and puts you straight in the action while also teaching you a little bit about some of the game's wider technical aspects such as choosing the right pit strategy and your car's performance.
Very easy on the eye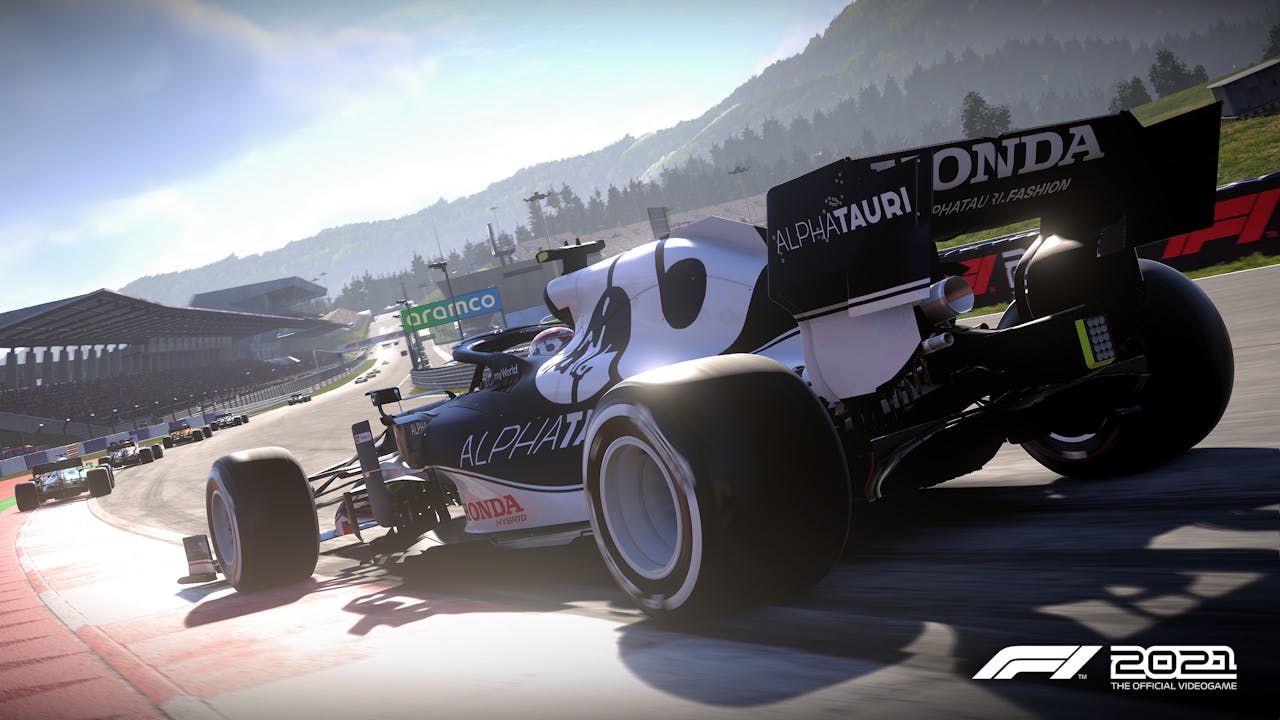 Much like the six games that have come before in Codemasters' (and now EA's) high-octane racing sim series, F1 2021 is brought to life via the Ego... no not Devon Butler's self-esteem, the studio's in-house game engine!
While PC and console all pretty much experience the same overall look and feel to the game (PS5 ray tracing has been temporarily removed), that's not something to necessarily be downhearted about. The F1 racing sim experience hasn't never felt more authentic, with attention to detail on everything from the cars and modelled drivers to the track, weather conditions and day-night cycle for races at various times of the day.
The Shanghai International Circuit has also been one of my least favorite tracks - not because of the game, I might add - but rather the track itself. It feels like I'm crawling around turns 1 and 2 before actually getting to pick some speed up and see what my car can do. Add rainfall to that and, well, let's just say I'm eager to finish qualifying and the race as soon as!
But, even with the woes of this peculiar real-life circuit, I still find myself in awe of it and so many others featured across the F1 season for their realism, and the incredible amount of detail that Codemasters have put into every corner and nearby locale.
The cutscenes that you'll witness pre and post race, as well as in Braking Point, certainly look more polished compared to previous games - could we see F1 2022 created with EA's Frostbite engine? Who knows!
Neat upgrades to Career Mode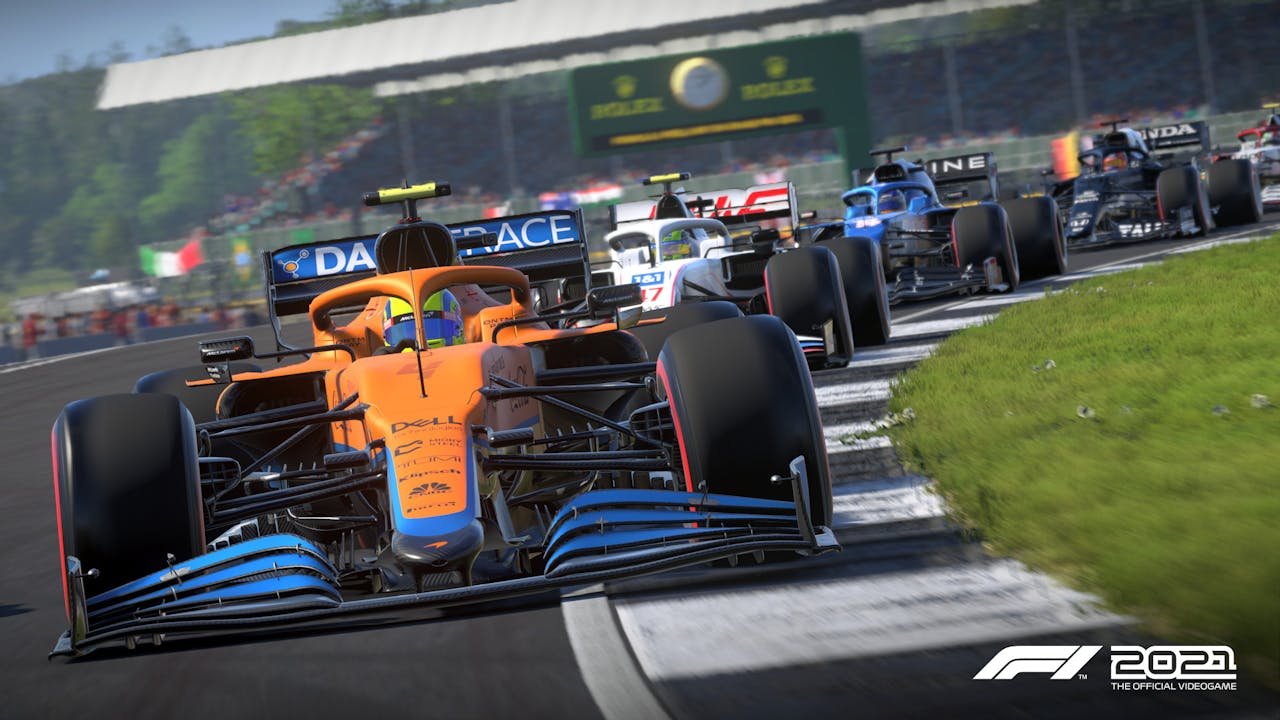 Career Mode has been around for a while in the F1 series, and that's no different in F1 2021. You'll get the opportunity to race the full season calendar or choose to take part in a snippet of it depending on what settings you choose, and time you have spare.
One thing's for sure, F1 2021 is a copy & paste of its predecessor when it comes to embarking on an exciting career as the developer has included some new and rather cool features this year. Firstly, there's the option to join a friend or fellow gamer online and take part in a two-player Career Mode - this enables you to team up under the same roof and try to obtain maximum points in the Constructor and Driver Standings, or choose different teams and begin a fierce rivalry with one another.
The second big new feature for Career Mode is the 'Real-Season Start' option. Basically, you can now jump into the F1 2021 season with real-life Driver and Constructor standings - so if the intense crash between Lewis Hamilton and Max Verstappen at the British GP recently got you riled up to help one of them get their own back - or help one of the smaller teams climb up the leaderboard - next time around, you can jump into the season and take it from there.
They might be subtle changes, but it's certainly enough to add some fresh content for returning players, and newbies alike.
Creating your own legacy
F1 2021 sees the return of MyTeam, which allows you to create your own driver and team to enter the championship with. After editing your driver's appearance and attire, as well as your car's livery and logo, you're given the option to choose a main sponsor, engine supplier and teammate - all of which can be edited later down the line.
Each sponsor and supplier will be available at various costs and will each have their own advantages, such as objectives that suit your season objectives which, by completing them, will grant you more cash to use on your team.
Earning a steady revenue stream is vital if you want to make necessary upgrades to your facilities, this is everything from your Research & Development (R&D) that alters your car's Durability, Chassis, Aerodynamics and Powertrain, to expanding your PR and marketing in order to gain a bigger following and thus more potential sponsors.
Flying the flag for Fanatical, is what a no brainer what team name and color scheme I was going to choose (I hope my boss appreciates it anyway) - and before long I was on my way to building the next big team on the F1 scene... Ferrari who?
Being a good driver is always a bonus, and putting in some good sessions during practice, qualifying and race day will see you and your teammate earn XP towards upgrading your vehicles and facilities. Upgrades are essential, none more than what changes you make in the R&D settings.
Making the right choices here can help you gain top speed on the straights, handle corners with precision in order to overtake or make up for lost seconds, and the general wear and tear of your precious car. You'll also have to deal with each R&D department's morale, which can be affected by what you say during interviews with the media and how you prioritise upgrades.
You'll also be tasked with keeping your relationship with your teammate in tact through random events that occur during the season, how you respond to those will impact said relationship. As you progress, you might want to pick a better second driver to help keep up the points tally, and F1 2021 allows you to bring back legends of the track (available in the Deluxe Edition) such as Michael Schumacher and Ayrton Senna, as well as poach current stars to swap allegiances.
Another cool feature worth noting is the Focus ratings that your teammate and other drivers possess in the game. Increasing this rating during the season can help drivers outperform their opponents, even if their car upgrades aren't quite at the same level.
If you want your teammate to chip in, make sure that they 'Focus' on improving!
A world of racing
Away from Career Mode and Braking Point, it wouldn't be an exciting racing sim without the chance to challenges others in the battle for track supremacy - and fortunately, F1 2021 has an abundance of modes available.
You can head into Beginner or Experienced online lobbies to test your driving skills against similar ranked drivers, and take part in online leagues and keep track of your online rankings alongside fellow drivers . There's even the chance to create your own or join custom events and complete weekly challenges, as well as keep up to date on the new F1 Esports Challenger and Pro Series races.
The new Quick Join format allows newcomers to jump in and not feel overwhelmed, and certainly helped me get back into the swing of things after having a few years off virtual racing.
If you're looking for cool liveries to use on your driver's attire and cars, you can not only create your own or unlock special edition designs, but you can also copy other players' liveries online too.
As well as going online to race others, there are still a good variety of modes to enjoy solo or offline if you want a change from the career and story modes. There's Time Trial for racers who want to set the world ablaze with the hottest track times, Grand Prix Mode and splitscreen racing if you have a mate round for a race.
-
THE VERDICT
F1 2021's Braking Point story is a fantastic addition to the franchise, giving newcomers a quick fix to get straight into the mix dealing with intriguing scenarios both on and off the track, as well as getting to grips with some of the game's technical aspects such as car performance and pit strategy.
For veterans, the co-op career and Real-Season Start along with the plethora of solo and online multiplayer modes means that you'll be closer and more immersed in the beautiful world of F1 than ever before.
SAM'S SCORE: ★★★★
MORE F1 2021 NEWS
F1 2021 Deluxe Edition - What's included - READ MORE
An Xbox copy was provided for this review by Electronic Arts and Codemasters.
*These circuits will be available as free post-launch content
---
---
Share this post