Does the latest sports sim entry from EA score a worldie?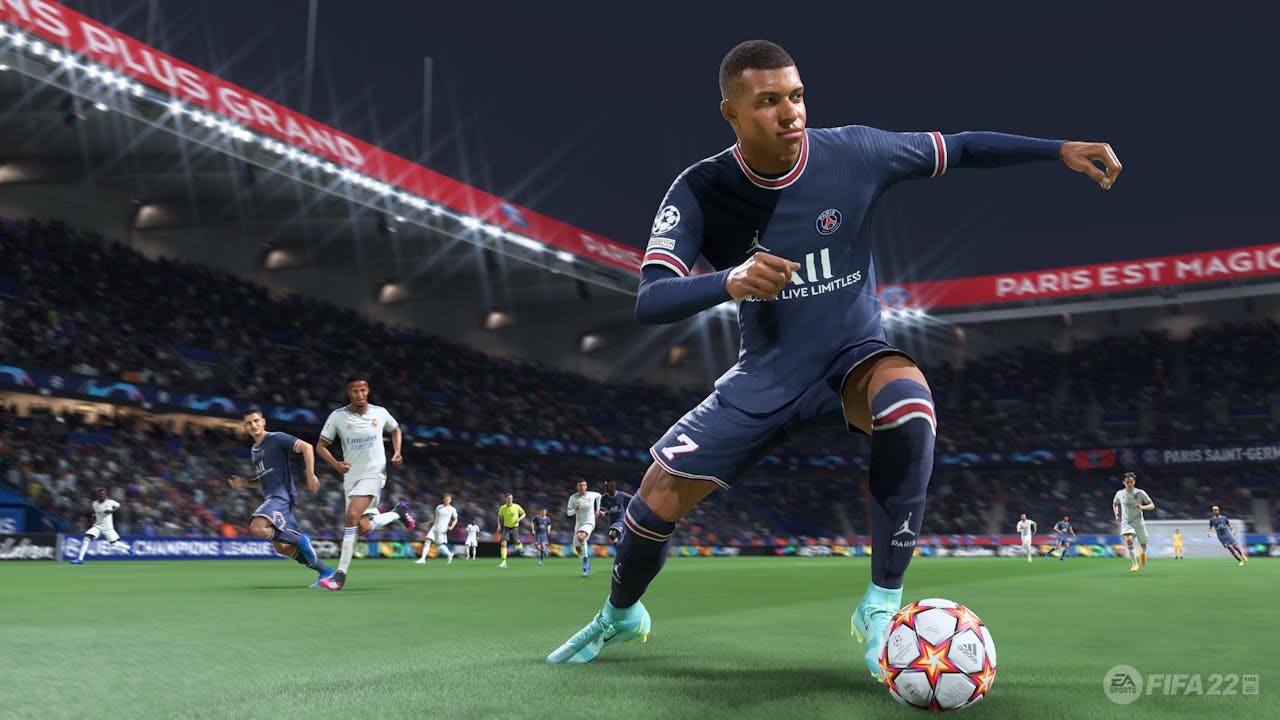 The fans are back in the stadiums, football has finally returned, and so too has EA's latest football/soccer sports sim with FIFA 22.
With brand-new features, tweaks & improvements and familiar surroundings, the latest entry brings the beautiful game to current and next-gen gamers alike. But how does the new FIFA play, and what can you expect if you haven't already jumped in to lead your team to glory across a plethora of game modes on offer? Join us as we take a look at what five things FIFA 22 got right in our review.
Your own legacy
I'm a big fan of Career Mode, it's one of the main areas that I focus my attention on these days when it comes to FIFA - so I was thrilled to hear that EA had added a 'Create a Club' within Career Mode mode this time around, something that I've not really seen or experienced since the old FIFA Manager PC games (remember them?).
As the title suggests, you can create your own team and add them to pretty much any league, but you'll have to replace your club with one of the teams within said league, so either choose the club that no one cares about or wipe your rivals off the face of the planet!
You can choose the overall star rating of your team, which the game then alters the corresponding randomly-generated players and overall levels to your rating. Next up, time to choose how your club is ran behind the scenes - you can opt for a minimal budget or give yourself a war chest to snap up top players, and even select the club's views on youth development, domestic success and spending/saving.
There are a range of Adidas, Nike, Puma and Umbro kits that you can choose from when selecting your home and way strips, and you'll then get to choose your home stadium along with a bunch of cool customizations such as seat and theme colors, entrance music, goal song, fan chants and even how the pitch looks.
If you're the type of player that likes to build smaller clubs up through the leagues and develop over time, this mode in FIFA 22 is definitely up your street. Even if you like to play as your favorite club every year, it's still a fantastic element to look into for a change of scenery, and a chance for me personally to let Sunderland have derby match in League One for a change... they still haven't beat Tyneside United, just saying!
World in Hypermotion
If you're experiencing FIFA 22 on next-gen (Xbox Series S|X and PlayStation 5) then you'll get your hands on innovative gameplay in the form of Hypermotion, EA's new technological wonder.
Using real-life footballers in a 11v11 motion captured match, Hypermotion introduces 4,000 new animations with a machine learning algorithm that learns and responds to 8.7 million frames of capture... basically, it's very smart and very realistic.
Agile players like PSG's Mbappe and Neymar, Man City's Raheem Sterling and Newcastle United's Allan Saint-Maximin are just some of the many players whose dribbling, skill and movement come to life with Hypermotion. Teams also appear to build up play and move more realistically, and goalkeeper reactions and positioning also seem to be sharp too.
Above all, it's the way the AI reacts to your playstyle and tactics mid-game in order to cut your offense down or force your defense on the back foot that sets the futuristic sim tone with Hypermotion.
But, and I will stress this, the gameplay of last-gen and PC is STILL enjoyable. Echoes from the community suggest many players who don't have access to next-gen and Hypermotion tech are still finding joy in the more 'basic' edition, and I have to agree. Hypermotion is fantastic, but it's not the end of the world if your version of FIFA doesn't have it, you'll still find a solid gameplay experience in FIFA 22 regardless.
Danger, danger... high VOLTA!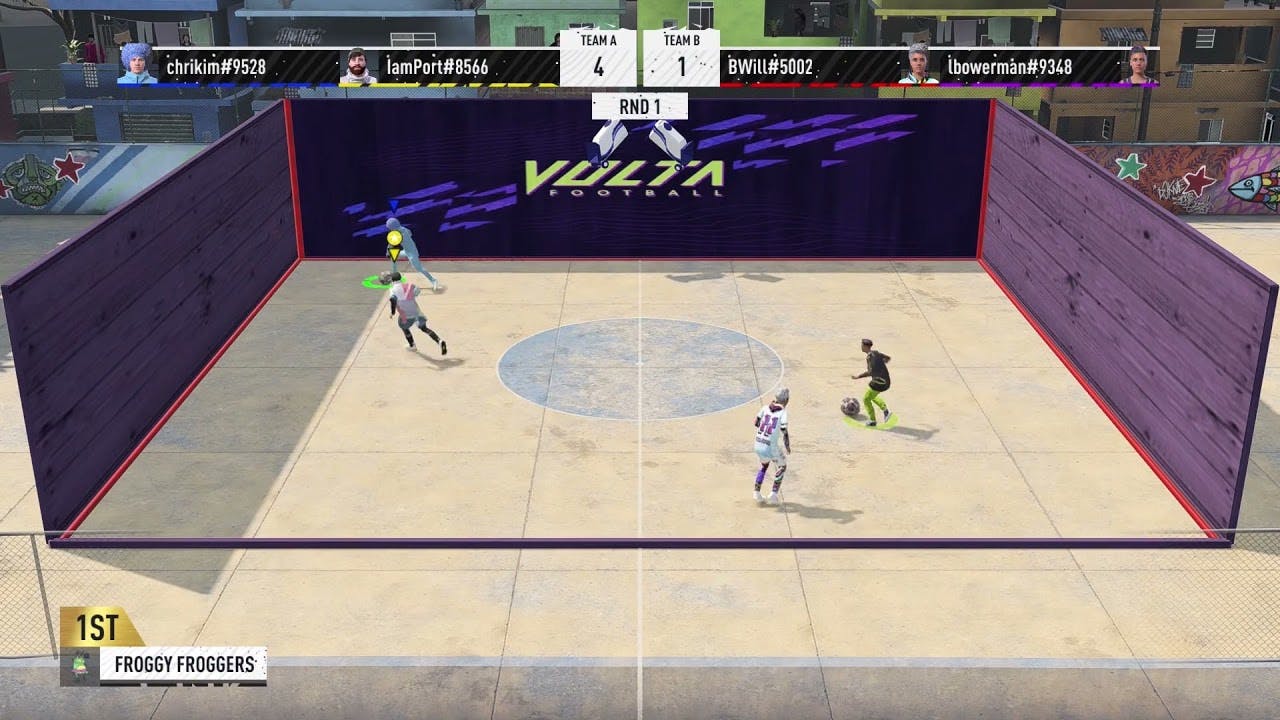 After FIFA's story-driven The Journey came to a close back in FIFA 19, FIFA 20 brought us the street-style soccer of VOLTA, featuring its own (sort of) storyline with players trying to make it big on the streets of some the world's biggest football hotspots.
FIFA 21 saw the return of VOLTA, but with no storyline, so there wasn't too much to get hyped about. However, FIFA 22's VOLTA (no storyline again) has made some neat additions to spice up the gameplay.
The new Skill Meter brings back memories of the old FIFA Street titles by allowing you to build up your meter and score more goals for each successful attempt, depending on the meter build-up.
You can fill your Skill Meter by making skilful passes, nutmegging an opponent (through the legs), completing a wall pass or dispossessing your opponent. Filling the Skill Meter to its full capacity will bag you four goals instead of one, with three goals for filling the second section and two goals for filling the first section respectively.
There's also the brand-new Signature Abilities that you can activate pretty easily during a game to spice things up, don't worry there's no 6-7 combo set that you have to achieve in order to use them. Signature Abilities are assigned when you create your VOLTA avatar, and you can change which ability you use at any point.
After using your Signature Ability, there's a cooldown period where you'll have to carry on playing while it builds up again. Particular favorites of mine are 'Power Strike', which can exceed the 99 attribute cap and allow you to smash a belter past the keeper - and 'Aggressive Tackle' which is pretty hilarious and allows you to barge opponents to the ground without a yellow or red card in sight.
For me, the best new feature is the VOLTA Arcade, adding fun new ways to play instead of the usual match mode. There's everything from well-known games like Foot Tennis and Dodgeball, but the fun comes from the wacky modes like 'Disco Lava' where you and up to three others must race to step on disco floor-type tiles to claim you color and score points - and 'Wall Ball Elimination' which is a play on Squash and sees have to play the ball against the wall in turns before the timer runs out, with points scored based on outlasting your eliminated opponents.
If you've played enough Career Mode or FIFA Ultimate Team and want something new to excite your gaming taste buds, VOLTA's a decent shout for you to play with friends online or getting the party started at your house in local play.
Welcome gameplay tweaks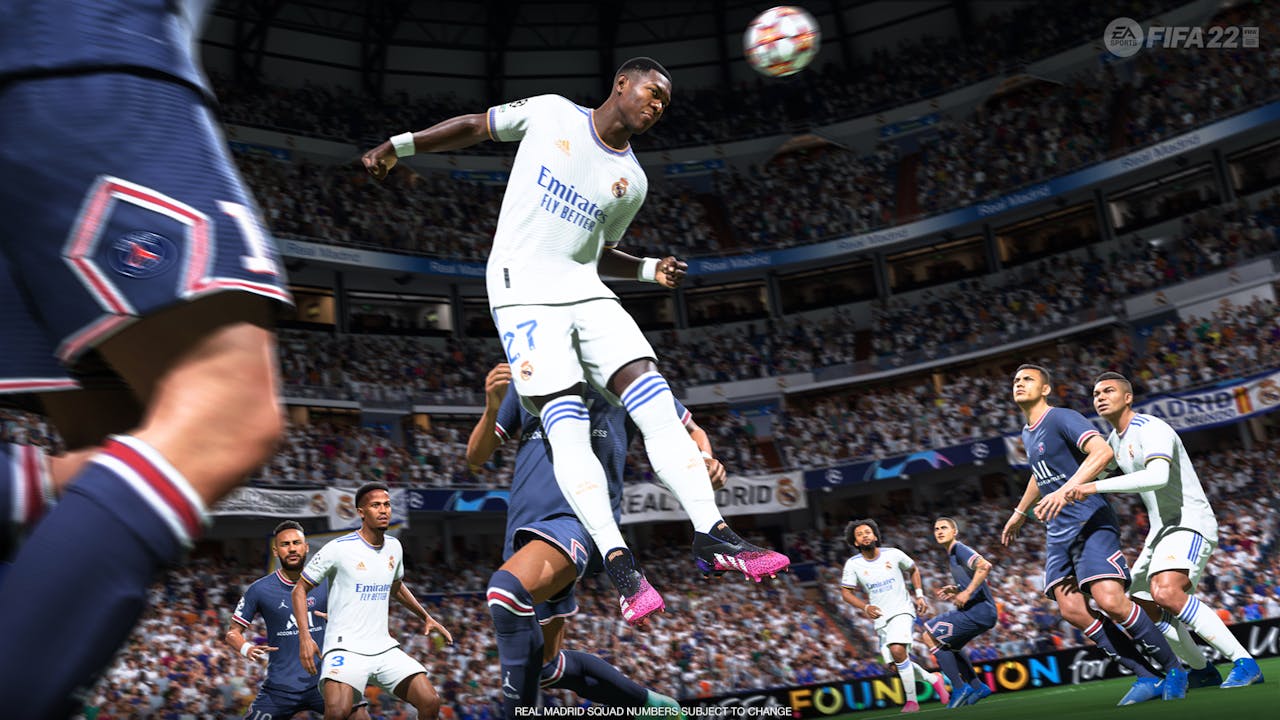 EA is always keen to make changes here and there, you've probably seen over the years that the FIFA games have changed in terms of overall pace, as well as other features like the set pieces becoming much more than just 'stand here, press button, yay goal'. One of the nicer features that I'm all for is putting emphasis on the secondary defender contain option - previous instalments when getting a teammate to come over and defend didn't make clear straight away which player would eventually be coming to help you two-man mark Salah.
In FIFA 22, the extra player is immediately highlighted with a cursor above their head, drawing more focus to your line of sight on who is coming to the rescue, while you cut off their next passing option. The Explosive Sprint feature is also great for dribblers looking to break past the last line of defence, as well as defenders trying to create some space to play the ball out or catch up with attackers.
Goalies have had a spruce up too, with new smarter positioning for better stops - and EA has also added some realistic 'fumbling' into the mix too, so even the elite level of keepers will lose grip on a shot or drop the ball amid the corner kick carnage in the box.
Finesse shots felt like they were pretty ineffective in the past couple of FIFA entries, but FIFA 22 seems to have balanced this back out again, with near post attempts becoming much more effective than the usual 'lamp it across the goal' shots.
The overall pace of the game seems a little slower than in recent editions, which some find comfort in to allow build-up play and not see the game as a rush. However, a simple alteration of sprint and acceleration speed in the settings can ignite your team and the opponent to a higher tempo.
Simple but effective changes, FIFA 22 doesn't reinvent the wheel with these but equally doesn't see the wheels rolling off its wagon.
Going Pro (Clubs)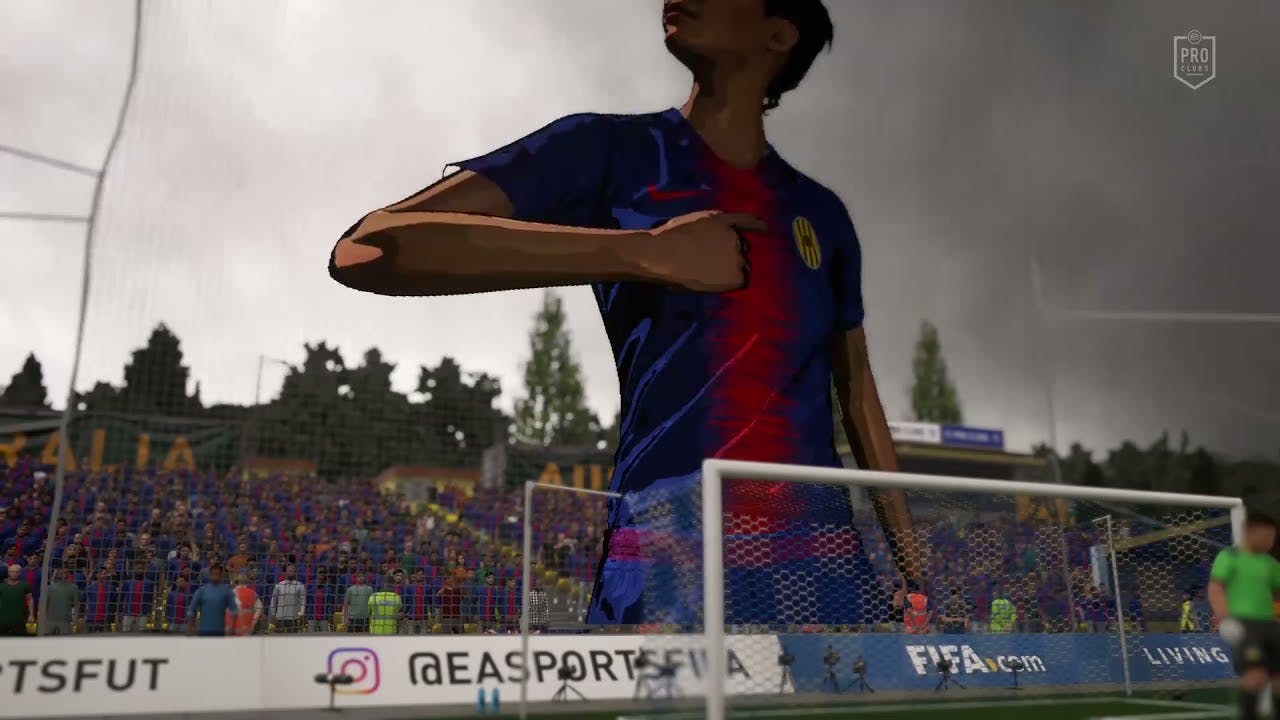 Pro Clubs is a great mode for those who want to have their own unique player and take the experience online in competitive against and alongside fellow gamers - and FIFA 22 introduces some sparkly new features that hone in on ensuring matches can get started quickly and are more welcoming to all.
First up, EA Sports has introduced a new Drop-in feature lets you tag along with up to four friends or recent players from other clubs. which means that you can easily jump between teams to help build your Pro's XP without having to leave your current club, or affect your club's record.
Using the 'Select Preferred Position' option, you can choose up to five play styles for you Pro and highlight your preferred option so that the game finds a match that best suits your position when using the 'Fill Teammates' option. In my case, I like to bang the goals in, so my play style is set to ST as a preferred option - however, if fellow players hog this position, the game will slot me into my next preferred option of being a winger/midfield, and so on.
Perks also play a huge part in developing your Pro, and FIFA 22 has 26 different Perks to choose from - with additional Perk slots unlocked at various levels. For my playstyle, the 'Distance Shooter', 'Skilled Dribbler' and 'Active First Touch' have been a godsend - allowing me to burst into a quick sprint from receiving or running onto a pass or loose ball, as well as having the audacity to ping one in from range... THRIKER! (Alan Partridge joke, ask your dad).
FIFA 22 makes a clear cut statement with its "One Pitch For Everyone" approach to Pro Clubs, and that's in the form of diversity. Players can now create a male or female Pro player, allowing players of both genders to enter the pitch together in a first for the FIFA franchise.
With the vast customizations that Pro Club managers have at their disposal - including everything available in Career Mode's team creation - Pro Clubs has taken a step in the right direction in terms of engagement and an online experience for more communities to enjoy.
The verdict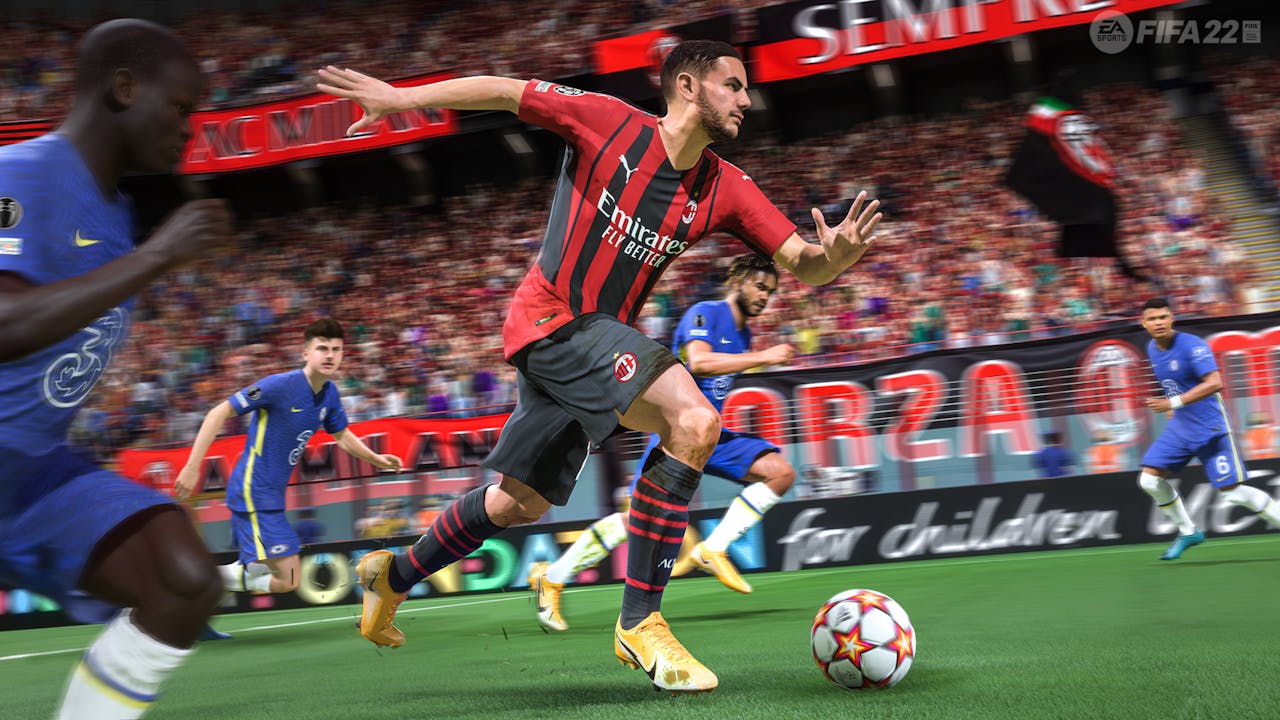 FIFA 22 introduces some powerful new features for next-gen players, while also looking after last-gen/PC gamers with neat tweaks and great features that everyone can enjoy no matter what platform they experience the latest sports sim on.
With its main competitor having an absolute wobble with its new free-to-play launch recently, there's no question that FIFA 22 is the powerhouse of football sim gaming once again this year.
SAM'S SCORE: ★★★★★
-
Grab you officially licensed FIFA 22 PC game from Fanatical now. Opt for the FIFA 22 Ultimate Edition for bonus content!
A copy of FIFA 22 was provided by EA for this review.
---
---
Share this post