Striking fear into the hearts of players for over 25 years, we cover the iconic Resident Evil series!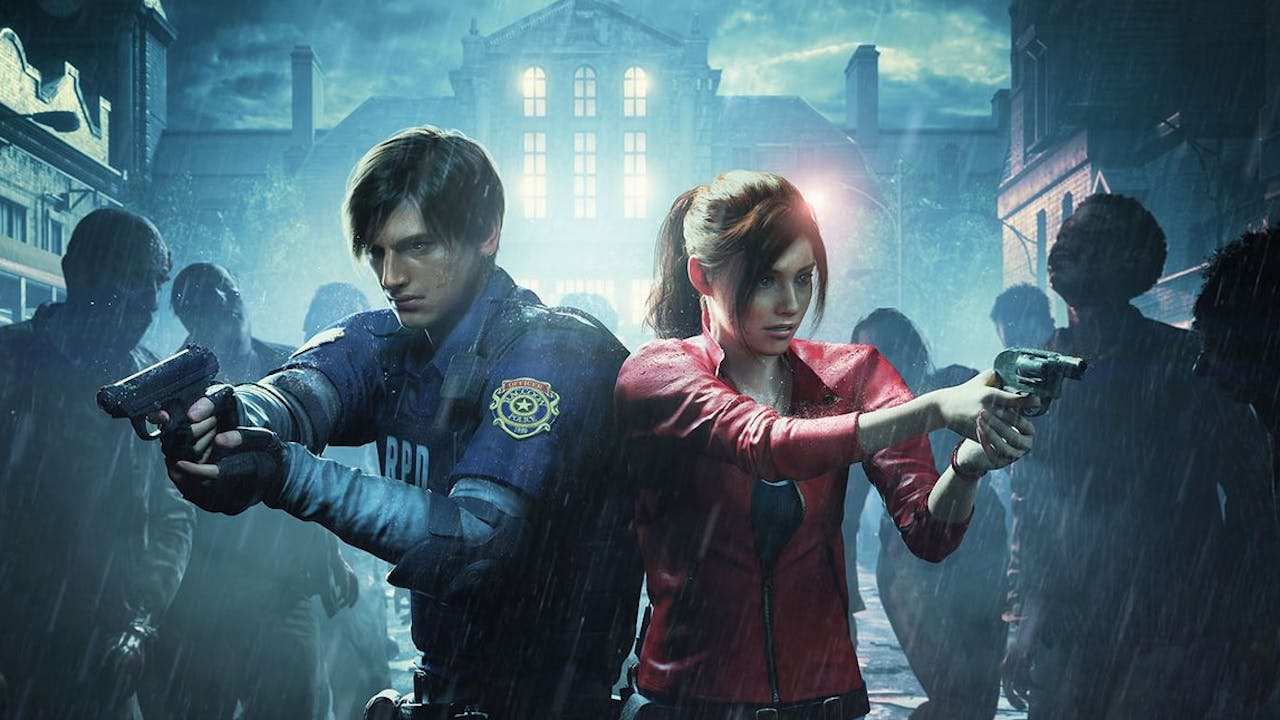 In Resident Evil Village - Winters' Expansion experience brand-new additional content for the award-winning modern horror masterpiece Resident Evil: Village
One of the most prolific horror video game series of all time and showing no sign of slowing down, Resident Evil is an absolute powerhouse. With nine mainline titles and countless spin-offs, it may seem a little intimidating to approach Capcom's iconic series. Have no fear (until you start playing the games at least) as we're here to provide you with a tour through the main series.
#1 — Resident Evil
Originally released in 1996, with a HD version of the Gamecube remake re-released (including a couple of extra changes) across multiple platforms in 2015, Resident Evil introduced the world to Raccoon City Police Department's S.T.A.R.S. team, as well as the T-virus. Whilst investigating the disappearance of the S.T.A.R.S. Bravo Team, the Alpha Team is attacked by mutated dogs. Our heroes Chris Redfield and Jill Valentine take shelter in an abandoned mansion, along with their surviving teammate's Albert Wesker and Barry Burton. You're given the choice to play the campaign through as either Chris or Jill, tasked with finding their teammates, and investigating the mysterious mansion along with the secrets that Umbrella Corp. has attempted to bury deep within it.
Relive a cult classic of the survival horror genre with the Resident Evil HD REMASTER - grab those herbs and ammo... and watch out for those zombies!
#2 — Resident Evil 2
Expanding on the concepts of the original game, Resident Evil 2 was released in 1998, with a remake arriving in 2019. Set a couple of months after Resident Evil, the zombie virus has infected most of the residents of Raccoon City. You play through the campaign as either Claire Redfield (the sister of Resident Evil protagonist Chris Redfield) or Leon S. Kennedy, a police officer reporting late for his first day on the job. The two must survive the onslaught of zombies and escape the city. With diverging paths and storylines for each of the characters, as well as extra modes unlocked by completing the game, Resident Evil 2 will keep you busy for hours.
Flesh-eating zombies roam the streets for any survivors. A gripping storyline and unimaginable horrors await you! Return to Raccoon City with your Resident Evil 2 Remake Steam...
#3 — Resident Evil 3: Nemesis
Resident Evil 3: Nemesiswas first released in 1999, followed by a remake, simply titled Resident Evil 3, in 2020. Set around the same time as the events of Resident Evil 2, returning hero Jill Valentine and newcomer Carlos Oliveira must escape Raccoon City during the T-virus outbreak. To complicate matters even further, they're being hunted by the titular creature, Nemesis, an Umbrella bio-weapon hellbent on destroying all remaining S.T.A.R.S. team members. Resident Evil 3 also introduces a dodge mechanic for a greater focus on action and to give our heroes better chances of surviving their encounters with the undead.
This remaster of Resident Evil 3 allows players — both new and old — to experience the classic game, but with better graphics and an added mode!
#4 — Resident Evil Zero
Set just before the events of the first Resident Evil, Resident Evil Zero gives you control of Rebecca Chambers, one of the S.T.A.R.S. Bravo Team members needing to be rescued in the original game, as well as Billy Coen, a convict who's trying to escape execution. Split up from the rest of her team, Rebecca stumbles upon the zombie-infested train, the Ecliptic Express. Teaming with Billy, the two try to uncover the source of the infestation. Resident Evil Zero features a new system, allowing you to swap between the protagonists, with the other character being controlled by AI.
The story of Resident Evil 0 takes players back to 1998. Reports have been mounting about unusual murders on the outskirts of Raccoon City.
#5 — Resident Evil 4
The next instalment in the series, Resident Evil 4, sees us back in control of Resident Evil 2 protagonist Leon S. Kennedy. Now a special agent for the US Government, Leon is sent to a rural village in Spain to find the President's daughter, Ashley Graham. He quickly discovers that the locals have been infected by Las Plagas, parasites that control the mind of their hosts, leading him to uncover a plot that threatens the entire world. With new aiming controls and context-sensitive actions to give you better control of the action, Resident Evil 4 perfectly mixes horror with action elements to make it one of the strongest entries in the series.
Featuring modernized gameplay, a reimagined storyline, and vividly detailed graphics, Resident Evil 4 marks the rebirth of an industry juggernaut.
#6 — Resident Evil 5
Chris Redfield returns as the hero in Resident Evil 5, alongside Sheva Alomar. Tasked with investigating a bioterrorism threat in West Africa, the pair discover that the locals of Kijuju have been infected by the Las Plagas, whilst Chris also has his past resurface in the form of Albert Wesker and Jill Valentine, two of his former S.T.A.R.S. team members. Resident Evil 5 is also noted for introducing two-player co-op to the series.
#7 — Resident Evil 6
The first game in the series to boast four different storylines, Resident Evil 6 tells an interwoven story between Leon S. Kennedy, Chris Redfield, Jake Muller, and Ada Wong. Each storyline features its own unique spin, taking the characters around the world to face global bioterrorism outbreaks. With a bigger focus on action than ever before, the control scheme is redesigned to allow you to move whilst you shoot, in addition to the ability to slide and roll. Including an expanded four-player co-op mode, as well as a new online invasion mode called "Agent Hunt", Resident Evil 6 is a great title to pick-up for fans looking for a more action-oriented experience.
Experience the biggest Resident Evil to date with 3 main campaigns new characters in survival horror Resident Evil 6.
#8 — Resident Evil 7: Biohazard
A fresh take on the series, Resident Evil 7: Biohazard shakes things up with the new first-person camera, planting you right in the shoes of Ethan Winters. Led by a message from Mia, his missing wife, Ethan heads to an old plantation home in Dulvey, Louisiana. Inside, he is faced with the Bakers, an unsettling mutated family who hold Mia prisoner. With a new form of fungal monsters as well as the devious Baker family tirelessly pursuing him, Ethan must save Mia and escape. Subduing the action aspects of the titles that came before it, Resident Evil 7: Biohazard instead amps up the horror, delivering a truly chilling experience.
Enjoy the photorealistic graphics and get up close and personal with all the horrors of the Resident Evil franchise in Biohazard!
#9 — Resident Evil Village
Continuing from the events that transpired in the previous game, Resident Evil Village once again sees you in control of Ethan Winters, who now must locate his daughter, Rosemary. You'll face off against mutated creatures throughout the village, along with the various lords who rule over the area, such as the vampire family of Castle Dimitrescu or the grotesque merman-like Salvatore Moreau. Resident Evil Village maintains the first-person camera from Resident Evil 7: Biohazard, meaning you're still face-to-face with the horrors of the village, but thanks to Ethan's new military training, you'll be a lot more prepared to handle them this time around.
Experience survival horror like never before with your Resident Evil Village Steam PC key. Includes the new online multiplayer Resident Evil Re:Verse game.
An epic series with an expansive conspiracy-enriched story, the Resident Evil series has got plenty of points for you to jump into. Whether you want action-packed adventures or eerie ordeals, there's something here for you. Where will you start?
Jump Scares With Fanatical Fanatical Staff
We got 7 staff to play Resident Evil, just for the laughs (well we laughed)
In Resident Evil Village - Winters' Expansion experience brand-new additional content for the award-winning modern horror masterpiece Resident Evil: Village
---
---
Share this post