The Fanatical
Blog
Latest AAA, Indie & Game Bundles
Receive Games Instantly
Save Money
100% Authentic Keys
A look back at iconic racing games
By Declan Barry - 23rd Aug 2020Games
Start your engines and race with these legendary racing titles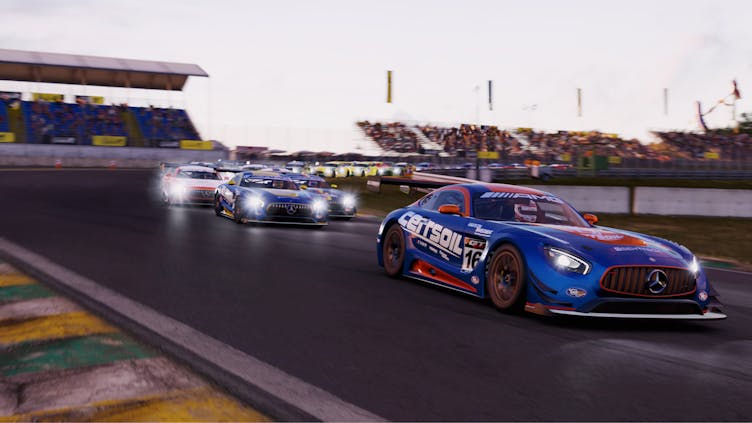 Experience the thrill and emotion of authentic racing with your Project CARS 3 Steam PC key. Featuring brand-new career and multiplayer modes with 200+ cars at launch!
Originally created back in the 70s, the racing genre is one of the oldest in gaming. Offering high speed, adrenaline-fuelled gameplay in cars, bikes and even futuristic crafts.
There's so much to love about the games in the genre with memorable franchises some of the biggest household names in the industry. Let us take you down memory lane with some of the most iconic racing games throughout the years.
1982 - Pole Position
Pole Position was a smash hit arcade game becoming the highest-grossing arcade game in North America just one year after it's launched! It sold 21,000 machines across North America in 1983 and you couldn't go to an arcade without seeing queues for the game.
In the game, you controlled a Formula One race car where they had to complete a time trial to qualify for a race. Completing the trial saw you race against 7 CPU-controlled cars on a real racing circuit - Fuji Racetrack, in which was a first for the gaming industry.
1989 - Street Rod
Wager drag races, or "pink slips" put Street Rod on the map. There was a game over state as if you cannot afford another car then you lose, with the purpose of the game being to defeat The King to become the new King. Progressing through the game requires skill and careful driving as you have to save enough cash to buy a better car, but destroying your car will result in you having to buy a new one. Street Rod combined solid racing with mechanical skills that made the game very enjoyable and took it beyond the usual arcade racing of previous titles.
1991 - Road Rash
Becoming EA's most profitable game at the time, Road Rash was addictive 16-bit motorbike racing. The game combined racing against other players, with the ability to attack them. This was something rarely seen in games at the time and the ability to punch, kick and hit with weapons, such as clubs and chains, made the game a commercial success and one of the most popular Genesis titles on release.
1996 - WipEout 2097/XL
The WipEout series has inspired many games after it, including the highly-rated Redout. With high-speed gameplay and futuristic design, the game stood out against the crowd and won over many fans.
2097 built upon the critically-acclaimed original by offering new weapons and tracks, as well as the ability to eliminate fellow pilots by destroying their craft. This proved to be very popular and the game sits at a very high 93/100 on review aggregator MetaCritic.
1998 - Colin McRae Rally
The start of the legendary DiRT franchise. Colin McRae Rally was widely praised for its authentic simulation of rally racing. It was one of the first games of its time to offer realistic driving mechanics alongside Gran Turismo.
With seven official rallies and licensed cars, as well as the backing by legendary driver Colin McRae, the game sold very well with over 4 million copies shipped worldwide by late 2002.
2001 - Gran Turismo 3: A-Spec
Before it was discontinued in 2019, Gran Turismo 3: A-Spec was the second highest rated racing game on GameRankings with a score of 94.54%.
With realistic handling and great graphics for the time, it is still very popular with retro gamers and is one of the first titles on a list of great games for racing fanatics. The game also included an unprecedented amount of depth for games at the time with detailed statistics for each vehicle.
2004 - Burnout 3: Takedown
Burnout 3 is probably the game you think about when you think of destructive driving. Introducing the Takedown mechanic, Burnout 3: Takedown shifted the series to not just racing your opponents, but smashing them too!
The mix of dangerous and high-speed driving wowed critics and fans alike with the game selling well and also having the honor of being the highest-scoring Xbox racing game of all time and the second-highest Playstation 2 racing game.
2005 - Need for Speed: Most Wanted
Need for Speed may be one of the first names you think of when it comes to racing franchises. It's fast-paced, street racing is iconic in the gaming world.
Offering sharp graphics for the time, as well as great chase mechanics with the cops. Most Wanted is the best-selling title in the series and is seen as the gold standard for street racing titles with plenty to do and strong in every aspect of gameplay.
2011 - Driver: San Francisco
Winner of E3 2010's 'Best Driving Game', Driver: San Francisco has a hardcore fan base with players still petitioning for Ubisoft to re-release the game.
In the game, you can teleport from one car to another. This was a new feature in the racing genre and one that received praise from critics. For fans of the series, it also continued Driv3r's story, though this was less favorably received.
2014 - Mario Kart 8
It'sa me Mario! You've probably played Mario Kart in some form. The Wii U title and it's Nintendo Switch port has sold over 26 million copies worldwide..
The accessibility of Mario Kart makes it a smash hit racing game for all types of gamers, but Mario Kart 8 takes it up a notch with more races, including lots of classic tracks. Plus, a new anti-gravity feature allowing the racing to be done on walls and ceilings too.
2016 - Forza Horizon 3
Forza Horizon 3 set a new standard for the Microsoft exclusive racing series. The open-world driving in a fictional Australia is a joy with a picturesque landscape and lots of events to take part in.
Until 2018's Forza Horizon 4, the game was the highest-rated in the series according to MetaCritic with an awesome 91/100 rating. Critics praised not only the beauty of the map, but also the free-roaming sandbox which it presented, making it a perfect game for both on-road and off-road racing fans.
2018 - Wreckfest
Wreckfest is a unique full-contact racing experience. Instead of driving fast, the premise of the game is to drive safe to make it to the end. Cars will fall apart with collisions and getting to the finish line in one piece is a fun challenge of the game.
The unique gameplay led to it being nominated for Gamescom 2017's 'Best Sports Game' award and once you play the game for a short amount of time it's easy to see why.
2020 - F1 2020
The most illustrious Motorsport has inspired many video games, including an officially licensed series. The game offers a realistic interpretation of the sport which even the stars love with Lando Norris one of many drivers in the F1 roster to stream the game to his fans.
F1 2020 is taking the game another gear with an awesome new My Team mode which puts you in the hot seat of a team manager and the cockpit of a driver.
2020 - Project CARS 3
Project CARS has always been highly regarded by racing fans for it's authentic racing with hundreds of licensed cars and tracks. Project CARS 3 will be no different with more thrilling racing, including a VR mode.
The game features upgrading and personalization of cars that is rarely matched within the genre and makes the arcade racing game fun on and off the track.
Before you speed off, save 12% on Project CARS 3 when you pre-order the game from our store*.
*Region restrictions may apply.
---
Share this post
Double down on turn-based RPG action with the Death End Re;Quest 1+2 Bundle - featuring two Steam PC keys Anime gaming veterans Idea Factory.
Double down on turn-based RPG action with the Death End Re;Quest 1+2 Bundle - featuring two Steam PC keys Anime gaming veterans Idea...
Double down on turn-based RPG action with the Death End Re;Quest 1+2 Bundle -...
Ends in
41

:

06

:

40
or until sold out
Subscribe to our Email Newsletter to get Fanatical promotions direct to your inbox.
You can unsubscribe via the newsletter at any time. By subscribing to our newsletter you agree to our Privacy Policy.