Save big on the even bigger action RPG!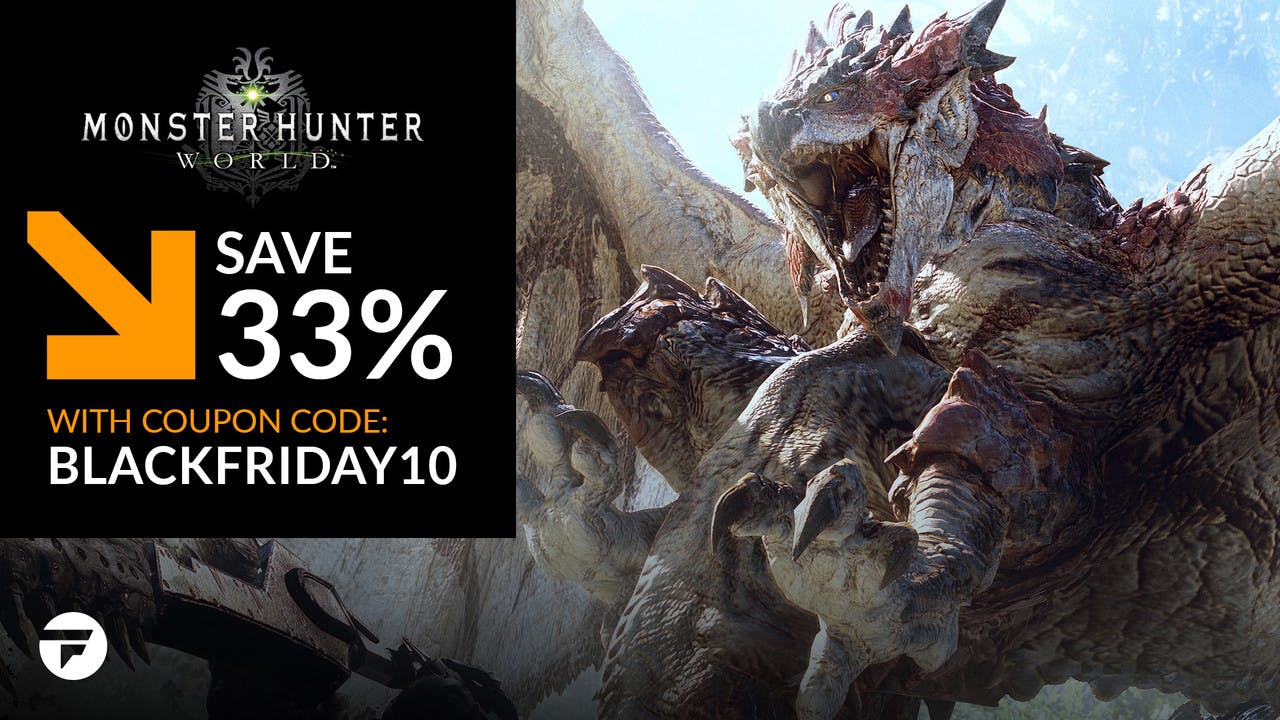 Something big is lurking in the dark - it's piercing eyes and giant fangs glimmer in the pale light - what could it possibly be?
Today, we're excited to launch the best ever discount (-33%) on the hit action-adventure RPG Monster Hunter: World for this weekend only. Take on the role of a hunter in a vibrant ecosystem filled with fierce monsters that must be tracked across vast environments in order to be captured or killed.
You'll be able to customize your weapons and armor, eat a hearty ability-boosting meal, and set out into the New World in a gripping story campaign, as well as taking part in regular and time-limited challenges and quests either by yourself or with up to three other Hunters.
Legendary Elder Dragons have suddenly appeared, their mere presence is causing potentially catastrophic events across these lands. As a hunter from the Fifth Fleet, you're tasked with discovering why they're here and what can be done to ensure the New World doesn't fall into chaos!
After yesterday's announcement that Monster Hunter: World scooped a Golden Joystick Award for 'Best co-operative game' - now's the perfect time to jump into the best-selling game in Capcom's history!
After you've bought the game, the Fanatical Blog has got you covered when out in the field.
You can check out our easy guide on taking down large monsters , see the important questions that players have been asking about the game, and even take a look at the top MHW mods created by avid gamers in the modding community. We've even got an exclusive interview with Capcom's top dogs about which famous creatures they'd like to see in the game!
Better still, if you buy Monster Hunter: World now, you'll receive an email coupon for 15% off your next purchase. Please note, this offer cannot be used on additional copies of MHW, pre-purchases, bundles or Star Deals.
This coupon offer ends on November 30th at 11:59pm (GMT). Black Friday has started early, so treat yourself to this fantastic action RPG. Remember... Don't go grey this Black Friday - buy officially licensed Steam keys, responsibly sourced by Fanatical.
---
---
Share this post