All you need to know about DiRT 5
Blaze a trail on routes from across the world with the boldest off-road racing experience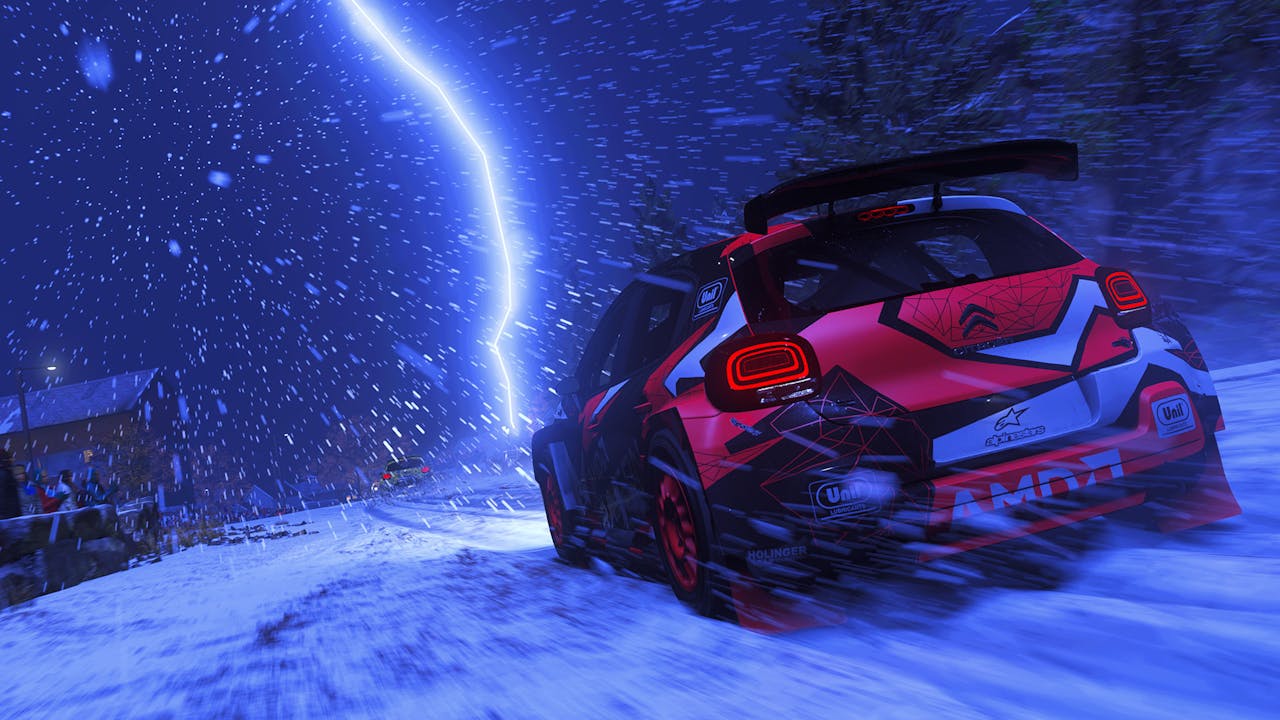 It's about to get messy as the next DiRT title arrives in the award-winning rally franchise. Compete with a variety of vehicles on levels across the world in the boldest off-road experience created by the legendary Codemasters.
Start your engines for this preview of DiRT 5, releasing on October 16, 2020 for Playstation 4, Xbox One, Steam and Google Stadia. We'll be taking you through the levels, events and the career mode in the game.
However, before we give you the green light to continue, remember you can save 20% on the game when you pre-order on our store. Now let's rally ahead!
Off-Road Experience
If you've never played a DiRT game before then let me break it down for you. The game is an off-road racing title with a variety of different types of surfaces that you have to master. You'll be taking on steep, snowy inclines, as well as ice-covered rivers and sandy tracks.
The series is all about extreme racing, so don't expect it to be a true to life simulation, though there's a lot of realism in how the cars handle with awesome drifting and track condition mechanics.
Car Classes
You will be taking the hot seat in 9 different vehicle types in DiRT 5 - ripping up mud tracks at speed with all-terrain Rally Cross and Rally GT or heading to the past with the Classic Rally and retro 80s and 90s Rally vehicles.
However, not every vehicle will be built for purpose with the Pre-Runners including the Aston Martin DBX. As well as the Sprint, and Super Lites both suited for a fast but lightweight experience.
If you want something heavier and with less speed then the Unlimited is full of big trucks!
Events
You will be able to test your cars to the limits with different events in DiRT 5.
In Ultra Cross you will have to battle multiple terrains, unpredictable circuit design and challenging bends. It's a classic rally cross-style event but in a higher gear.
You can also play classic DiRT style point-to-point in Rally Raid, or Circuit-based events with rough terrain, jolting jumps and technical sections in Landrush. If you're all about speed then Sprint will be right up your road, or go competitive with a Time Trial.
If you want to take it up a notch then there are some high-octane events too. Ice breaker is as the name suggests… racing on ice. I didn't see that coming either! You'll be skidding all over the place with controlling drifts key to reaching the end of the race.
Stampede is a rough landscape based race where mud, sand and tough roads are the only things ahead. You've also got the returning Gymkhana - which is a stunt event that means you will fly like a plane, not just drive like a car.
New Locations
You will be driving around the world in the game with tracks to suit everyone's preferences. From Nepal's icy paths to the dry canyons of Arizona. Each track will provide a different challenge for you to master.
If cold temperatures are your thing then, as well as the already mentioned Nepal, you'll be heading to New York as you drive through the urban jungle and on a frozen East River. Plus, you'll be racing in the wintry tundra conditions of Norway as you go through a coastal town and into steep snowy mountains under the beautiful Northern Lights.
Not fancying the snowsuit? China's paddy fields and Guilin mountains will provide a muddy challenge, and the winding villages of Morocco offer a test for even the drifting pros out there. If you want a mix of both then Brazil is where to go. The mix of Rio's Favelas and the mud, sand and tarmac paths make for a versatile location.
If you want to go up a level then head to Greece with mountain passes, rocky trails and steep tracks offering an incredible view as well as some dangerous rallying. South Africa is another place you can travel to, starting at the base of Table Mountain and heading through Cape Town.
If you're looking for something totally unique though, then Italy's marble mine is an unforgettable experience with picturesque settings.
Career Mode
The levels make the career mode a worldwide experience across five chapters. If you prefer certain events though there's no need to worry as the career mode branches that often allow you to focus upon the disciplines you prefer, rather than competing in areas you don't enjoy as much.
Placing well in events will earn you money and stamps. Money will, of course, allow you to upgrade and buy new cars, with stamps unlocking chapter finales.
Competing isn't the only way to earn money though, you will get the choice to sign a sponsor who will offer bonuses for gaining rep and leveling up. There will be a choice of twenty real sponsors including Monster Energy and Goodyear.
Alongside the sponsors, you will be able to customise your liveries to put your own stamp on the car with a new creator. Or choose from bespoke designs from famous livery artists such as Death Spray Customs and Renault F1 artist Sean Bull.
These aren't the only famous names in the career mode though. The Last of Us' Troy Baker plays classic DiRT character and your mentor, AJ. And you'll be racing against Uncharted's Nathan Drake, Nolan North. He plays up and coming superstar Bruno Durand who is gunning for AJs crown.
Play with friends
Like most racing games, you will be able to compete online in races or up to 12 player curated playlists. Or choose objective-based modes if you don't want to race.
You will also be able to play offline with 4-player split-screen races. But with DiRT 5 it doesn't just stop there as up to four-player split-screen is available in career mode.
Friends will take the place of AI drivers and their performance could help you earn more bonuses and stamps. The game uses the highest result as the players' result in the career so if you're stuck you could ask a friend to give you a hand whilst racing yourself!
This split-screen will be drop-in, drop out for career mode so you won't have to worry about starting again.
---
---
Share this post