All you need to know about Football Manager 2021
You will be able to lift virtual trophies yet again with the next Football Manager title releasing soon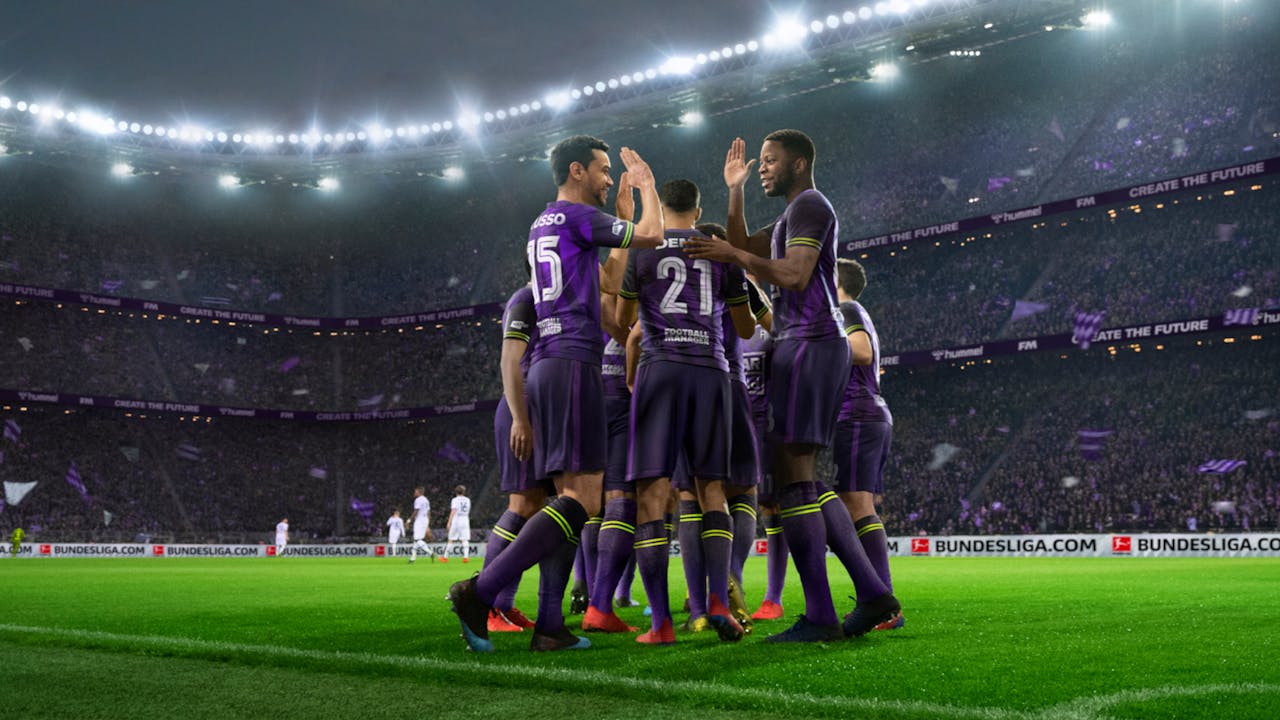 It's that time of year when, despite continuing to play in season 25 with Harrogate Town and being Champions League winners for the 4th time, that we look forward to the next installment.
Sports Interactive have unveiled their new Football Manager 2021 game's features and the franchise, which is one of Steam's most-played every year, will give you more control over your virtual club than ever before.
Four key areas of the game will be completely rebuilt for the new edition. These are Interaction, Matchday, Recruitment, and End of Season. Plus, a whole host of other changes to the Match Engine, and more.
Release Date
The next-generation of the popular football, or soccer if you'd prefer, game is releasing on November 24 2020. With Early Access already out this week, so you can get playing sooner than you think!
The game is coming to both Steam and the Epic Game Store on launch for the first time in the franchise's history, after a successful FM20 giveaway on Epic in September.
Interaction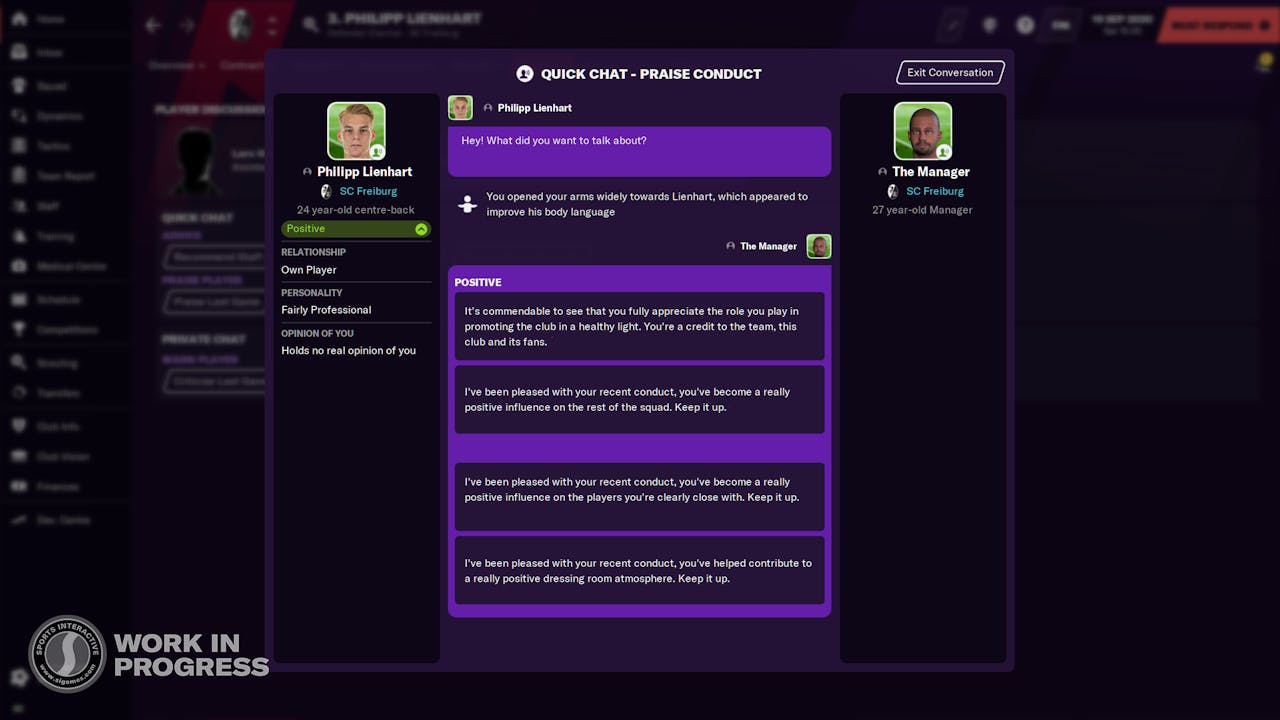 Managing your club isn't just about on-field tactics. Communicating with your players, staff and the media will have more purpose in FM21 as what you say and how you say it has changed.
Long-time fans of the series will be glad to hear that Press Conferences' have been redesigned to include more variety and be more human.
Before the start of the conference, your Press Officer will brief you on subjects to talk about or avoid, with players also joining you in answering the media's questions, and if you're lucky you may notice that the press will start to turn your unique brand of football into a footballing phrase that will put you into the history books!
You will also be able to communicate better. Gestures will replace the Tone System. This dictates how you say things, such as you can open arms, shake your head, or even go full Fergie and throw a water bottle. What you do will shape your personality and help shape how players and the media view you as a manager. A bit like an RPG!
As well as this, conversations have been redesigned. The new Quick Chats feature allows you to communicate quickly with players and staff from the club or to managers, press, and players outside of the club in an informal manner.
The formal chats have also been rebuilt too with face to face conversations being modified from the one to one chats to being able to have multiple people in the discussion.
The example Sports Interactive gave us was a player looking for more minutes may bring their agent into the chat who could threaten to force a move if you don't deliver what they want.
After the meeting too, you will get a summary to remind you of any promises you have made and any actions that have been taken.
Recruitment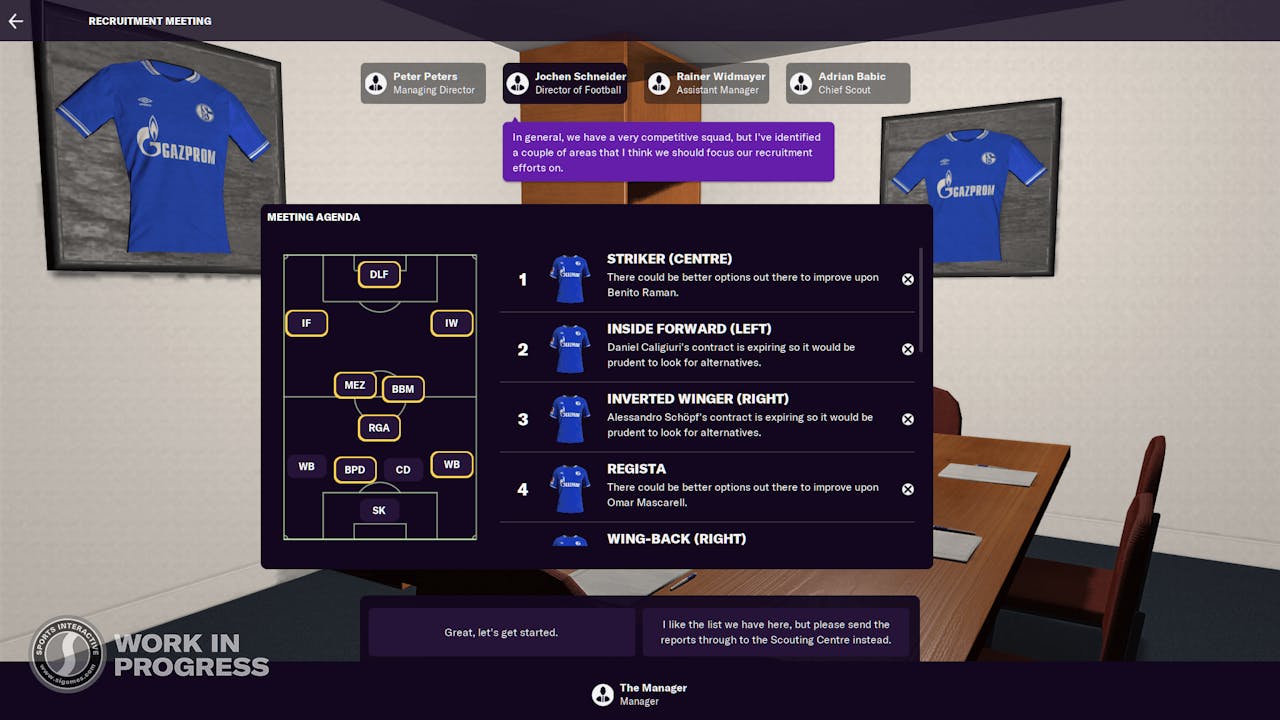 A new staff role, new meetings, and new interactions will change how you deal with player recruitment.
Before the start of a Transfer Window, there's a new recruitment meeting where you will get feedback from staff, give your own opinions, and set scout assignments for the immediate window and for future windows.
Picking your future superstar to invest in isn't an easy task, and with FM21 you will be getting more of a helping hand to decide on your next target.
This is aided by a new recruitment analyst who will produce in-depth reports to make sure the player you're signing is up for the task of wearing the shirt of your chosen club. However, you can choose to ignore this advice and go after your favorite players if you so wish, or just that list of wonderkids that you promised yourself you wouldn't look at… but did anyway.
You've done the preparations and now within the window, there's a new option to ask an agent about player availability.
This will save time when trying to pursue a player that has no interest in joining your club. But it could also make certain players request transfers that will bring their transfer value down, and let you know when you're chasing a player that has demands that exceed your budgets.
You will be able to talk to the player themselves too and ask them to speed up their contract decision. Useful if you've found yourself in the middle of a deadline day struggle, meaning no time is wasted if the deal goes pear-shaped.
Matchday Presentation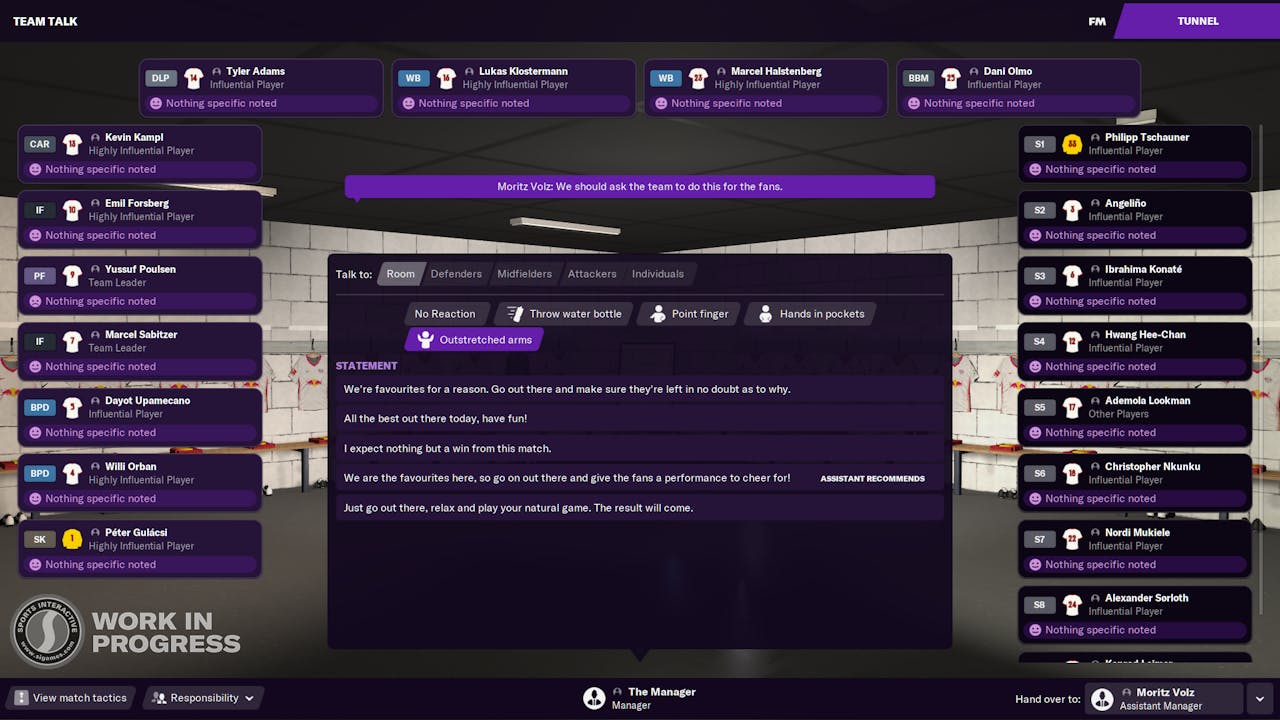 There's a new build-up and post-game experience in Football Manager 2021. Ultimately you will be judged by your results, and in the new game you will be able to make more informed decisions about performances.
In the pre-game, there are new screens from staff with existing and new information to help gain an advantage in a game. This will contain advice that you can apply, opposition scouting, and media fan opinions.
With the layout changing too to easily talk to positional groups, individuals or the whole room. There are new individual talks for players on milestones, such as their last appearance.
On a matchday, the screen is bigger for the reworked 3D pitch - which has improved player models, improved animation system, and improved lighting. This allows you to see more of the action, whilst making changes you need in a timely fashion before you concede a vital goal.
A new post-match screen gives media and fan opinions of the game and there's new data to digest too, including the much-requested Expected Goal (xG) statistic. This will allow you to analyze the match performance like never before and make any changes needed to turn a loss into a win.
If your team is on TV you will also face pre and post-match interviews with the pre-match focusing on the tactical insights and opposition, whereas the post-match will be your first reaction before you can talk to your players.
What you say could influence how the opposition plays, and how your players react to your team talk.
Match Engine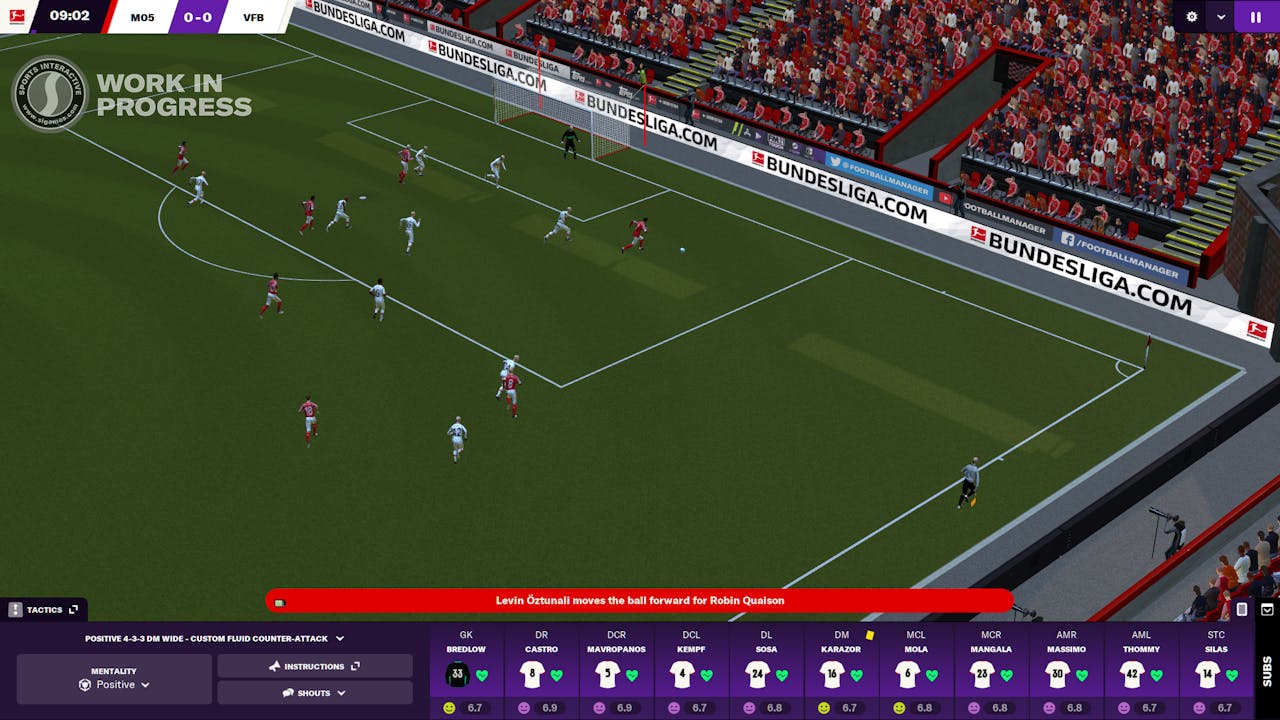 It's not just what you can do around the match that has been improved. Sports Interactive have spent significant time tweaking the match engine to make a better recreation of the 'Beautiful game'.
Decision-making is now quicker, so your players will be able to respond more realistically and those players with high mental attributes will be able to succeed more on the pitch.
This is shown most in marking on FM21 with defenders able to act smarter in how they deal with a tricky attacker. Goalkeepers will now be able to make more informed decisions on when to go to ground and where they are positioned, as well as the best course of action to deal with a situation, such as kicking on a gusty day!
Don't expect the game to see lots of 0-0s though, the balance between attack and defense will still be present as attacking interplay has also improved. So your tactical instructions can be put to better use by your players.
It's not just the battle at both ends of the pitch that will make a difference, there's a greater emphasis on the midfield battle that pundits so often mention. The game has increased several areas key to the midfield to make the unpredictability of football that we love be present in the game, and the fluidity of the teams that we're so fond of watching be achievable to mimic in FM21.
End of the Season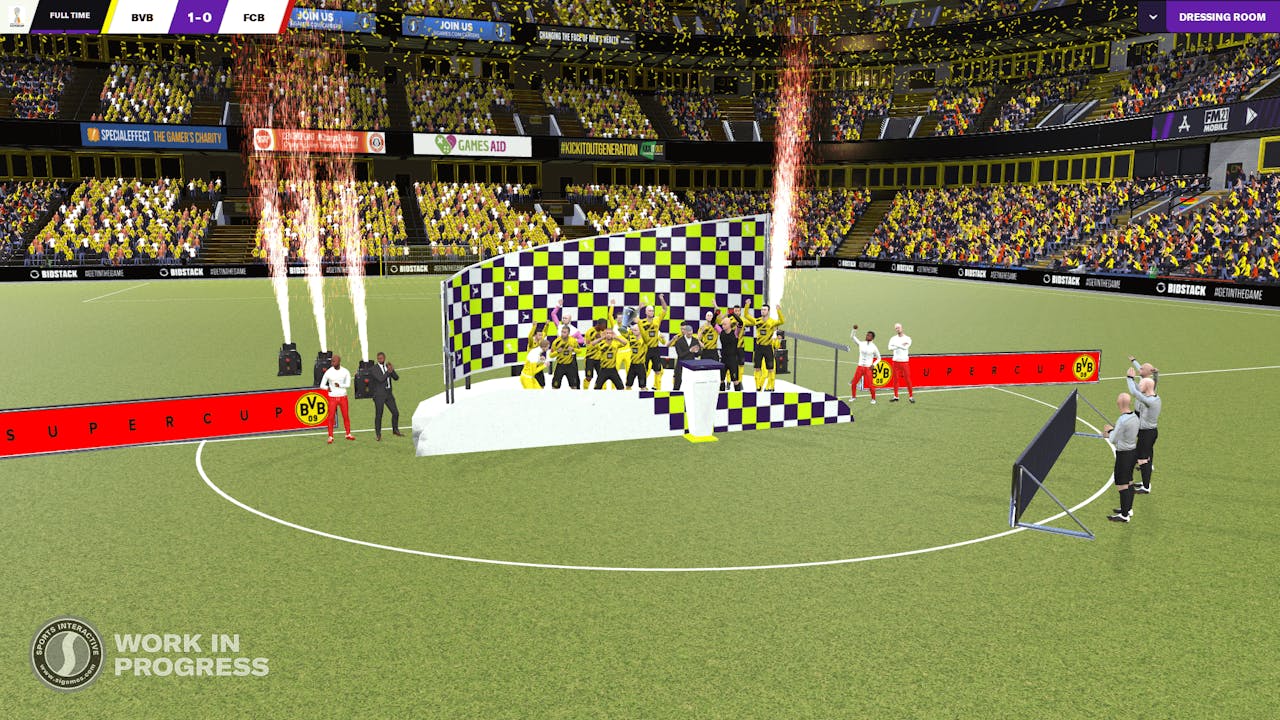 The season is drawing to a close and you're on track to win the league. Improved title celebrations on the pitch mean you can enjoy that moment even more. Now when you taste glory you see your team lift the trophy with more fanfare than in previous games, including confetti cannons!
The media will also get involved with big moments, such as narrowly avoiding relegation, or winning the play-offs. With the game promising more media attention and hype to big milestones in the season.
After the season draws to a close, you will see a review presentation that displays information. Such as the biggest win and the goal of the season, as well as displaying your rewards and your best XI.
You also can't forget about finances with a more digestible version of how your club did as a business with shirt sales, broadcast, and commercial three sections that will factor into your next season's transfer budget.
COVID-19
Yes, yes, I know a game preview is the last place you want to hear about the ongoing pandemic. However, Football Manager aims to simulate reality and they're not afraid to be controversial with the inclusion of Brexit already.
It's good news though, the virus won't be in the game, so you can continue to use the game as a much-needed escape whilst you stay safe.
There will be the effects of the virus in the game - such as decreased revenue and calendar changes, but these will be rectified within the first few seasons as the game returns back to normal.
Other Changes
As with every Football Manager game, there are a lot of smaller changes that can make a difference between winning and losing.
I won't name them all in as it will be never-ending, but we will go through the highlights picked out by the Fanatical team.
One that stood out was the ability to communicate to a player that they will be the first choice when another player leaves.
If you are someone who loves to plan ahead in the game. The ability to be able to let a player know during contract negotiations that they will not be replaced by a new signing will save a lot of your squad moaning about game time when they're next in line to succeed an aging star.
Speaking of contracts, goals, and assist bonuses can be combined. If you've got that mercurial forward who loves to get in on the action, you can reward them for their contribution as a whole, rather than individually.
Player roles will now have an animation to help understand what the role will do on the pitch. Of course, the paragraph of information is still there, but this should help you shape your team together in a more balanced way… Though 10 attacking players will lead to amazing games, just maybe a few sackings too.
---
---
Share this post