Your Viking adventure could be a big one!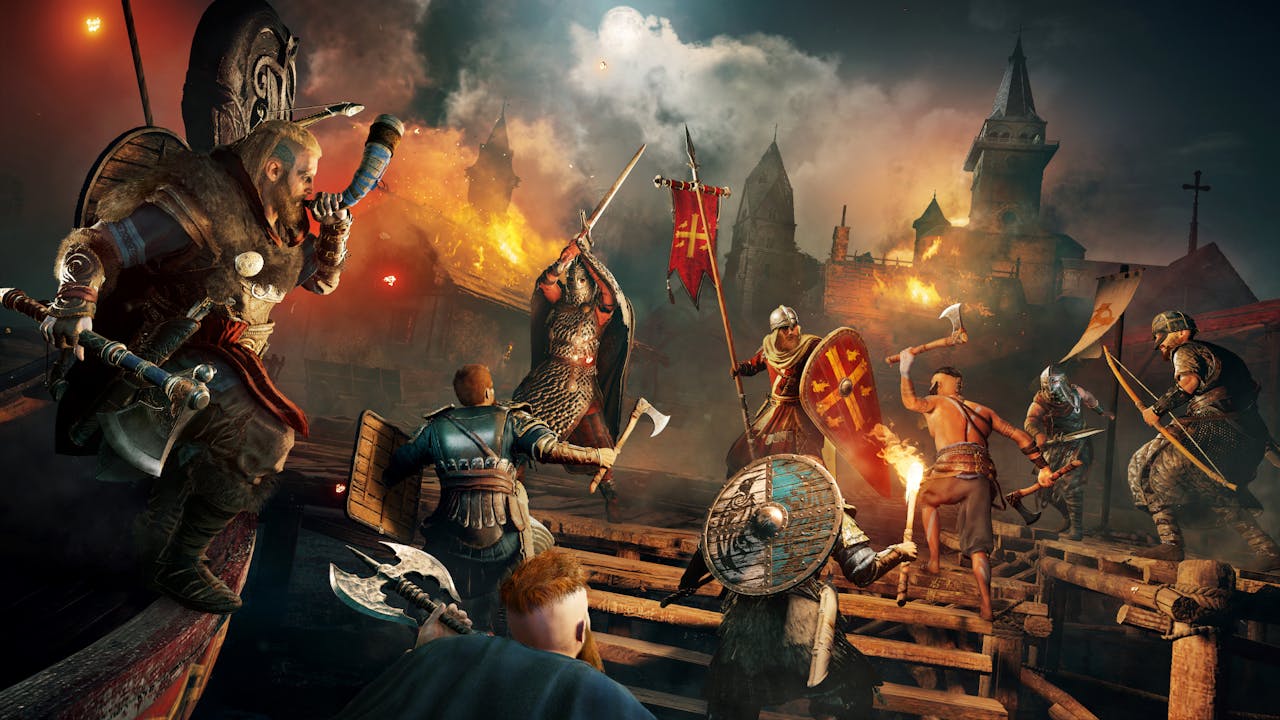 Assassin's Creed Valhalla is an open-world action RPG from Ubisoft. Developed by a team of award-winning developers, this game takes players on an epic journey through the...
Later this year, many of you will be venturing from Norway into Dark Ages England as a brave Viking warrior in the upcoming action-adventure RPG Assassin's Creed Valhalla - and by the sound of it, you'll be roaming across a pretty big map.
Ubisoft set the bar high in terms of map scale with Assassin's Creed Odyssey, the previous installment in its long-running franchise which took players to Ancient Greece, and now it looks like Valhalla will take the top spot.
In an interview with Game Informer, Valhalla creative director Ashraf Ismail said that the game will feature "quite a large map" and will focus on the four major kingdoms of England during this time period - Wessex, Northumbria, East Anglia, and Mercia. But it was a recent interview with Ubisoft Montreal producer Julien Laferriere that really perked up a few ears.
During an interview with French YouTuber Julien Chieze, Laferriere said [translated]: "In range terms we're probably a little bigger than Assassin's Creed Odyssey."
Laferriere also confirmed that the map will feature England as well as small parts of Norway, and "other secret worlds" which will tie into the game's narrative. This could be similar to the World War 1 scenes that we experienced in Assassin's Creed Syndicate.
While it hasn't been confirmed so far, we expect Ubisoft will give us an update later in the year during one of the major showcases - perhaps during Xbox or Sony's upcoming events. Whatever the case, Valhalla certainly shaping up to be a great looking game, with a vibrant world that many of you will be eager to explore as you unleash your inner Viking.
Assassin's Creed Valhalla sees you take on the role of Eivor, a legendary Viking raider who is can be fully customized in gender, hair, tattoos, war paint and gear. Driven from Norway by endless wars and dwindling resources in the ninth century AD, you must lead Eivor's clan of Norsemen across the icy North Sea to the rich lands of England's broken kingdoms.
You'll carve out a new future for their clan, reliving the ruthless fighting style of Viking warriors with a revamped combat system that includes the ability to dual-wield weapons against a greater variety of enemies than ever before - as well as taking advantage of new features including raids, growing your settlement, building your power and expanding your influence.
---
---
Share this post