Some of many features and game creations available in the software bundle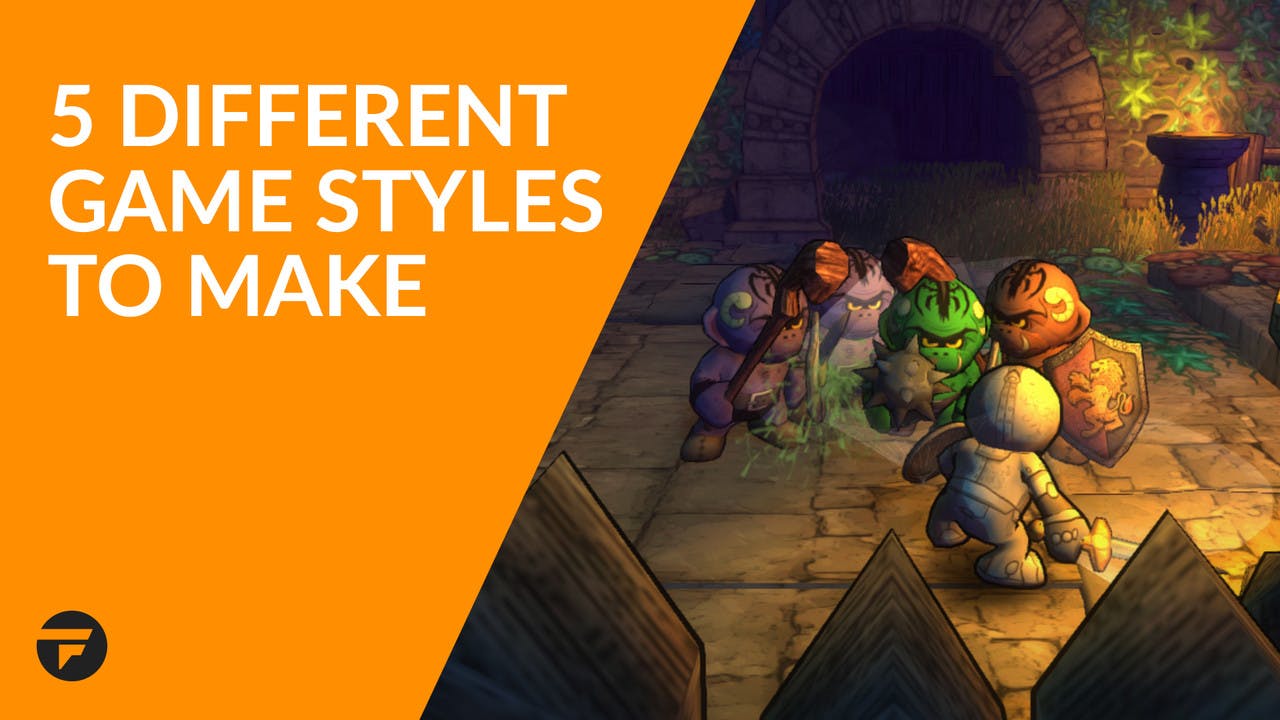 Whether you're looking to create game worlds for fun, or perhaps you're a budding game design student looking to get some much-needed practice, the Axis Game Factory Complete Bundle provides you with some awesome software to learn vital skills that could even help you break into the industry!
The core AGFPRO v3 software - a comprehensive toolset designed to provide game developers, hobbyists and gamers with a powerful and rapid level creation - gives you a lot to play with, and with the six additional DLC expansions available, your creativity will flourish. With over $200 worth of product for just $2.49, game design doesn't come much cheaper than this!
Here, we've highlighted 5 game styles that you can make with software available in the Axis Game Factory Complete Bundle.
First-person shooters
If you're looking to create some chaotic FPS fun, this bundle is full of it. First up is the Zombie FPS Player DLC, which is packed with tons of assets, features and game player mechanics - allowing users to create endless custom Zombie themed games.
You can choose from five custom enemy types of characters, each with their own unique abilities and animations, weapons, health and other pick-ups, and assets tuned with game-play mechanics - as well as environment assets for interior and exterior map creation, explosive assets, scene-linking for endless map connections and sound effects.
Zombie Survival Pack DLC, a kind of 'cherry on the cake' for the Zombie FPS Player DLC, adds over 70 custom items for zombie, horror, survivor FPS and other modern themed games. Each item has been created with a low poly count with quality textures, and adds a roster of gruesome weapons for your character to use - once you've designed the level of course. If zombies aren't your thing, you can go for the more futuristic approach with the Drone Kombat FPS Multiplayer DLC.
As the name suggests, users can create a sci-fi themed FPS with single wave-based enemy combat, as well as up to 8-player multiplayer. This DLC includes over 50 assets including a Space Station and Space Ship arena. A neat feature with this DLC is the new AI system, where AI nodes are built into the model assets in addition - this means that, as you play the game, the users paths are recorded and added to the scene file - so the more you play, the smarter the AI enemy becomes!
Side-scrollers
Fancy creating a nostalgic side-scrolling game? Step this way with the Fantasy Side-Scroller Player DLC. Users have the ability to build their own 3D games from a retro side-scroller perspective - and, once you've built and played through the game yourself - you can also share your custom creations with other AGF users!
Choose player power-ups (Super Speed, Super Jump, Invincibility, etc.), player item pick-ups and hack and slash gameplay mechanics for your Knight or Wizard playable character - with nine different enemy bots to place throughout the game levels.
Open-world/Exploration
For those who want to make an impressive open-world setting to explore, there's GeoVox. This is one of the latest real-time world generation software applications from Axis - a completely new standalone Voxel-based, real-time terrain creation tool. You'll be able to create lush AAA quality environments from the vert start of the application, and its intuitive game like controls allow users to test for level playability.
This software feature simple tools that allow users to edit the environment as needed without a steep learning curve. Access clean, low overhead GUI for fast terrain editing without limiting users creativity; standard game controls to explore your environment to simulate gameplay, and take advantage of the flying and FPS style camera angles with gravity and jump ability camera modes to see your design from the player's perspective.
Battlemat/Tabletop
If you enjoy tabletop games like BATTLETECH and Space Hulk: Tactics - then you should check out the BattleMat Multi-Player DLC. Users can build an in-depth co-op world where adventure and quests go hand in hand. Build your own armies and invite your friends into a fun multiplayer modes for up to 8 players - where they can join forces and fight for total domination of the map with the software's built-in Objective System.
You make the rules, so any game system you have played in the past can be enjoyed in Battlemat's versatile multiplayer 'Virtual Playing Space', and all game modes - and any others you may make for yourself - are played on maps and dungeons created in the AGFPro Basic or Premium Edition. This software also allows players to drop in and out of saves easily with the GM Miniature Assignment System.
Non-linear sandbox
If you're all about building as you go and working on tiny details of a game world like in Minecraft - then the Voxel Sculpt is the place to be. Voxel - short for volume pixel - the smallest distinguishable box-shaped part of a three-dimensional image, empowers users with the ability to create unique custom worlds one voxel at a time. By adding or subtracting voxels, you can create bridges, tunnels, caves, floating platforms, buildings and assets using soft or hard-edged voxels, any size, and with any texture for limitless possibilities.
Voxel Sculpt works with all of the DLCs (Fantasy, Zombie, Drone, BattleMat and Premium) and is even compatible with early versions of Unity 5.0!
---
---
Share this post