Busy 12 months or so for the major AAA publisher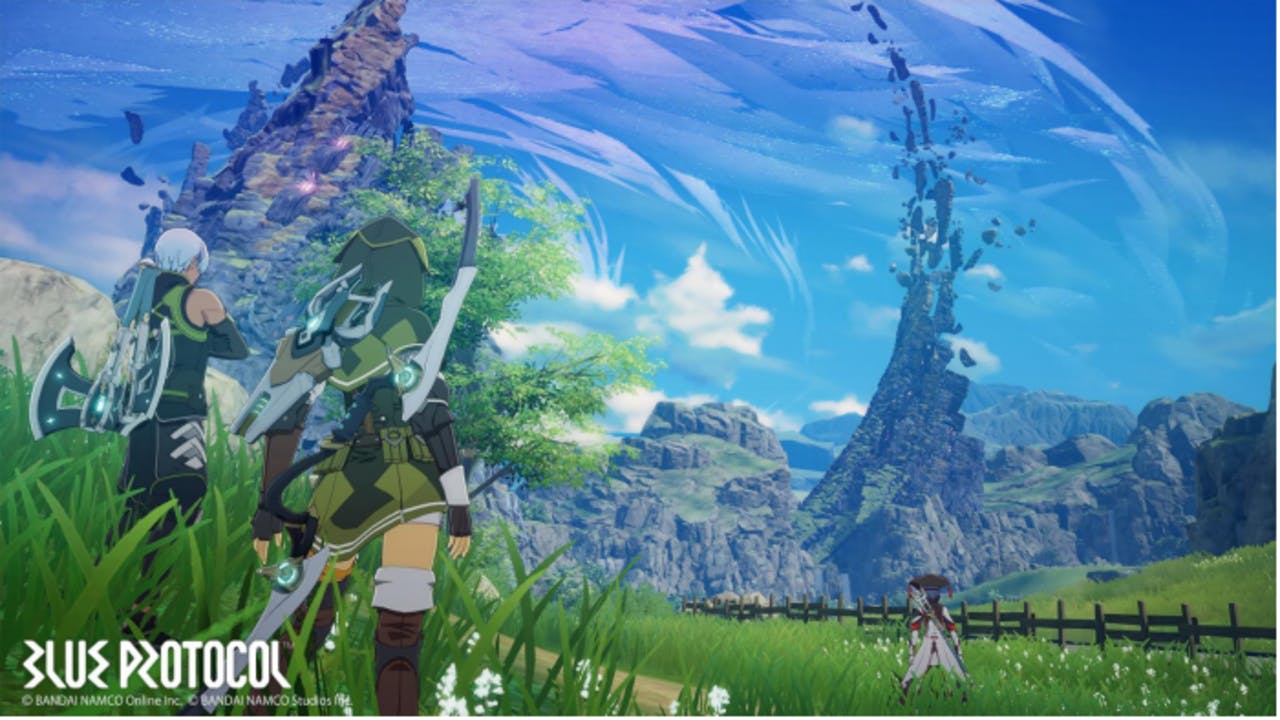 Someone at Bandai Namco HQ really likes action RPGs... because the publisher has teased what could be the fourth new game from this genre to be released in the next 12 to 18 months.
Blue Protocol is being developed by Project Sky Blue, a team made up of Bandai Namco Online and Bandai Namco Studios, and looks set to be a PC only release from early reports.
As reported by gematsu, Blue Protocol will be set in a world that features 'overwhelming graphics along the lines of anime movies', and well as incorporating multiplayer action for online via Unreal Engine 4. Beneath the game logo, the description reads 'The world is on the brink of devastation, now is the time to unite. March on with friends and strangers, and defeat foes beyond your might. Travel through space and time, to change the future beyond this fight!'
No release date has been confirmed just yet, but an alpha test has been announced for Japan-based games from July 26th to July 28th. The official Blue Protocol Twitter page also teased the character creation system on Sunday (July 7th).
One thing's for sure, it's certainly going to be an interesting few months for Bandai with other action RPGs coming soon.
Bandai had already confirmed earlier in the year that the publisher had another Dragon Ball game in the works, and during E3 it unveiled Dragon Ball Z: Kakarot, an action RPG in which players will relive the story of Goku through 1v1 arena-type battles with some of the DB universe's toughest enemies.
On top of that, Bandai also gave us a first glimpse at Elden Ring, another action RPG that is being developed by FromSoftware - with Dark Souls creator Hidetaka Miyazaki and Game of Thrones writer George R.R. Martin collaborating together on the project.
On the topic of new hardcore RPGs, there's also Code Vein, which launches this September. The game is set in a post-apocalyptic dystopian world where only a few survivors remain, while many others have been infected and turned into vampire-like creatures.
Fanatical got hands on with a Beta version of the game, and you can definitely see the Dark Souls inspiration in its hardcore playstyle. In addition, Bandai is also releasing Tales of Arise in 2020 - with Tales of Zestiria and Tales of Berseria artist Minoru Iwamoto returning as character designer and art director.
<blockquote class="twitter-tweet tw-align-center " data-lang="en-gb"><p lang="ja" dir="ltr">キャラクリが気になる方へ!公式サイトではあまり見られなかったαテスト版のキャラクリを少しだけっ最速公開⏩キャラクターの身長・体型は…動画をチェック‼️気になる情報をお届けする公式Twitterのフォローをお願いします<br><br>⬇️CaTへのご応募はこちら<a href="https://t.co/BGS07ZBDuf">https://t.co/BGS07ZBDuf</a> <a href="https://twitter.com/hashtag/%E3%83%96%E3%83%AB%E3%83%97%E3%83%AD?src=hash&amp;ref_src=twsrc%5Etfw">#ブルプロ</a> <a href="https://twitter.com/hashtag/BlueProtocol?src=hash&amp;ref_src=twsrc%5Etfw">#BlueProtocol</a> <a href="https://t.co/K9E2Q62OdC">pic.twitter.com/K9E2Q62OdC</a></p>&mdash; BLUE PROTOCOL (@BLUEPROTOCOL_JP) <a href="https://twitter.com/BLUEPROTOCOL_JP/status/1147765511968583680?ref_src=twsrc%5Etfw">7 July 2019</a></blockquote>
<script async src="https://platform.twitter.com/widgets.js" charset="utf-8"></script>
---
---
Share this post