Beat the Clock - Last chance to grab amazing exclusive game bundles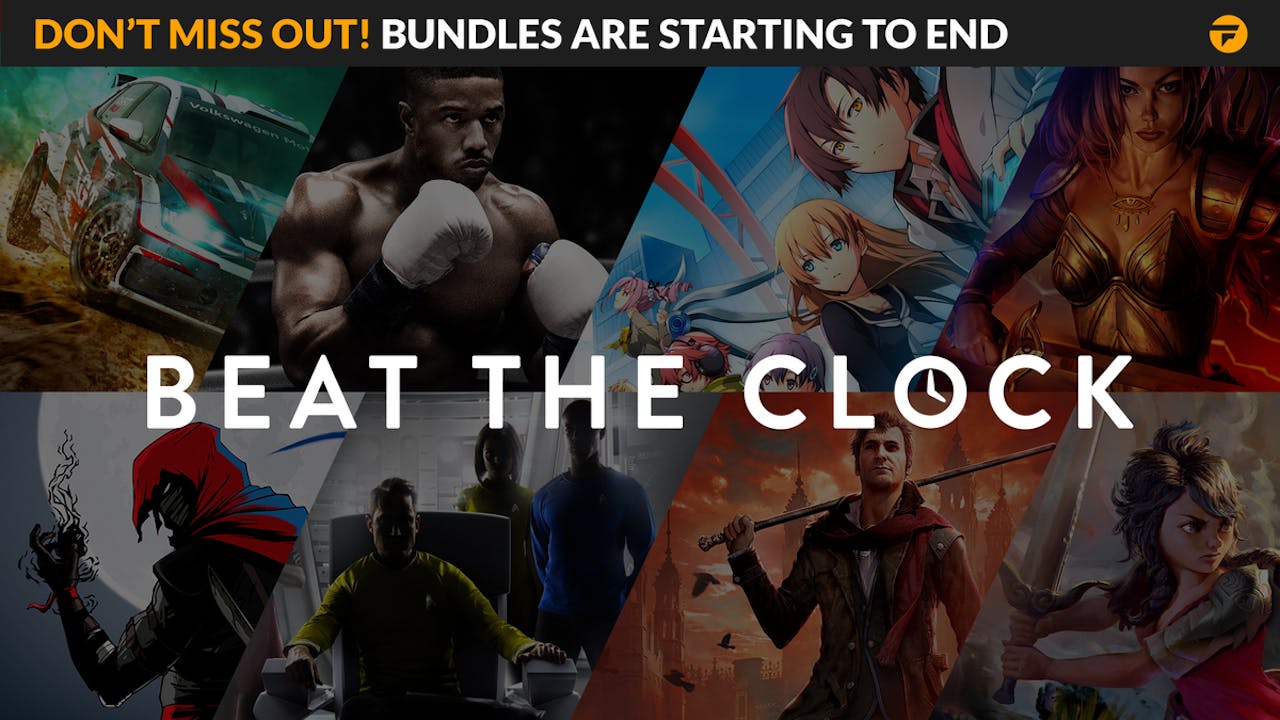 DEALS HAVE NOW ENDED
Our latest BundleFest event brought you some of the biggest, exclusive bundles around - with gamers saving hundreds on fantastic Steam PC games in carefully curated bundles.
If you felt like you missed out, don't fret, you have a small window of time to grab some of these amazing bundles before they leave the Fanatical Store in our Beat the Clock event!
From epic fantasy adventures to immersive virtual reality worlds, you'll find a fantastic collection that will suit gaming preference.
Top bundles ending soon!
KILLER BUNDLE 15
The wait is over! Introducing a brand-new, must-have collection featuring eight Steam PC games.
With our Killer upgrade, you can unlock DiRT Rally 2.0's Year One Pass content, featuring Seasons 1 to 4 and Colin McRae: FLAT OUT Pack... it's a no-brainer!
-
BUILD YOUR OWN VR BUNDLE
Break down those virtual walls and explore game worlds as you've never experienced them before with the Build your own Ultimate VR Bundle!
Now with a total of 21 Virtual Reality-based Steam PC games to choose from, including 16 new-to-bundle titles, you'll not only get to enjoy fantastic new games - you'll feel a part of them.
-
BUILD YOUR OWN ANIME BUNDLE
You have the power to choose your own line-up of 'anime-zing' Steam PC titles with the Build your own Anime Bundle.
With 18 games to choose from (featuring seven new-to-bundle) you'll embark on grand adventures and meet a colorful list of characters from one of the world's most popular genres.
-
BUILD YOUR OWN FESTIVAL BUNDLE
No wellies or pitch-up tent required! Keep your gaming party going for hours and choose your own line-up of awesome games with the Build your own Festival Bundle!
Featuring up to 20 Steam PC games to enjoy, festival fever is heading straight to your games library with an array of highly-rated titles for fans of strategy, adventure, RPGs and more.
-
MYTH BUNDLE
Turn folklore into reality in your games library with the Myth Bundle - featuring seven Steam PC games at a ridiculously low price!
With an emphasis on action, adventure and role-playing, you'll discover unique fantasy worlds and witness stories beyond the average person's perspective and imagination.
---
---
Share this post