Beat the January blues with thousands of AAA and Indie games on sale for less
Save on games in your Wishlist with our new January Savers deals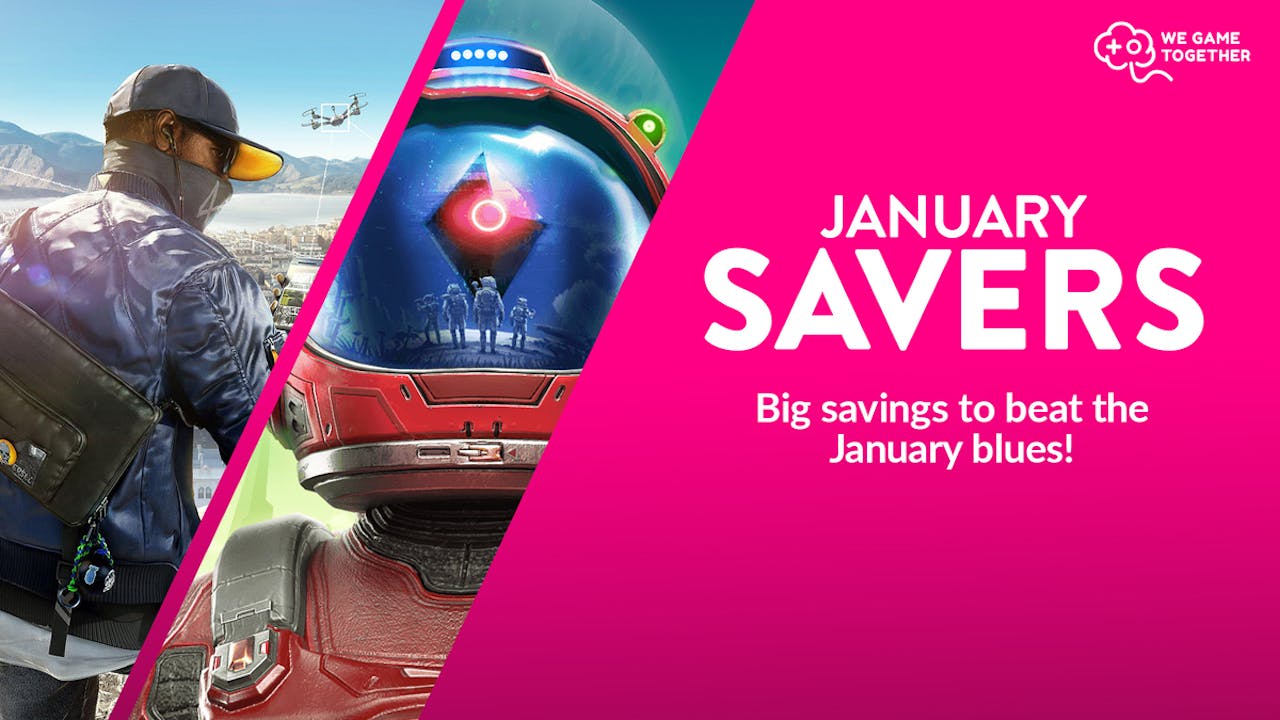 Build your own Platinum Collection is your dream ticket to superpowered Steam games! Unlock hours of gaming excitement by selecting the games of your choice; all while...
The festive period is over, but it's still cold outside. So why not warm yourself up indoors by picking up a new game (or ten!) in our January Savers?
All this week, we've got awesome AAA games and incredible Indies on sale for less. Pick up highly-rated titles for a best-ever price, grab an exclusively curated bundle, and much more.
Each day there will be an exciting array of gaming deals for you to pick up, so don't miss out on deals you'll love and keep checking back our store.
Day One Deals
<b><a href="https://www.fanatical.com/game/ancestors-legacy">Ancestors Legacy</a> - SAVE 79%</b>
<b><a href="https://www.fanatical.com/game/anno-1800-standard-edition">Anno 1800 - Standard Edition</a> - SAVE 71%</b>
<b><a href="https://www.fanatical.com/game/anno-1800-complete-edition">Anno® 1800 - Complete Edition</a> - SAVE 56%</b>
<b><a href="https://www.fanatical.com/game/assassins-creed-odyssey">Assassin's Creed Odyssey</a> - SAVE 74%</b>
<b><a href="https://www.fanatical.com/game/assassin-s-creed-odyssey-gold-edition">Assassin's Creed Odyssey: Gold Edition</a> - SAVE 78%</b>
<b><a href="https://www.fanatical.com/game/assassin-s-creed-odyssey-ultimate-edition">Assassin's Creed Odyssey: Ultimate Edition</a> - SAVE 78%</b>
<b><a href="https://www.fanatical.com/game/assassins-creed-origins">Assassin's Creed Origins</a> - SAVE 82%</b>
<b><a href="https://www.fanatical.com/game/assassins-creed-origins-gold-edition">Assassin's Creed Origins - Gold Edition</a> - SAVE 82%</b>
<b><a href="https://www.fanatical.com/game/children-of-morta">Children of Morta</a> - SAVE 55%</b>
<b><a href="https://www.fanatical.com/game/dead-rising-3-apocalypse-edition">Dead Rising 3 Apocalypse Edition</a> - SAVE 73%</b>
<b><a href="https://www.fanatical.com/game/deadrising-4-franks-big-package">Dead Rising 4 - Frank's Big Package</a> - SAVE 77%</b>
<b><a href="https://www.fanatical.com/game/devil-may-cry-5-deluxe-edition">Devil May Cry 5: Deluxe Edition</a> - SAVE 35%</b>
<b><a href="https://www.fanatical.com/game/devil-may-cry-hd-collection">Devil May Cry HD Collection</a> - SAVE 41%</b>
<b><a href="https://www.fanatical.com/game/far-cry-5">Far Cry 5</a> - SAVE 82%</b>
<b><a href="https://www.fanatical.com/game/far-cry-5-gold-edition">Far Cry 5 - Gold Edition</a> - SAVE 82%</b>
<b><a href="https://www.fanatical.com/game/far-cry-5-far-cry-new-dawn-deluxe-edition-bundle">Far Cry® 5 + Far Cry® New Dawn Deluxe Edition Bundle</a> - SAVE 82%</b>
<b><a href="https://www.fanatical.com/game/fell-seal-arbiter-s-mark">Fell Seal: Arbiter's Mark</a> - SAVE 71%</b>
<b><a href="https://www.fanatical.com/game/for-honor-complete-edition">FOR HONOR - Complete Edition</a> - SAVE 78%</b>
<b><a href="https://www.fanatical.com/game/graveyard-keeper">Graveyard Keeper</a> - SAVE 50%</b>
<b><a href="https://www.fanatical.com/dlc/graveyard-keeper-stranger-sins">Graveyard Keeper - Stranger Sins</a> - SAVE 50%</b>
<b><a href="https://www.fanatical.com/game/hello-neighbor">Hello Neighbor</a> - SAVE 50%</b>
<b><a href="https://www.fanatical.com/game/lords-of-the-fallen-game-of-the-year-edition">Lords of the Fallen Game of the Year Edition</a> - SAVE 86%</b>
<b><a href="https://www.fanatical.com/game/metro-exodus">Metro Exodus</a> - SAVE 64%</b>
<b><a href="https://www.fanatical.com/game/monopoly-plus">MONOPOLY PLUS</a> - SAVE 64%</b>
<b><a href="https://www.fanatical.com/dlc/monster-hunter-world-iceborne">Monster Hunter World: Iceborne</a> - SAVE 45%</b>
<b><a href="https://www.fanatical.com/dlc/monster-hunter-world-iceborne-deluxe-edition">Monster Hunter World: Iceborne Digital Deluxe</a> - SAVE 42%</b>
<b><a href="https://www.fanatical.com/game/monster-hunter-world-iceborne-master-edition">Monster Hunter World: Iceborne Master Edition</a> - SAVE 48%</b>
<b><a href="https://www.fanatical.com/game/monster-hunter-world-iceborne-master-edition-deluxe">Monster Hunter World: Iceborne Master Edition Deluxe</a> - SAVE 46%</b>
<b><a href="https://www.fanatical.com/game/monster-hunter-world">MONSTER HUNTER: WORLD</a> - SAVE 42%</b>
<b><a href="https://www.fanatical.com/game/moonlighter">Moonlighter</a> - SAVE 70%</b>
<b><a href="https://www.fanatical.com/game/no-man-s-sky">No Man's Sky</a> - SAVE 50%</b>
<b><a href="https://www.fanatical.com/game/outward">Outward</a> - SAVE 72%</b>
<b><a href="https://www.fanatical.com/game/overcooked-2">Overcooked! 2</a> - SAVE 55%</b>
<b><a href="https://www.fanatical.com/game/project-highrise">Project Highrise</a> - SAVE 70%</b>
<b><a href="https://www.fanatical.com/game/resident-evil-2-biohazard-re-2-deluxe">RESIDENT EVIL 2 / BIOHAZARD RE:2 - Deluxe Edition</a> - SAVE 64%</b>
<b><a href="https://www.fanatical.com/game/resident-evil-3">RESIDENT EVIL 3</a> - SAVE 70%</b>
<b><a href="https://www.fanatical.com/game/resident-evil-7-biohazard">RESIDENT EVIL 7 biohazard</a> - SAVE 70%</b>
<b><a href="https://www.fanatical.com/game/rim-world">RimWorld</a> - SAVE 16%</b>
<b><a href="https://www.fanatical.com/game/roki">Röki</a> - SAVE 43%</b>
<b><a href="https://www.fanatical.com/game/secret-neighbor">Secret Neighbor</a> - SAVE 50%</b>
<b><a href="https://www.fanatical.com/game/shenmue-iii">Shenmue III</a> - SAVE 71%</b>
<b><a href="https://www.fanatical.com/game/shenmue-iii-deluxe-edition">Shenmue III Deluxe Edition</a> - SAVE 71%</b>
<b><a href="https://www.fanatical.com/game/sid-meiers-civilization-vi-new-aspyr">Sid Meier's Civilization VI</a> - SAVE 75%</b>
<b><a href="https://www.fanatical.com/game/sid-meiers-civilization-vi-platinum-edition-aspyr">Sid Meier's Civilization VI Platinum Edition</a> - SAVE 67%</b>
<b><a href="https://www.fanatical.com/game/sniper-ghost-warrior-3">Sniper Ghost Warrior 3</a> - SAVE 82%</b>
<b><a href="https://www.fanatical.com/game/sniper-ghost-warrior-contracts">Sniper Ghost Warrior Contracts</a> - SAVE 69%</b>
<b><a href="https://www.fanatical.com/game/spintires">Spintires</a> - SAVE 80%</b>
<b><a href="https://www.fanatical.com/game/steep">Steep</a> - SAVE 82%</b>
<b><a href="https://www.fanatical.com/game/street-fighter-v-champion-edition">Street Fighter V: Champion Edition</a> - SAVE 41%</b>
<b><a href="https://www.fanatical.com/game/superhot-vr">SUPERHOT VR</a> - SAVE 40%</b>
<b><a href="https://www.fanatical.com/game/the-crew-2">The Crew 2</a> - SAVE 82%</b>
<b><a href="https://www.fanatical.com/game/the-crew-2-gold-edition">The Crew 2 - Gold Edition</a> - SAVE 82%</b>
<b><a href="https://www.fanatical.com/game/this-war-of-mine">This War of Mine</a> - SAVE 82%</b>
<b><a href="https://www.fanatical.com/game/tom-clancys-ghost-recon-wildlands">Tom Clancy's Ghost Recon Wildlands</a> - SAVE 73%</b>
<b><a href="https://www.fanatical.com/game/tom-clancy-s-rainbow-six-siege-year-5-standard-edition">Tom Clancy's Rainbow Six Siege - Standard Edition</a> - SAVE 64%</b>
<b><a href="https://www.fanatical.com/game/tom-clancy-s-rainbow-six-siege-year-5-deluxe-edition">Tom Clancy's Rainbow Six® Siege - Deluxe Edition</a> - SAVE 70%</b>
<b><a href="https://www.fanatical.com/game/tom-clancy-s-rainbow-six-siege-year-5-gold-edition">Tom Clancy's Rainbow Six® Siege - Gold Edition</a> - SAVE 64%</b>
<b><a href="https://www.fanatical.com/game/tom-clancy-s-rainbow-six-siege-year-5-ultimate-edition">Tom Clancy's Rainbow Six® Siege - Ultimate Edition</a> - SAVE 64%</b>
<b><a href="https://www.fanatical.com/game/uno">UNO</a> - SAVE 64%</b>
<b><a href="https://www.fanatical.com/game/warhammer-40-000-mechanicus">Warhammer 40,000: Mechanicus</a> - SAVE 67%</b>
<b><a href="https://www.fanatical.com/game/warhammer-40-000-mechanicus-omnissiah-edition">Warhammer 40,000: Mechanicus OMNISSIAH EDITION</a> - SAVE 67%</b>
Day Two Deals
<b><a href="https://www.fanatical.com/game/elite-dangerous">Elite Dangerous</a> - SAVE 78%</b>
<b><a href="https://www.fanatical.com/game/fifa-21-champions-edition">FIFA 21 Champions Edition</a> - SAVE 65%</b>
<b><a href="https://www.fanatical.com/game/fifa-21-standard-edition">FIFA 21 Standard Edition</a> - SAVE 54%</b>
<b><a href="https://www.fanatical.com/game/fifa-21-ultimate-edition">FIFA 21 Ultimate Edition</a> - SAVE 59%</b>
<b><a href="https://www.fanatical.com/game/jurassic-world-evolution">Jurassic World Evolution</a> - SAVE 78%</b>
<b><a href="https://www.fanatical.com/game/lost-winds">LostWinds</a> - SAVE 78%</b>
<b><a href="https://www.fanatical.com/game/lost-winds-2-winter-of-the-melodias">LostWinds 2: Winter of the Melodias</a> - SAVE 78%</b>
<b><a href="https://www.fanatical.com/game/madden-nfl-21">Madden NFL 21</a> - SAVE 54%</b>
<b><a href="https://www.fanatical.com/game/planet-coaster">Planet Coaster</a> - SAVE 78%</b>
<b><a href="https://www.fanatical.com/dlc/planet-coaster-ghostbusters">Planet Coaster: Ghostbusters™</a> - SAVE 64%</b>
<b><a href="https://www.fanatical.com/game/planet-zoo">Planet Zoo</a> - SAVE 50%</b>
<b><a href="https://www.fanatical.com/game/planet-zoo-deluxe-edition">Planet Zoo - Deluxe Edition</a> - SAVE 54%</b>
<b><a href="https://www.fanatical.com/dlc/planet-zoo-australia-pack">Planet Zoo: Australia Pack</a> - SAVE 30%</b>
<b><a href="https://www.fanatical.com/game/roller-coaster-tycoon-3-complete-edition">RollerCoaster Tycoon® 3: Complete Edition</a> - SAVE 43%</b>
<b><a href="https://www.fanatical.com/game/star-wars-squadrons">Star Wars™: Squadrons</a> - SAVE 45%</b>
<b><a href="https://www.fanatical.com/game/struggling">Struggling</a> - SAVE 46%</b>
<b><a href="https://www.fanatical.com/game/tom-clancy-s-ghost-recon-breakpoint-standard-edition">Tom Clancy's Ghost Recon Breakpoint - Standard Edition</a> - SAVE 86%</b>
<b><a href="https://www.fanatical.com/game/tom-clancy-s-ghost-recon-breakpoint-gold-edition">Tom Clancy's Ghost Recon® Breakpoint - Gold Edition</a> - SAVE 82%</b>
<b><a href="https://www.fanatical.com/game/tom-clancy-s-ghost-recon-breakpoint-ultimate-edition">Tom Clancy's Ghost Recon® Breakpoint - Ultimate Edition</a> - SAVE 82%</b>
<b><a href="https://www.fanatical.com/dlc/tom-clancy-s-ghost-recon-breakpoint-year-1-pass">Tom Clancy's Ghost Recon® Breakpoint - Year 1 Pass</a> - SAVE 73%</b>
Day Three Deals
<b><a href="https://www.fanatical.com/game/blaz-blue-centralfiction">BlazBlue Centralfiction</a> - SAVE 82%</b>
<b><a href="https://www.fanatical.com/game/blaz-blue-calamity-trigger">BlazBlue: Calamity Trigger</a> - SAVE 86%</b>
<b><a href="https://www.fanatical.com/game/blaz-blue-chronophantasma-extend">BlazBlue: Chronophantasma Extend</a> - SAVE 86%</b>
<b><a href="https://www.fanatical.com/game/blaz-blue-continuum-shift-extend">BlazBlue: Continuum Shift Extend</a> - SAVE 86%</b>
<b><a href="https://www.fanatical.com/game/caladrius-blaze">Caladrius Blaze</a> - SAVE 82%</b>
<b><a href="https://www.fanatical.com/game/pc-building-simulator">PC Building Simulator</a> - SAVE 50%</b>
<b><a href="https://www.fanatical.com/game/raiden-iv-over-kill">Raiden IV: OverKill</a> - SAVE 86%</b>
<b><a href="https://www.fanatical.com/game/hard-reset-redux">Hard Reset Redux</a> - SAVE 90%</b>
<b><a href="https://www.fanatical.com/game/hard-west-collectors-edition">Hard West - Collector's Edition</a> - SAVE 90%</b>
<b><a href="https://www.fanatical.com/game/monster-train">Monster Train</a> - SAVE 30%</b>
<b><a href="https://www.fanatical.com/game/payday-legacy-collection">PAYDAY 2 - Legacy Collection</a> - SAVE 83%</b>
<b><a href="https://www.fanatical.com/game/transport-fever-2">Transport Fever 2</a> - SAVE 30%</b>
Day Four Deals
<b><a href="https://www.fanatical.com/game/death-stranding">DEATH STRANDING</a> - SAVE 58%</b>
<b><a href="https://www.fanatical.com/game/desperados-iii">Desperados III</a> - SAVE 50%</b>
<b><a href="https://www.fanatical.com/game/desperados-iii-digital-deluxe-edition">Desperados III - Digital Deluxe Edition</a> - SAVE 50%</b>
Day Five Deals
<b><a href="https://www.fanatical.com/game/ancestors-the-humankind-odyssey-steam">Ancestors: The Humankind Odyssey</a> - SAVE 56%</b>
<b><a href="https://www.fanatical.com/game/bioshock-the-collection">BioShock: The Collection</a> - SAVE 82%</b>
<b><a href="https://www.fanatical.com/game/borderlands-3">Borderlands 3</a> - SAVE 56%</b>
<b><a href="https://www.fanatical.com/game/borderlands-3-super-deluxe-edition">Borderlands 3 - Super Deluxe Edition</a> - SAVE 60%</b>
<b><a href="https://www.fanatical.com/game/borderlands-3-ultimate-edition">Borderlands 3 - Ultimate Edition</a> - SAVE 56%</b>
<b><a href="https://www.fanatical.com/game/grand-theft-auto-v-premium-online-edition">GRAND THEFT AUTO V: PREMIUM ONLINE EDITION</a> - SAVE 55%</b>
<b><a href="https://www.fanatical.com/game/kerbal-space-program">Kerbal Space Program</a> - SAVE 78%</b>
<b><a href="https://www.fanatical.com/game/mafia-trilogy">Mafia: Trilogy</a> - SAVE 41%</b>
<b><a href="https://www.fanatical.com/game/red-dead-redemption-2">Red Dead Redemption 2</a> - SAVE 37%</b>
<b><a href="https://www.fanatical.com/game/red-dead-redemption-2-ultimate-edition">Red Dead Redemption 2: Ultimate Edition</a> - SAVE 43%</b>
<b><a href="https://www.fanatical.com/game/sid-meiers-civilization-vi-new">Sid Meier's Civilization VI</a> - SAVE 78%</b>
<b><a href="https://www.fanatical.com/dlc/sid-meiers-civilization-vi-rise-and-fall">Sid Meier's Civilization VI: Rise and Fall DLC</a> - SAVE 70%</b>
<b><a href="https://www.fanatical.com/game/sid-meiers-civilization-vi-platinum-edition">Sid Meier's Civilization® VI Platinum Edition</a> - SAVE 70%</b>
<b><a href="https://www.fanatical.com/dlc/sid-meier-s-civilization-vi-new-frontier-pass">Sid Meier's Civilization VI - New Frontier Pass</a> - SAVE 33%</b>
<b><a href="https://www.fanatical.com/dlc/sid-meier-s-civilization-vi-gathering-storm">Sid Meier's Civilization VI: Gathering Storm</a> - SAVE 78%</b>
<b><a href="https://www.fanatical.com/game/the-outer-worlds">The Outer Worlds</a> - SAVE 55%</b>
<b><a href="https://www.fanatical.com/game/xcom-2">XCOM 2</a> - SAVE 86%</b>
<b><a href="https://www.fanatical.com/game/xcom-2-collection">XCOM 2 Collection</a> - SAVE 82%</b>
<b><a href="https://www.fanatical.com/game/disney-classic-games-aladdin-and-the-lion-king">Disney Classic Games: Aladdin and The Lion King</a> - SAVE 78%</b>
<b><a href="https://www.fanatical.com/game/disney-infinity-1-0-gold-edition">Disney Infinity 1.0: Gold Edition</a> - SAVE 78%</b>
<b><a href="https://www.fanatical.com/game/disney-infinity-2-0-gold-edition">Disney Infinity 2.0: Gold Edition</a> - SAVE 78%</b>
<b><a href="https://www.fanatical.com/game/disney-infinity-3-0-gold-edition">Disney Infinity 3.0: Gold Edition</a> - SAVE 78%</b>
<b><a href="https://www.fanatical.com/game/disney-mega-pack-wave-2">Disney Mega Pack: Wave 2</a> - SAVE 78%</b>
<b><a href="https://www.fanatical.com/game/escape-from-monkey-island">Escape from Monkey Island™</a> - SAVE 78%</b>
<b><a href="https://www.fanatical.com/game/lego-pirates-of-the-caribbean-the-video-game">LEGO® Pirates of the Caribbean: The Video Game</a> - SAVE 78%</b>
<b><a href="https://www.fanatical.com/game/monkey-island-special-edition-bundle">Monkey Island: Special Edition Bundle</a> - SAVE 78%</b>
<b><a href="https://www.fanatical.com/game/split-second">Split/Second</a> - SAVE 78%</b>
<b><a href="https://www.fanatical.com/game/the-curse-of-monkey-island">The Curse of Monkey Island</a> - SAVE 78%</b>
---
---
Share this post