"I like the base, base, base, base..."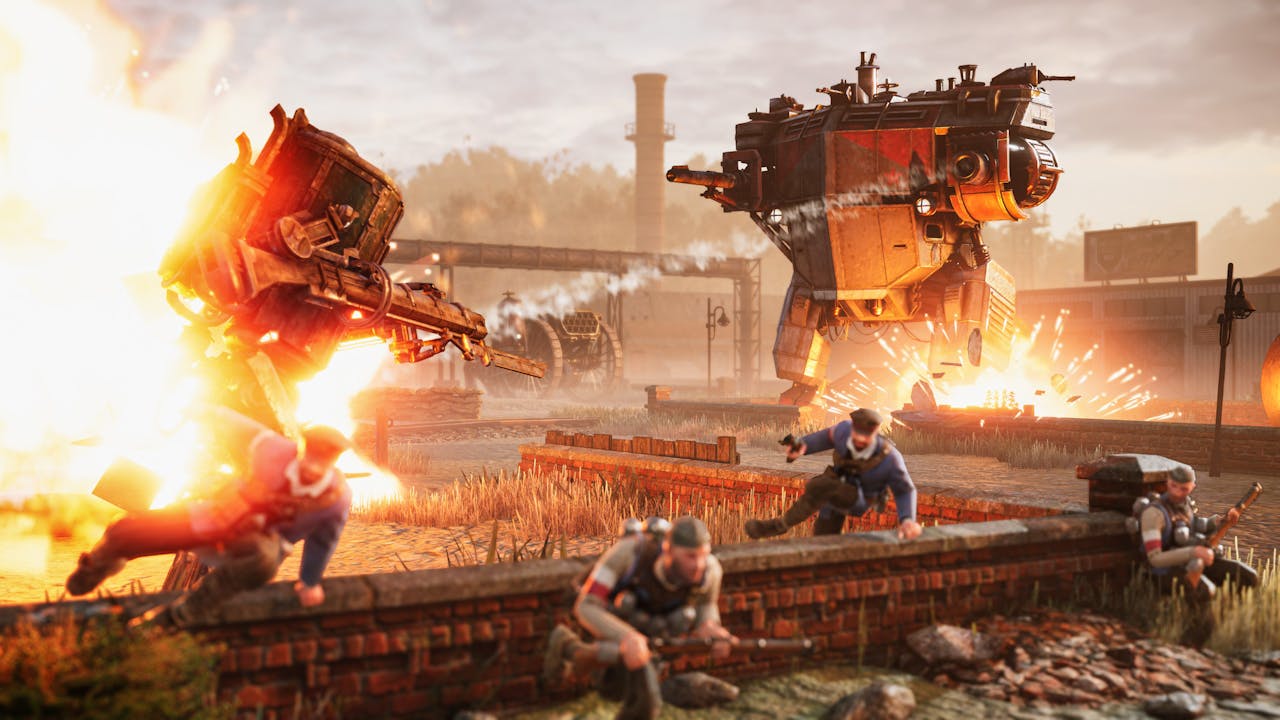 Experience a strategy that's out of this world with the 'Overwhelmingly Positive' Steam rated sci-fi sim RimWorld.
Let's face it, base building games are great. Defending your fortress and enhancing your facilities to create an ever-growing settlement that attracts the fittest and fiercest individuals is time well spent, and many of you play these types of games for hours on end.
Whether it's historical settings or taking your strategic building skills beyond the stars, seeing your base grow to new heights and advance with the times is a satisfying feeling... that's if everything goes to plan, of course!
Here, we take you through our top pick of base building games that PC gamers need to check out.
Mindustry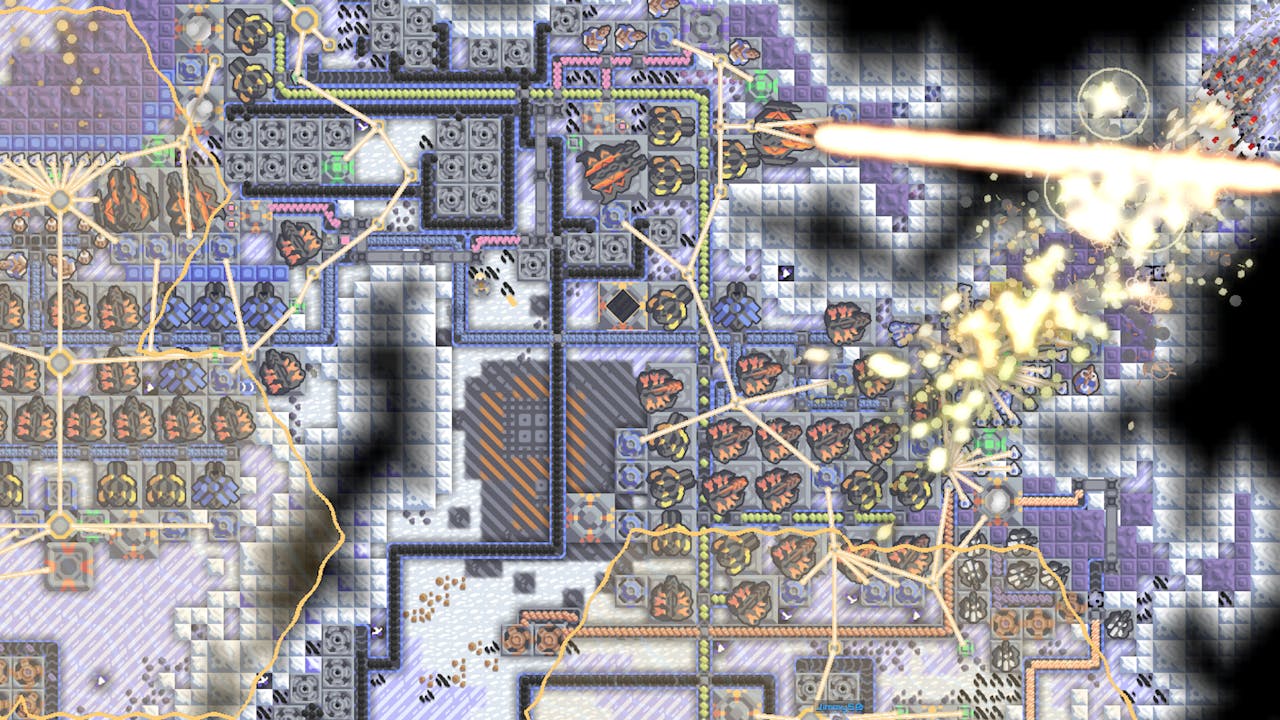 STEAM RATING: 'OVERWHELMINGLY POSITIVE'
In Mindustry, you'll build turrets to defend your settlement from enemies in tower-defense based gameplay - surviving as long as possible and optionally launching your core to use your collected resources for research.
Prepare your base for intermittent attacks from airborne bosses with over 120 technology blocks to master and build factories for units to destroy the enemy cores, while simultaneously defending your base from waves of enemy units.
You can create a variety of different types of support and offensive unit to assist you in your goals, with the option to enable an AI that builds defensive structures to an extra challenge. Aside from the main campaign, you'll have a couple of fun additional modes to enjoy.
With PvP, you can compete with other players on up to four different teams to destroy each other's cores. Create units, or attack other bases directly with your mechs.
In Sandbox, you'll have the opportunity to play around with infinite resources and no enemy threat. Use sandbox-specific item and liquid source blocks to test out designs, and spawn in enemies on request.
RimWorld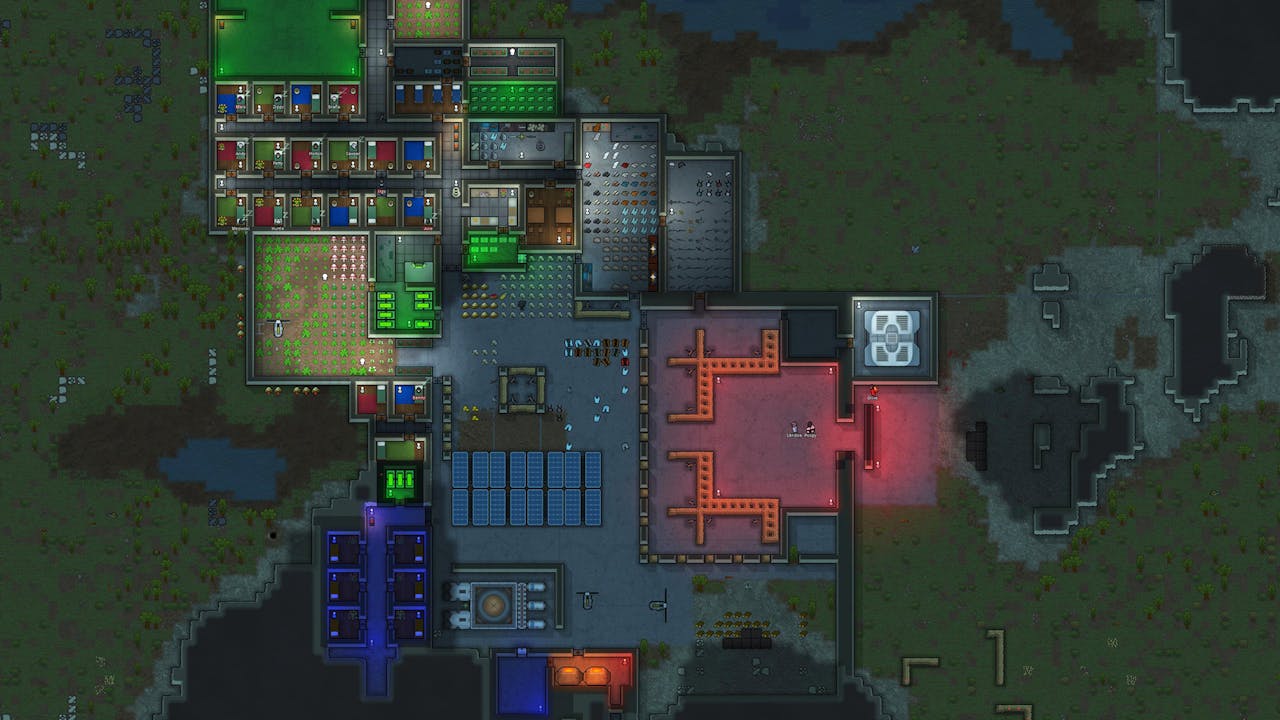 STEAM RATING: 'OVERWHELMINGLY POSITIVE'
Crash-landing on an unknown planet is the least of your worries in sci-fi strategy sim RimWorld, where you'll be tasked with building a colony from the ground up, exploring dangerous terrain to gain research, recruit new colonists and fight alien lifeforms and opposing factions.
You'll need to turn your crew of crash-landed survivors into a vibrant colony by acquiring new people by any means necessary. Capture them in combat and force them to join your ranks if they want to survive, buy them from slave traders, or take in those willing to earn their keep in exchange for refuge.
Each individual that joins you will offer pros and cons to maintaining and expanding your colony. Choose a nobleman to recruit prisoners and negotiate trade prices, but be mindful that they will refuse to do physical work - choose a scientist to advance research, but expect them to perform social tasks well, or at all!
Watch on as your colonists determine how they will respond to other civilians - will they become starstruck lovers, marry the one, commit adultery, or fight like animals?
Factorio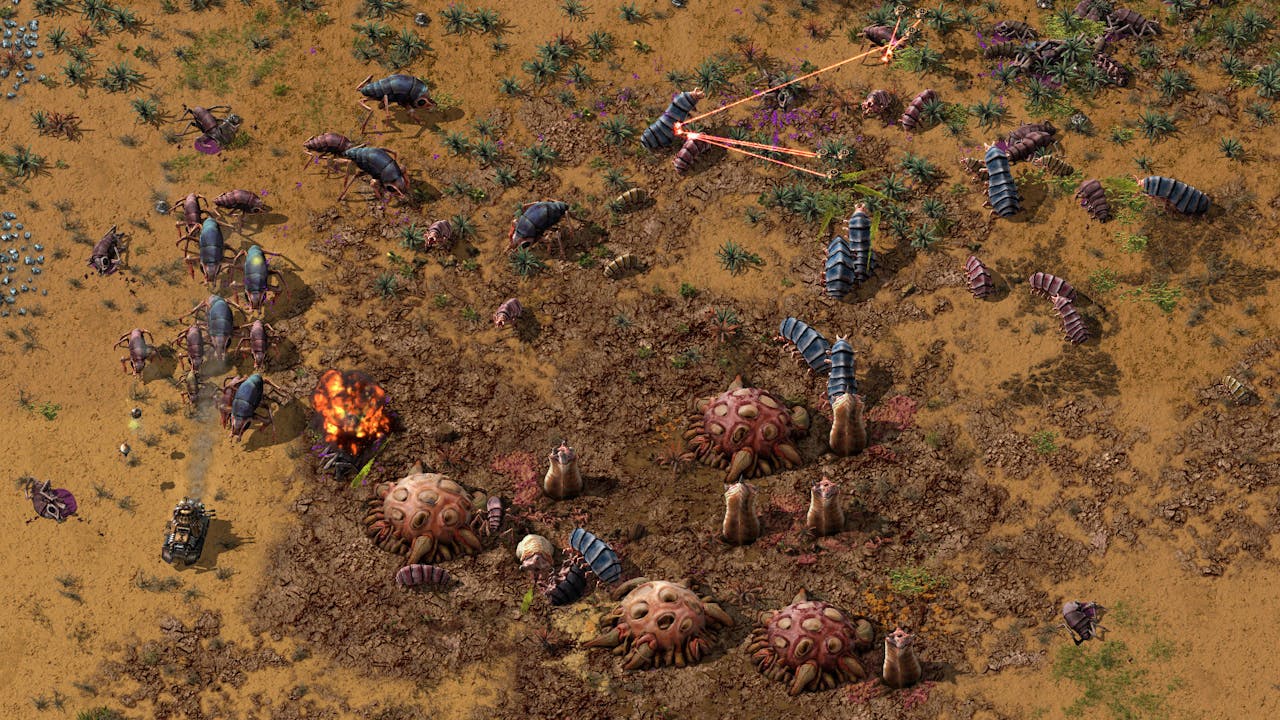 STEAM RATING: 'OVERWHELMINGLY POSITIVE'
Building and creating automated factories is a must in Factorio, where you'll produce items of increasing complexity within an infinite 2D world. You'll have to use your imagination to design your factory, combine simple elements into ingenious structures, and finally protect it from the creatures who don't really like you.
Join forces with other players in co-operative multiplayer, create huge factories, and collaborate and delegate tasks between you and your friends. Add mods to increase your enjoyment, from small tweak and helper mods to complete game overhauls, Factorio's ground-up modding support has allowed content creators from around the world to design interesting and innovative features.
While the core gameplay is in the form of the freeplay scenario, there are a range of interesting challenges in the form of Scenarios. If you don't find any maps or scenarios you enjoy, you can create your own with the in-game Map Editor, place down entities, enemies, and terrain in any way you like - and even add your own custom script to make for interesting gameplay.
Foxhole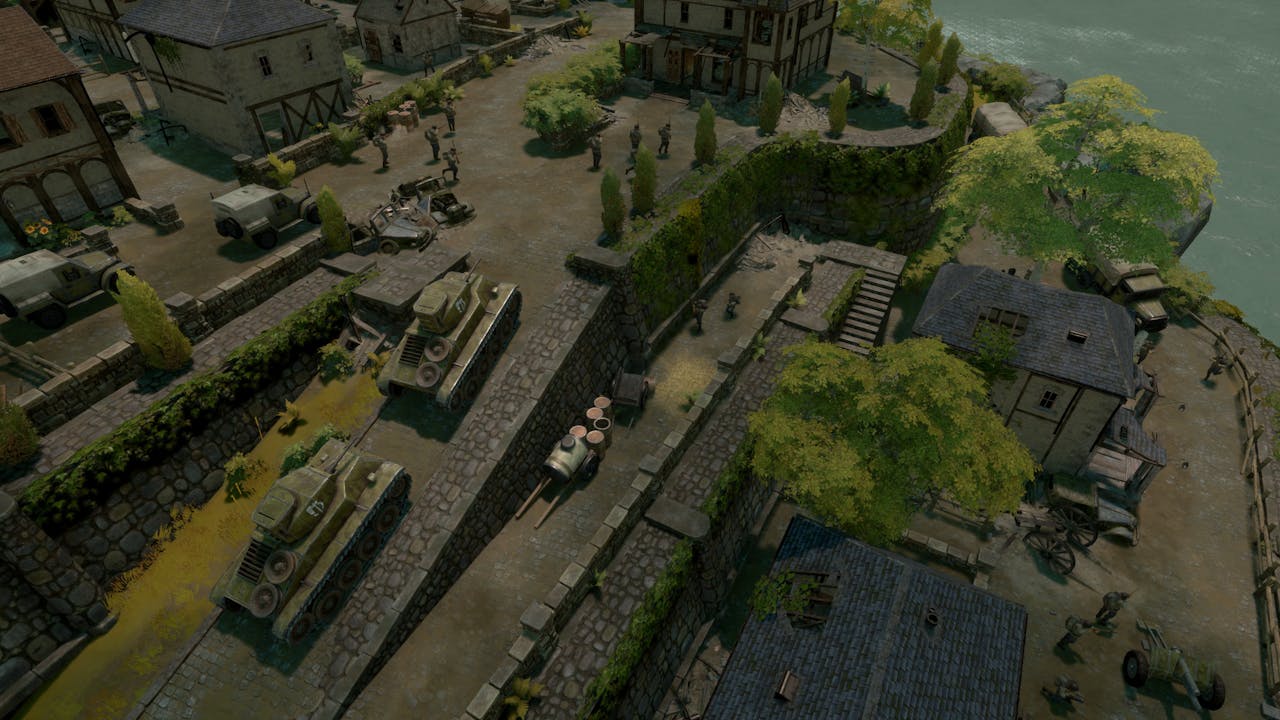 STEAM RATING: 'VERY POSITIVE'
War is among us in massively multiplayer RPG strategy Foxhole, where you'll work with hundreds of players to shape the outcome of a persistent online war. You'll drive every element of war, from weapon manufacturing and base building to strategy and combat.
Conquer and relinquish territories in high stakes conflict, and execute long term strategies that take days of planning, changing the tide of the war with minimal casualties. With tense and cerebral battles that keep you on the edge of your seat, you'll capture and setup supply lines to keep your front line well equipped - as well as use the time of day and terrain features to gain an advantage with dynamic battle conditions.
Every individual soldier is a player that contributes to the war effort through logistics, base building, reconnaissance, combat, and more.
Satisfactory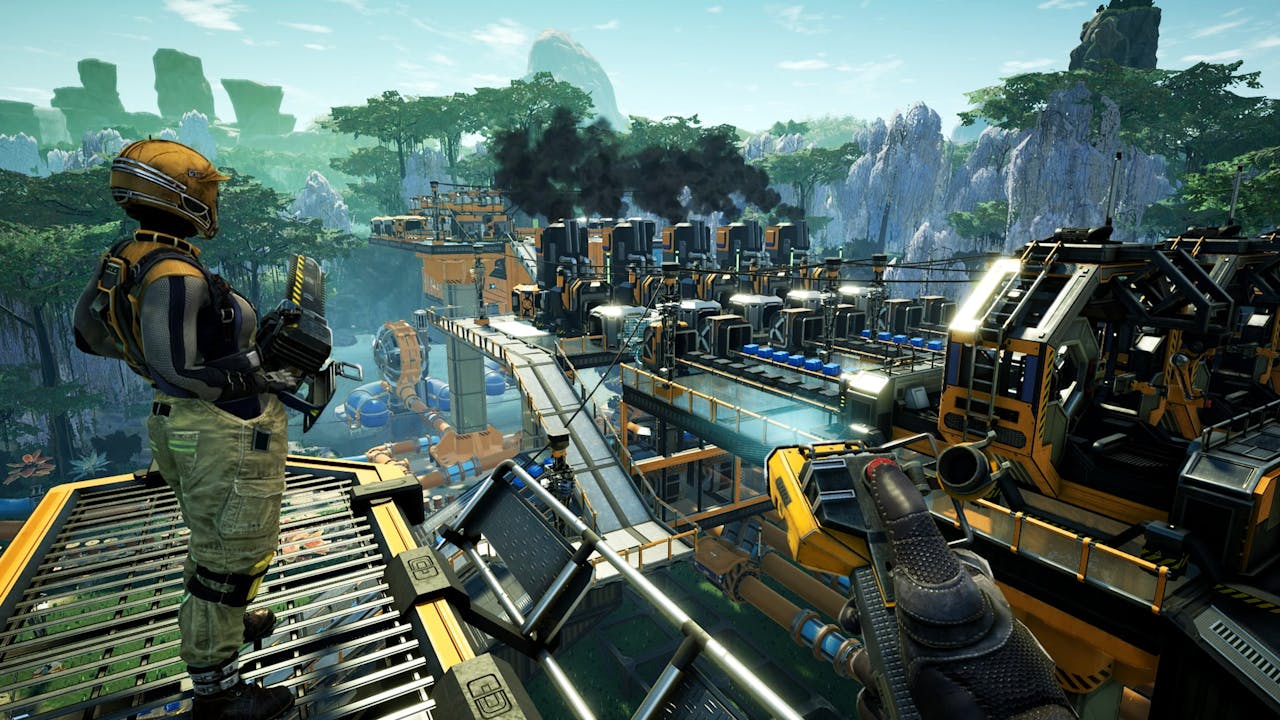 STEAM RATING: 'OVERWHELMINGLY POSITIVE'
A different style of game from the usual top-down strategy titles that occupy this sub genre, Satisfactory is a first-person open-world factory building game with a dash of exploration and combat. You can play alone or with friends, explore an alien planet, create multi-story factories, and enter conveyor belt heaven!
You'll construct your factories with gracious perfection or build intricate webs of conveyor belts to supply all your needs. Automate trucks and trains to reach your faraway outposts and be sure to handle liquids properly by transporting them in pipes.
The game encourages you to venture on expeditions to search for new materials and be sure to put everything to good use - nature is yours to harvest. You have vehicles, jetpacks, jump pads and more at your disposal to make the exploration easier.
Equip the proper safety gear as well, just in case you run into the local wildlife.
Iron Harvest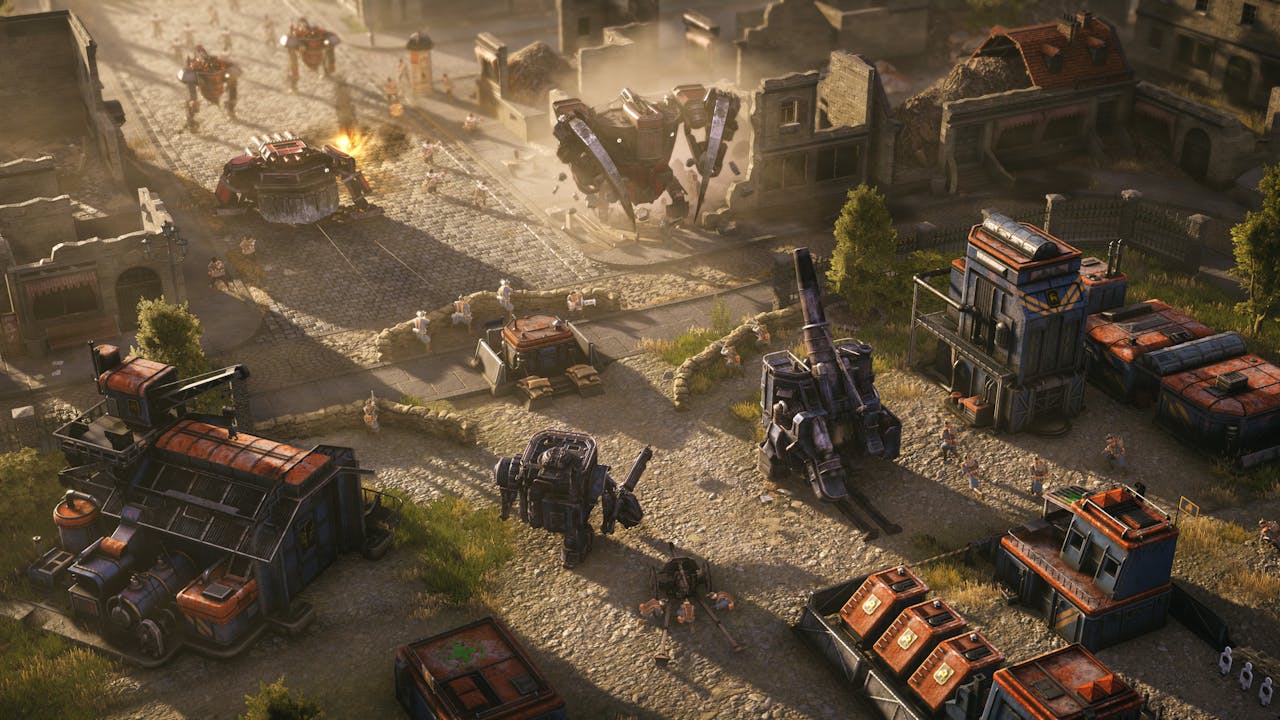 STEAM RATING: 'MOSTLY POSITIVE'
Command your giant dieselpunk mechs and battle for the fate of Europe in Iron Harvest. In this real-time strategy set in an alternate 1920s reality, you'll experience epic single-player and co-op campaigns, as well as skirmishes with intense action on the battlefield for multiplayer fans, in a post-Great War era.
Lead dozens of different unit types into battle, carefully utilize cover and blast entire buildings to shreds. Take your time to come up with a plan which allows for a wide range of tactics, including a stealth approach.
Command three diverse factions with over 40 unit types and nine heroes with unique abilities. Setup skirmish and multiplayer matches any way you want, configure your personal game interface, and choose your favorite input controls.
Competitive multiplayer with leaderboard ladders, ranked matches & leagues. Choose from a vast selection of skirmish maps and challenge maps, available to play in single-player and co-op.
In addition, you can expect regular free updates during the season, including new single-player challenges, multiplayer maps, and more to look forward to.
---
---
Share this post