Serve up some delightful dishes with our top pick of games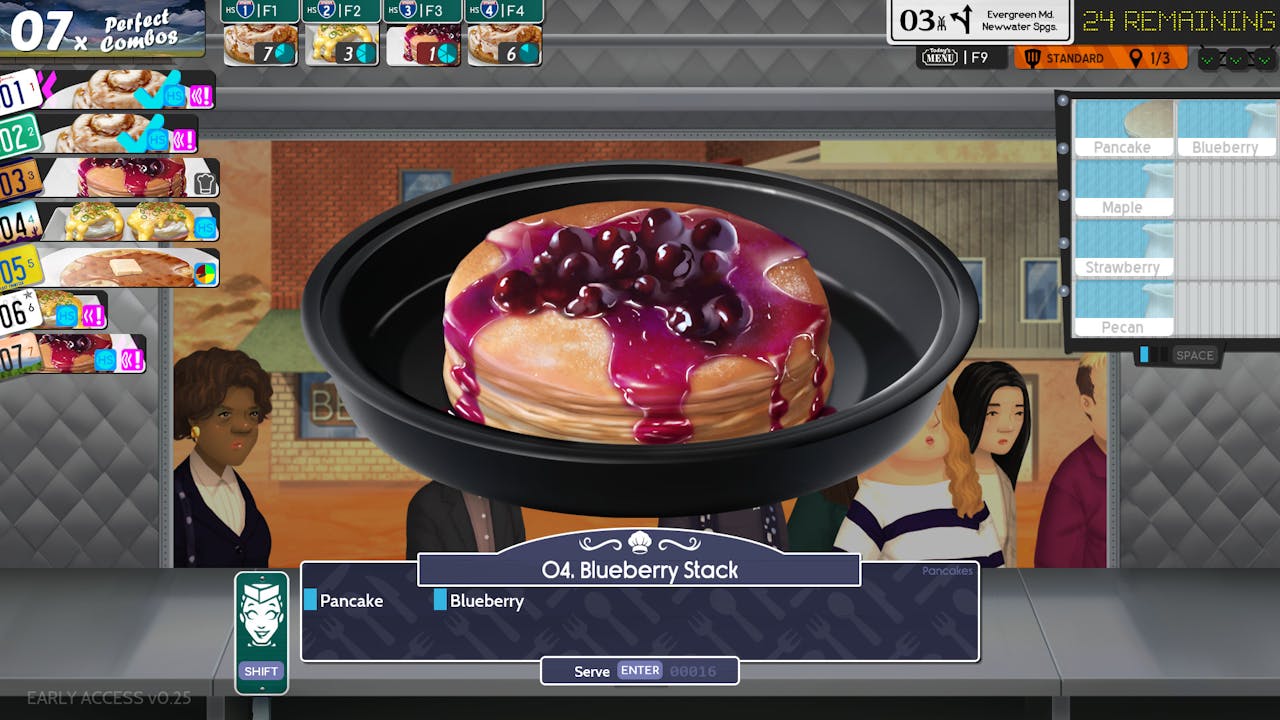 Is your virtual tummy rumbling? Then it's time to check out some new PC games to whet your appetite.
Cooking games can be fun, frantic and serve up some fantastic hours of gameplay for both solo and co-op players - with empires to build and, more importantly, delicious food to cook. If you're thinking of serving up some new games for you library, you can't go wrong with some cuisine-esque titles.
Here, we've rounded up our pick of the best cooking sim games for PC gamers to enjoy.
Overcooked! 2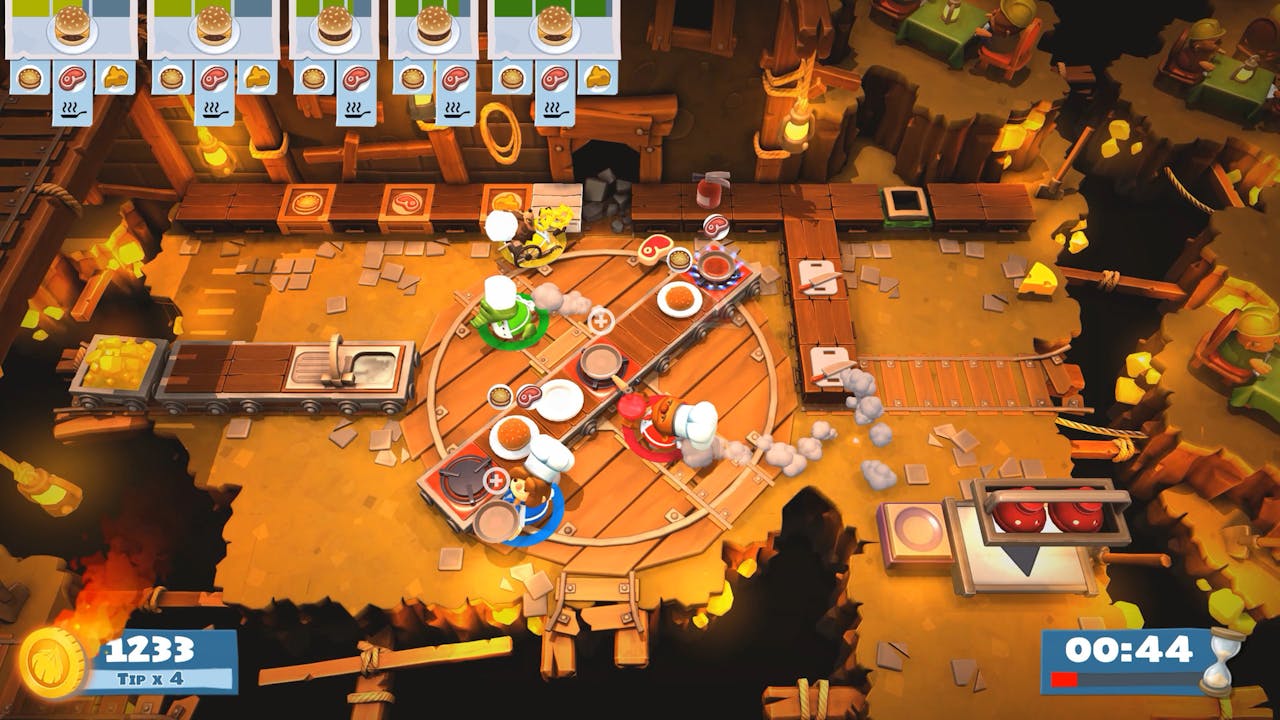 You'll be cooking up a treat in Overcooked! 2 as you and your friends get to witness a brand-new helping of chaotic cooking action in the online action co-op. You'll journey back to the Onion Kingdom and assemble your team of up to four chefs.
Can you withstand the heat? Let's find out!
You've saved the world from the Ever Peckish, and now a new threat has arisen. Grab your spatula and get back in the kitchen to stave off the hunger of The Unbread!
Journey across a brand new overworld map by land, sea and air. Get cooking in new themes ranging from sushi restaurants, magic schools, mines and even alien planets.
Travel the land cooking up a range of new recipes that are sure to cater to any tastes, including sushi, cakes, burgers and pizzas.
In online play, you'll 'knead' to work together (or against each other) to get the highest score in chaotic local and online multiplayer.
Cook, Serve Delicious! 3?!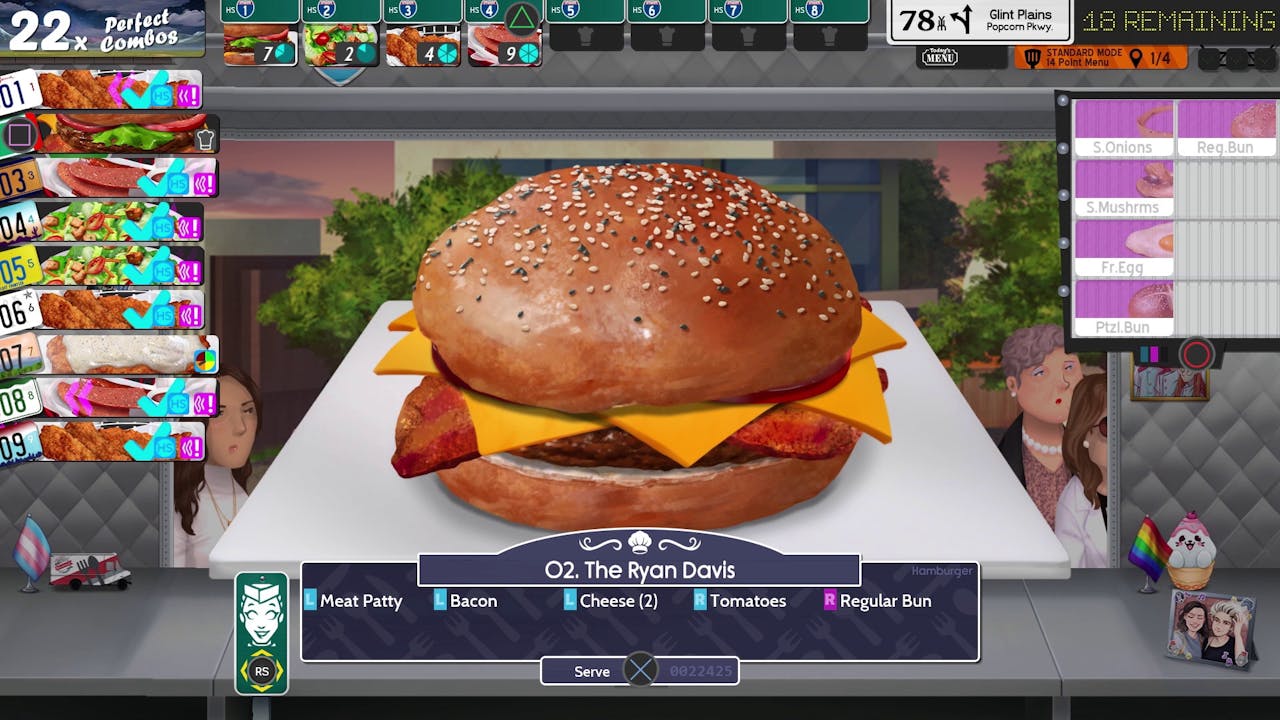 Rated 'Overwhelmingly Positive' by Steam gamers, Cook, Serve, Delicious! 3?! is the latest entry in the hit Cook, Serve Delicious! franchise. This time around, you'll be hitting the road as you travel across the United States to participate in the Iron Cook National Foodtruck Championships with your trusty robot crew Whisk and Cleaver - voiced by Twitch streamers @negaoryx) and @HavanaRama.
Set in the radically-changed war-torn America of 2042, you'll play through an all new story-driven campaign where you'll be tasked with cooking hundreds of foods - including many brand new dishes in the series' history. Travel across hundreds of levels in a new gameplay structure that has been completely redesigned to deliver fast-paced action - or take it easy with the all new Zen Campaign that can be toggled on or off at any time!
As well as being able to play through the campaign via single-player or with a friend in local co-op (with the ability to change on the fly), you can upgrade your food truck with dozens of gameplay-affecting modules, expand your food catalog, and race to the nation's new capital in Nashville, Tennessee, to prove once and for all that you're still the best chef in the world.
Cooking Simulator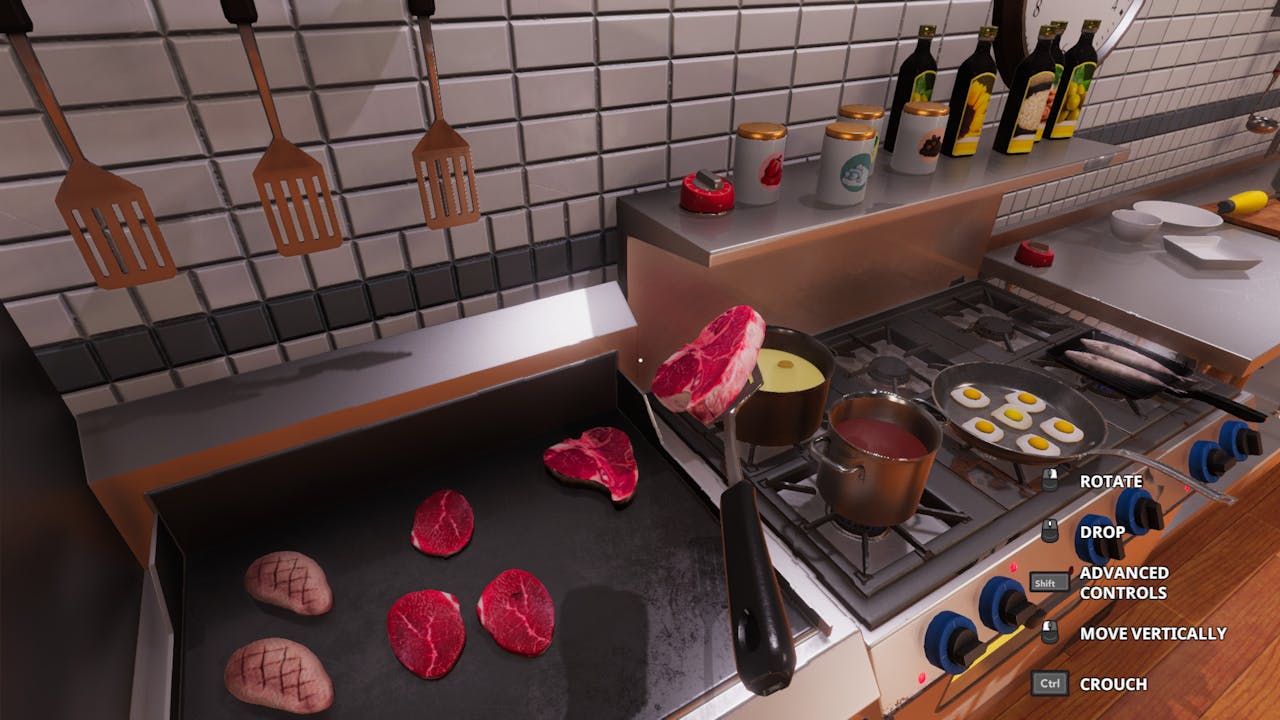 It's the swanky kitchen that you never had!
In Cooking Simulator, you take control of a highly polished, realistic kitchen equipped with all kinds of utensils and stands. You'll be able to unlock and master over 80 recipes or use dozens of lifelike ingredients to cook everything you like.
A simulator spiced up with a dash of real-life physics!
All the ingredients respond to your actions by changing temperature, appearance and taste. Every time you're slicing potatoes, flipping steaks or boiling a soup, there are some real-life physics applied to it.
Once you learn the cooking mechanics and start serving dishes, you'll see yourself becoming a better chef with every new plate on the checkout. In the Career Mode, you'll start from the basics and progressively unlock new more complex dishes and start serving more customers as your fame and experience grow.
Once you master the recipes and workflow, you'll be able to unlock various perks and skills. If you're looking for a more laid back cooking style, you can chill in Sandbox Mode.
In this mode, you can access all the recipes and ingredients, and prepare whatever you like without any pressure. You don't even have to cook anything - the game physics gives you unlimited opportunities.
Throw knives like darts, set up cutting boards like dominoes, set the whole kitchen on fire, blow up the oven and save the day using a fire extinguisher!
I Love You, Colonel Sanders! A Finger Lickin' Good Dating Simulator
When did Colonel Sanders get so... dreamy?
I Love You, Colonel Sanders! A Finger Lickin' Good Dating Simulator - as the name suggests - is a anime cooking sim combined with an anime visual novel.
You take a promising culinary student, as you try to date your classmate, Colonel Sanders. Throughout your journey, you'll be faced with life-changing decisions that will affect your chances of friendship and love.
But be careful, your choices have real consequences with real animated characters' feelings at stake.
Do you have what it takes to survive culinary school? Will Colonel Sanders choose you to be his business partner? Or maybe even so much more?
With nine lovable characters, multiple hours of playthrough, cooking battles and a secret ending, there's plenty to discover... heck, you can even date Colonel Sanders himself!
Burger Shop 2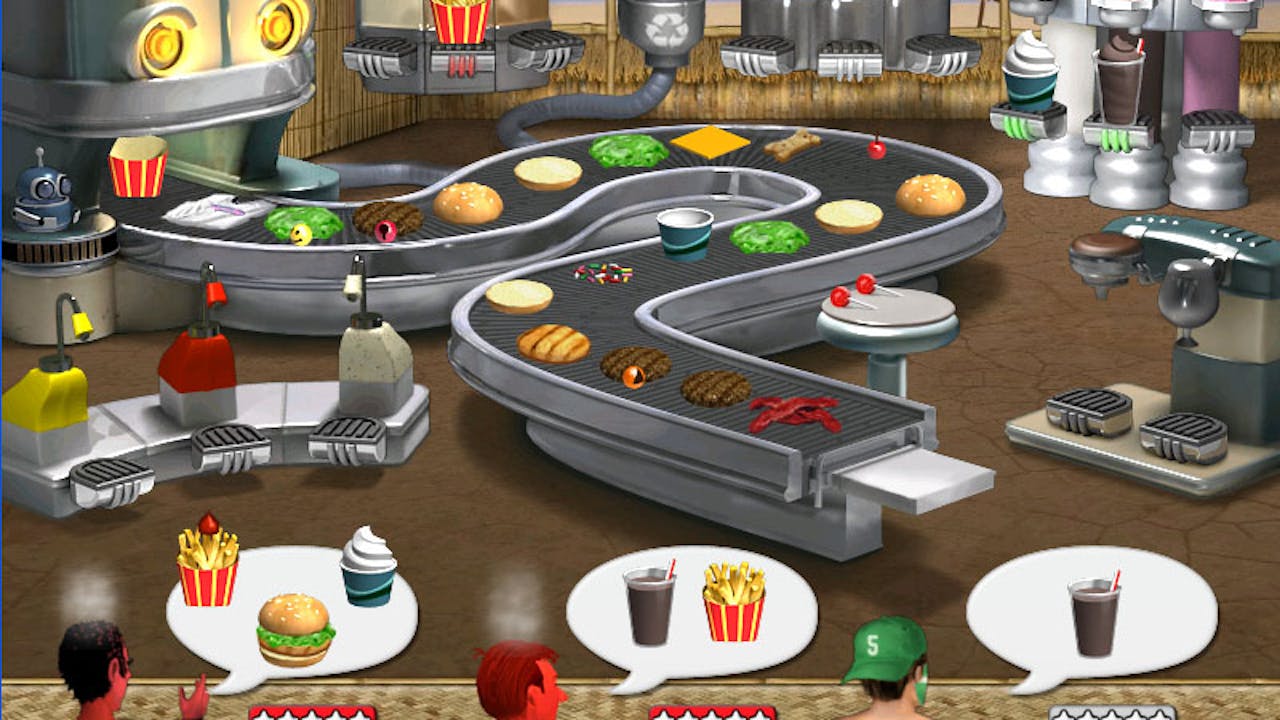 You successfully created a universal chain of restaurants and found fame and fortune in the original game, but things are about to change in Burger Shop 2. Emerging from a dumpster with a bump on your head, your restaurants boarded up, and no memory of how any of it happened - it's time to rebuild!
Get your empire up and running with new twists to your menu to entice new customers while uncovering the truth about what happened to your original restaurant chain. Grab ingredients from the BurgerTron2000 to create tasty food items to serve hungry customers in this fast-paced food making game.
The game features 120 levels for both Story Mode and Expert Story Mode, with over 100 Trophies to collect. Plus, you'll have unlimited play with Challenge and Relax modes.
What are you waiting for? Start your food making adventure today!
Diner Bros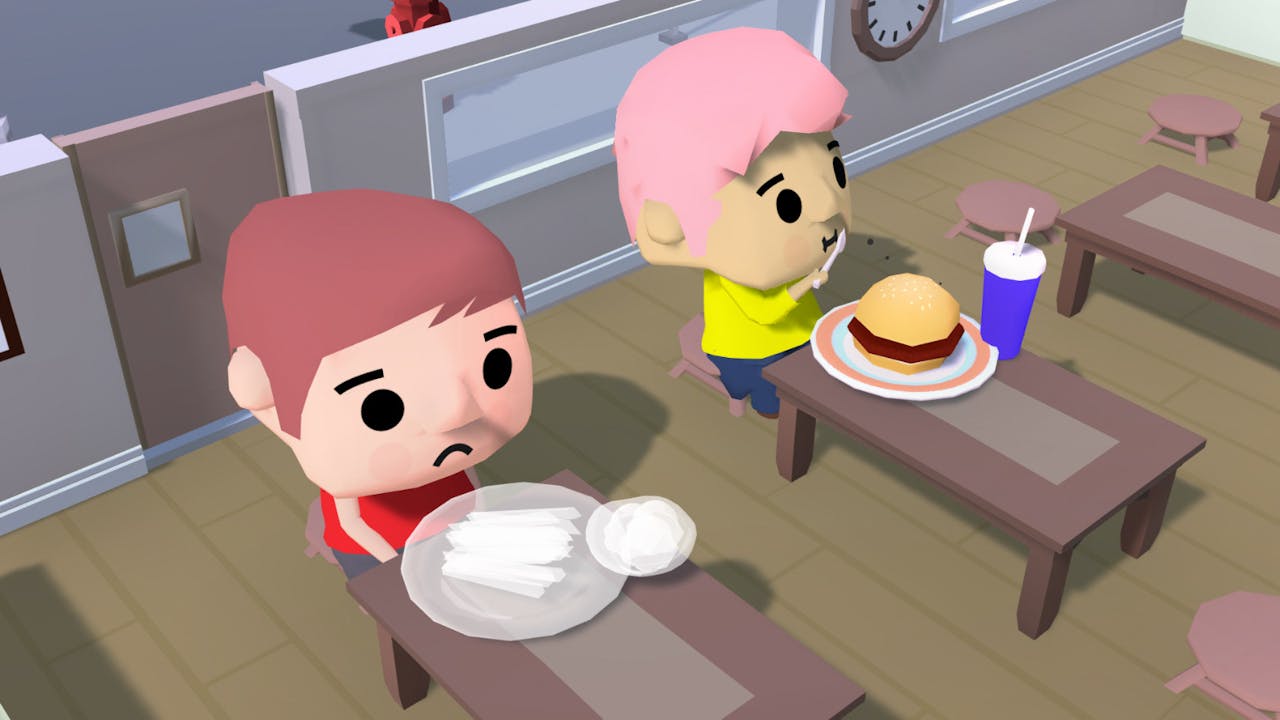 It's time to team up and cook & serve meals as fast as you can in Diner Bros. You've just opened your diner, and as the first customers take their seats, you rush to the kitchen.
One customer doesn't want tomato in his burger, while the other one wants a drink. Those tables won't clean up themselves either…
Be sure that you don't get the orders wrong or else your customers will get angry... and hungry!
Start off small, cooking burgers and serving drinks to a few curious customers. By upgrading your restaurant with new recipes, expanding the dining area, hiring staff, and impressing your customers, your diner may quickly become a bustling hot spot.
With many different equipment to get and recipe types to learn, can your business earn the coveted 3-star award?
Your restaurant will soon be too much for you to manage alone, so hire staff to help you serve your impatient customers… or even better: call your friends to help you out!
Hire servers in the single-player mode or grab a friend to help you finish the wild 2-4 player local co-op campaigns. Call orders out, stay organized, and rush to your tables in this crazy, hilarious co-op!
---
---
Share this post