Best PC Games to Play on High-end Computers
By
Danielle Angel
- 2nd Nov 2022
Games
Such as our OMEN giveaway rig!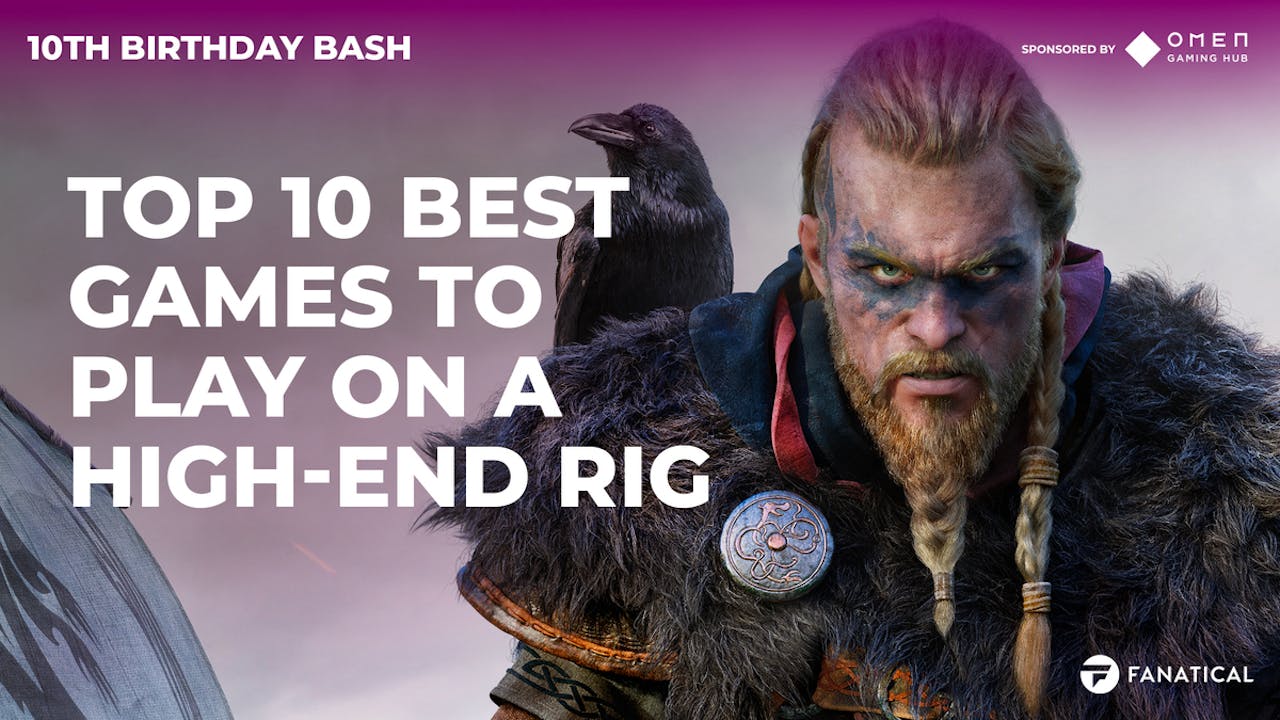 In honour of the OMEN rig we're giving away to celebrate our anniversary, we wanted to take a look at 10 of the best high-end games you can play on PC! These are difficult games to run, featuring phenomenal graphics and large worlds that are unparalleled by others and are remarkable titles overall! Without further ado, let's take a look at all of our favourite games!
#10 — God of War (2018)
The continuation of our favourite Greek-slaying god of war, Kratos', story resumes in the Nordic realm of Midgard as he embarks on a journey unlike ever before — as a mentor and a father. Exploring the Nordic lands with higher-fidelity graphics and higher resolutions is one of the most major pluses that this PlayStation 4 adaptation gets in contrast to its original release, allowing us to take full advantage of what Sony's God of War (2018) could have been from the get-go!
With an over the shoulder camera that brings the player closer to the action than ever before, fights in God of War™ mirror the pantheon of Norse creatures Kratos will face:...
#9 — ELDEN RING
The latest FromSoftware title, ELDEN RING, comes with a bang — although not the most graphically-intensive game to play, it certainly is one of our favourites! Fight through gargantuan bosses and become the Elden Lord (or Lady, we don't discriminate)! This arduous title will give your PC a run for your money, though it'll likely test your mettle far more than your rig! Are you up for the challenge?
Rise, Tarnished, and be guided by grace to brandish the power of the Elden Ring and become an Elden Lord in the Lands Between.
#8 — Horizon Zero Dawn
Often regarded as the prettiest HDR title available to play on PC, Horizon Zero Dawn definitely belongs on the list as one of the best games to play on high-end rigs! Don't miss out on gorgeous graphics with open-world gameplay, as you'll embark on a quest to find out just what happened to Aloy's mother.
In Horizon Zero Dawn™ Complete Edition unleash devastating, tactical attacks against unique Machines and rival tribes as you explore an open world teeming with wildlife and...
#7 — Red Dead Redemption 2
It's high noon (at least somewhere in the world, right?)! Go back to 1899 to a fictional representation of the Wild West and take control of our favourite outlaw, Arthur Morgan. This nominee for Game of the Year will have you gawking at vistas that are bordering life-like, with phenomenal open-world gameplay and views that'll make you stop in awe; it is undeniable that you must play Rockstar's Red Dead Redemption 2 with a high-end PC. Or replay it if you have already played it once; we don't judge, we encourage.
Red Dead Redemption 2 for PC is the ultimate way to experience one of the most critically acclaimed games of all time set in the old western genre.
#6 — Resident Evil Village
Spooktober is over, but that doesn't mean the spooks have to stop! Take control of Ethan Winters once more (first introduced in Resident Evil 7 Biohazard) and embark on a brand-new journey in Resident Evil Village. Battle everyone's favourite 9-foot-tall vampire Lady Dimitrescu and get your daughter back at all costs! The winter lands in the game are to gawk at, and the attention to detail in Castle Dimitrescu (much like the rest of the game) is uncanny — a game you absolutely must check out! Additionally, check out the Winters' Expansion to see the conclusion to the story!
Experience survival horror like never before with your Resident Evil Village Steam PC key. Includes the new online multiplayer Resident Evil Re:Verse game.
#5 — Assassin's Creed Valhalla
Assassin's Creed Valhalla is an open-world action RPG from Ubisoft. Developed by a team of award-winning developers, this game takes players on an epic journey through the...
#4 — Final Fantasy XV
Final Fantasy XV marks history with its gorgeous open-world setting never before seen in the franchise. Take control of Noctis and engage in action combat with a group of three other party members as you work to reclaim your kingdom. This beautiful adventure takes full advantage of the PC's power with ultra-high resolution and HDR10 to truly boost your exploration.
#3 — Metro Exodus
Take control of Artyom and explore the post-apocalyptic wasteland set in Russia in Metro Exodus. This open-area adventure is the latest entry to the Metro franchise and has chilling scenes and creepy monsters (including gargantuan spiders for arachnophobes!) that are sure to give you goosebumps. You'll get gorgeous visuals of the Russian wasteland on a quest to start a new land in the East!
Metro Exodus is an epic, story-driven first person shooter from 4A Games that blends deadly combat and stealth with exploration and survival horror in one of the most...
#2 — Far Cry 6
Take control of Dani Rojas and become the heart of the revolution in Far Cry 6, the latest entry into the Far Cry franchise! Explore the fictional land of Yara, inspired by Cuba, which is under dictatorial rule from Antón Castillo, acted by Giancarlo Esposito. Traverse this gorgeous Caribbean island and experience HDR with beautiful greens and mountains that are sure to make you drop the revolution just for a bit and embrace the scenery.
In Far Cry® 6 welcome to Yara, a tropical paradise frozen in time. As the dictator of Yara, Antón Castillo is intent on restoring his nation back to its former glory by any...
#1 — Marvel's Spider-Man Remastered
We couldn't not include Marvel's Spider-Man Remastered into the list of best games you must play on a high-end rig. Swing through the city of New York and stop bad guys as an advanced Peter Parker. Open-world exploration has never been this fun, as you'll want to check every rooftop and stop every ne'er-do-well that plagues the streets of your beloved city — now with HDR and ultrawide support that's sure to take advantage of the full power of PC!
Developed by Insomniac Games in collaboration with Marvel, and optimized for PC by Nixxes Software, Marvel's Spider-Man Remastered on PC introduces an experienced Peter Parker...
So, there you have it! 10 titles you absolutely must play on high-end PCs to really take in the graphics. Trust us, we missed so many more, but this article was already going long enough as it is. Stay tuned for more upcoming games to play and embark on journeys to never-before-explored lands.
---
---
Share this post