Time to go 'rouge' with our top pick of PC games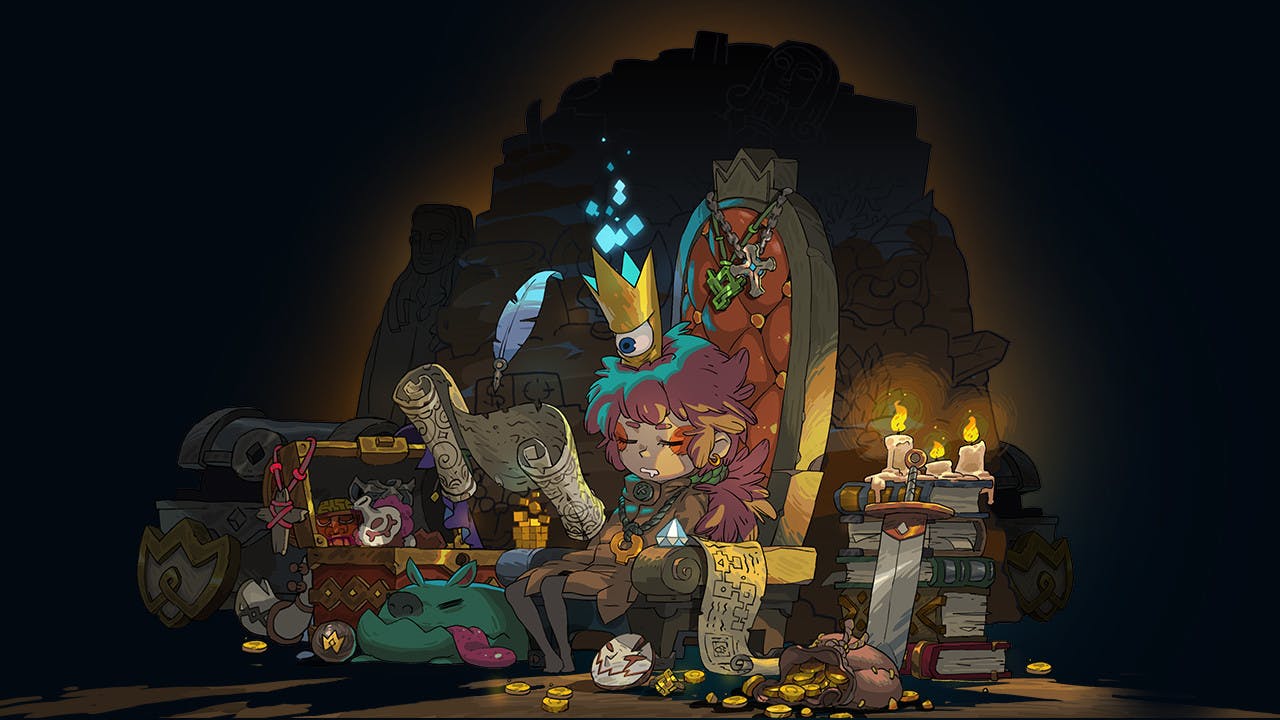 If you're a fan of crawling through mystical, dangerous dungeons (in a game that is) you've probably enjoyed or would enjoy titles from the roguelike sub-genre.
These games often see players trekking through procedurally generated levels in search of items, or just a way out, with tricky enemies and bosses to face - with the threat of 'permadeath' looming for those who make a fatal mistake. If you haven't delved into this type of game before, where have you been?!
Here, we've put together our top pick of the best Roguelike PC games.
Hades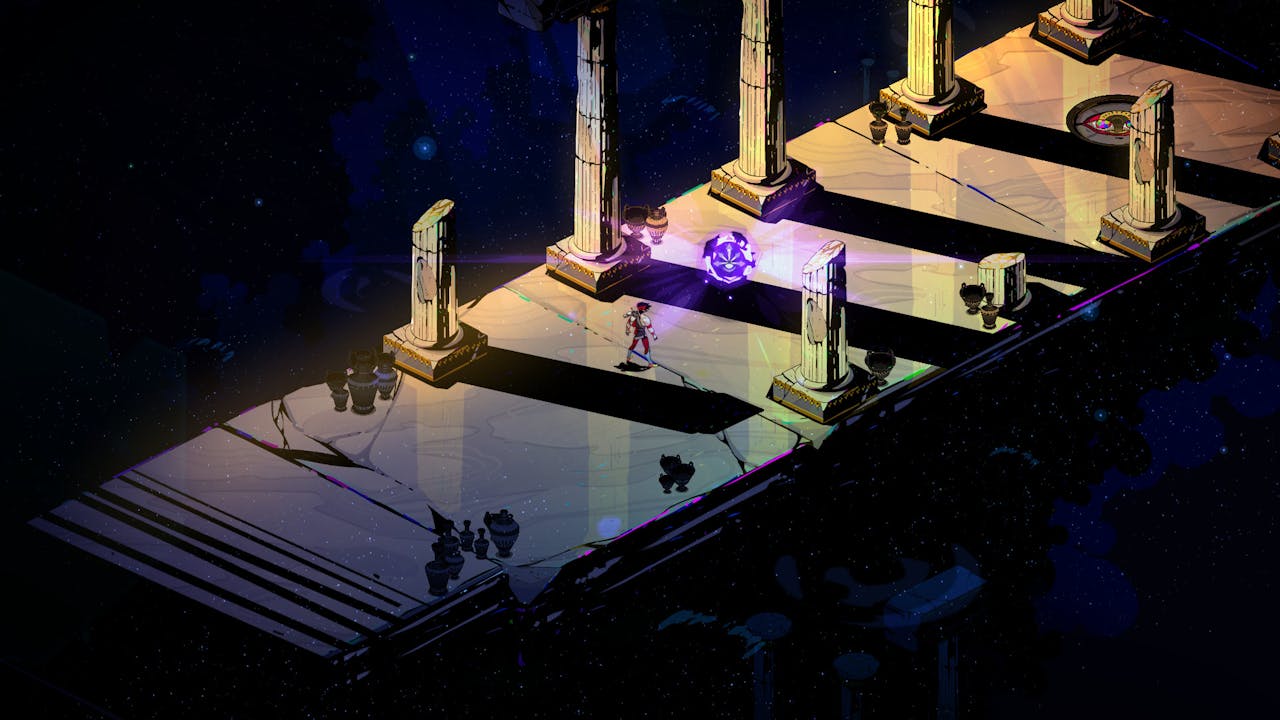 It only launched in September 2020, but Hades has already become a hit game among Steam players with 'Overwhelmingly Positive' reviews. This god-like, roguelike dungeon crawler combines the best aspects of Supergiant's critically acclaimed titles, including the fast-paced action of Bastion, the rich atmosphere and depth of Transistor, and the character-driven storytelling of Pyre.
As the immortal Prince of the Underworld, you'll wield the powers and mythic weapons of Olympus to break free from the clutches of the god of the dead himself, while growing stronger and unraveling more of the story with each unique escape attempt.
The Olympians have your back! Meet Zeus, Athena, Poseidon, and many more, and choose from their dozens of powerful Boons that enhance your abilities. There are thousands of viable character builds to discover as you go.
Permanent upgrades mean you don't have to be a god yourself to experience the exciting combat and gripping story. Though, if you happen to be one, crank up the challenge and get ready for some white-knuckle action that will put your well-practiced skills to the test.
Crown Trick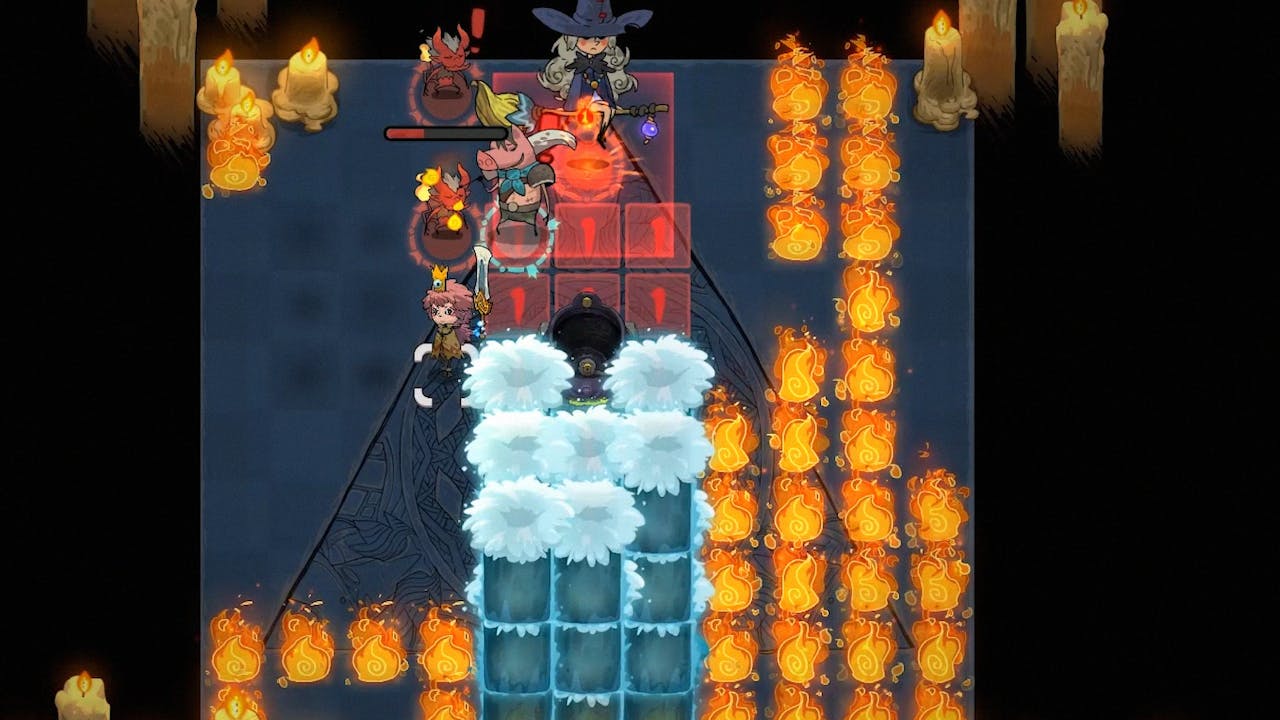 In Crown Trick, you'll enter a labyrinth that moves as you move, where mastering the elements is key to defeating enemies and uncovering the mysteries of this underground world. With a new experience awaiting every time you enter the dungeon, let the power bestowed by the crown guide you in this challenging adventure!
The procedurally-generated maze ensures you have a different experience every time you enter the dungeon. But unlike traditional open maps, Crown Trick locks you inside of small dungeon room to do battle with monsters.
Without access to the entire map, you have no choice but to strategically decide how you will mount an attack on the enemy. Throughout your quest, you will encounter elite monsters equipped with elite skills known as Familiars.
By defeating them you will gain access to their abilities, increasing your arsenal of skills you can unleash as you continue on to the next levels.
Neon Abyss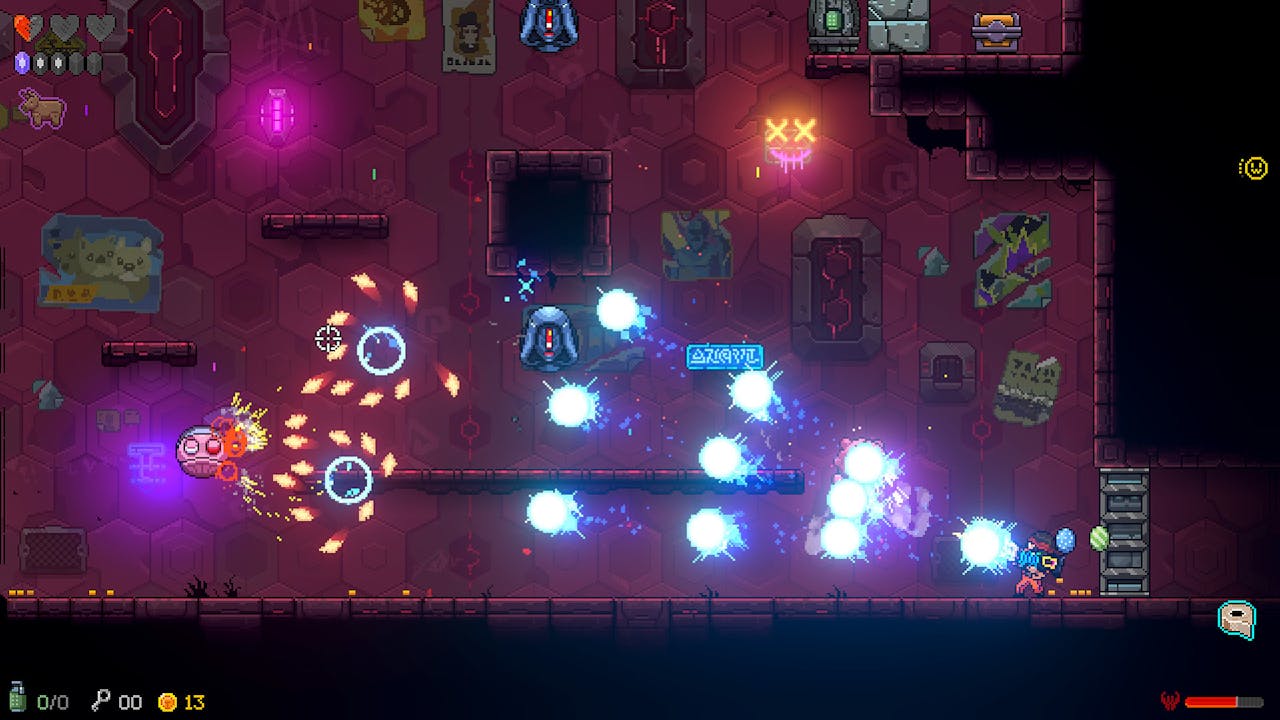 Ready to run 'n' gun your way into the Abyss?
Neon Abyss is a frantic, roguelite action-platformer where you run 'n' gun your way into the Abyss. Featuring unlimited item synergies and a unique dungeon evolution system, each run diversifies the experience and every choice alters the ruleset.
As you progress through each dungeon, random item drops will be key in helping you infiltrate the Abyss and these passive effects can stack between every item. With no limit to how many can apply; a wide variety of combinations will make each run unique.
With each run, you will be able to unlock new rooms, items, bosses, special rules and even new endings! This means each dungeon is unique and expandable, being tailored to your own specific playstyle.
Spelunky 2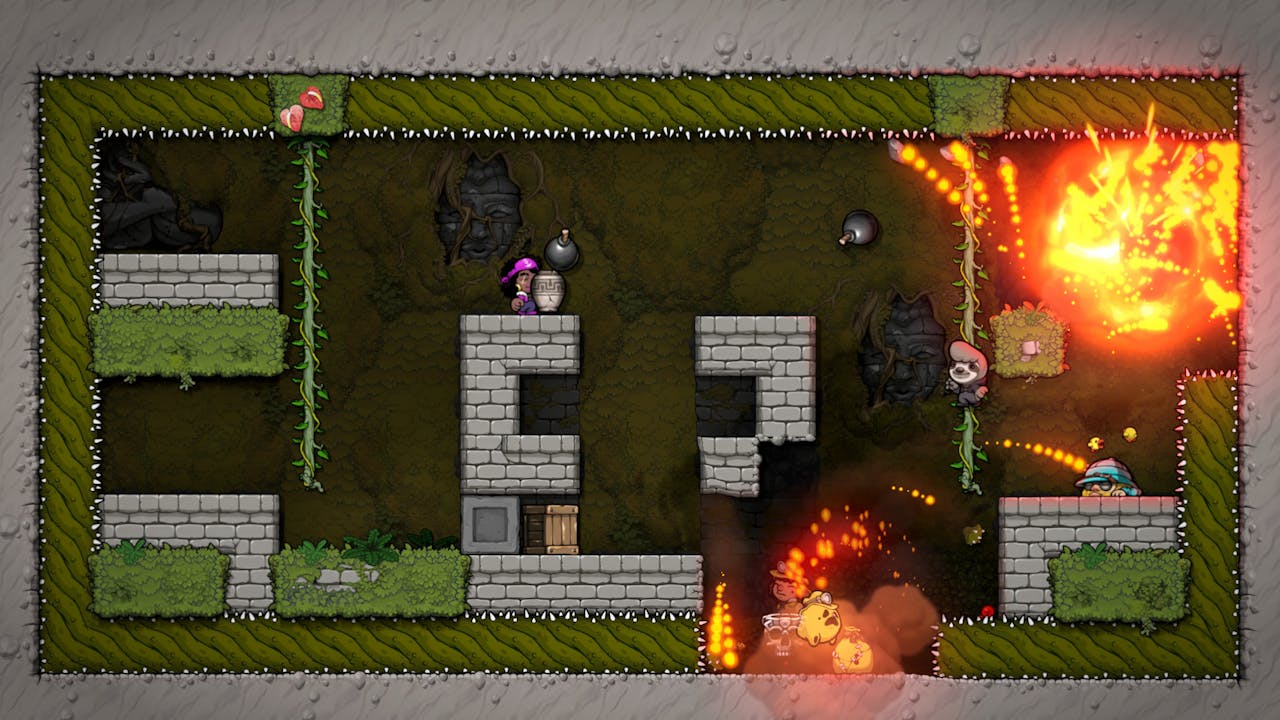 The 'Very Positive' rated Spelunky 2 builds upon the unique, randomized challenges that made the original a roguelike classic, offering a huge adventure designed to satisfy players old and new. You'll meet the next generation of explorers as they find themselves on the Moon, searching for treasure and missing family.
Spelunky 2's world is even denser than the one in the original game, offering many more areas, characters, traps, and items, as well as new ways to interact with them (and for them to interact with each other). The world has expanded in other ways, too, with branching paths and multi-layered levels adding a third dimension to the classic 2d platforming.
Animals can also be tamed and ridden. And dynamic liquid physics create new challenges and make the world feel extra reactive and alive.
Back in Base Camp, characters you unlock will mill about and relax between runs, offering encouragement and advice. As you explore, your camp will expand and develop into a thriving little community to welcome you whenever you need a break from exploring.
While there, you can also access shortcuts and practice your moves in safety!
Enter the Gungeon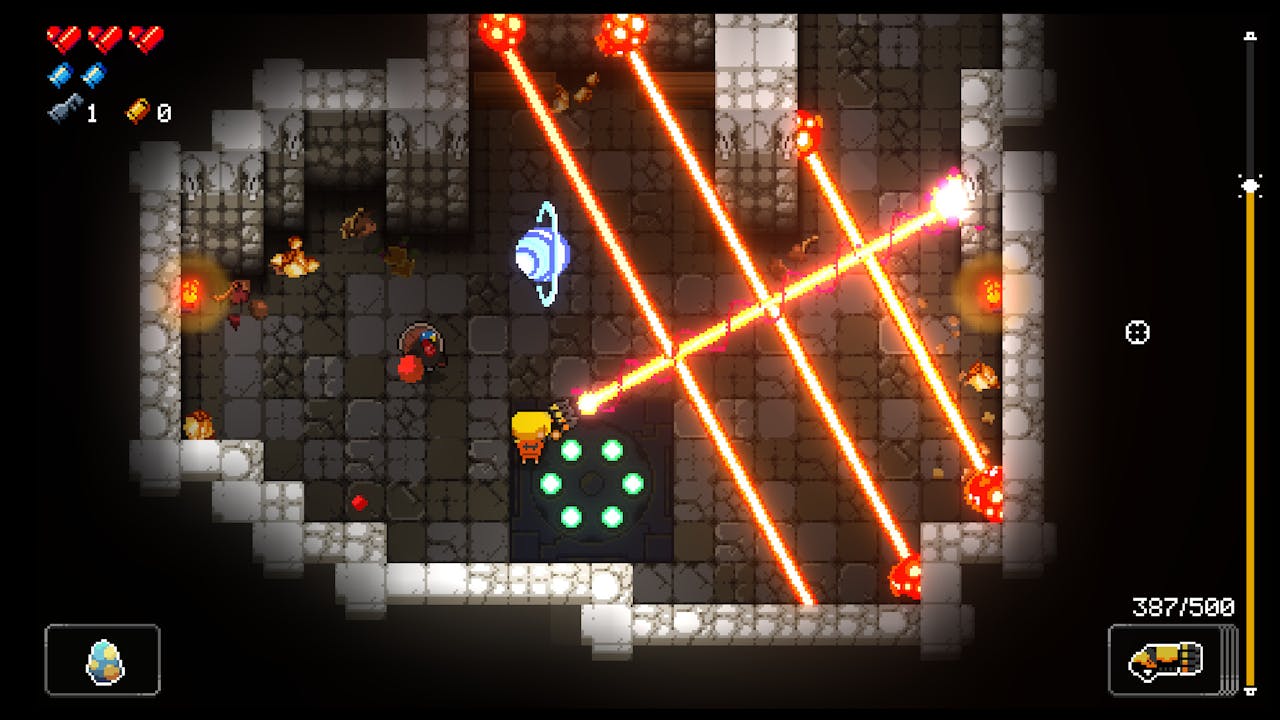 In Enter the Gungeon, the action-packed bullet hell dungeon crawler, follows a band of misfits seeking to shoot, loot, dodge roll and table-flip their way to personal absolution by reaching the legendary Gungeon's ultimate treasure: the gun that can kill the past.
You'll select a hero, or team up in co-op, and battle your way to the bottom of the Gungeon by surviving a challenging and evolving series of floors filled with the dangerously adorable Gundead and fearsome Gungeon bosses armed to the teeth. Gather precious loot, discover hidden secrets, and chat with opportunistic merchants and shopkeepers to purchase powerful items to gain an edge.
The Gungeon isn't just traps and chasms – calm your nerves and steady your aim as you face down the gun-totting Cult of the Gundead. These disciples of the gun will stop at nothing to put down the heroes in their tracks and employ any tactics necessary to defend their temple.
You'll get to discover and unlock scores of uniquely fantastic guns to annihilate all that oppose you in the Gungeon – each carrying their own unique tactics and ammunition. Unleash everything from the tried and true medley of missiles, lasers, and cannonballs to the bizarrely effective volley of rainbows, fish, foam darts, and bees!
The Binding of Isaac: Rebirth
Rated 'Overwhelmingly Positive' on Steam, The Binding of Isaac: Rebirth is an action RPG shooter with heavy roguelike elements. You'll follow Isaac on his journey to find bizarre treasures that change Isaac's form giving him super human abilities - enabling him to fight off droves of mysterious creatures, discover secrets and fight his way to safety.
The game features over 500 hours of gameplay, 20 Challenge runs, and four BILLION Seeded runs - as well as 450+ items, including 160 new unlockables. You'll also be able to enjoy the game in all its roguelike action RPG glory with a friends in two player local co-op.
bit Dungeon II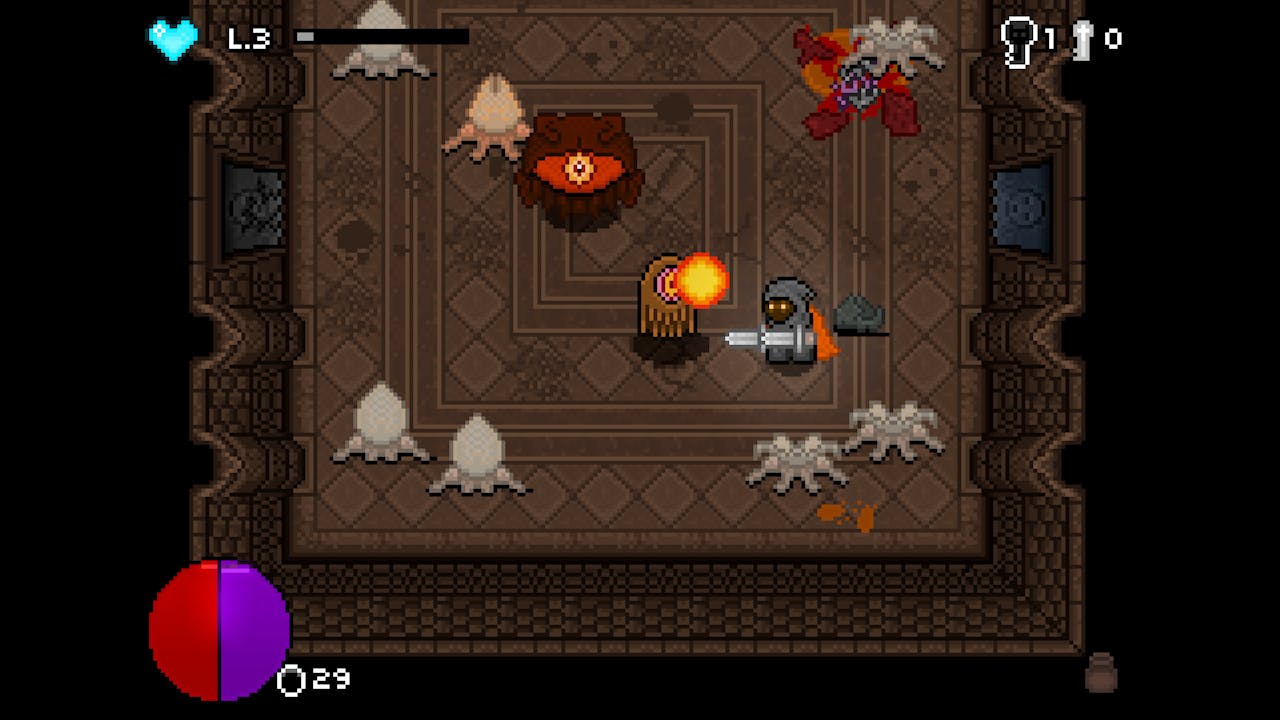 If you're looking for a fast action-adventure roguelike game with a giant overworld to explore, bit Dungeon II is one to check out. Inspired by some of the developers favorite games (Zelda, Diablo, and Dark Souls) dBII sees you take on the role of a spirit in an undead world of demons.
Your 'loved one's' grave has been desecrated, and now you must fight through these corrupted lands, and bring peace to her soul. The dungeons are randomly placed in the overworld, changing your experience each play through.
Be wary as permadeath is active in this game - you get one soul, and only once chance to retrieve it when you die. Each weapon type has a unique power attack including ranged, and magic weapons - and you can level up based on which weapon you use.
With randomly generated items, giant difficult dungeon bosses, and many other enemies with disgusting faces, you'll have your hands full in this action-packed title. Once you beat the game it starts over, play forever, become stronger then... a god!
---
---
Share this post