Best Weapons in Asterigos: Curse of the Stars
By
Danielle Angel
- 19th Oct 2022
Games
Looking to see which one you should use as your main weapon?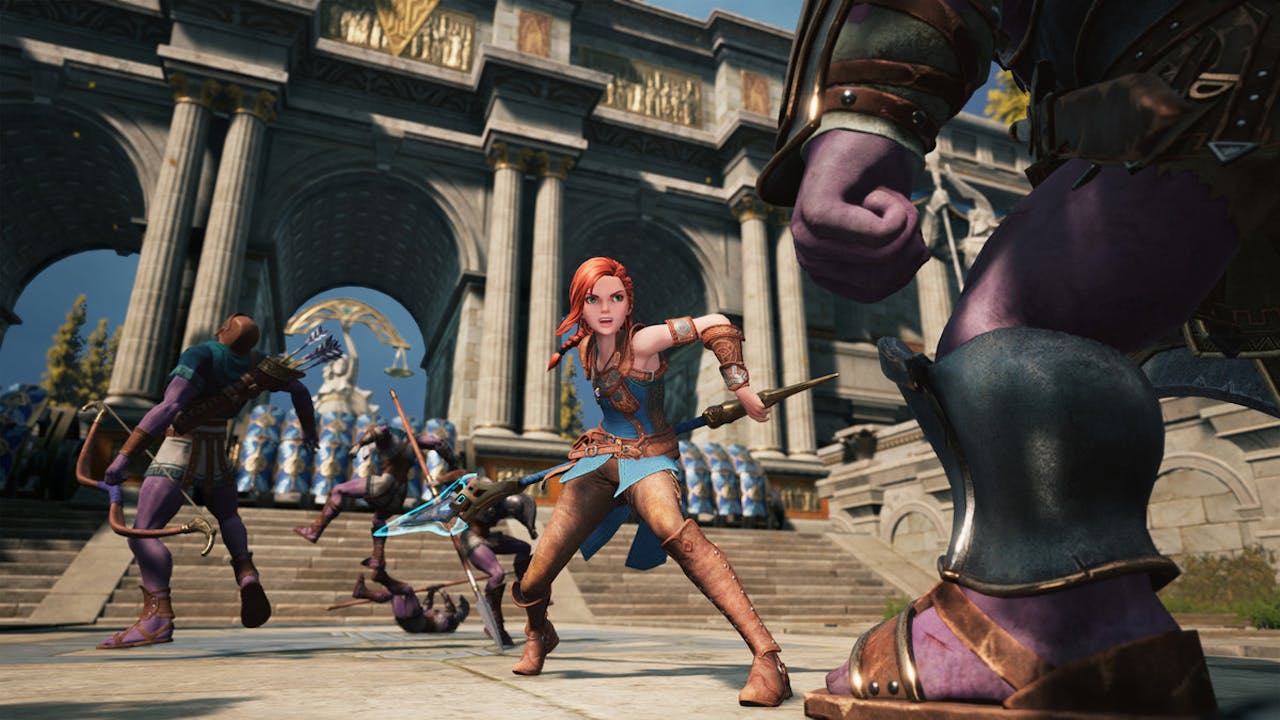 Discover the long-forgotten secrets and hidden paths in this high fantasy world, featuring exhilarating battle encounters, interconnected maps full of places to explore, and...
In Asterigos: Curse of the Stars, very soon after you finish your tutorial, you will be presented with the capability to shift through six different weapons, each with a unique skill attached to it and a slew of traits that you can use to increase your combo capabilities. Receiving six weapons can be daunting, as you don't even know the game much and have barely completed your first encounter by here. So, to ease the decision-making process, I decided to write about which are the best weapons and how they can be used in different situations.
#6 — Bracelets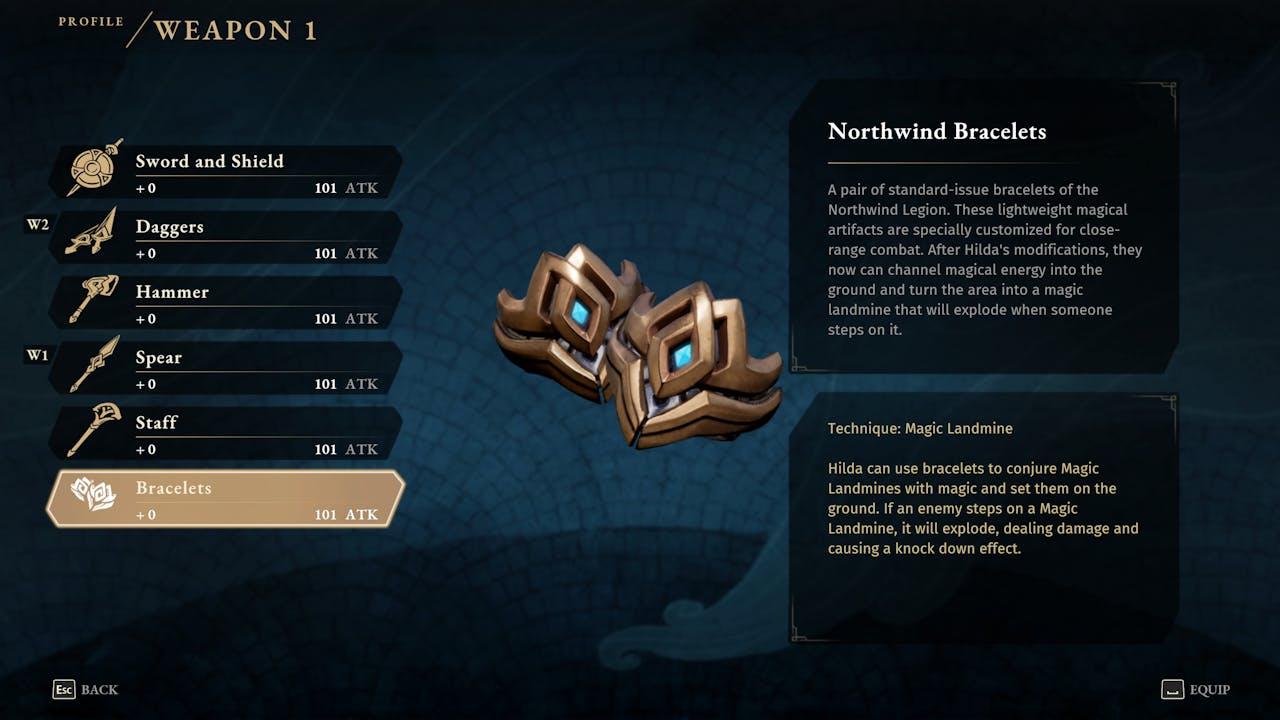 The weakest of the weapons, but certainly not weak weapons in and of themselves, are the bracelets. The reason this one is ranked as the weakest of the bunch is because of its high difficulty due to the long animations that Hilda has whilst wielding these weapons. Additionally, the bracelets are very dependant on the skills you can unlock, but they become a powerhouse — especially against high-defence enemies — later on in the game.
#5 — Spear
Yet another high-skill weapon in the game, the spear can bring even the most formidable foes down and ensure your victory with one successful parry, though you'll need to know how they attack before you can perform this reliably. The spear works as a secondary weapon to enable counterattacks with other builds and does a phenomenal job at being the dominant weapon due to its quick and long-range attacks. When used well, the spear is a fantastic weapon to use as a primary.
#4 — Hammer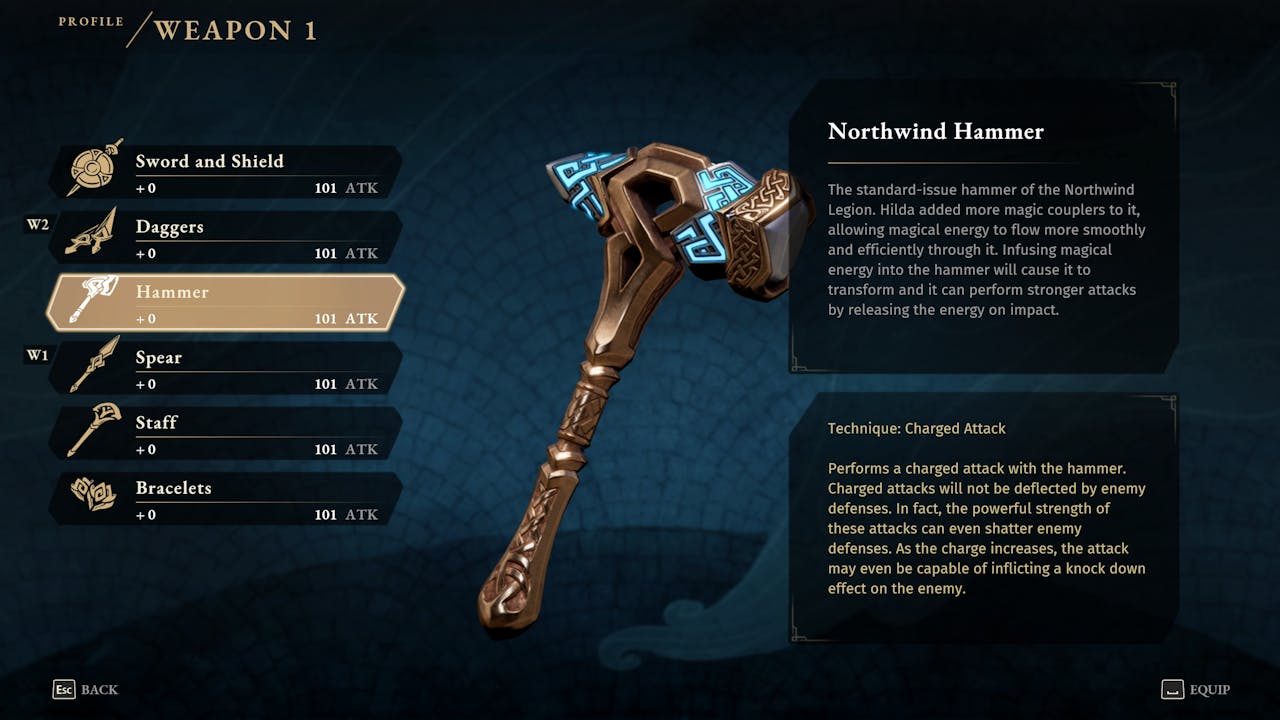 The hammer is one of the two weapons you'll start the game with. Despite its relatively long animations, Hilda is more receptive to interrupting hammer attacks than she is to the bracelets, and it is one of the main reasons why the hammer ranks higher than them. Similarly to the bracelets, the hammer performs well against high-defence enemies, though it mainly does good against smaller foes due to its numerous counter-cast abilities that are sure to stagger and knock down enemies.
#3 — Staff
I'm going to be honest with you: I don't like the staff — I'm not frequently a mage player. That said, it is undeniable that the staff has some of the most crucial roles throughout Asterigos and offers a quick solution to fighting crowds of enemies. The ranged attacks work perfectly to dwindle enemy health bars and numbers to later dish out the rest of the damage with your primary weapon, though I imagine using the staff as your primary might be a bit difficult. An upgraded staff, however, can dish out surprisingly high amounts of damage, and it is useful for dealing with pesky ranged foes that attack you from a distance. Despite not liking the staff, it accompanied me throughout most of my journey through Aphes.
#2 — Sword & Shield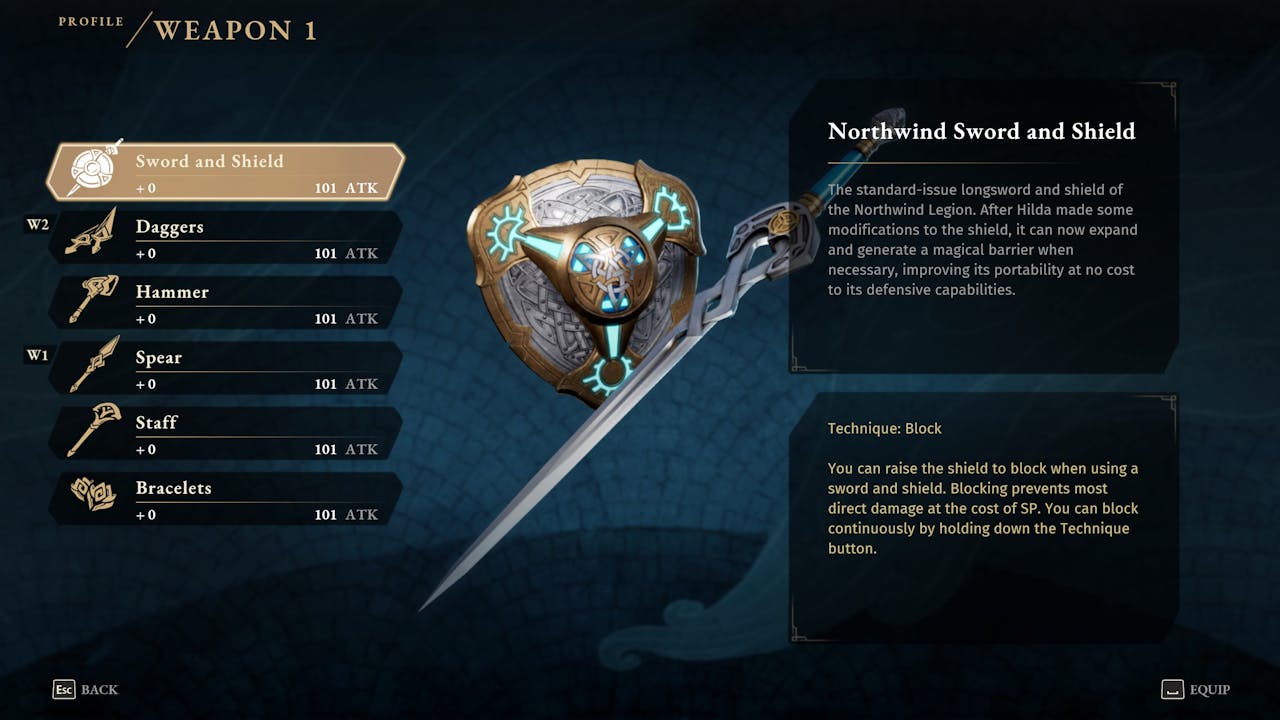 The sword & shield is the second weapon you get at the start, and it is quite a good one. Not only are its talent points handy, but it has the second most useful special of any weapon, as it offers you the ability to block any attack as if you had a 100 shield (a shield that blocks all damage), something otherwise not present in this game. Its quick activation of the block is handy for those pesky delayed attacks that make us all panic roll. You know the ones, don't pretend you don't know!
#1 — Daggers
The uncontested winner for the best weapons in Asterigos: Curse of the Stars are the daggers. Their long roll ability makes it extremely easy to dodge out of harm's way or avoid particularly tricky attacks, and this can even be used offensively to single out an enemy that is far away from the group. Additionally, the quick attacks from the daggers make it easy to roll and interrupt a combo (unlike the bracelets) and facilitate combat due to their high damage output. Finally, one of the biggest upsides to the daggers are the talents — some of the strongest attacks are hidden in the dagger talents, including Blade Dance and Blink Strike, both of which I regularly use against enemies and foes, don't have a high AP cost, and deal a criminally high amount of damage! You cannot go wrong with going with the daggers as your primary weapons, no matter your playstyle, though these will most benefit those that press the enemy and attack more often.
Discover the long-forgotten secrets and hidden paths in this high fantasy world, featuring exhilarating battle encounters, interconnected maps full of places to explore, and...
And there you have it! The best weapons in Asterigos: Curse of the Stars! I hope this was useful for you, and make sure you check out the game here! It's been a blast thus far, and I cannot wait to experience more.
---
---
Share this post