Exciting teams to manage in the Football Manager 2022 Early Access Beta
Will you lead one of these teams to glory in your first FM22 career?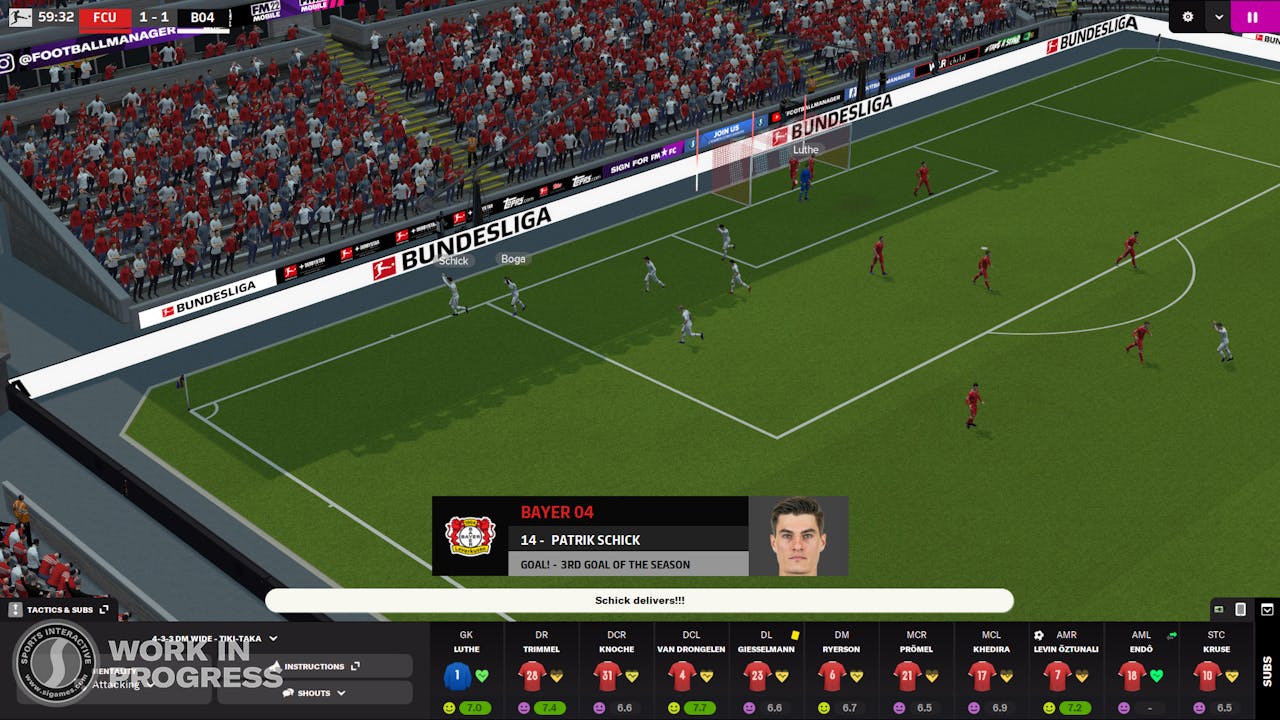 With Football Manager 2022's November 9 release only three weeks away, we're fast approaching the two-week early access beta for those who pre-order the game on our store. But who should you lead to glory (or agony) when you first load up the game? Here are our picks of interesting saves that'll put your managerial mind to work.
⚫⚪ Newcastle United - English Premier Division
The 1995-96 and 1996/1997 Premier League runners-up have had a turbulent time under former owner Mike Ashley. From quiet transfer windows to relegation to England's second tier, the Magpies' fortune is about to change after a consortium lead by some of the richest people in the world have taken over the club from the 2021-2022 season.
Despite sitting in the bottom half of England's elite league at present, the aspirations are to compete for the biggest trophies in the game. It's fair to say the squad isn't suited for this challenge after the past couple of seasons the side has just staved off relegation. However, with the talismanic Allan Saint-Maximin leading the way, you'll be tasked to spend an audacious amount of money to bring back and surpass the glory of the Shearer-led days in the 90s by bringing silverware to the Geordie faithful.
🔵🔴 Barcelona - Spanish First Division
Where did it all go wrong for Barcelona? One of football's household names has had a financial crisis that has meant that one of the best players to ever grace the game has had to leave the club despite agreeing to a new contract, and his strike partner; who was signed for €120m, has also departed.
Of course, it's an impossible task to fill Messi's boots, but the turmoil at the Catalan club has left them with a squad that looks far off competing with the best clubs in Europe for the Champions Cup, despite winning the competition just 6 seasons ago in the 2014-15 season.
There are a few shining lights in the squad though. Breakthrough La Masia talent, Pedri, has been named one of the brightest young stars in football and is sure to have game-changing potential in FM22, alongside world-class talents, such as Frenkie de Jong and Marc-André ter Stegen - who are still at the club. But with little money to spend and high wages, it will be about balancing the books, as well as uncovering value in the transfer market to succeed with this Barcelona side.
🔴⚪ Brentford - English Premier Division
Brentford's English Premier Division debut has started with a bang by only losing twice in their first eight games in England's top flight. On paper, The Bees' squad isn't full of recognisable names for football fans, or a plethora of talent. However, this is a hard-working, well motivated side that can be moulded to give even the biggest sides a challenge.
In short, the Brentford squad is a manager's dream as you'll get talented and driven players that can adapt to most formations, but also have the potential to mould the team with a few key additions by utilizing your scouting skills.
With an expectation to survive in the league in the first season, this can be a multi-year project that'll see you fall in love with the club and your heroes along the way.
🔵⚪ Paris Saint-Germain - Ligue 1 Uber Eats
Just listing the Paris Saint-Germain front line is a compelling enough reason to manage the Parisians. The richest club in France has a star-studded team that is bookmarked by Neymar, Mbappe, and Messi up top.
If you're looking for a large sum of money, the best players at your disposal, and an immediate aim for success on all fronts, then this is the team for you!
It's not all rosy though, with Mbappe looking to leave at the end of the season, lofty targets, and many big names to keep happy, you'll have to get your man-management right in the first season. Then look at addressing the key but ageing components of the team to keep the success rolling for years to come.
🔴⚪ Wrexham AFC - Vanarama National League
When two Hollywood actors take over a non-league club it's bound to get attention, and that's exactly what has happened for Wrexham AFC. Backed up Ryan Reynolds and Rob McElhenney, the club is looking to move their way up the English football pyramid.
With the extra publicity and the financial backing of the two owners, Wrexham has already been able to attract talent from the leagues above, including the top scorer from League Two. Over the next few seasons, we don't see this slowing down either, so if you're looking for a rags to riches story as your next Football Manager save then the Welsh town should be your next destination.
🟢⚪ Werder Bremen - 2. Bundesliga
Werder Bremen and the Bundesliga go together as well as any German club. Die Werderaner has been flirting with relegation to Germany's second tier for a few seasons now just narrowly escaping relegation through the playoffs in 2019-20. However, Werder's affiliation with Germany's top division came to an end last season for the first time since 1980/81!
In FM22, you'll be tasked with rebuilding and bringing trophies back to the fallen giants, as their relegation meant that a lot of their talented players departed in search of higher division football - including two leaving for newly-promoted English Premier Division side, Norwich City.
The road won't be easy to get them back to past glories as the 2003-04 Bundesliga winners will have to battle against the dominating FC Bayern Munich. In the process snapping their nine-year streak of winning the league title to take the Bundesliga back to Bremen again.
🔵⚫ Inter - Italian Serie A
Speaking of Bayern Munich's league winning streak, Inter snapped Juventus' dominance on the Italian Serie A title last season. However, the Milan-based side has since found that success isn't always good by losing their talismanic forward Romelu Lukaku, and reliable defender Achraf Hakimi for big fees over the summer.
Combined with the loss of two influential players from their side, investors Suning Holdings Group have announced they'll no longer be investing as much money into their football clubs due to the impact of COVID-19 on their businesses. As a manager, this will mean that you'll have to use your street smarts to identify targets with a resale value, negotiate the best deals for the players, and manage wages carefully. Though you still will have a league-winning squad at your disposal, so it's not all bad!
---
---
Share this post