The Falconeer was nearly 'The Dragoneer' according to developer Tomas Sala
Riding into battle could have been a whole lot different in the new open-world aerial combat game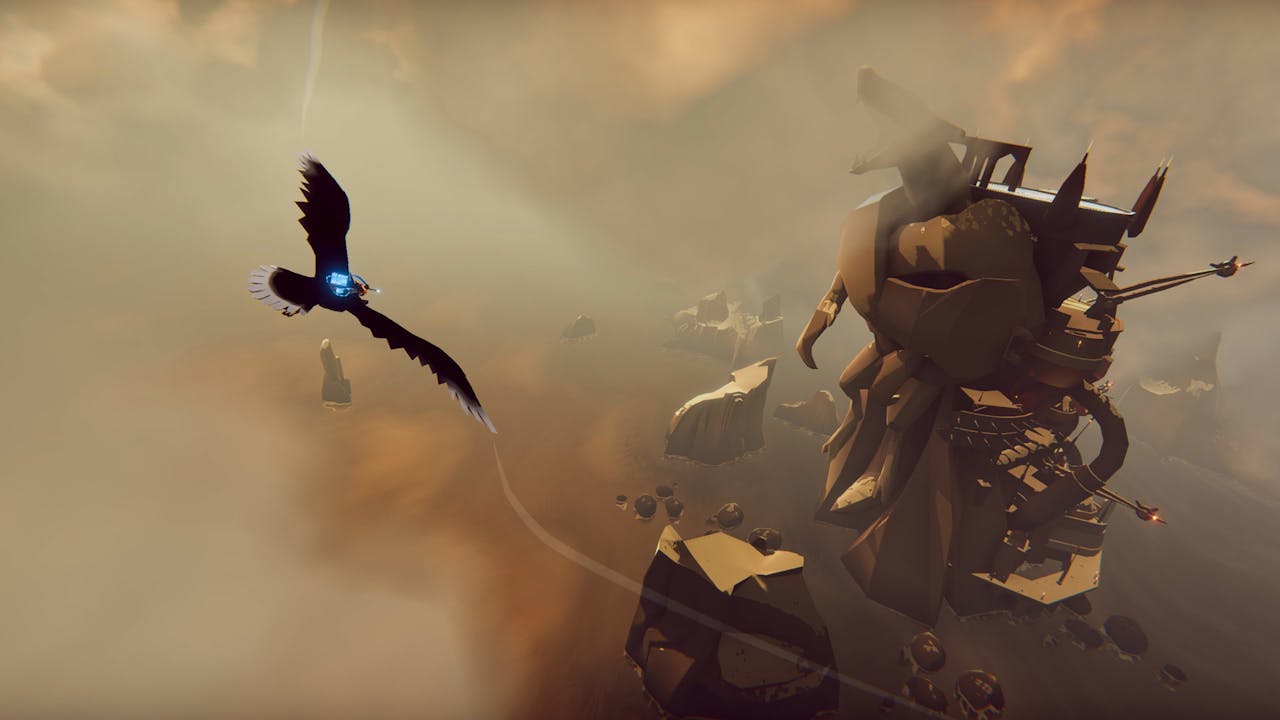 Prepare to soar through the skies aboard a devastatingly powerful Warbird with your The Falconeer Steam PC key. An open-world game wth action-packed aerial combat!
Giant battling warbirds set the scene in The Falconeer, launching on November 10th, as you take to the skies for epic aerial combat in a beautiful open-world environment - but your trusted feathered companion was almost a different creature entirely according to the game's developer.
In an exclusive interview with Fanatical ahead of launch, The Falconeer developer Tomas Sala - who created the game solo - explained how other mythical beasts almost became the focal point of the game before he finally decided to use the mighty warbirds that you've seen in the final product today.
"I think on Steam someone is asking for flamingos," laughed Tomas. "Giant battle-ready flamingos. I did try dragons, it is a fantasy game after all, even though it's got some hard sci-fi edges to it rather than magic missiles type fantasy.
"I tried dragons, and there are some still in the game as an enemy or as a ridable mount for allies, but at that time when I was still working on that part and making those decisions, Game of Thrones had just come up - I thought 'everyone's doing dragons' so let's try something else, it was that simple. I put a bird in and it just clicked.
"Dragons are cool - certainly, definitely - but giant flying birds has that epic feel, I don't know why, but it has its own sense of epicness so that felt really natural. There are many other enemy mounts in the game, enemies ride giant beetles, giant flying eels, flying mantarays, and blimps - so there's lots of different vehicles, and I did toy with the dragons of course.
"I toyed with the idea of making some of those [dragons] ridable, but story wise it didn't entirely make sense because some of those are really horrible enemies that you meet and the people wouldn't welcome you in their port. But who's to say that, for DLC, it would be fun to try something else - but for now it's all 'The Falconeer rides warbirds' and it's all bird focused."
So, no pink flamingos any time soon then, Tomas?
"I'll consider it, but probably not" he laughs.
"There are quite a few birds that you can purchase in the game and unlock, some of those are more inspired by ravens for instance, there's a really nice dark one. There are a few types of warbirds but they're all the giant bird of prey style basically."
With such powerful, majestic warbirds taking center stage on screen, Tomas had his work cut out by ensuring that they stayed true to their characteristics in the wild, and that meant plenty of research.
"I watched a lot of videos on flight, "he says. "Birds' flight is actually a very poorly understood mechanical field, you see a lot of weird bird animations if you look at games and advertisings - I saw a perfume advert where a bird was just swimming through the air - so if you do it really wrong, the bird just feels really off and really weird.
"The counter intuitive thing with birds and birds of prey is that they actually flap forward, so their wings are going like this [arm movement] instead of just going up and down. There's lots of footage online, and I think there was one of a giant Fish eagle or something, at 10,000 frames per second - really nice slow mo flight - so I looked at that loads just to get the flying animation right.
"There's the bird motion and the camera as well, so there's lots of work in making the camera and the bird itself feel fluent - one of the things that I set out is that you could make this really clunky or make it feel like an FPS in the sky. I know that there are space games where they start off with what's great mouse controls for first-person shooter gamers, and I appreciate and respect that, but for this you have to get out of your mode.
"It's flying and floating and it's got a sort of momentum to it, and I'm really happy with how it's turned out. It seems that a lot of people who played it enjoyed that aspect as the controls are tight and smooth."
Be sure to check out all of Fanatical's interview with Tomas over on our YouTube channel. The Falconeer is available on Xbox Series X and Series S, Xbox One, and PC - grab your officially licensed The Falconeer Steam PC key from Fanatical now!
---
---
Share this post