Fanatical Stream Team Q&A - TexasTeaMan
Fanatical catches up with Stream Team member TexasTeaMan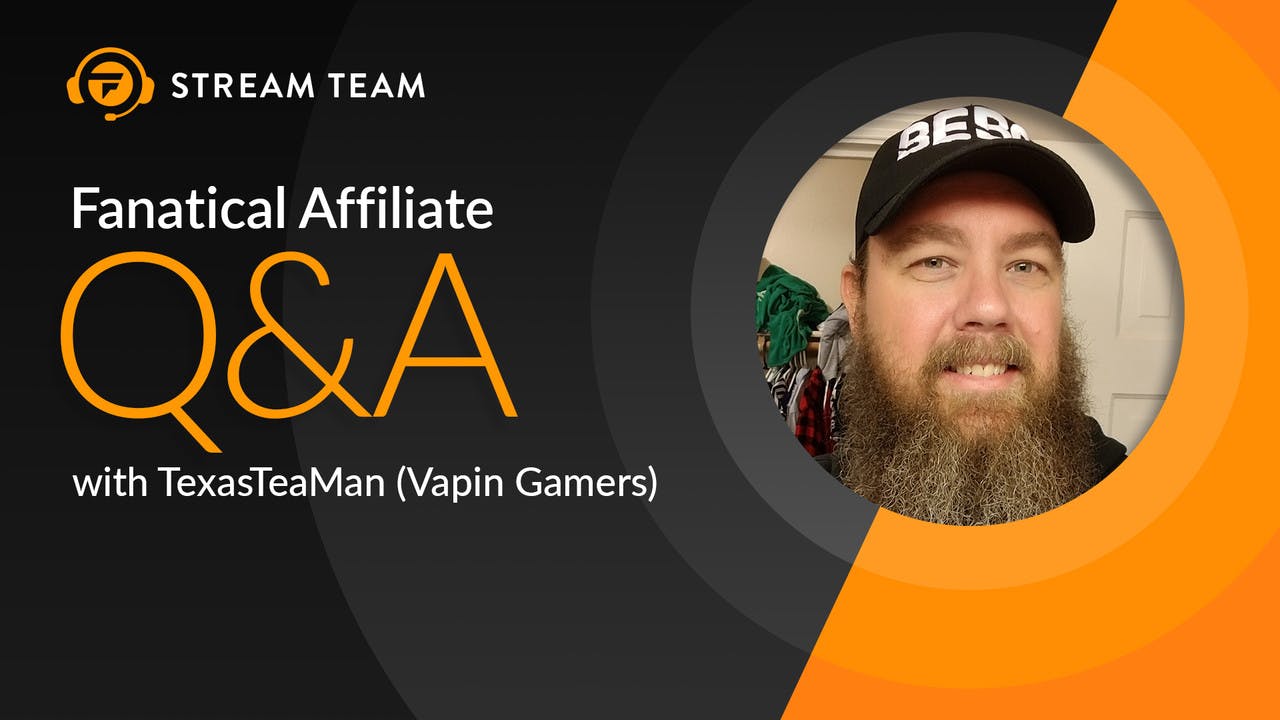 It's time for the latest Fanatical Q&A, where we promote the people involved in our affiliate program and dedicated Stream Team members.
We're always pleased to see avid gamers and streamers joining the family - giving you the chance to get paid for promoting the games that we all love. Not only do our affiliates benefit from playing awesome Steam PC games and the chance to potentially join the Fanatical Stream Team, they also get the spotlight that they deserve with our special Q&A right here on the Fanatical Blog.
This week features TexasTeaMan, who streams with his friends at VapinGamers. He's also going to be a featured Streamer at TwitchCon!
Q&A with TexasTeaMan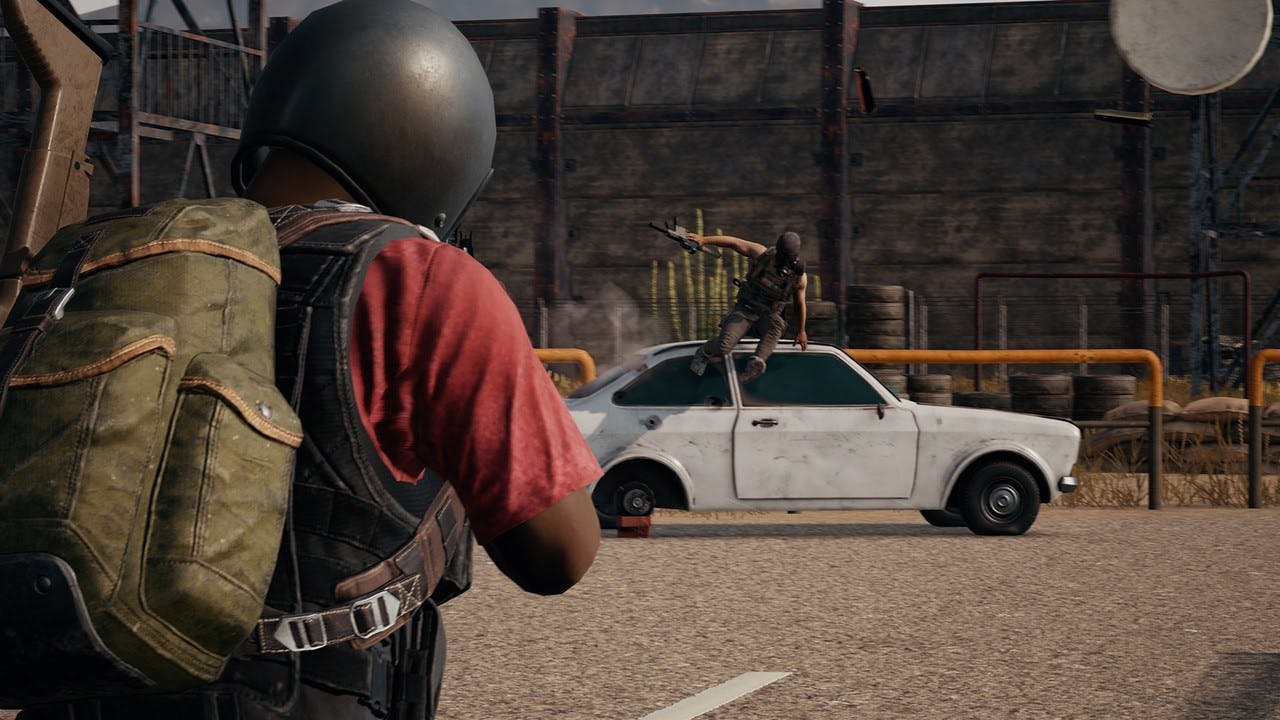 Name: Aaron
Gaming alias: Tex of VapinGamers
Age: 42
Location: San Antonio, Texas
Current PC setup:
i7 7700
32GB CORSAIR Vengeance RGB DRAM DDR4 3000 (PC4 24000)
EVGA Nvidia 1080 GTX GPU
3 - Acer XG270HU Red 27" 1ms 144HZ WQHD 2K 2560x1440, AMD FreeSync, Widescreen LED Monitors
250 GB Samsung SSD
1TB Samsung SSD
How many games do you have in your Steam library and how many are played/unplayed: 90 Steam Games + 25 other PC Games Non Steam.
According to Steam, how many hours have you gamed for: 935.
What age were you when you got your first gaming PC/console and what was it: 6 and it was an Atari PC.
What is it about gaming that you love so much: I love the challenges, solving puzzles and the great stories behind many of today's games. Plus I love playing with others who have a love and passion for gaming.
Favorite genre of game and why: This is a tough one for me since I tend to really enjoy MMO's, RPG's and FPS shooters. Just all depends on my mood.
What has been your top game of 2018, and what are you looking forward to for the rest of the year/2019: Lately Destiny 2 Forsaken and The Forge Arena has been consuming my life. Although there are some other great titles that I have played this year like Omensight, Laser League, Black Ice, Forgotton Anne, Quake Champions, Earthfall, Citadel Forged with Fire, Unearned Bounty, Versus World, PLAYERUNKNOWN'S BATTLEGROUNDS, Call of Duty: Black Ops 4. I love all of these titles for various reasons. For the future I have my eyes on Tom Clancy's The Division 2, The Forge Arena (currently in early access) and Final Fantasy VII remake which drops hopefully later this year.
If you could be any game character or be inside any video game world, who/where would you be and why: It would have to be any of the Final Fantasy games. I mean why not Kuppo? I just love the series plus Chocobo's are my jam!
When did you start streaming: I originally started streaming in December of 2016.
Who inspired you to start streaming yourself: I first discovered streaming around October of 2016 on YouTube from a streamer named Clintus. I originally was looking for some Destiny content and he happened to be streaming. Snce I had prior experience in online radio I figured I would give it a shot and started my streaming career on YouTube first and then moving to Twitch about 6 months later.
What do you enjoy most about being part of the affiliate partnership program: Getting the details on upcoming game bundles and packages. When I post on Twitter about my wallet hurting I mean it. So many games, so little funds. The bundles are such a fantastic deal that they are really hard to pass up.
Have you any advice or tips for anyone else looking to get started on Twitch: Honestly work hard, have a set schedule, network like crazy and most of all, have fun! If you are not having fun people can tell. Play what you love and it will show.
What other YouTube channels do you rate/admire: Clintus for sure and my all time favorite channel would have to be Glove and Boots.
What would your dream bundle line-up be: That is a tough one. I would probably have to say either a Star Wars Bundle or Final Fantasy Bundle! All of 'em.
If you could only play one game for the rest of your life, what would it be and why: I honestly do not think I could do it. I like variety to much. But if I was forced probably either Destiny or Destiny 2.
What's your most essential piece of gaming equipment: That would have to be a controller. I am old school so mouse and keyboard can be tough for me at times.
Favorite superhero: Spawn,
Favorite ice cream flavor: Chocolate with chunks of peanut butter,
There's a zombie apocalypse and you can only grab three items around you right now, what are they: My vape device, E Juice and Batteries. I need to remain calm.
Tell us an interesting fact about potatoes: The potato is the most popular vegetable in the world. I love 'em Mashed. Thanks for attending my Ted Talk.
Where can we find your awesome videos: You can find VapinGamers on YouTube and Twitch.
---
---
Share this post