We look at what's in store for gamers when Far Cry 5 arrives on Steam PC next week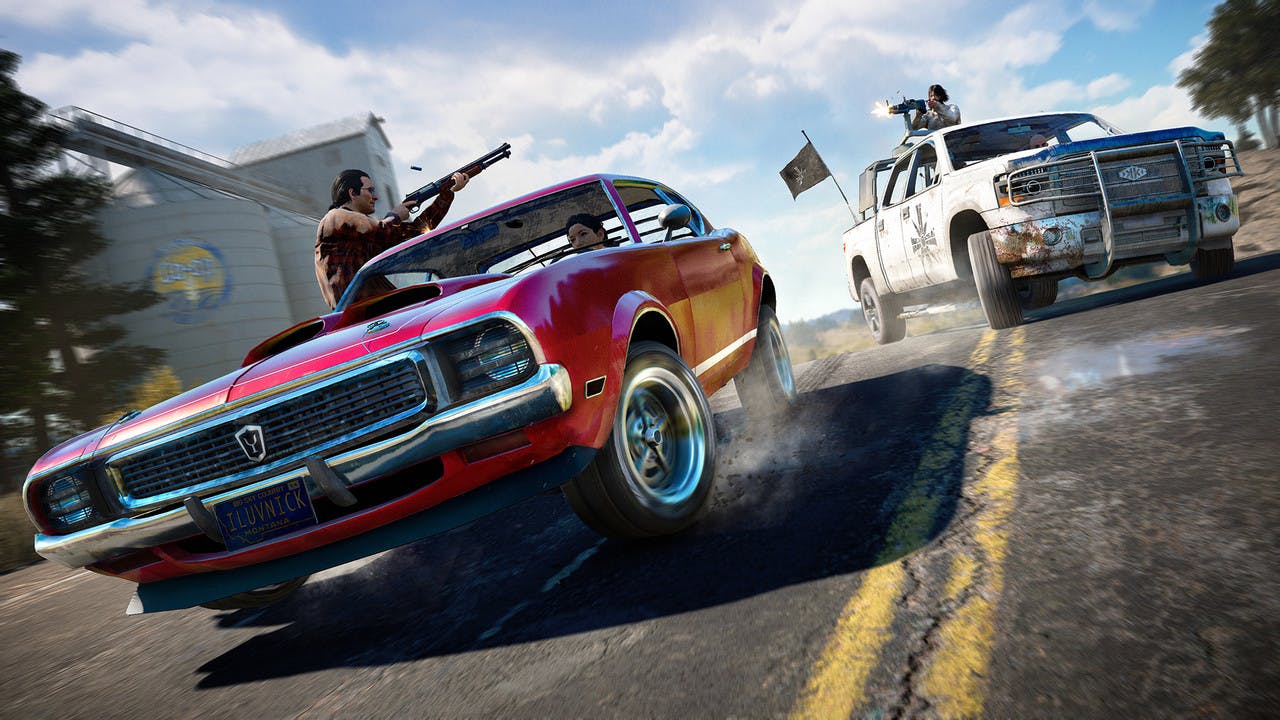 Explosions, exploration and psychotic antagonists make a welcome return in Ubisoft's Far Cry 5, the latest installment in the action adventure RPG series.
Players will leave the picturesque islands and faraway mountains as the latest first-person shooter sees you roam on American soil, tasked with hunting down a dangerous cult. Fans of the previous games in the series will experience some familiar features – whilst being introduced to some new, quirky ones too.
We take a look at what we know so far, and what to expect, from Far Cry 5 when it launches on Tuesday (March 27th) for Steam PC and consoles.
Story and features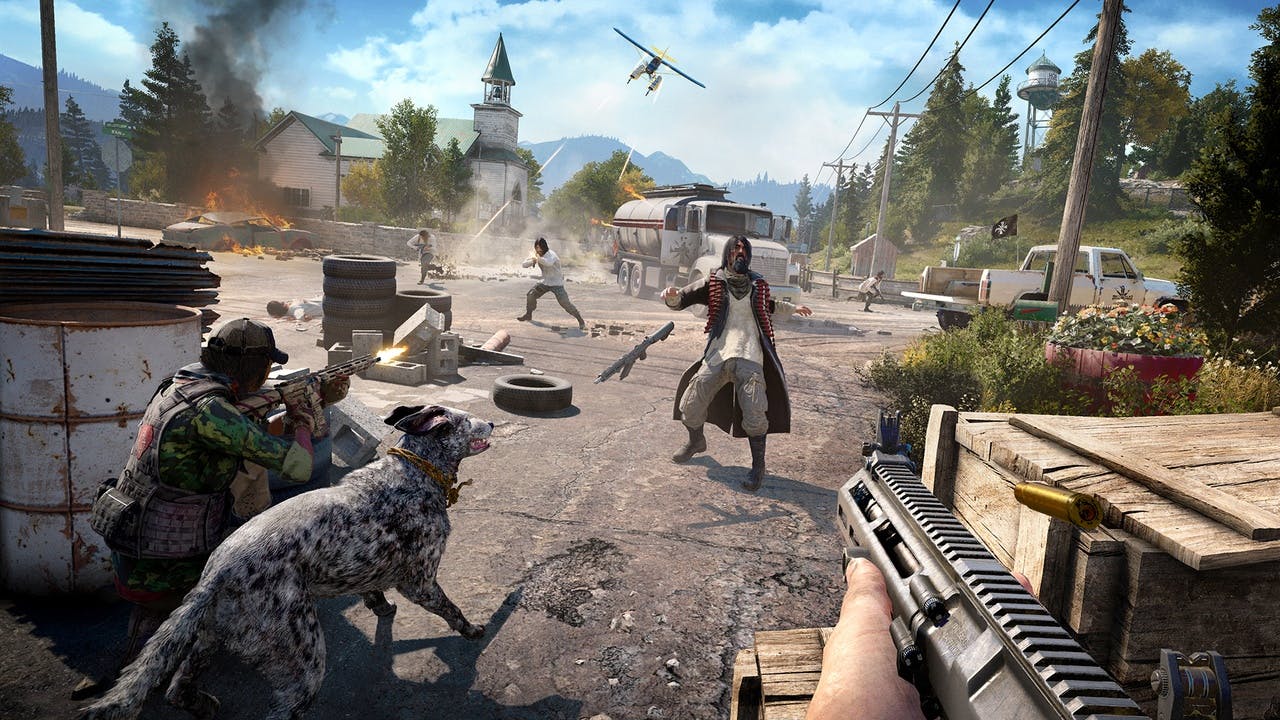 Far Cry 5 is set in the fictional US town of Hope County, Montana, where a dangerous cult called Eden's Gate – led by preacher and madman Joseph 'The Father' Seed – has begun a brutal cleanse over the town's civilians, in order to convert them to their cause and prevent an "inevitable collapse" which will doom them all.
Citizens are banned from seeking help from the outside world, they face the wrath of The Father and his militaristic cult if they dare to stand against him, it doesn't look good!
That's where you, the player and protagonist, steps in. Taking on the role of a sheriff's deputy, you'll begin hunting down Seed and his close followers to rid Hope County of their tight-gripped, malicious presence.
As with other Far Cry games, you'll be guided with story missions which help progress through the campaign, the game features a recruitment system where citizens deeply affected by Seed's actions – who want revenge – will join your quest and aid you in conflict if you perform tasks for them. As seen in Far Cry Primal, the 'Fangs for Hire' system returns – allowing players to tame wild animals to hunt enemies, including a grizzly bear (wearing a collar).
Fancy taking a break from gunfights and dodging death? There's also opportunities to cast your rod into fishing lakes, the world still carries on around you though, so keep an eye out. Players can take on the cult alone in a single-player campaign, or request help from a friend in 'Friends For Hire' multiplayer - there's also a range of hunting missions which can be played in both solo and co-op too.
Free perks for Far Cry 5 players includes the Far Cry Arcade, which is essentially a free map editor and allows you to create your own mini maps to play through with friends and online gamers – where you can share your designs online. Far Cry Live events also grant players access to exclusive timed missions which, if completed, grants you new gear in your fight against Eden's Gate.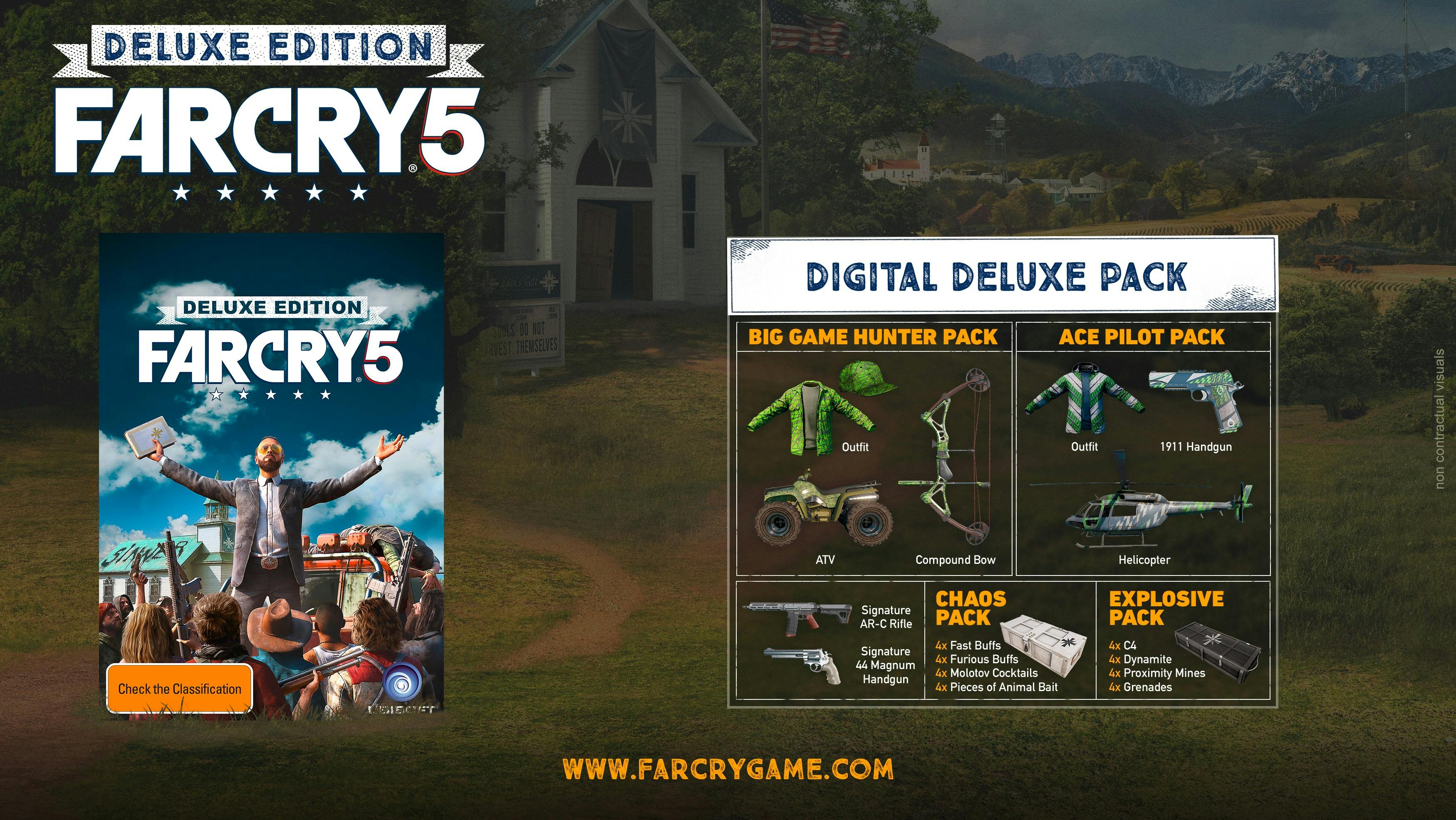 For those of you who decide to pick up Far Cry 5 - Gold Edition, you'll get to gear up with items from the Digital Deluxe Pack, as well as the Season Pass including three DLC – Hours of Darkness, set in Vietnam, Dead Living Zombies, which sees players take on hordes of undead, and Lost on Mars, where players will battle evil alien arachnids.
Better still, the Season Pass also gives you Far Cry 3 – Classic Edition for FREE. The Digital Deluxe Pack, without the Season Pass, is available in Far Cry 5 - Deluxe Edition.
Gameplay
We've put together our highlights of the latest trailers to give you an idea of what to expect from Far Cry 5. In it, you'll see an overall view of the game's world, the plot and Season Pass details.
Games similar to Far Cry 5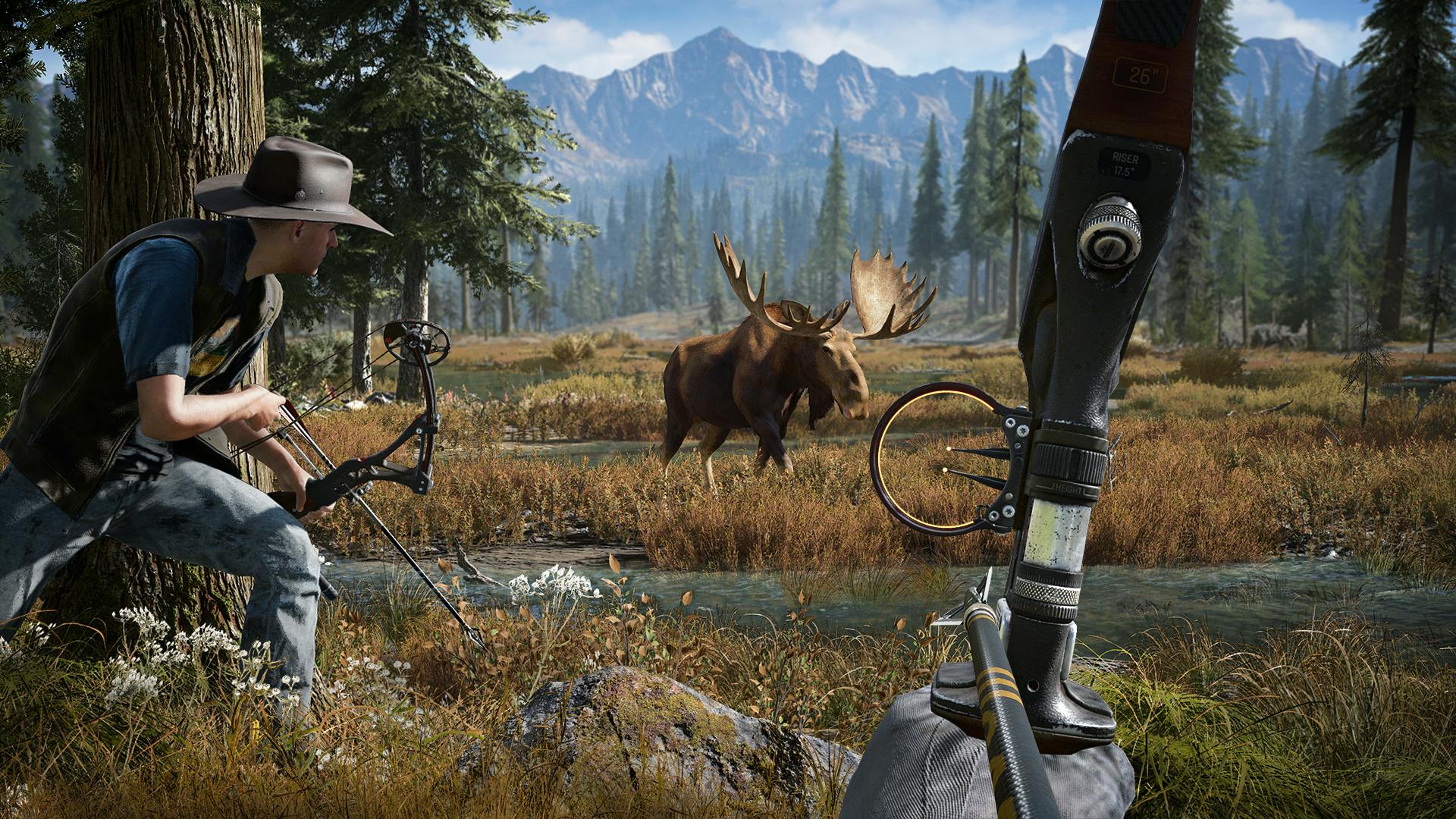 If you're looking for similar games to Far Cry 5, which will keep you ticking over until launch, here are a few suggestions from the Fanatical store:
Previous Far Cry games in the series - Far Cry, Far Cry 2, Far Cry 3, Far Cry 3 - Blood Dragon, Far Cry 4, Far Cry Primal
Requirements and specs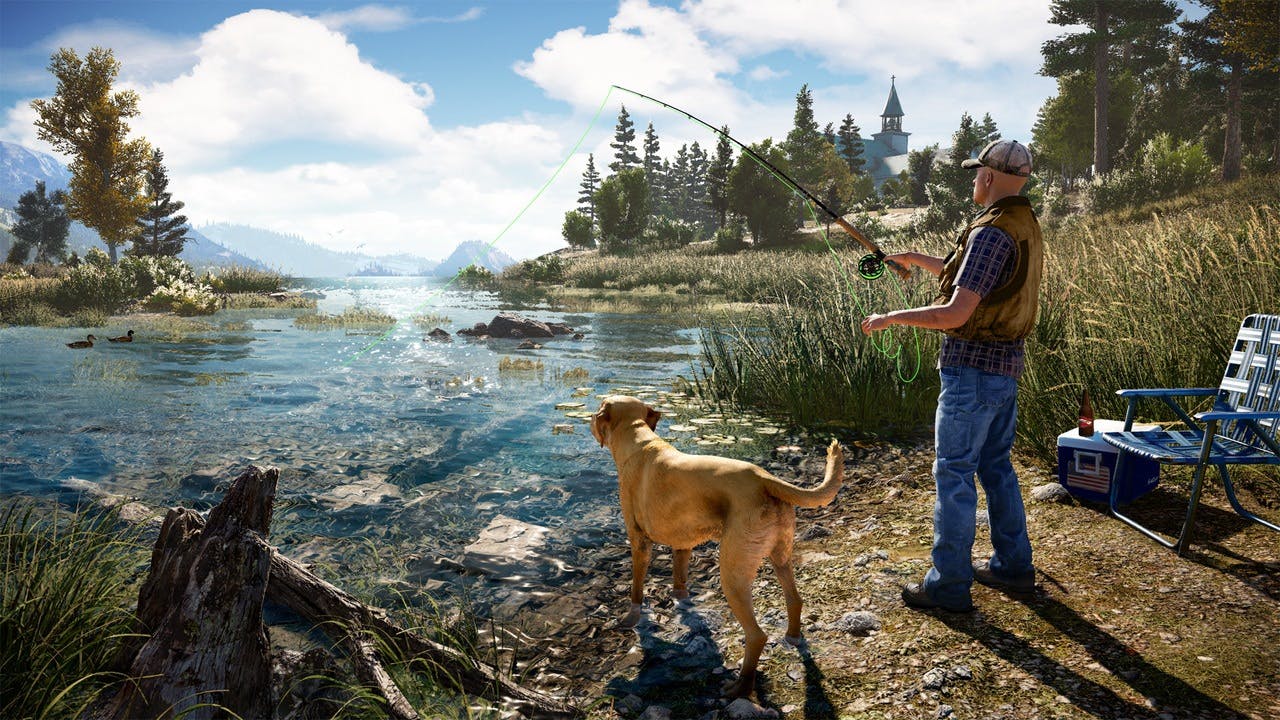 (Windows PC)
Minimum:
- OS: Windows 7 SP1, Windows 8.1, Windows 10 (64-bit versions only)
- PROCESSOR: Intel Core i5-2400 3.1 GHz or AMD FX-6300 3.5 GHz or equivalent
- VIDEO CARD: NVIDIA GeForce GTX 670 or AMD R9 270 (2GB VRAM with Shader Model 5.0 or better)
- SYSTEM RAM: 8 GB
- Resolution: 720p
- Video Preset: Low
Recommended:
- OS: Windows 7 SP1, Windows 8.1, Windows 10 (64-bit versions only)
- PROCESSOR: Intel Core i7-4770 3.4 GHz or AMD Ryzen 5 1600 3.2 GHz or equivalent
- VIDEO CARD: NVIDIA GeForce GTX 970 or AMD R9 290X (4GB VRAM with Shader Model 5.0 or better)
- SYSTEM RAM: 8 GB
- Resolution: 1080p
- Video Preset: High

Other Requirements:
4K 30 FPS CONFIGURATION:
- OS: Windows 10 (64-bit version only)
- PROCESSOR: Intel Core i7-6700 3.4 GHz or AMD Ryzen 5 1600X 3.6 GHz or equivalent
- VIDEO CARD: NVIDIA GeForce GTX 1070 or AMD RX Vega 56 (8GB VRAM with Shader Model 5.0 or better)
- SYSTEM RAM: 16GB
- Resolution: 2160p
- Video Preset: High

4K 60 FPS CONFIGURATION:
- OS: Windows 10 (64-bit version only)
- PROCESSOR: Intel Core i7-6700K 4.0 GHz or AMD Ryzen 7 1700X 3.4 GHz or equivalent
- VIDEO CARD: NVIDIA GeForce GTX 1080 SLI or AMD RX Vega 56 CFX (8GB VRAM with Shader Model 5.0 or better)
- SYSTEM RAM: 16GB
- Resolution: 2160p
- Video Preset: High/Ultra
---
---
Share this post