A new contender for the PvP and PvE genres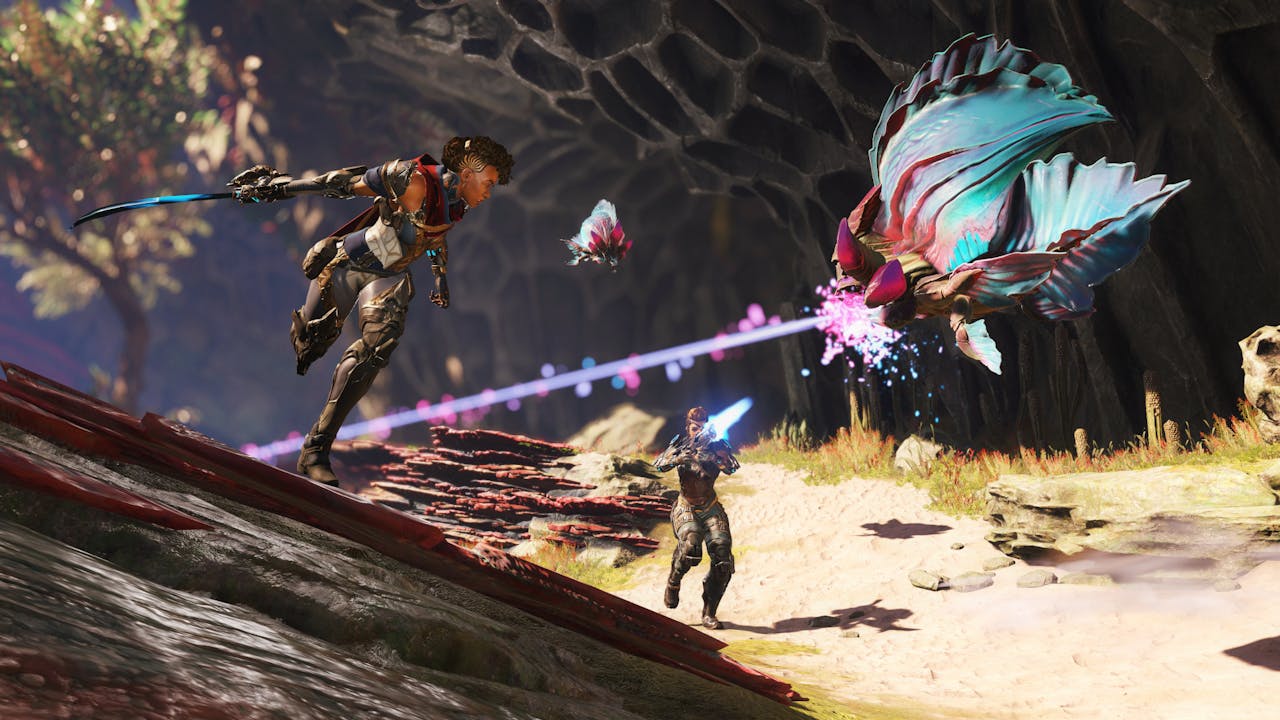 Apex Legends, Fortnite and Call of Duty: Warzone have been the 'big guns' in the free-to-play shooter gaming world, but could we be about to see another game attempt to squeeze onto this already crowded podium?
Well, Amazon Games is certainly going to try with Crucible, a third-person team-based shooter that is set for release on Steam PC on May 20th. Crucible will feature competitive PvP battles as well as PvE elements, with you and your fellow Essence Hunters taking on alien creatures and capturing objectives - all while fending off opposing teams.
At present, we know of three key game modes available when the game launches later this month. Alpha Hunters sees eight teams of two Hunters in a last person standing type scenario, while Harvester Command is an 8v8 where teams must capture and hold Essence Harvesters - the first to reach 100 points gets the win. Heart of the Hives features two teams of four players hunting down huge boss-like monster hives, with the aim of obtaining its heart once the monster is defeated - capture three hearts and you'll be victorious.
The game will feature a roster of 'soldiers, criminals and rogue agents' to choose from, each of which will have unique traits or advantages.
In a statement, posted by VGC, Amazon Games Vice President Christoph Hartmann said: "In Crucible, every match is different, and players' choices really matter.
"Every opponent, team, and mode poses unique dangers, and no two matches are the same, so players must constantly adapt to everything the world and the other teams throw at them. We're excited for players to join the hunt in just a couple of weeks, and we can't wait to hear what they think of it."
Crucible is one of two new titles being launched this year by Amazon Games, the next game will be the MMO New World which launches in August. Very little has been shown in terms of videos or images, but New World will see you 'overcome the brutal legions of The Corrupted and draw battle lines with competing players in this land of danger and opportunity' as well as 'combine skill and strength in melee combat, attack at range with precision, or master arcane attacks'.
Speaking of Apex Legends, one of the most popular free-to-play shooters out there at present, developer Respawn Entertainment has revealed details of Season Five for the battle royale game, with a new character being introduced. Loba Andrade's main ability focuses on teleportation, where she uses a throwing device to teleport to nearby locations, as well as using her ornate staff - a family heirloom - to teleport weapons and items to her location that are close by.
The official teaser trailer also showed her true identity and purpose for arriving in the mad battle-fuelled arenas, to seek revenge. Revenant, the cyborg assassin who was introduced in Season Four as a new playable character, was the one who killed Loba's parents, which we see in flashbacks during the trailer.
---
---
Share this post