Surprise! Football Manager 2022 revealed - What new features can we expect
SURPRISE! There's going to be a new FM game!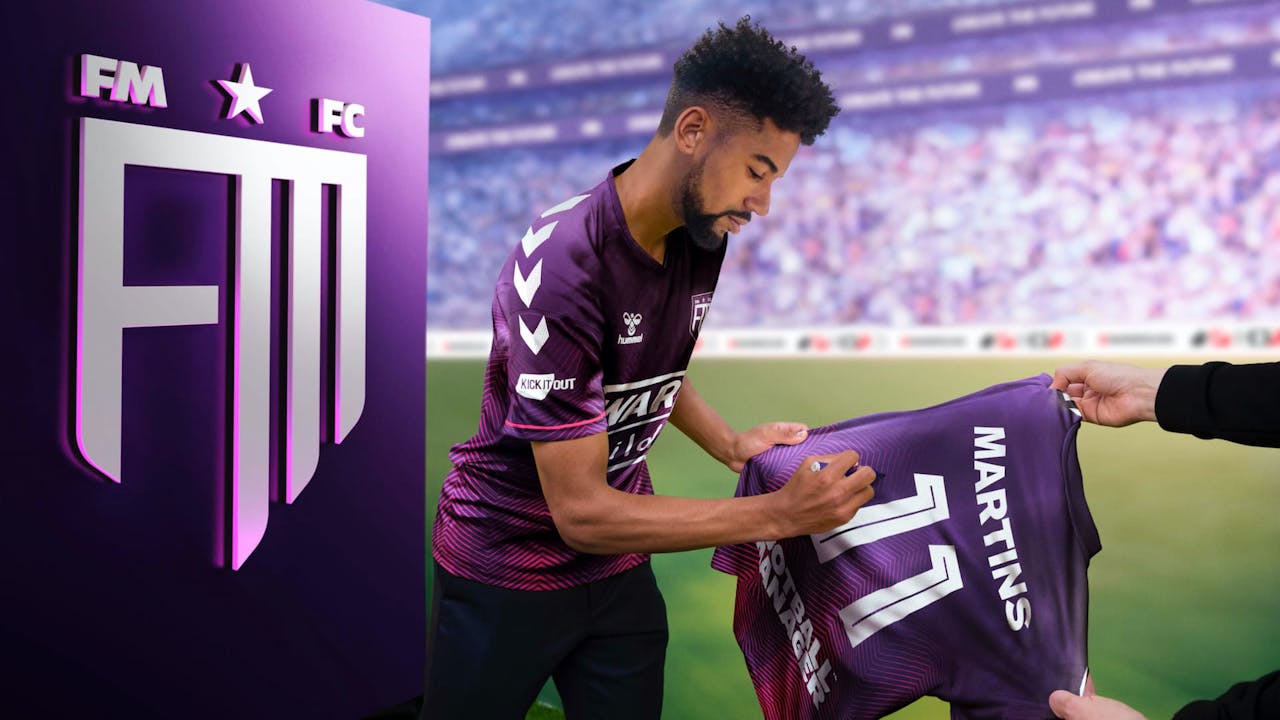 Out of nowhere, shockingly, Sports Interactive and SEGA has - wait for it - announced that Football Manager 2022 is on its way later this year.
Sarcasm aside, the hit sports sim series returns this winter - with a fresh batch of footballing (soccering) drama where you'll overcome the odds, realise your dreams, and earn your success through craft and skill. We'll be bringing you the latest information, features and updates right here as we nearer the launch date - so keep stopping by, ok?
New features, anyone?
For the new season, we're getting treated to four main headline additions, plus thousands more quality of life tweaks - including over 4,000 new options in team talks!
On-Pitch Authenticity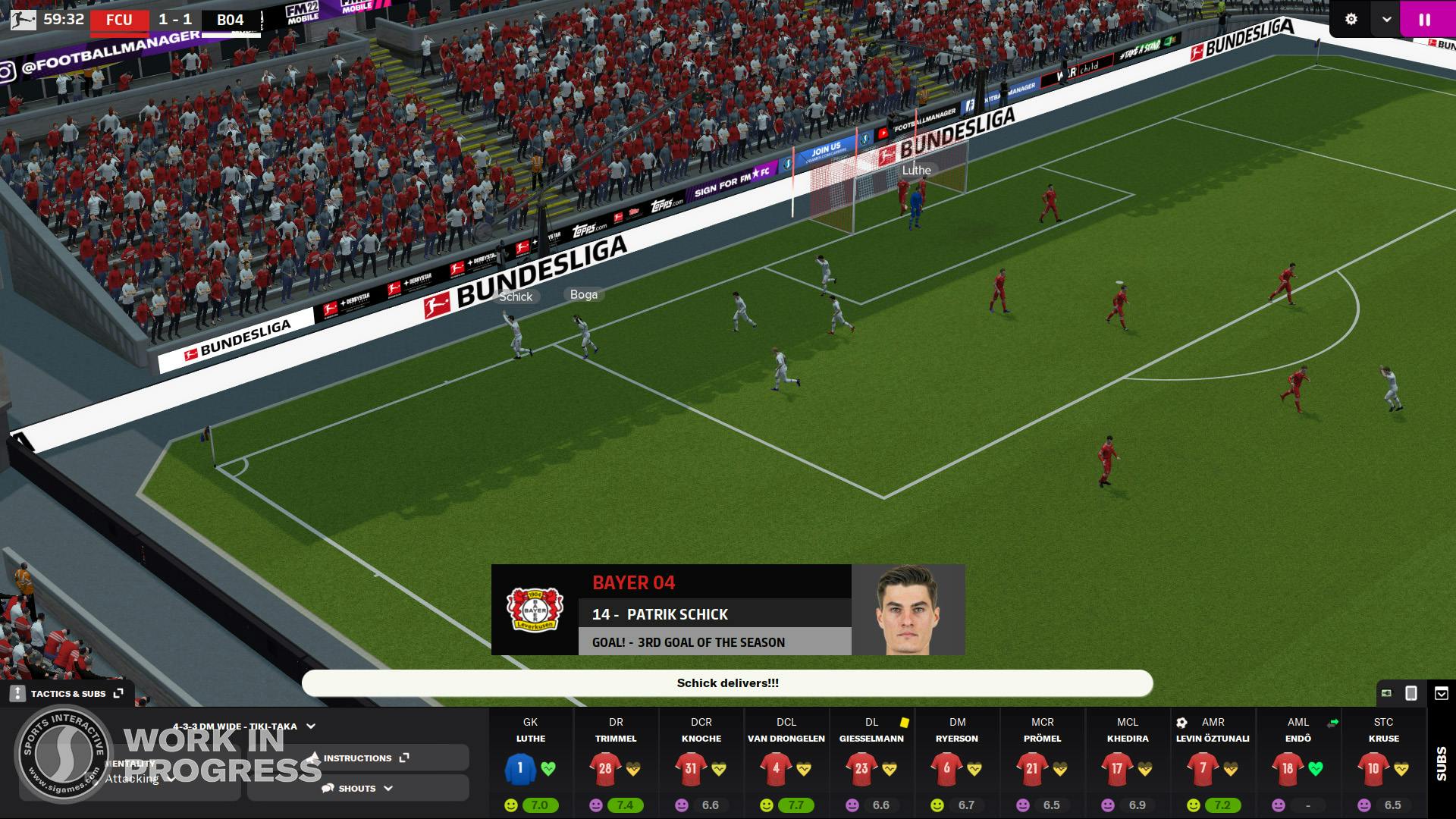 Sports Interactive and SEGA have created a new animation engine that promises the most realistic dribbling and player movement in a Football Manager game to date. Gone are the days of players sliding into place, playing risky balls, and doing basic dribbles. Instead, players will now make smarter decisions for passing and pressing, use their abilities to pull off moves such as Cruyff turns to beat a man, and look more realistic as they go about their jobs on the pitch.
As part of this upgrade, there's a new player role to try out too. If you're a manager who loves to play 3 at the back, then you can now utilize a Wide Center Back. This can be deployed as an attacking player who will gallop forward - looking to exploit space and get in on the attacking action, or a defensive cover for your Wing Backs.
Powered by Data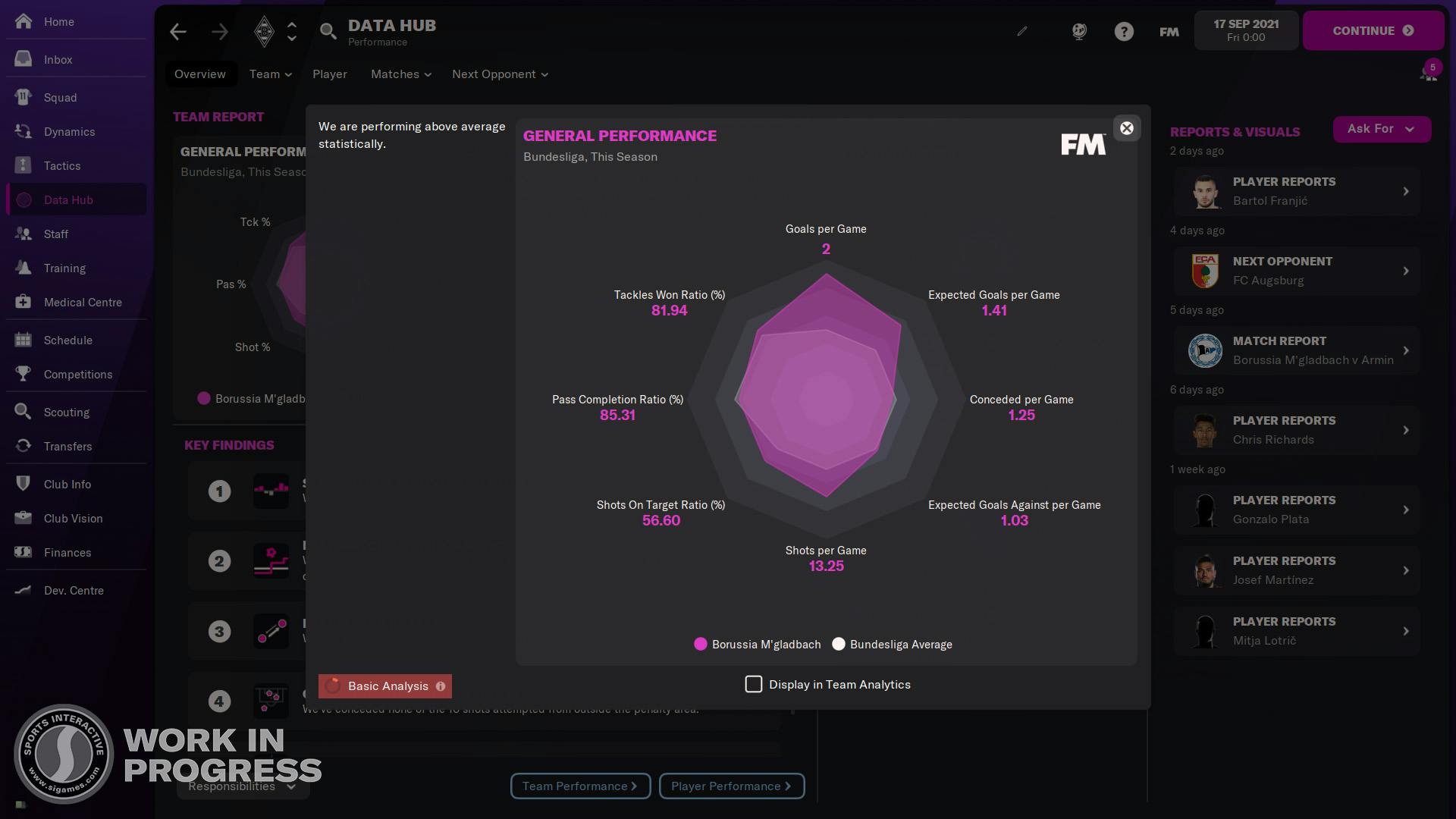 Football Manager has always been about data and the all-new Data Hub will bring the same analysis that has been integral to football clubs for the last few years into the game.
With more data at your disposal, the Data Hub will allow you to gain quick insights into things you'd like to know. By either displaying them on the Hub itself or by you requesting them from an analyst.
All of this should make it easier for you to look into your team and analyze where things are going right or wrong, and where to exploit the opponents to turn that L into a W.
You'll also notice that some of the graphics, such as pass maps have been reworked to be clearer and allow you to see in an instant the data you want from it.
Backroom Rewrite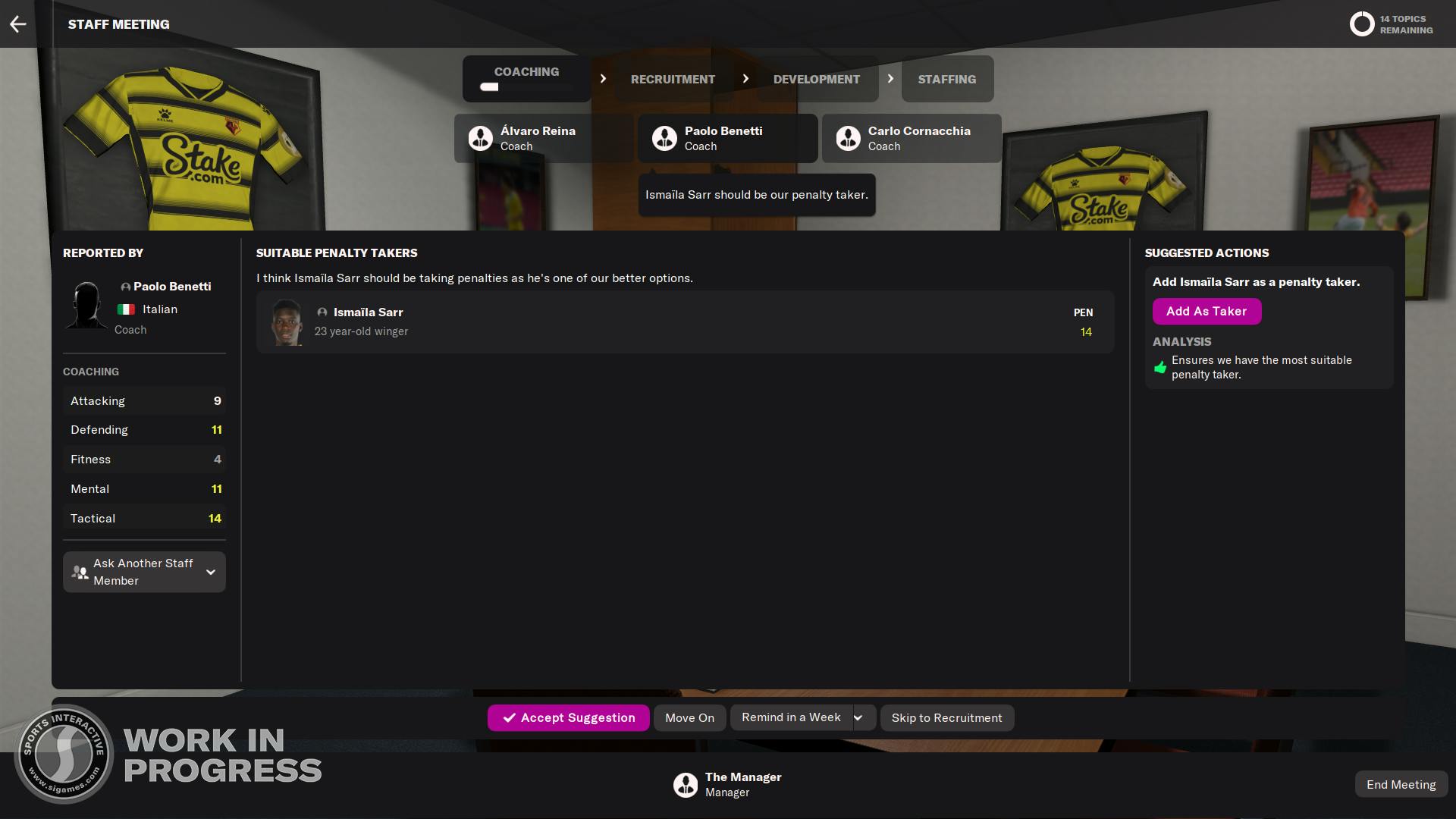 Last year was about new staff roles, meetings, and interactions for recruitment. This year, Sports Interactive is leveling up the staff meetings by looking at the regular community between managers and their backroom teams.
You can set how often you and your team will meet and get quick feedback from all areas of your club to either action or ignore. Within the meetings, you'll be updated on coaching, recruitment, development, and staffing, which will include a variety of tasks that can be applied directly from the meeting itself.

The intention of this new feature is to give you greater visbility on the areas you may currently overlook, but could play a vital part in picking up a few extra points towards your goals in the season.
Deadline Day Drama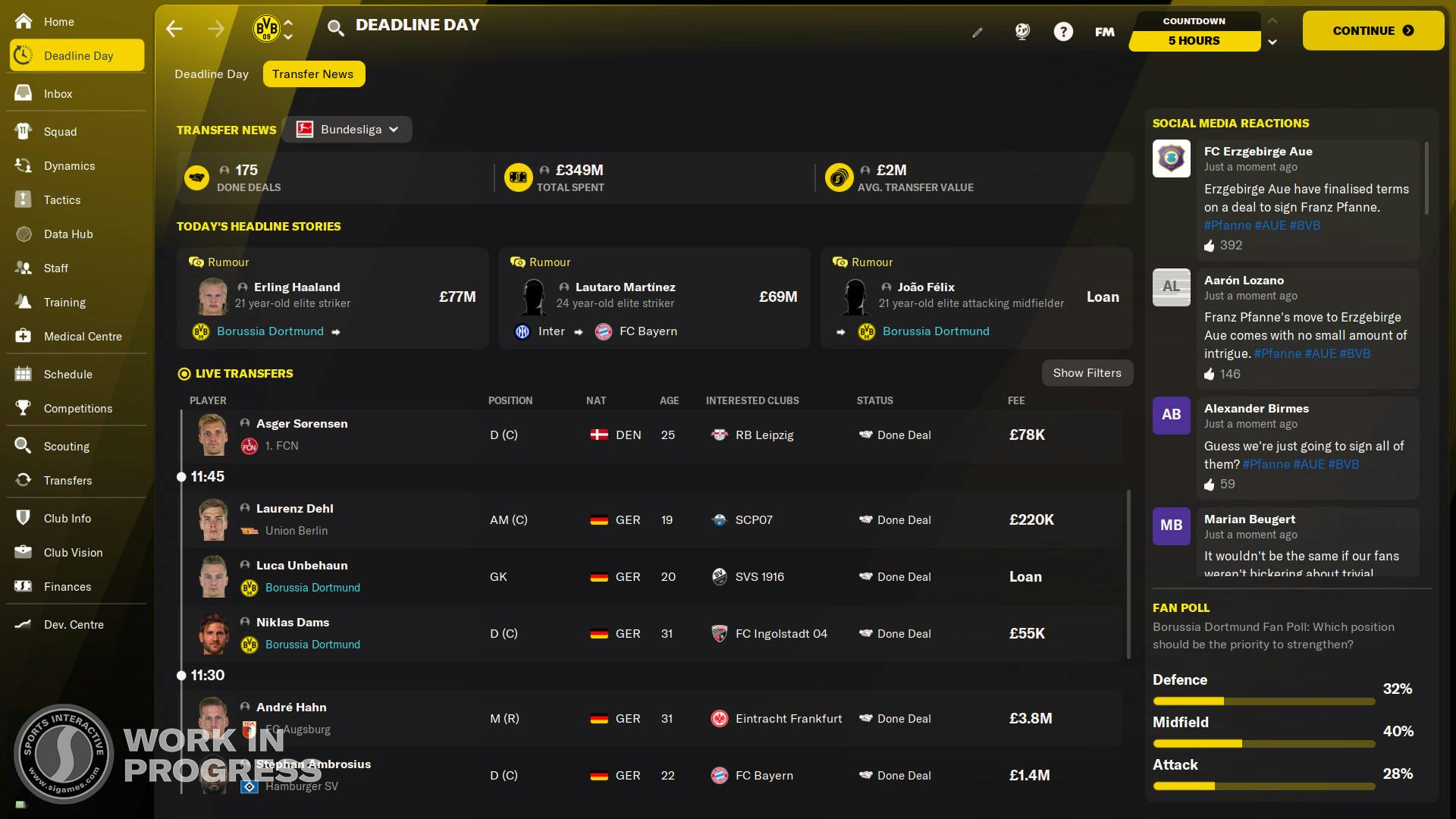 Deadline Day for football fans is like Christmas, except it's twice a year! The drama of the transfer window slamming shut brings excitement, anticipation, and disappointment to fans of clubs all over the world.
Within football clubs, it's an opportunity though. Players that were previously unobtainable become available as their club scrambles to sign a player or tries to shift them off the wage bill.
Now, the series will realistically mimic this, creating the drama of the day, but also presenting curveballs to you as a manager by presenting opportunities to sign players from agents. As well as with rumors displayed on the day, and the visibility to hijack rivals' deals before they're complete.
My football managing body is ready, when's the release date?
Woah, too much information! Anyway, Football Manager 2022 is set to launch on Steam PC, mobile and console on November 9th, 2021. You can pre-order it right now from Fanatical to save more and get Early Access to the game.
---
---
Share this post