Hands On Experience Cult of the Lamb
I got an early access to Cult of the Lamb, so if you'd like to know more before you purchase, I might have some answers!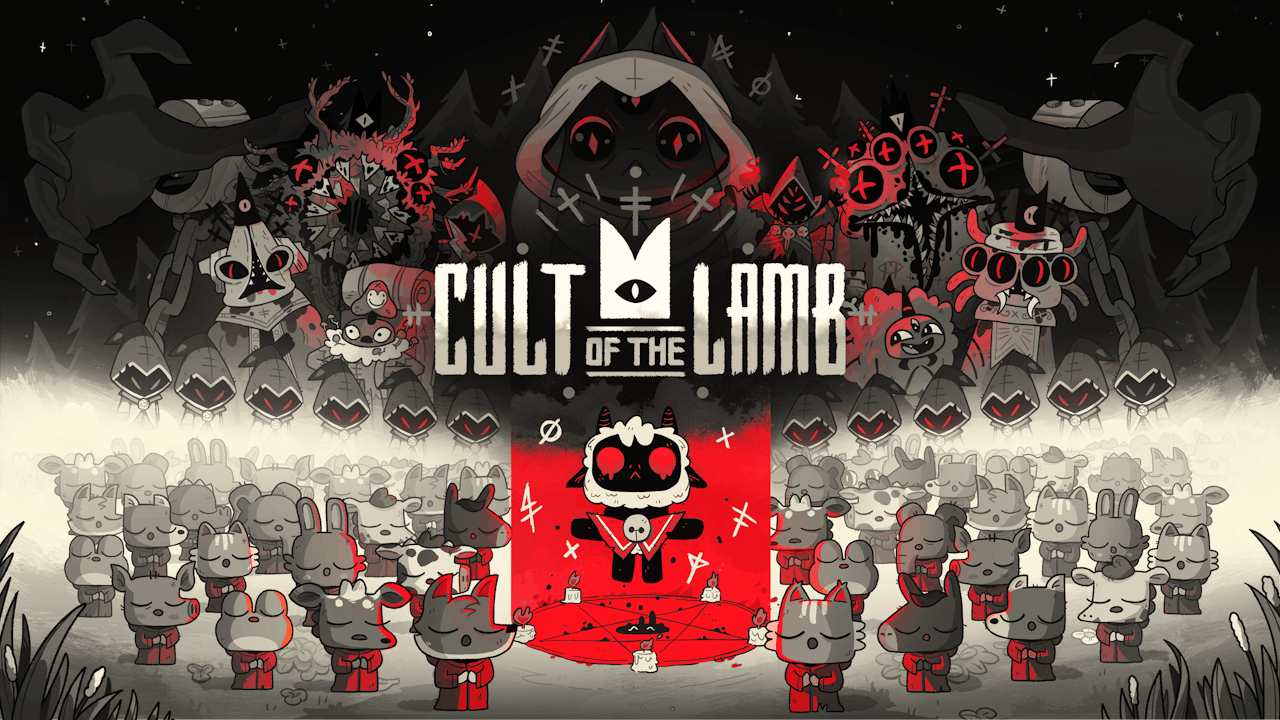 So many things to do! Is it overwhelming?
Cult of the Lamb indeed has many features to it. You can fish, fight, marry cultists, do rituals, decorate... the list goes on. But the game has an incredibly well-done balance that allows it to never be overwhelming or boring. You can fish, but if you don't like to, not only is it not necessary (except here and there, like for missions), but there's a ritual to increase its productivity. Additionally, you don't have to decorate unless you want to, and no one's forcing your hand into marriage. That is basically how the game goes about most things!
It's about cultists and sacrifice, so is it all horror and gore?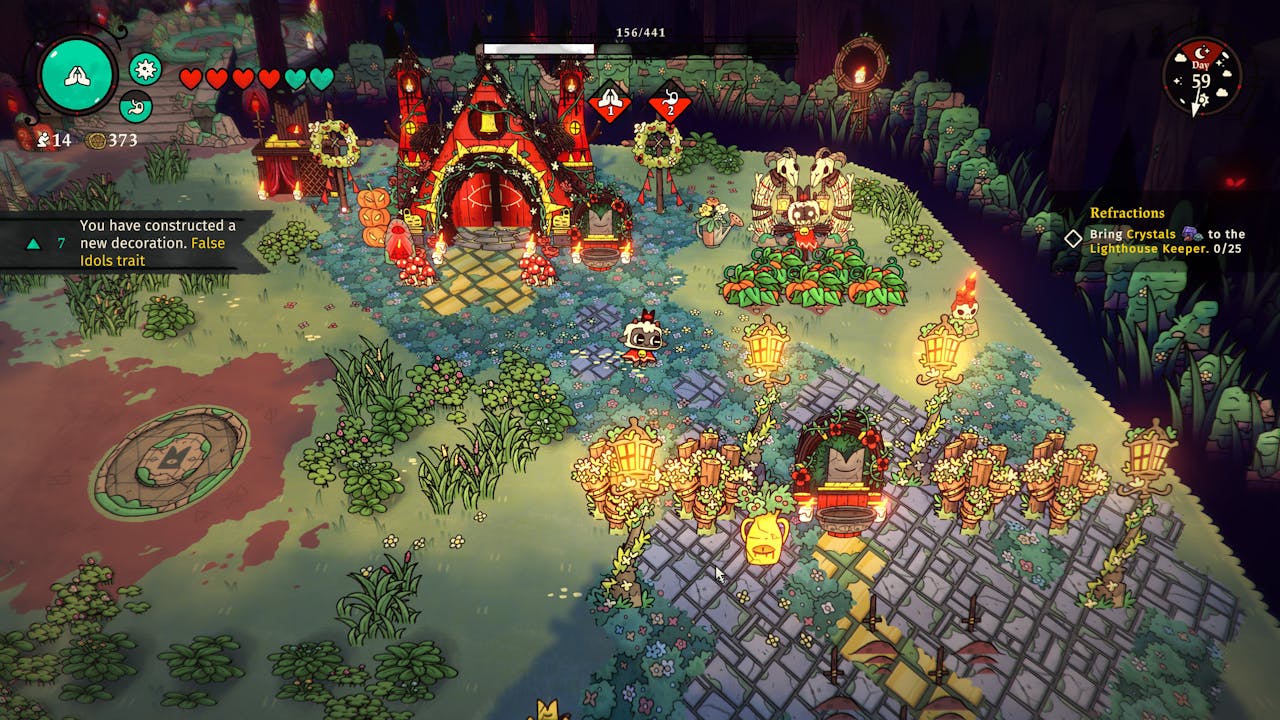 One of the most surprising aspects of Cult of the Lamb was that, despite its dark themes, the game is very cutesy too. Although you can sacrifice your cultists to a tentacle god that bursts them into bits and pieces, you have the flip side of the cutesy and almost heartwarming things (which I think are a bit more common). You are more exposed to cute things, such as smooching your spouse, seeing hearts appear after sermons, or even having a little dance with the cultists to raise their loyalty.
How's the gameplay?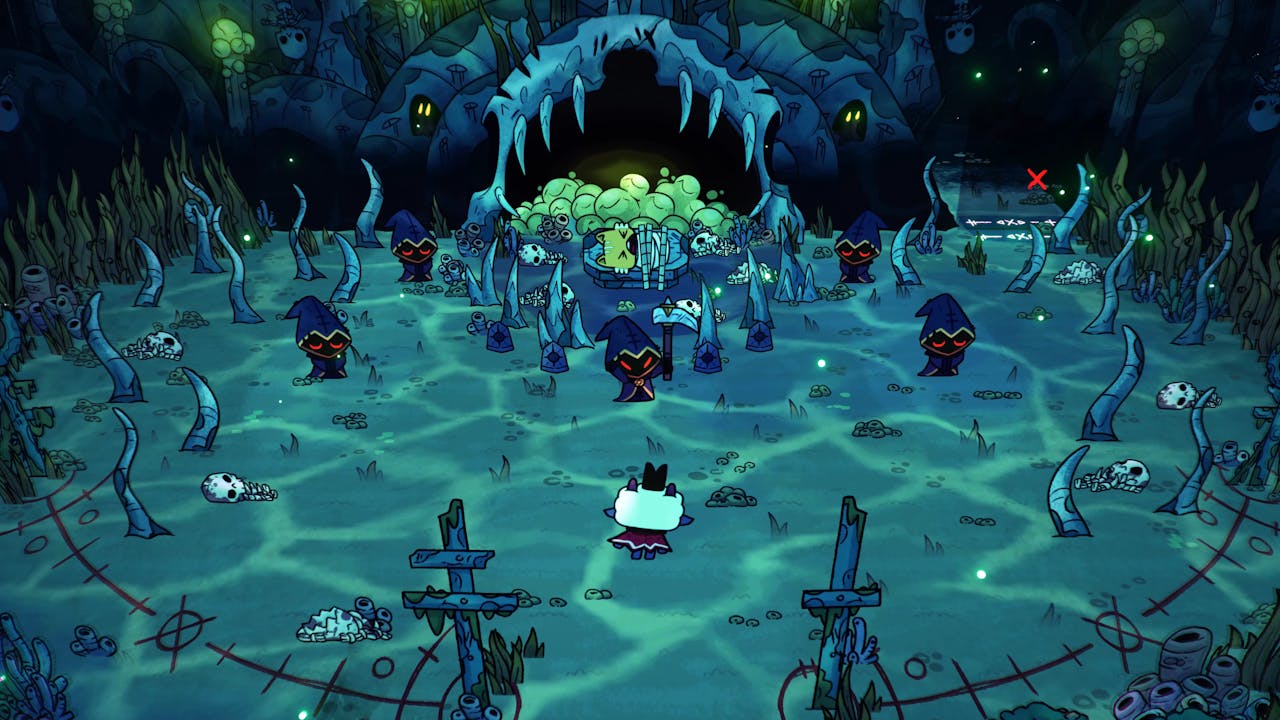 Excellent in all areas. Cult of the Lamb was surprisingly fun no matter what I was doing. For example, when you go on crusades (which is the combat area), you'll get access to unique zones, each with its own aesthetic, music, and enemy types. Additionally, there are various combinations to make with the weapons, curses, and buffs available each run... and that's not counting the fleeces you can unlock at the camp, which add different terms to your runs. For example, the white one offers four randomised tarot cards at the beginning of the crusade, but you cannot choose any more throughout it. And to add to the variety, each run you have a different layout, so you will find numerous food, resources, followers, or shops every run.
The other gameplay aspects of the game are also just as fun. The cultist interactions, for example, are quite wide in comparison to what I expected. Not only can you change the followers' look and name them, but you also get missions from them, unlock new interactions, marry them, and even take them out to the crusades through an unlockable building. Although they won't fight side-by-side with you, they will turn into little ghosts that will add something to the combat experience, such as shooting at the enemies, collecting health, or even adding additional hearts to the lamb.
This attention to detail and love is seen throughout the entire game. From having different crops to a wide array of decorations, to even the rules you set on your cultists — the game is all about tailoring the experience to you and how you want it to be.
---
---
Share this post