The Fanatical
Blog
Latest AAA, Indie & Game Bundles
Receive Games Instantly
Save Money
100% Authentic Keys
Hokko Life Preview - Everything you need to know
By Guest - 31st May 2021Games
Hokko Life is an upcoming PC game with similar elements to Animal Crossing, here's everything we know about this cosy sim so far.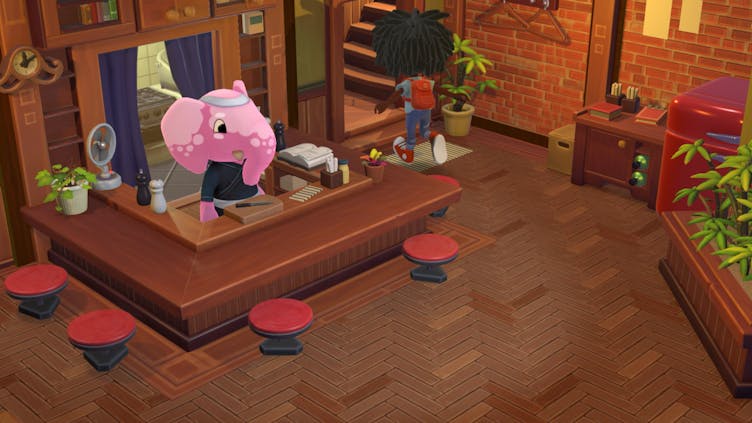 The super cute and cosy social sim was announced in February 2020. Combining the elements of many beloved games, there's been quite the anticipation for.

Coined PC's answer to Animal Crossing, you find yourself in a quaint town with an abode to decorate and quirky animal residents to run errands for. Now, Hokko Life is entering Steam's Early Access on June 2nd.

What's the gameplay like?
Stepping off the train, you're greeted by a soft artstyle and immediately immersed into the charming world of Hokko.
Craft: Amble into the forest or abandoned mine (Stardew vibes, anyone?) for resources and turn them into materials to use in your own designs.
Design: At the small but mighty design table, craft your own furniture pieces - however you like. Combine different shapes and materials, creating something truly unique.
Paint: Get your paintbrushes out and swirl your shirts, wallpaper and flooring in vibrant colors. This feature takes inspiration from our favorite Able Sisters and their crafty claws.
Build: Place buildings, wherever you want. No restrictions to grids, free reign baby.
Decorate: Want to spruce your interior with pieces you've crafted? Design an elaborate green space your townsfolk will flock to? Hokko Life provides.
Fish: Get reeled into the wonderfully casual nature of the game and spend a morning by the water. With each fish creating a different challenge, you'll need to vary your approach to ensure a bite!
Bug Hunt: Beautiful butterflies and bugs inhabit Hokko, can you complete the collection? On your daily stroll around town, keep a lookout for any on your journey.
Armed with tools and imagination, you have complete freedom to design a town your villagers will adore. No, I'm not describing Animal Crossing - hear me out. There's plenty to anticipate from Hokko Life that we haven't seen before.
What can I get excited about?
When last year's trailer dropped, something that had me adding to the wishlist was the level of customization for furniture. With overlooked details like cushions having a moment and seemingly complete control over the colors of each section, it feels like we're in store for some hefty customization. Do I even need to mention diagonal furniture placement? Every in-game interior designer has dreamed of this day.
The whole trailer is jam-packed with feel-good vibes and wonder. It should appease the craving for an Animal Crossing/Stardew crossover for now.
The best part? Looking at the systems requirements to run this game, it's not going to take up nearly as much room as say, The Sims, and you don't need a beasty PC either.
What does Early Access mean for Hokko Life?
Created by a primarily one-person studio (much like our favorite farming simulator Stardew Valley), we're no stranger to such large projects taking a lot of time and resources to complete. For anybody who's eagerly awaiting Paralives, you're with me on this.
That's why it's so exciting that it's nearly here, even if it's just the base game with room to grow.
Bringing the game to Early Access first is a perfect way for players to get a taste while the studios can continue to develop and improve the game. The Hokko Life Discord server will act as a hub for all players, hosting competitions, polls and discussions on the current and future development plans for the game. This, paired with the support and input from the community, means Hokko Life can essentially be shaped by those who love simulation games.
The developers have already promised exciting items to unlock and collect, amusing and interesting dialogue, as well as continually added depth to the different gameplay features. I can't wait to see what Hokko Life has in store.
Article by Molly Johnston
---
Share this post
A legendary trilogy of survival courage. Join Lara on her journey from archaeologist to unstoppable, skillful warrior and adventurer with the Tomb Raider Pack - featuring three Steam PC keys.
A legendary trilogy of survival courage. Join Lara on her journey from archaeologist to unstoppable, skillful warrior and adventurer with...
A legendary trilogy of survival courage. Join Lara on her journey from...
Ends in
30

:

32

:

56
or until sold out
Subscribe to our Email Newsletter to get Fanatical promotions direct to your inbox.
You can unsubscribe via the newsletter at any time. By subscribing to our newsletter you agree to our Privacy Policy.