Our chat with the developer on its new story-rich adventure RPG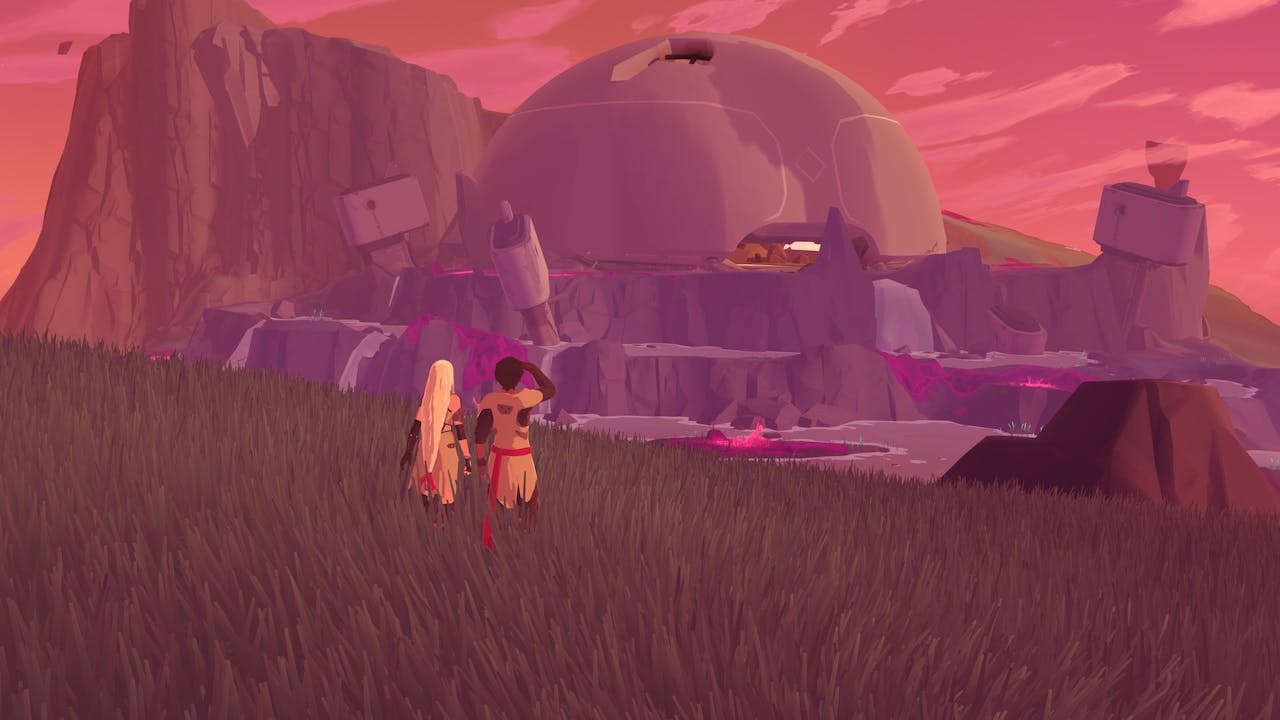 Haven play two lovers at the same time as they settle into an unknown world. Explore the planet looking for parts and material to fix your ship and make it a cosy home.
Love, rebellion and freedom... these are the key messages that Haven depicts in its beautiful sci-fi world, in which two star-crossed lovers are trying to find peace and harmony.
The game had already scooped multiple Indie award nominations prior to launch, and with 'Positive' reviews so far it looks like Haven has found an angelic spot with gamers. Speaking to Fanatical ahead of launch, The Game Bakers' Emeric Thoa - Creative Director of Haven - talked about what the game had to offer and the many genre avenues in which it traverses.
"Haven is a RPG about Yu and Kay, a couple in love who escaped to a lost planet to stay together," says Emeric. "It's a bit like if Romeo and Juliet survived and ran away in space!
"Gameplay wise, it's a story driven RPG that I like to pitch as 'Journey meets Persona', although it's a tough comparison as these games are both masterpieces."
Emeric and the team have brought together quite a few genres within this game - the RPG exploration, adventures, and the story-rich element that feels more like a visual novel type game. We asked how challenging and rewarding is it to work with so many genres in one game.
"It's very fun to mash up genres" he says. "It allows to add a personal flavor to a proven experience. But it can be pretty risky too.
"It's a lot of work, you spread your efforts, and you also take the risk to make it feel weird. It's like adding ingredients on a pizza, better choose wisely and not add too many!
"But I think for Haven we found a nice recipe. The gliding gameplay brings navigational fun in a genre (JRPG) that often lacks any traversal challenge."
As mentioned, the game follows two lovers (Yu and Kay) on a lost planet, and how their story unfolds. We wanted to find out more about each of their personalities, and asked Emeric whether players be able to shape their relationship based on in-game actions.
"They have very different personalities," says Emeric. "Kay is more cautious and analytical. He can be vulnerable but his logic also makes him really strong in tense situations.
"Yu is more impulsive and emotional, and she has a lot of humour, but she can also break sometimes. They both rely on each other.
"Players in the game can't shape the characters, it's a game written with precise personalities in mind. But the players can choose between some dialog lines very often, and that unfolds a different dialog outcome or answer each time.
"These choices also have a consequence in the end."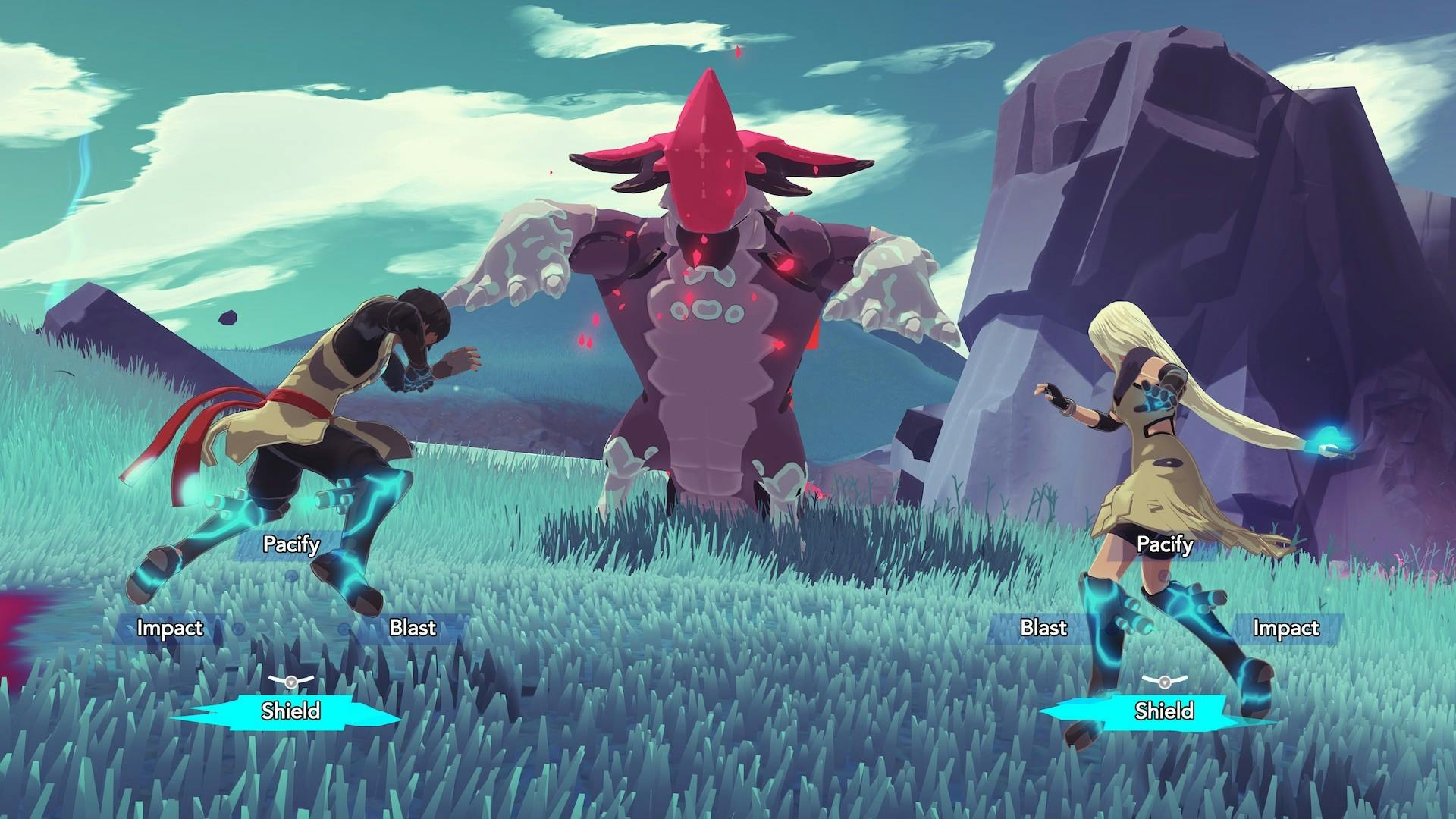 So, with the young adventurous couple moving their lives to a new mysterious planet, we wanted to know what gamers (and Yu and Kay) can expect from this world in terms of scale.
"I don't really know how to evaluate the size of the world," says Emeric. "I never thought the size of the world made the game better (bigger often makes the pace worse, actually, which is why the first Dead Rising is one of my favorite sandbox games, it was packed).
"But the game is approximately 12 hours long on average. The look of the planet comes from many different inspirations, but one of them I like to mention is the planet Namec, from Dragon Ball Z. It's very open, with mostly grass and rocks - this and French Alps!"
Some gamers might have heard of The Game Bakers from one of their popular previous projects, the fast-paced action anime Furi released in 2016. We asked Emeric if there's an added pressure working on new projects off the back of a successful game launch.
"There was a lot of pressure indeed," he says. "Especially when we chose to go a completely different way than Furi. Everybody was expecting Furi 2 or an action game.
"It took some resolve to make a love story RPG, but we like to surprise people, and never choose to compromise because of fear. Being bold is the strongest weapon of an indie developer, I think."
With a positive launch, what lies ahead for Haven - could we potentially see future DLC to expands on the love bird's story? We put the question to Emeric.
"There's nothing defined yet regarding DLCs and updates," he says. "We are focusing on the launch and for sure some minor patches and improvements. We'll see how the launch goes first!"
---
---
Share this post