Spring to action and give your games library some much needed love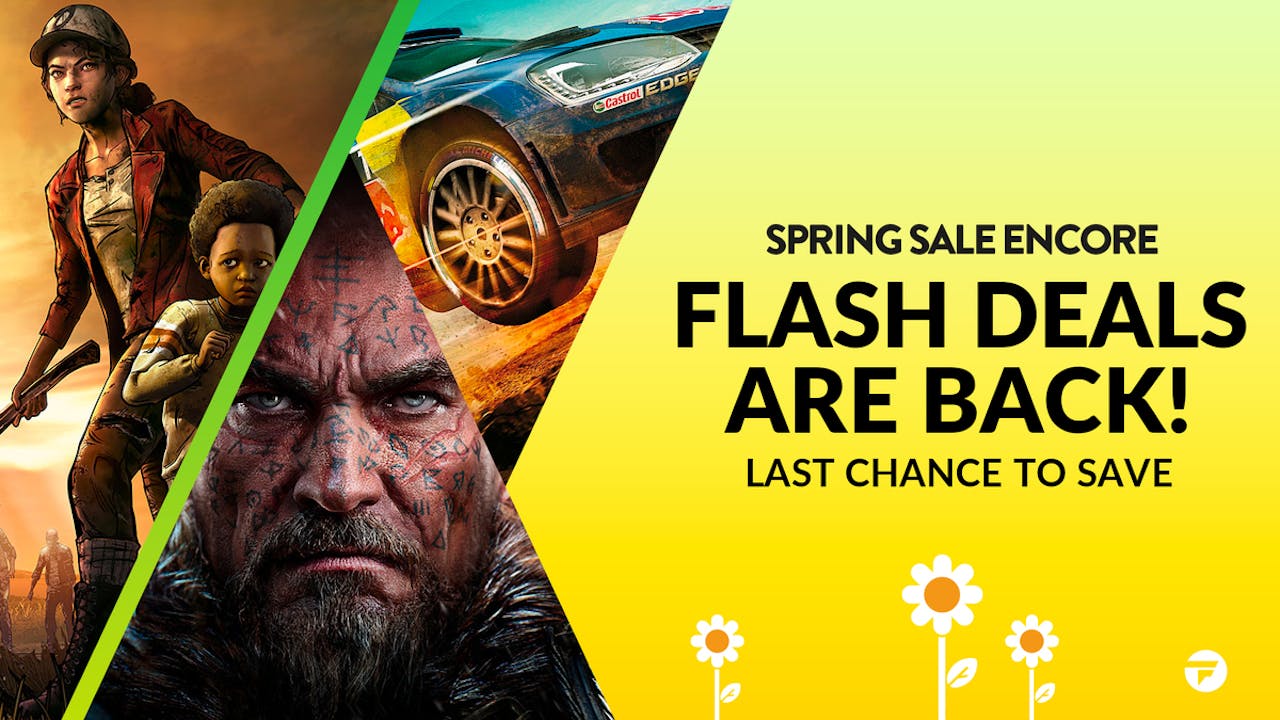 Our Spring Sale is drawing to a close, but fear not as we're giving you the chance to save on 1000s of PC game deals with our Spring Sale Encore!
Unmissable deals on AAA and Indie games from big names including Capcom, Ubisoft, Bethesda, Square Enix, Bandai Namco and many more are still hanging around for a little while longer - so don't miss out. Plus, we've brought back some of our amazing Flash Deals for 24 hours only.
It's also your last chance to choose a FREE game, a mystery Steam PC key or a voucher to use on your next purchase when you spend £8 ($10) or more during the remainder of the Spring Sale.
Last chance for these top deals
<b><a href="https://www.fanatical.com/game/assetto-corsa-ultimate-edition">Assetto Corsa Ultimate Edition</a> - SAVE 83%</b>
<b><a href="https://www.fanatical.com/game/dirt-rally-game">DiRT Rally</a> - SAVE 95%</b>
<b><a href="https://www.fanatical.com/game/distant-worlds-universe">Distant Worlds: Universe</a> - SAVE 90%</b>
<b><a href="https://www.fanatical.com/game/f-1-2020">F1 2020</a> - SAVE 70%</b>
<b><a href="https://www.fanatical.com/game/kingdom-come-deliverance">Kingdom Come: Deliverance</a> - SAVE 60%</b>
<b><a href="https://www.fanatical.com/game/lords-of-the-fallen-game-of-the-year-edition">Lords of the Fallen Game of the Year Edition</a> - SAVE 90%</b>
<b><a href="https://www.fanatical.com/game/monopoly-plus">MONOPOLY PLUS</a> - SAVE 66%</b>
<b><a href="https://www.fanatical.com/game/metro-exodus-gold-edition">Metro Exodus - Gold Edition</a> - SAVE 70%</b>
<b><a href="https://www.fanatical.com/game/pathfinder-kingmaker">Pathfinder: Kingmaker - Enhanced Edition</a> - SAVE 41%</b>
<b><a href="https://www.fanatical.com/game/phantom-doctrine">Phantom Doctrine</a> - SAVE 84%</b>
<b><a href="https://www.fanatical.com/game/pillars-of-eternity-ii-deadfire-obsidian-edition">Pillars of Eternity II: Deadfire - Obsidian Edition</a> - SAVE 67%</b>
<b><a href="https://www.fanatical.com/game/planescape-torment-enhanced-edition">Planescape: Torment: Enhanced Edition</a> - SAVE 80%</b>
<b><a href="https://www.fanatical.com/game/project-cars-game-of-the-year-edition">Project CARS - Game Of The Year Edition</a> - SAVE 92%</b>
<b><a href="https://www.fanatical.com/game/rise-of-the-tomb-raider-20-year-celebration">Rise of the Tomb Raider: 20 Year Celebration</a> - SAVE 82%</b>
<b><a href="https://www.fanatical.com/game/shenmue-iii">Shenmue III</a> - SAVE 71%</b>
<b><a href="https://www.fanatical.com/game/the-jackbox-party-pack-4">The Jackbox Party Pack 4</a> - SAVE 66%</b>
<b><a href="https://www.fanatical.com/game/the-jackbox-party-pack-5">The Jackbox Party Pack 5</a> - SAVE 66%</b>
<b><a href="https://www.fanatical.com/game/the-walking-dead-the-final-season">The Walking Dead: The Final Season</a> - SAVE 66%</b>
<b><a href="https://www.fanatical.com/game/tom-clancy-s-ghost-recon-breakpoint-ultimate-edition">Tom Clancy's Ghost Recon® Breakpoint - Ultimate Edition</a> - SAVE 82%</b>
<b><a href="https://www.fanatical.com/game/train-valley-2">Train Valley 2</a> - SAVE 55%</b>
<b><a href="https://www.fanatical.com/game/warhammer-chaosbane-slayer-edition">Warhammer: Chaosbane - Slayer Edition</a> - SAVE 70%</b>
<b><a href="https://www.fanatical.com/game/wasteland-3">Wasteland 3</a> - SAVE 40%</b>
<b><a href="https://www.fanatical.com/game/xuan-yuan-sword-vii">Xuan-Yuan Sword VII</a> - SAVE 33%</b>
---
---
Share this post