Marvel's Midnight Suns Hands-on Impressions
By
Danielle Angel
- 1st Dec 2022
Games
In Marvel's Midnight Suns as The Hunter, your mission is to lead an unlikely team of seasoned Super Heroes and dangerous supernatural warriors to victory.
Marvel's Midnight Suns' release is just around the corner, and with it, the embargo has lifted for us to talk about the game's events past the final battle with the Fallen Scarlet Witch that took place in the preview! For detailed information about how the game works and its mechanics, please check the preview, as this will be more of an opinion-based review of the mechanics and gameplay elements.
Marvel's Midnight Suns is Marvel's latest entry into the world of videogames, taking place in an apocalyptic scenario where Lilith raises chaos and the Elder God Chthon threatens to end humanity as we know it. Take control of the all-new character The Hunter as you embark on a quest to bring about the fall of Lilith — your mother — and ensure peace be restored to Earth, if even for a moment's respite.
A Heroic Tale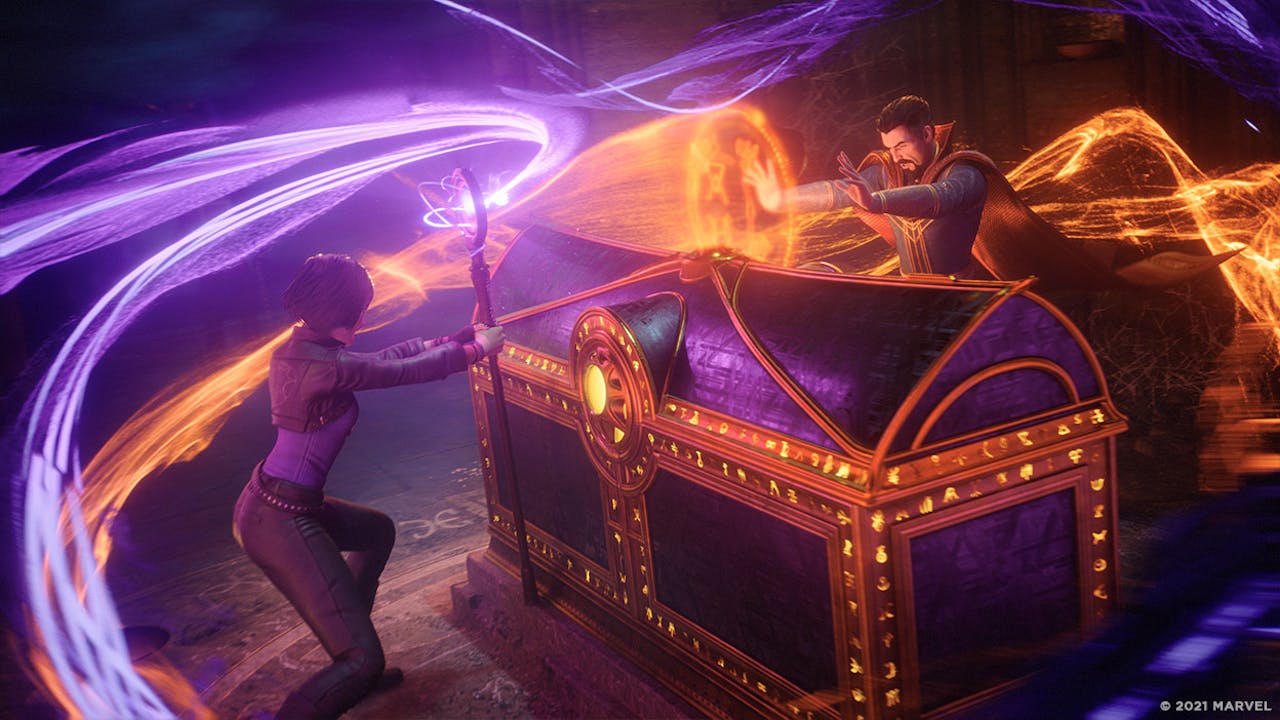 Take part in one of the most intense stories yet with Marvel's Midnight Suns' plot, as you'll be able to meet numerous characters from Marvel and interact with them, befriend them, and take control of them whilst trying to save the world. The game doesn't take even a second to jump into the fray, featuring apocalyptic events and introducing us to many of our heroes early on, with Doctor Strange, Iron Man, and Captain Marvel being the first of which we get control over.
At the start of the story, you might be a bit confused as to what's happening and feel like you've been thrown into the middle of a chaotic scene with numerous heroes and apocalyptic events that occurred even before the start of the game. Although this start can be a bit jarring, you quickly jump into the shoes of The Hunter and start off on a quest that quickly grows to become an enjoyable, stressful, and funny journey with the Midnight Suns, which are composed of a mixture of Midnight Sons and Avengers from the comics.
Despite the bumpy start, the story picks up significantly after only a couple of hours in and offers a staggering amount more dialogue, stories, and connections to unravel. I've personally experienced a big chunk of the game, clocking in at more than 40 hours spent in the world, and yet it feels as if I've only experienced about half of everything there is to do. Dialogue is a big chunk of the gameplay, with every line being voice acted, though none as impressive as Tony Stark's actor, Josh Keaton, and his take that is eerily similar to the MCU's version, Robert Downey Jr. Thankfully, there is never a dull moment with Marvel's Midnight Suns, as you'll either be talking about apocalyptic events, world-ending scenarios, catastrophic horrors... but you'll also have some time to play videogames with Spider-Man and Captain Marvel, so that's always a plus!
Jokes aside, the story in Marvel's Midnight Suns doesn't slow down, and it paces perfectly with the way the story unravels. Remembering all that has transpired in only a month's time in-game, it feels like every day is action-packed and filled to the brim with things and horrors to face. Whether you're spending your time fighting back Hydra, the Lilin, minions of Chthon, or just joining a Book Club with Blade, Captain America, and Captain Marvel, the game always gives you something to do. And, if you're more of a gameplay-focused gamer, then you'll be delighted to hear that most of the side activities are optional. Although you do get a boost of power for having a high friendship level with the heroes, such as synergy cards to use in combat, they aren't so significant that you'll be forced to endure the hours of dialogue if you don't want to — though I couldn't imagine not wanting to!
Everyone's Here!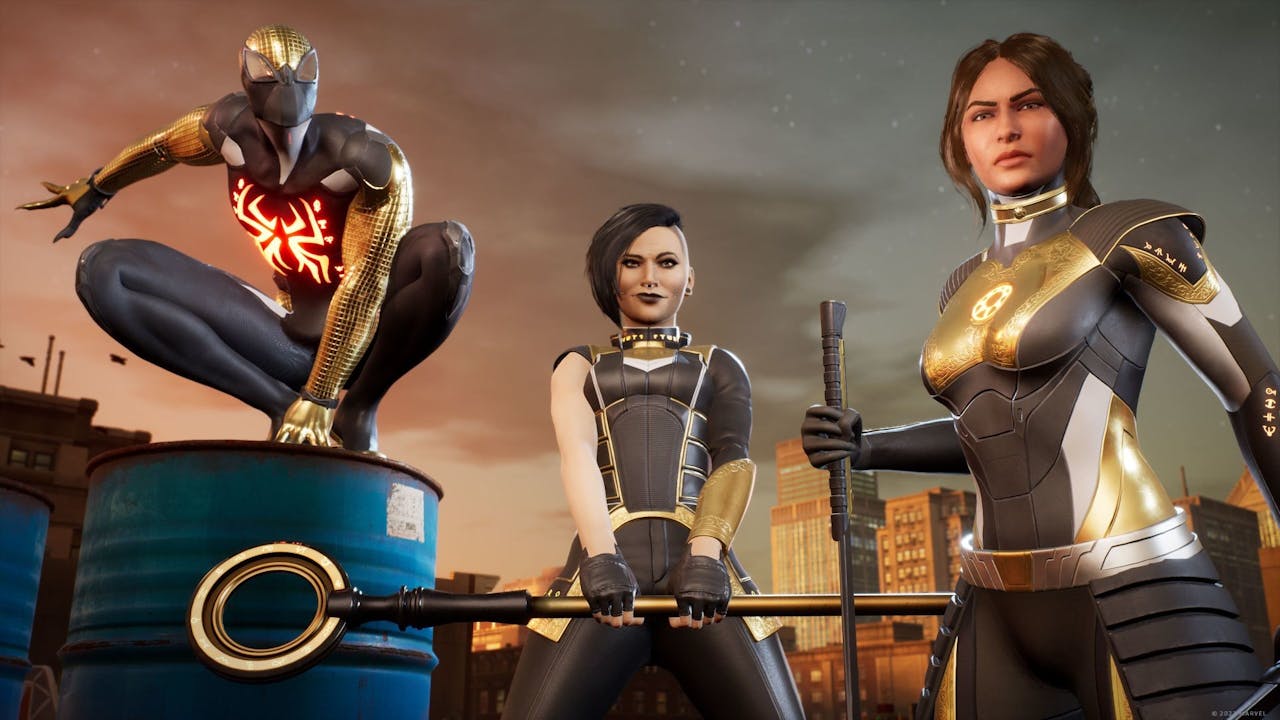 The Midnight Suns, re-created by The Caretaker, are comprised of numerous Midnight Sons and Avengers characters that you'll know whether you're a fan of the Marvel comics or just the MCU. With big names like Spider-Man, Captain America, Iron Man, and Doctor Strange making appearances and being playable characters, you'll also see others that haven't made their MCU film debut, such as Nico Minoru, Magik, and Robbie Reyes!
It isn't only the heroes that fill this cast, either, as most characters have an archnemesis that takes Lilith's side. Side with Spider-Man and take down Eddie Brock, AKA Venom, and even take on Logan's archnemesis Sabertooth as you engage against numerous characters we've come to know and love. Not to say that there aren't any twists: with even more allies and villains appearing throughout the course of the gameplay, you'll always be on your toes waiting for the next appearance. And how could I forget the promised DLC characters meant to make their debut for any that own the Legendary Edition? I, personally, can't wait to take the merc with a mouth, Deadpool, into these battles, take advantage of Venom's monstrous strength on the battlefield, and even see how Storm's abilities will (likely) bring AoE for dealing with the trash mobs in the game!
At release, there are 12 characters (13 if you count The Hunter) to play with — Captain America, Captain Marvel, Blade, Magik, Nico Minoru, Wolverine, Iron Man, Ghost Rider, Doctor Strange, Spider-Man, and the Scarlet Witch. The keen-eyed of you will notice that this is only 11 playable characters... well, I'm not really allowed to disclose who the final 12th is, so you'll need to jump into the fray and figure it out for yourself!
Every character's playstyle feels drastically different, and I sincerely appreciated how much I struggled to form a team that I was happy with. Whether I was taking Captain America or Captain Marvel as my dedicated tank, I yearned to enter the next round to take the other. Damage dealers are aplenty, each with their own unique twist to combat that makes it enjoyable to just... play the next mission. Although I'm usually easily frustrated with characters getting injured in turn-based strategy titles, it was a bittersweet feeling that allowed me to take someone else into battle without feeling guilty about leaving Steve Rogers behind. Because let's be honest, who could ever leave Cap?
Enjoyable Turn- and Card-based Combat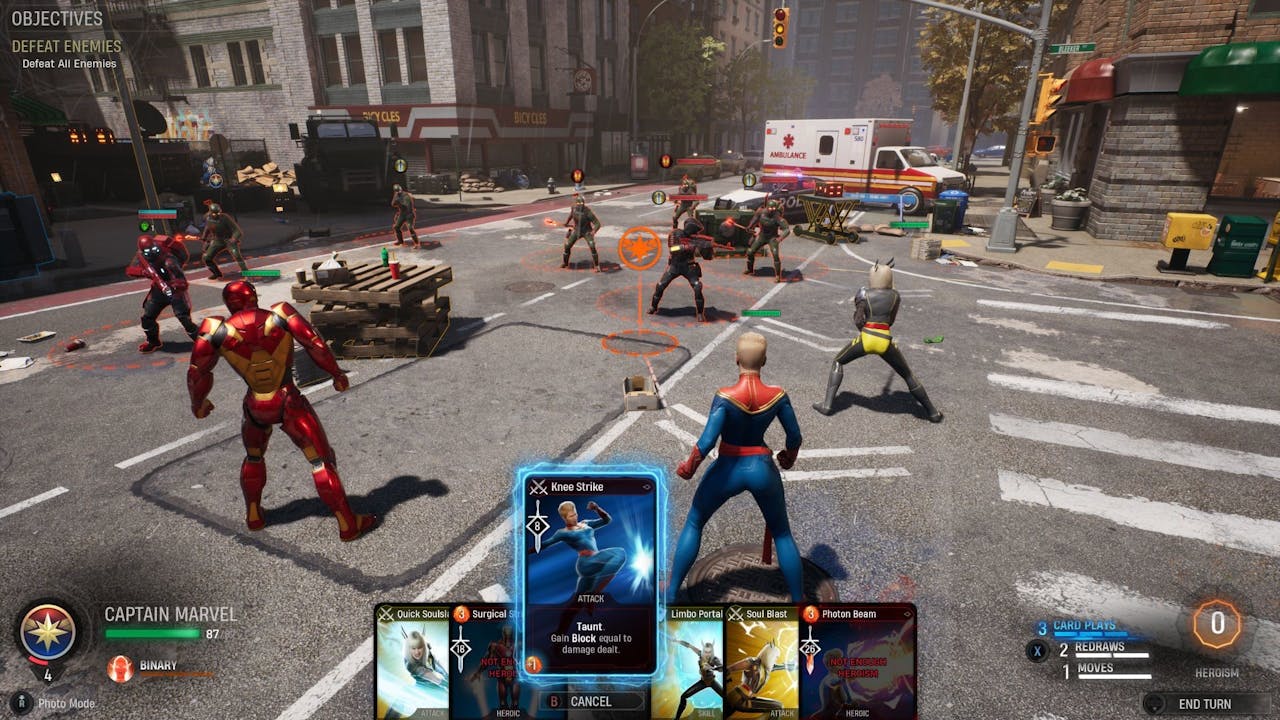 Whether I was taking Logan or Blade as my quick solution for hordes of the Soulless, I had the opportunity to experience a different fight despite doing the same quest thanks to the ever-changing nature of the battlefield. There was a time I got stuck in a challenging mission, and I had to reload an earlier checkpoint (yes, I suck at turn-based strategy!), and then went for the same mission, only to find a different hand being dealt to me, a different deck, and even different enemies! Meaning that your fight isn't pre-determined when you're at the mirror table but rather is generated after you boot into the mission.
I was sceptical about the turn-based strategy mixed with card-based combat, fearing that the RNG aspect of it was going to be overwhelming and make what should otherwise feel like mighty and robust heroes seem like pushovers or weaklings. Thankfully, not only are the decks changeable (with every hero being able to take eight cards into battle) but most cards in their roster feel incredibly potent and enjoyable to take advantage of. Although I defaulted to some abilities, such as the ever-useful Quick attacks that let you deal with hordes, numerous Heroics, attack cards, and even buffs were effortlessly enticing and made eight cards feel almost too restrictive but great for replayability. Although I wasn't a massive fan of the deck building due to some restrictions, such as being forced to have a limit of four attack cards, it wasn't anything deal-breaking; it just forced me to think outside the box and gave me a reason to take support abilities, something I'm notoriously bad at. Worst case scenario, this helped me understand and work around how to implement a support ability into that hero's deck and helped me adjust to the battlefield accordingly, giving me a reason to like that card even more.
Verdict
I've been very hyped for Marvel's Midnight Suns and its release for a while, and against all odds, it managed to meet my expectations. The story is enticing and enjoyable, and something I'm still yet to be able to finish but have deeply loved. The mix of turn- and card-based strategy gave a sense of RNG that stopped me from getting too comfortable with the "Ol' Reliable", and heroes getting injured was actually a relief as I had an excuse to move on from my strong team. I cannot wait to see how more things are added to Marvel's Midnight Suns as it gets more into its release and we get to try out some of the DLC characters in the future; I sincerely, truthfully, cannot wait to play as Deadpool and have him somehow break the fourth wall. If it were not for Marvel's Spider-Man Remastered, I think this could easily become the best Marvel game to date.
In Marvel's Midnight Suns - Digital+ Edition as The Hunter, your mission is to lead an unlikely team of seasoned Super Heroes and dangerous supernatural warriors to victory.
---
---
Share this post