The old school and new Japanese-inspired monsters that you'll face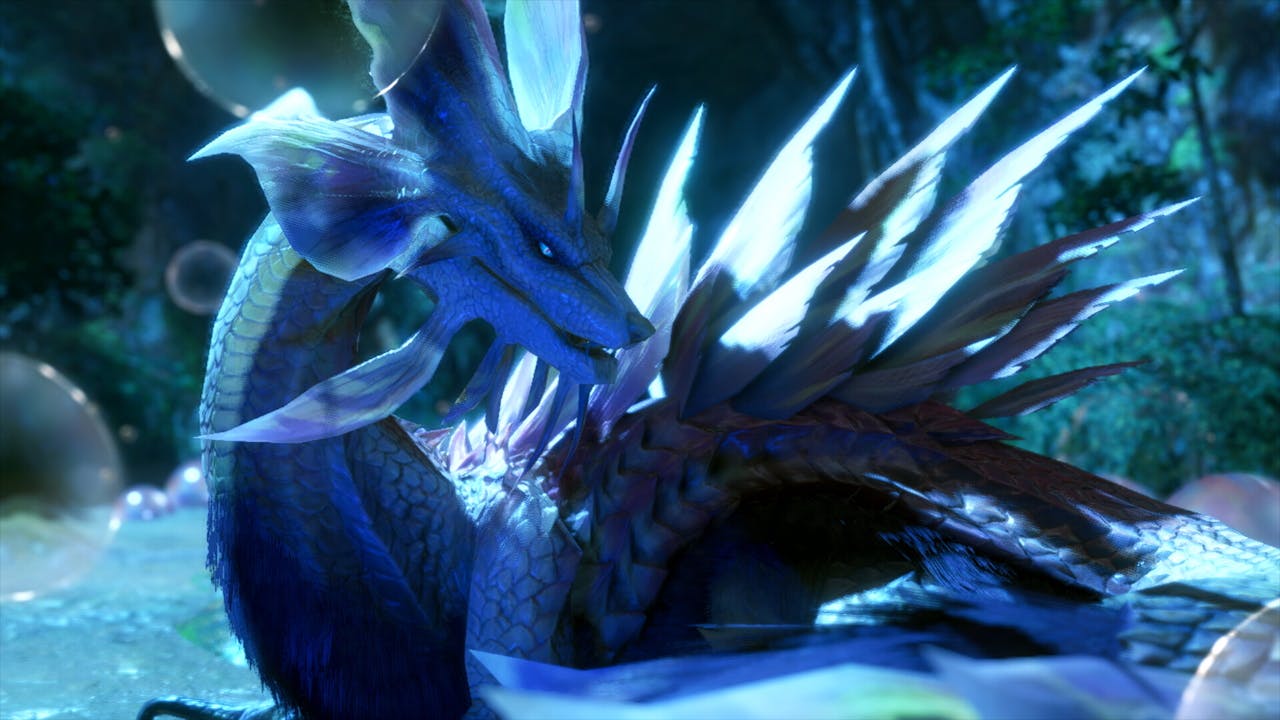 Rise to the challenge and join the hunt with your Monster Hunter Rise Steam PC key. In the latest installment in the award-winning and top-selling Monster Hunter series,...
There are over 70 small and large monsters wandering across these lands in Monster Hunter Rise, so it's worth getting prepped for any dangers that await you in Capcom's upcoming action RPG for Steam PC.
Having already been a hit with Nintendo Switch fans, MH Rise will soon be bringing that same Japanese folklore-inspired world to PCs around the globe, with a number of additional visual and performance-enhancing optimizations too. Whether you're a veteran Hunter who has experienced the likes of Monster Hunter: World and the vast Iceborne expansion, or if you're jumping in for the first time with this addition, it's worth having a catch-up on the monsters you'll be facing, and the best way to approach them.
Here, we don our armor, sharpen our blades and get ready to meet the full list of confirmed large monsters you'll meet in Monster Hunter Rise.
Aknosom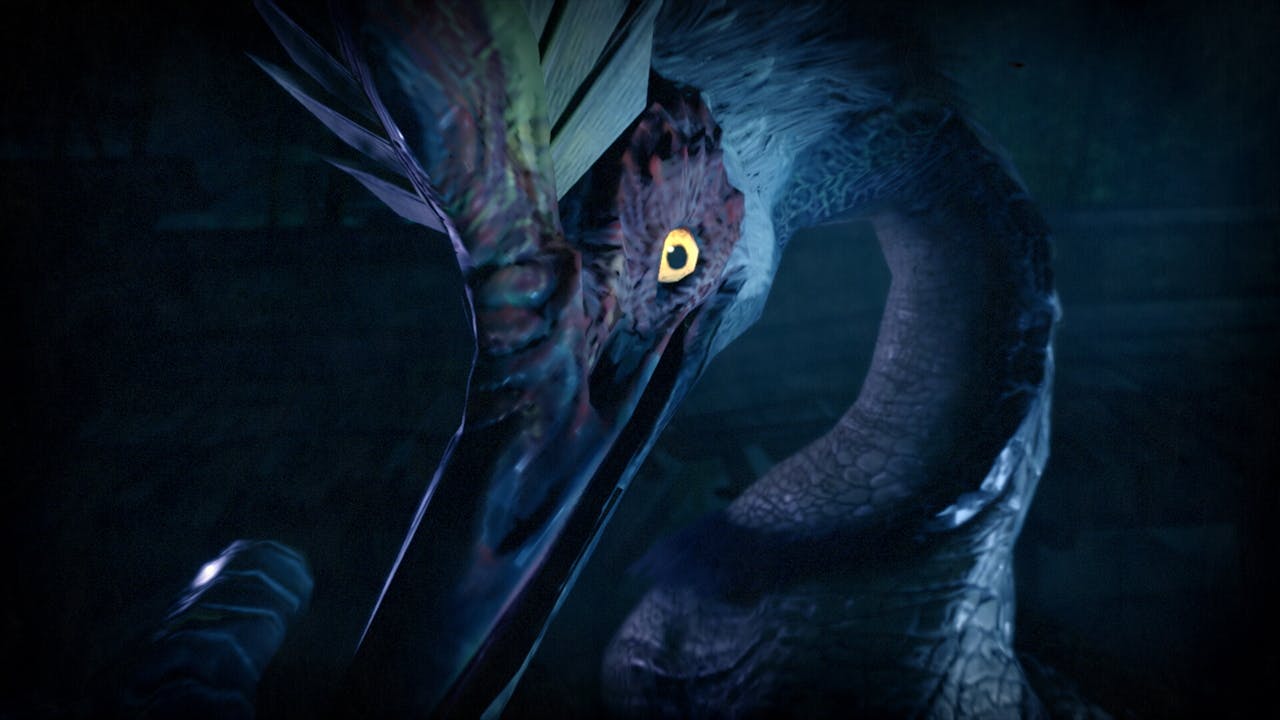 Type: Bird Wyvern
Elemental damage: Fire (Fireblight)
Weakness: Water / Thunder
About: Aknosom is a crane-like monster and is very territorial, using its feathered crest collar to warn off intruders. It can also use this as a defensive shield or bludgeoning weapon by fanning it out.
Aknosom can use its beak to peck Hunters, spit fireballs at high speed, and use its blade tipped wings in a slashing motion. Observing its crest shape and posture can help Hunters determine what move is about to strike.
Almudron
Type: Leviathan
Elemental damage: Water (Waterblight / Muddy)
Weakness: N/A
About: Fifth-generation monster Almudron loves bogged locales, so you'll be in for a slippery fight when hunting it. It's predominantly covered in scales, with large claws on its front legs and a long tail which it covers in mud to utilize during battle.
It can produce a gold fluid from its tail that create mud piles and dissolves the ground below unsuspecting Hunters, trapping them in mud and opening them up to attacks. A sound strategy would be to damage the tail, reducing the chances of being hit by Almudron's golden touch.
Anjanath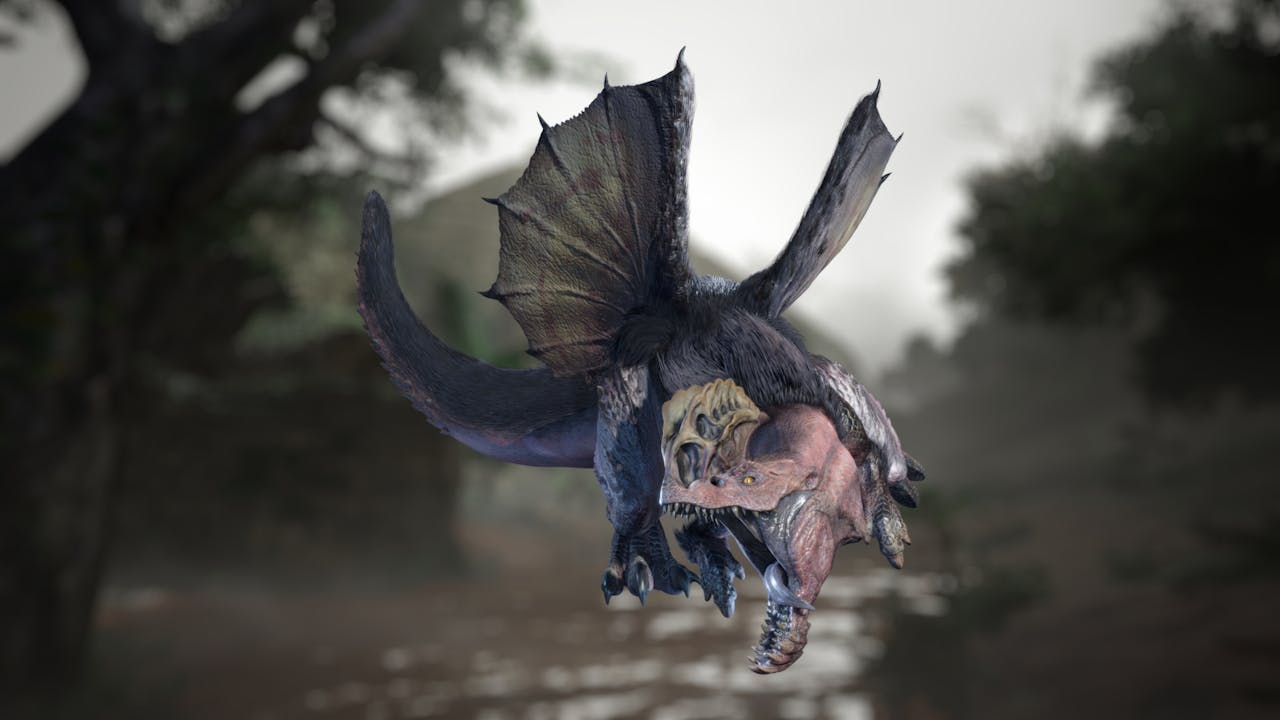 Type: Brute Wyvern
Elemental damage: Fire (Fireblight)
Weakness: Water
About: The T-rex inspired beast Anjanath has a mixture of feathers and scaly skin, with two small wings on its back. Its large jaws and teeth are one of its primary weapons, as is its fire ball attacks.
Its nasal crest allows it to sniff out nearby Hunters trying to give it the slip and, using its hind legs, an Anjanath can leap large distances to perform an aerial attack. This monster is particularly ferocious when enraged, and will hunt players down resentfully.
Damaging its nasal crest and head/throat will slow down its fire-based attacks, and severing its tail will counter swiping attacks too.
Arzuros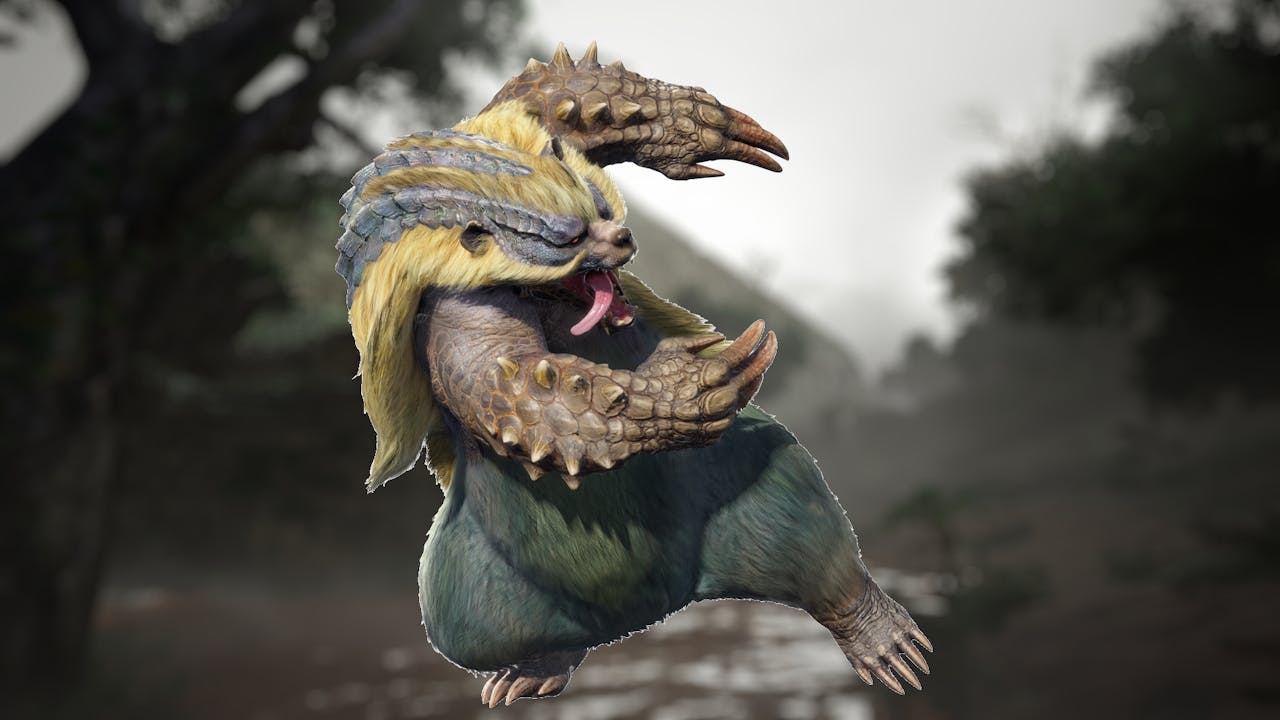 Type: Fanged Beast
Elemental damage: N/A
Weakness: Fire / Ice
About: Known as the 'Blue Bear Beast' in English for its Grizzly-like appearance, Arzuros is an agile monster that has vicious claws and fangs to attack its enemy with, as well as being able to stand comfortably on its hind legs to before leaping attacks and counter mid-air assaults.
It has a particular taste for Honey, and may even steal your supply to have a mid battle snack, making it vulnerable to attacks.
Apex Arzuros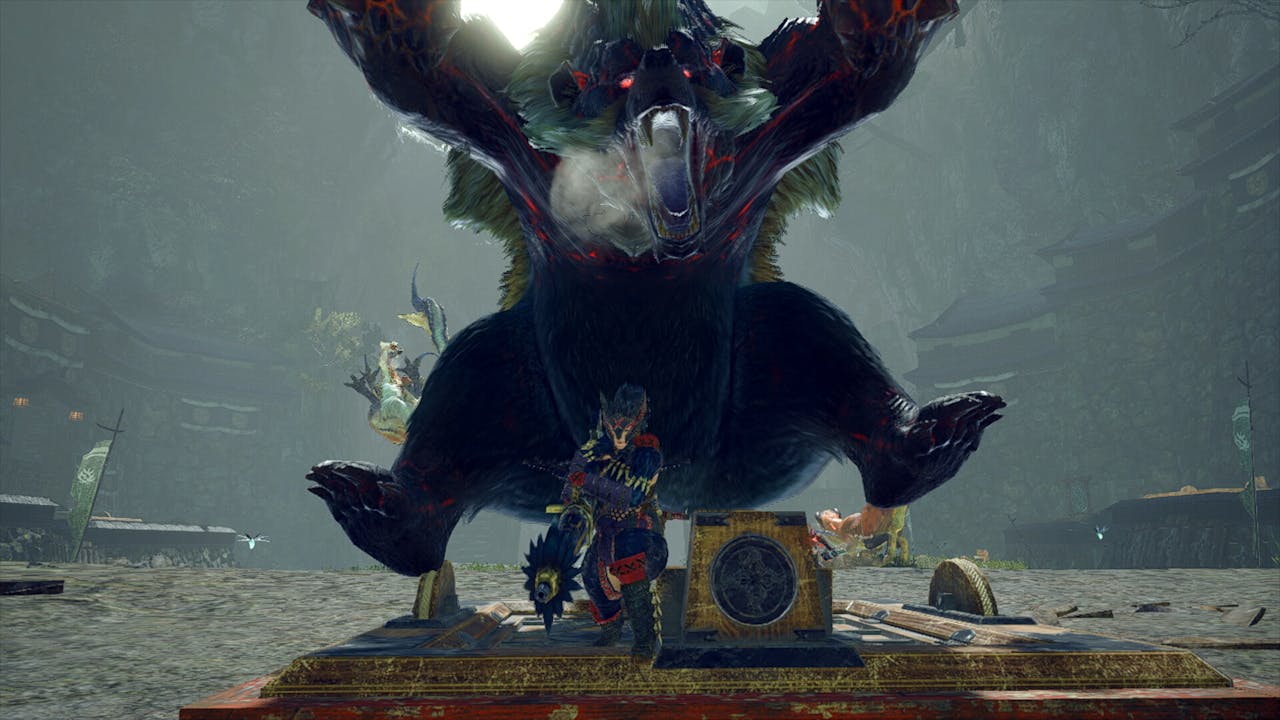 Type: Fanged Beast
Elemental damage: (Stun)
Weakness: Fire / Ice
About: An extremely aggressive variant of Arzuros, Apex Arzuros will attack anything on sight, and will use powerful attacks such as ground slam, rock throw, and more claw swipes when enraged. Landing some heavy blows will hopefully calm its temper, giving you a better window of opportunity to attack.
Barioth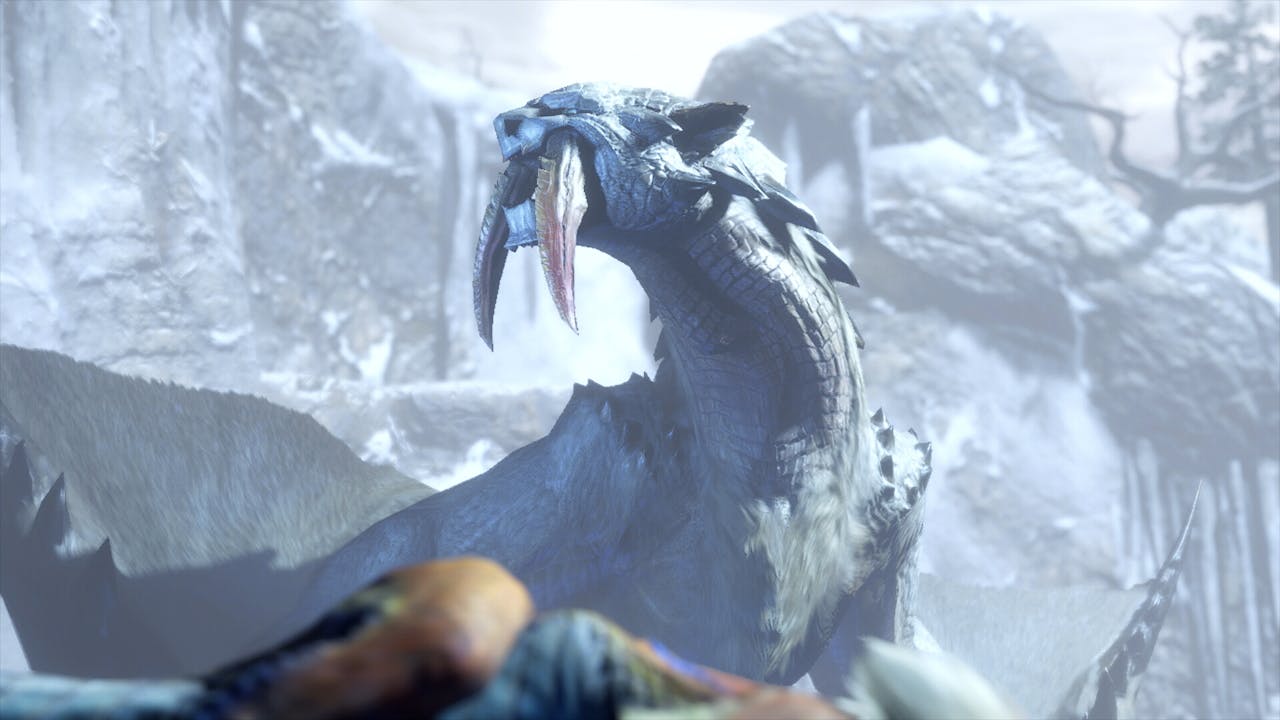 Type: Flying Wyvern
Elemental damage: Ice (Iceblight / Snowman)
Weakness: Fire / Thunder
About: Barioth is a dragon-like beast with the head of a Saber-toothed tiger, and has a roster of attacks to use against Hunters. It can use its fangs and claws to slide around on ice to make it harder to hit, as well as using these in glide attacks.
Barioth also uses its tail like a hard-hitting club,, which causes Iceblight, and spits out an ice ball that creates a powerful tornado. Severing its tail and breaking its wings and fangs will dampen its powerful close range attacks.
Pitfall Trap and Shock Traps can slow it down, but beware of using Flash Bombs as this will enrage it - increasing its speed and ferocity.
Barroth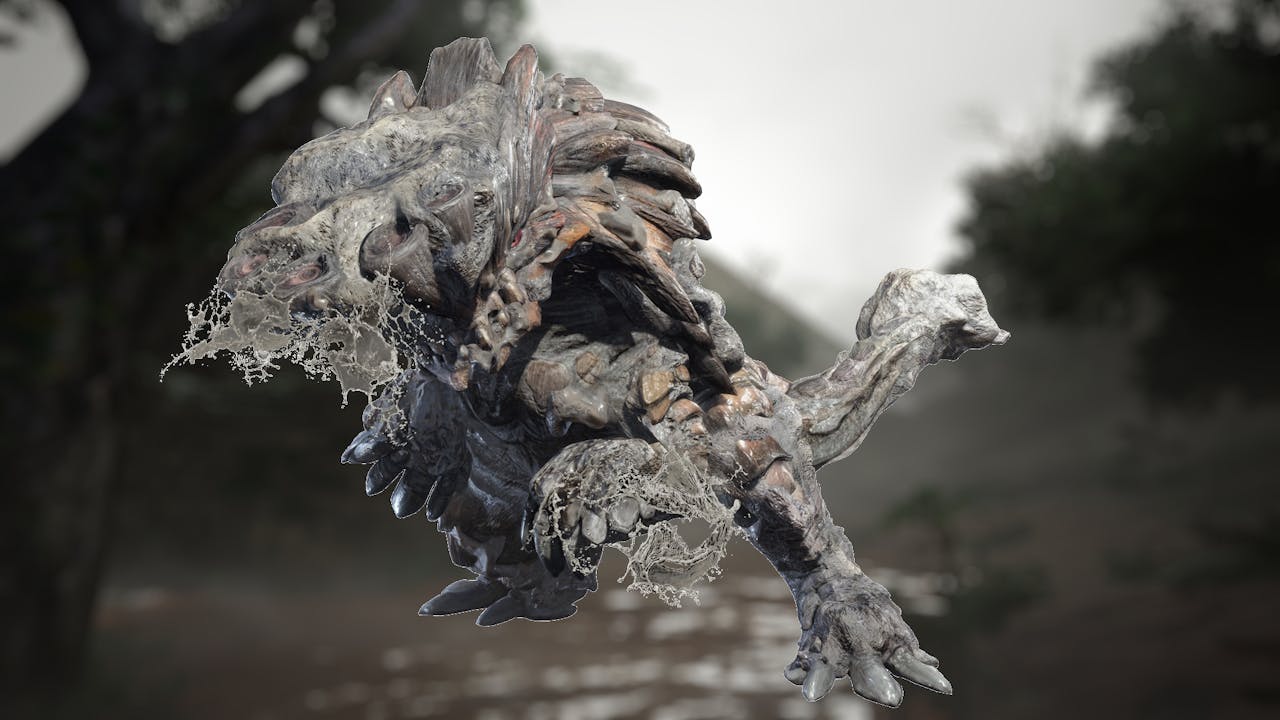 Type: Brute Wyvern
Elemental damage: Water (Waterblight / Muddy)
Weakness: Water (If covered in mud) Fire (not covered in mud)
About: Barroth is a large, bipedal monster with a huge bone-like crown across its skull, which it uses to bash Hunters in charge and leap attacks. It also shakes mud from its body to create mud piles to slow down and trap enemies.
Barroth has a very strong head and will cause some damage if it hits you, it can also disperse mud which players get stuck in. Staying side-on and making use of its weaker areas - the arms, tail and underbelly - will help you take it down.
Ensuring that your melee weapon is sharpened will also prevent attacks bouncing off.
Bazelgeuse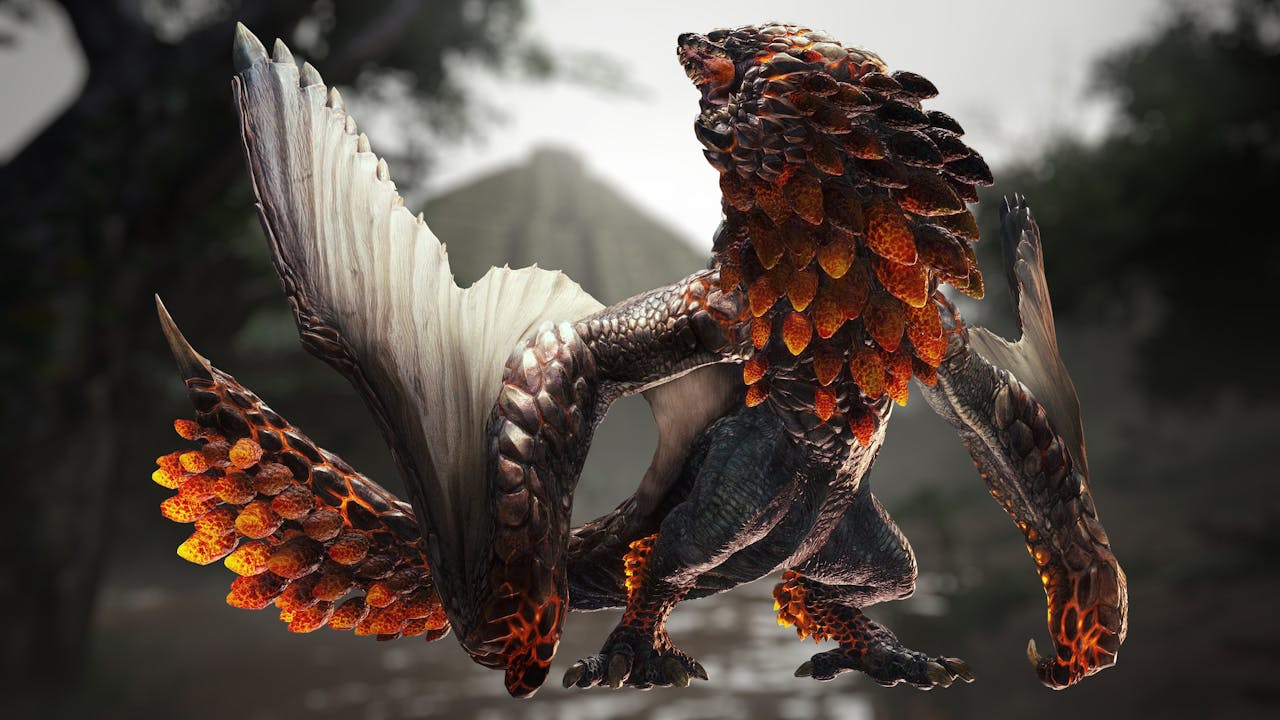 Type: Flying Wyvern
Elemental damage: Fire (Fireblight / Blastblight)
Weakness: Thunder / Ice
About: Covered in thick scales and with a huge wingspan, Bazelgeuse is known as the 'Party Crasher' as it swoops in on Turf Wars and already occupied Hunters to spoil the fun. Not only does the Bazelgeuse swoop down and slide along the floor, taking out whatever stands in its way, it also drops pods onto the ground that - once ignited - will explode.
Breaking its head, wings and tail will prevent being bombarded with aerial attacks. MH: Rise also confirms the first sighting of Bazelgeuse in the in-game Old World.
Basarios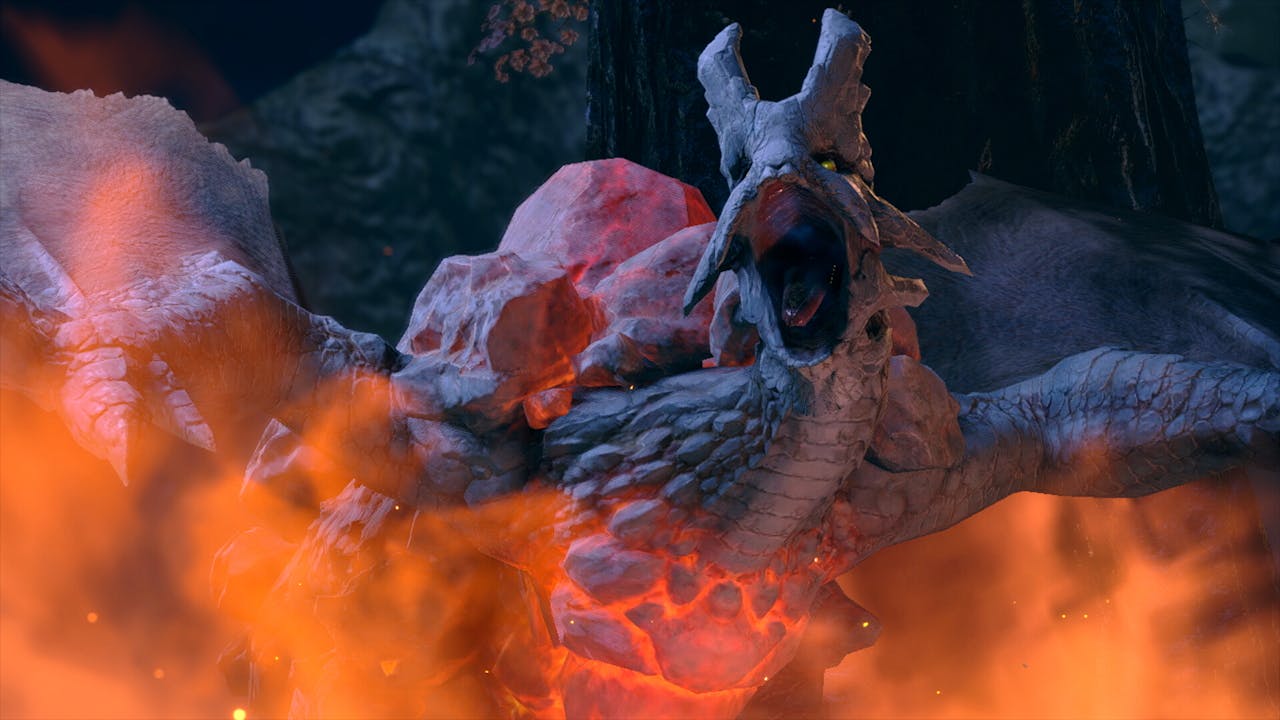 Type: Flying Wyvern
Elemental damage: Fire (Fireblight)
Weakness: Dragon / Water
About: Sporting a stone-like carapace, Basarios is a sluggish but brutal monster - and is a juvenile form of the Gravios species seen in the original Monster Hunter game. It camouflages itself by burrowing underground, with only its large rocky back on display to blend in with its surroundings.
In terms of attacks, the most recent form of Basarios shoots fire balls from its mouth and uses charge attacks to deal damage. Chipping away at its hard exterior (back and chest) will open it up to heavier damage, while severing its tail will also minimize swiping attacks.
Bishaten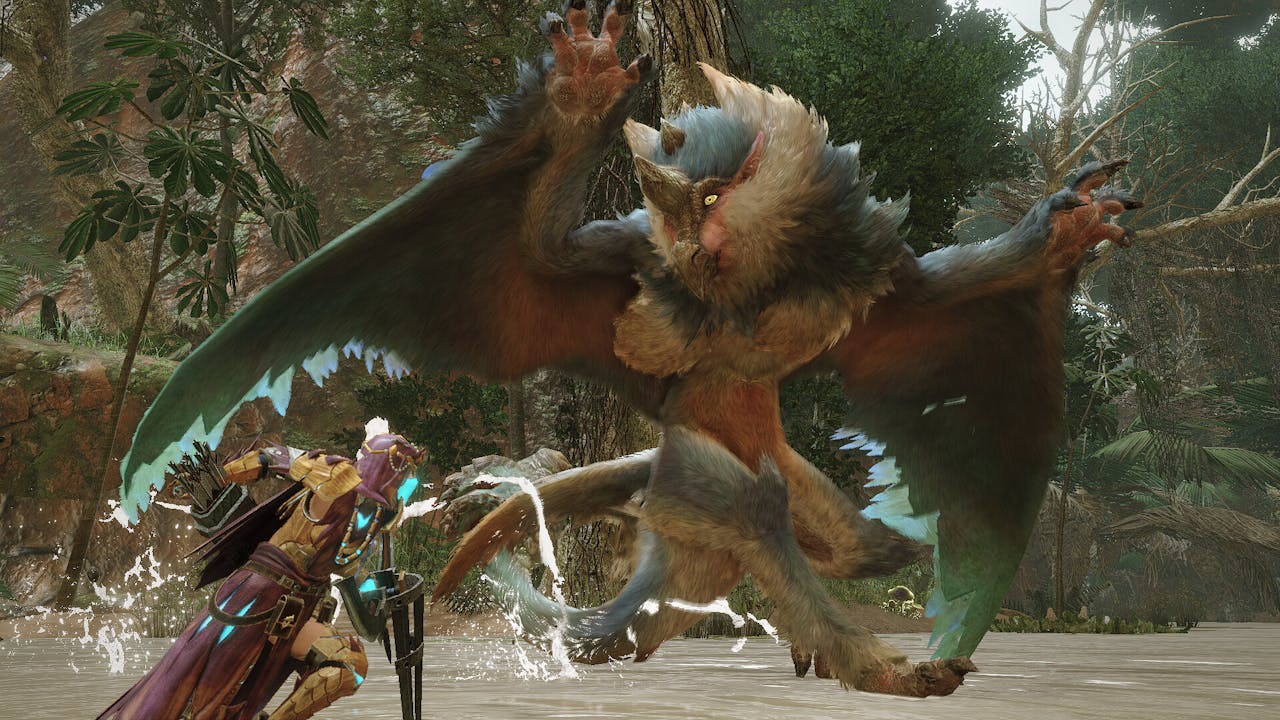 Type: Fanged Beast
Elemental damage: Poison / Stun / Paralysis
Weakness: N/A
About: Bishaten stands out among fellow feathered monsters by having a fifth limb in place of a tail. This claw-like limb allows it to perch and use other body part to attack Hunters from a leaping position, or perform spinning attacks.
It has a particular interest in fruits and will store numerous types in its pouch, not only to consume, but to throw at its foe. Depending on the type of fruit can result in Poison, Stun, or Paralysis ailments.
Hunters are advised to pay close attention to Bishaten's attack patterns, particularly when its perched on its claw-tail. Disrupting its attacks while carrying fruit will result in it dropping the item, which you can benefit from yourself.
Chameleos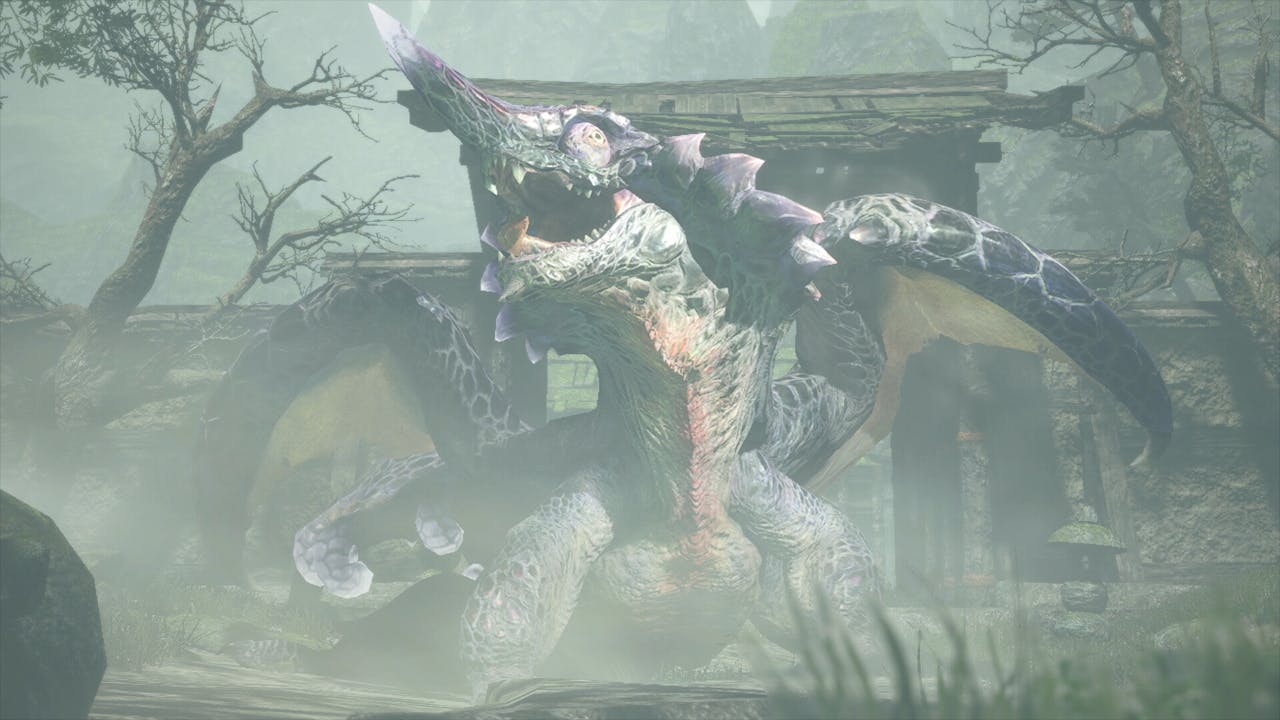 Type: Elder Dragon
Elemental damage: Dragon / Poison
Weakness: Dragon / Fire (head hits) / Thunder
About: As the name suggests, Chameleos has very similar features to a real life Chameleon, with googly mobile eyes and the ability to camouflage itself in defensive and offensive situations. This Elder Dragon is slightly more coy than other Elders, and can be unpredictable in battle - often trying to steal items from Hunters while trying to poison them too.
It's also known to create large areas of toxic smoke and spits acid blobs that can reduce your defense and stamina. Its power lies within its ability to vanish from sight, so dismantling this ability is essential - breaking the horn and severing the tail will severely handicap this beast.
Also, using the Anti-Theft skill will prevent any precious items going missing!
Diablos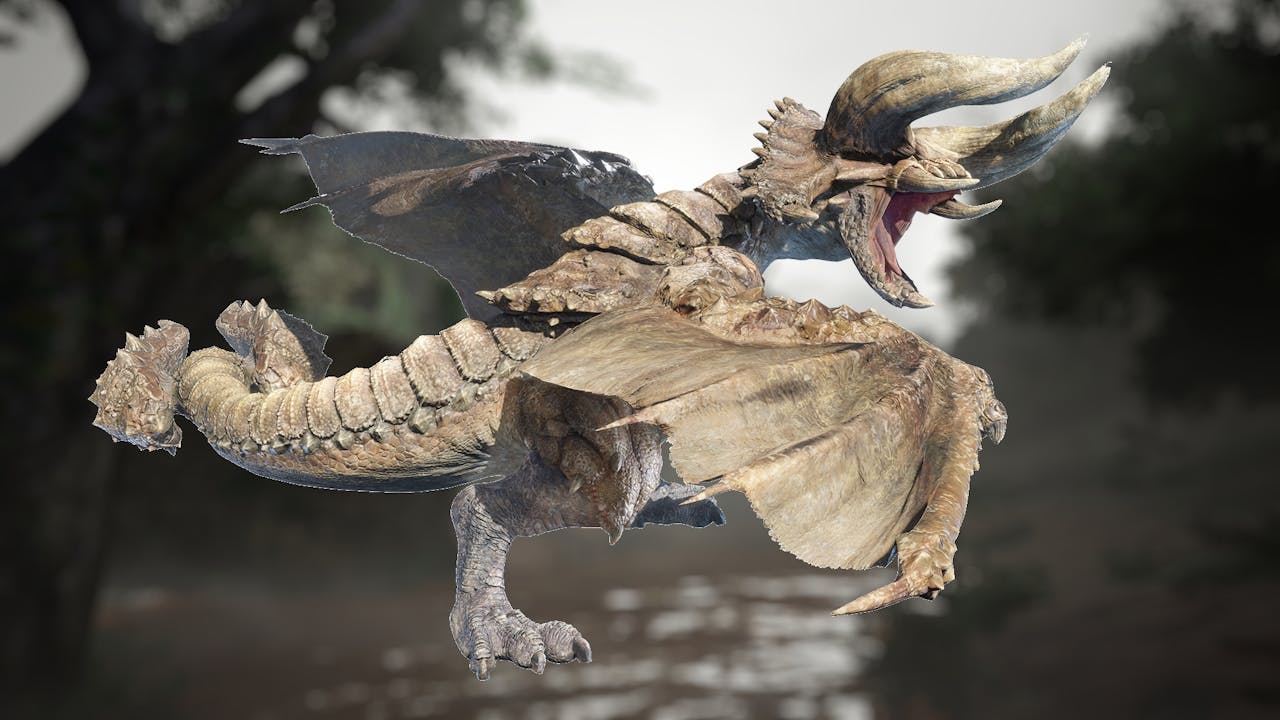 Type: Flying Wyvern
Elemental damage: (Stun)
Weakness: Ice
About: They say the devil lives below us, and Diablos is an example of that when it comes to ground attacks. As well as having strong scaly armor, this monster has a pair of long bull-like horns and large fangs, along with a club-like tail for swipe attacks.
It's able to burrow underground and hone in on Hunters, emerging beneath then to cause hefty damage. It's very territorial and will pursue Hunters who dare to enter its domain.
Breaking its horns and severing its tail will prevent some of Diablos' nasty attacks, and Screamer pods will disrupt its burrow attacks by forcing it to resurface. Flash Pods can also stun it to help you chain some combos together.
Apex Diablos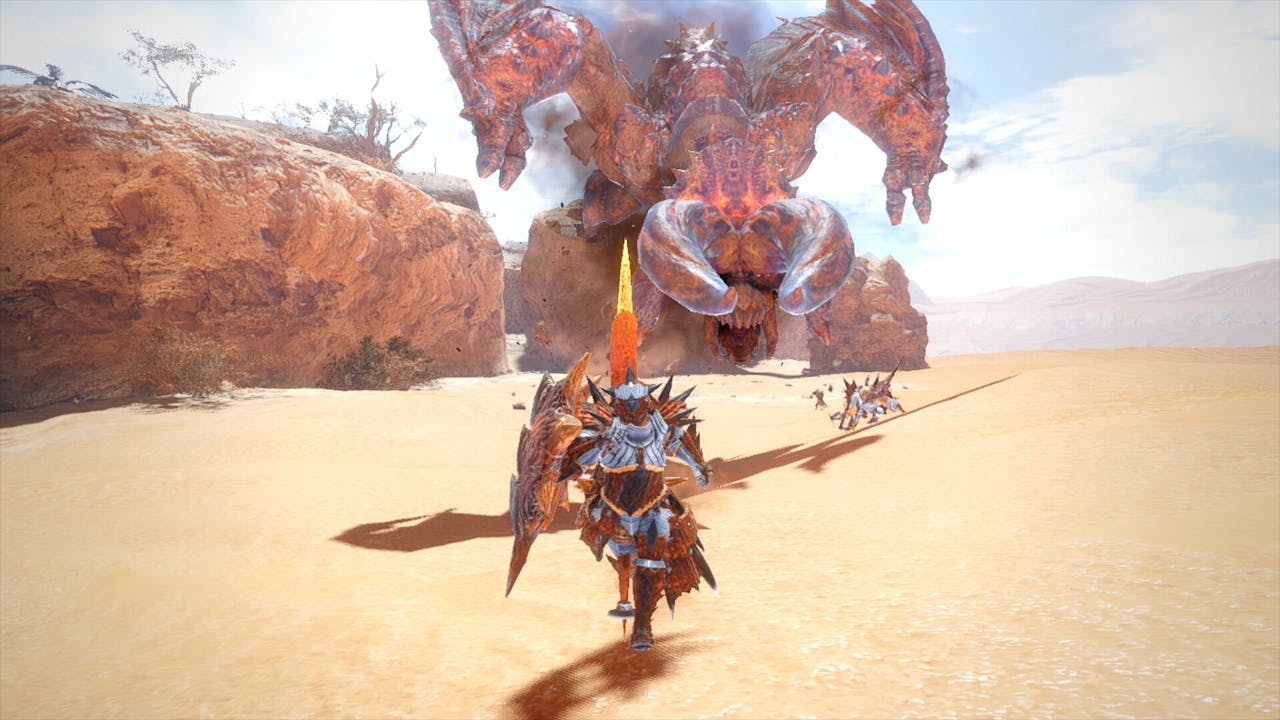 Type: Flying Wyvern
Elemental damage: (Stun)
Weakness: Ice
About: You thought Diablos was tough, but you've not seen anything yet!
Apex Diablos has similar traits to the Bloodbath Diablos and Frenzied Diablos variants seen in previous instalments in the Monster Hunter series. Not only does it look more menacing with deep red eyes and scarred skin, its horns are much larger and is able to perform a powerful corkscrew burrow - making it MUCH more aggressive than your regular Diablos.
Using a mid-charge roar prevents Hunters from evading, so prepare to be battered around. Use a similar strategy to Diablos (break horns, sever tail) and you'll stand a chance... just.
Goss Harag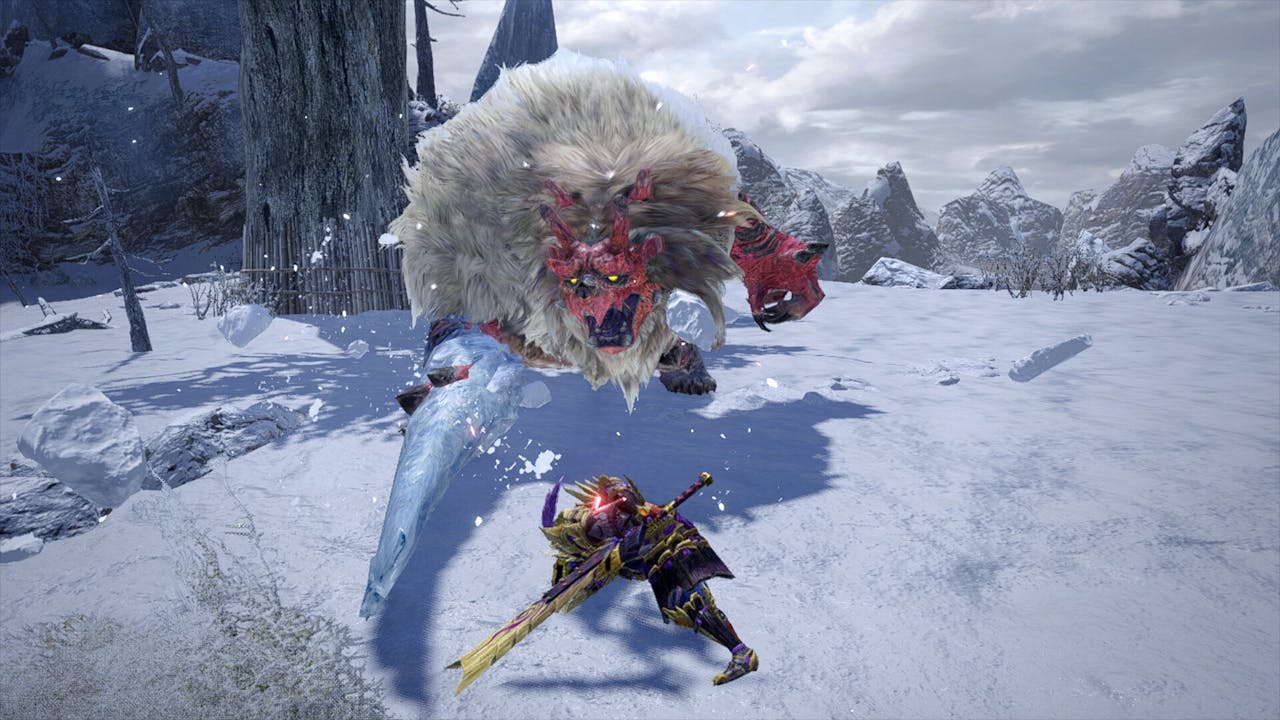 Type: Fanged Beast
Elemental damage: Ice (Iceblight)
Weakness: Fire
About: 'Bearing' resemblance to the demon-like Namahage, Goss Harag can be found in wintry locales and has thick fur to keep it warm and armor its body. One of its 'cooler' abilities is consuming cold air in which it freezes inside its body and exhales out to form icy blades on its arms.
It can also create shockwaves by pounding the floor with its fists, knocking Hunters off balance. Attacking the ice-covered parts of its forelegs also puts you at risk of Iceblight.
When Goss Harag is enraged, the red areas that appear on its body are more susceptible to damage... so try to annoy it!
Great Baggi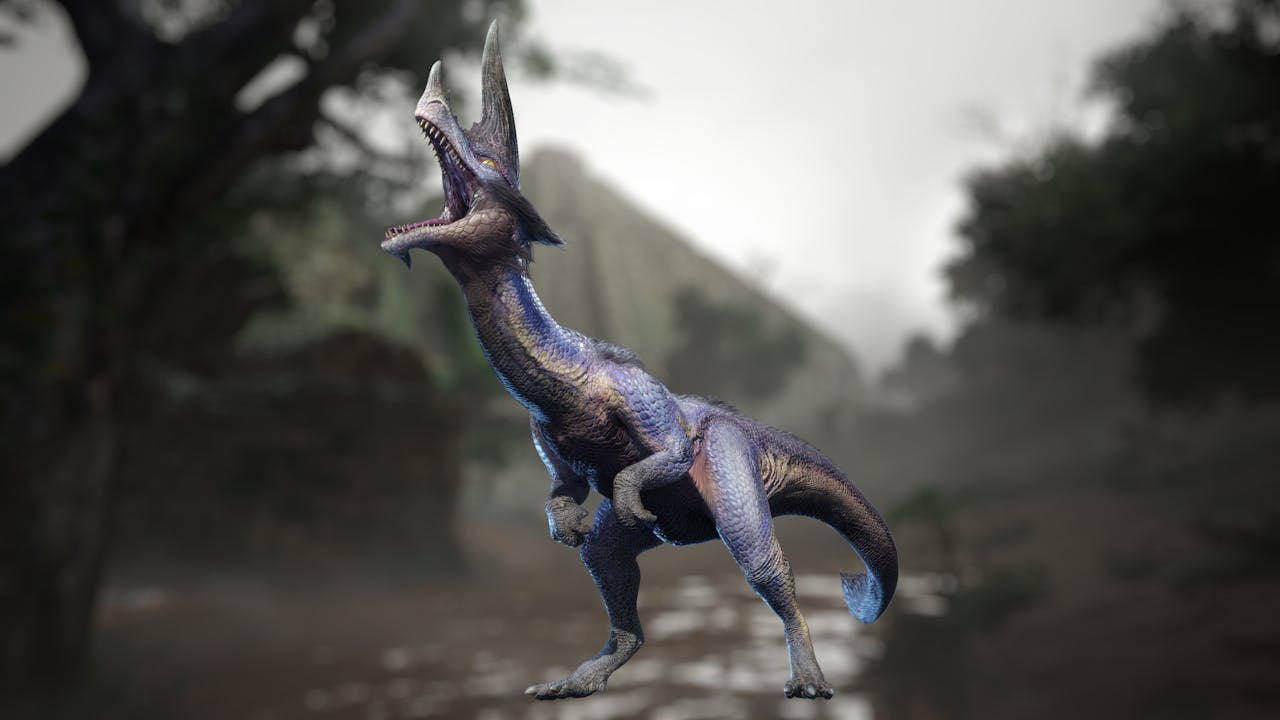 Type: Bird Wyvern
Elemental damage: (Sleep)
Weakness: Fire
About: Despite being part of the Bird Wyvern species, Great Baggi is more of a raptor-type beast that leads a pack of Baggi, and is also larger than the standard Great Jaggi. It has the ability to spit a tranquilizing liquid at its foes to send them into a heavy sleep, as well as commanding the smaller Baggi monsters to aid its attack during a battle.
Having Energy Drinks in your inventory will help combat those potential sleepy moments.
Great Izuchi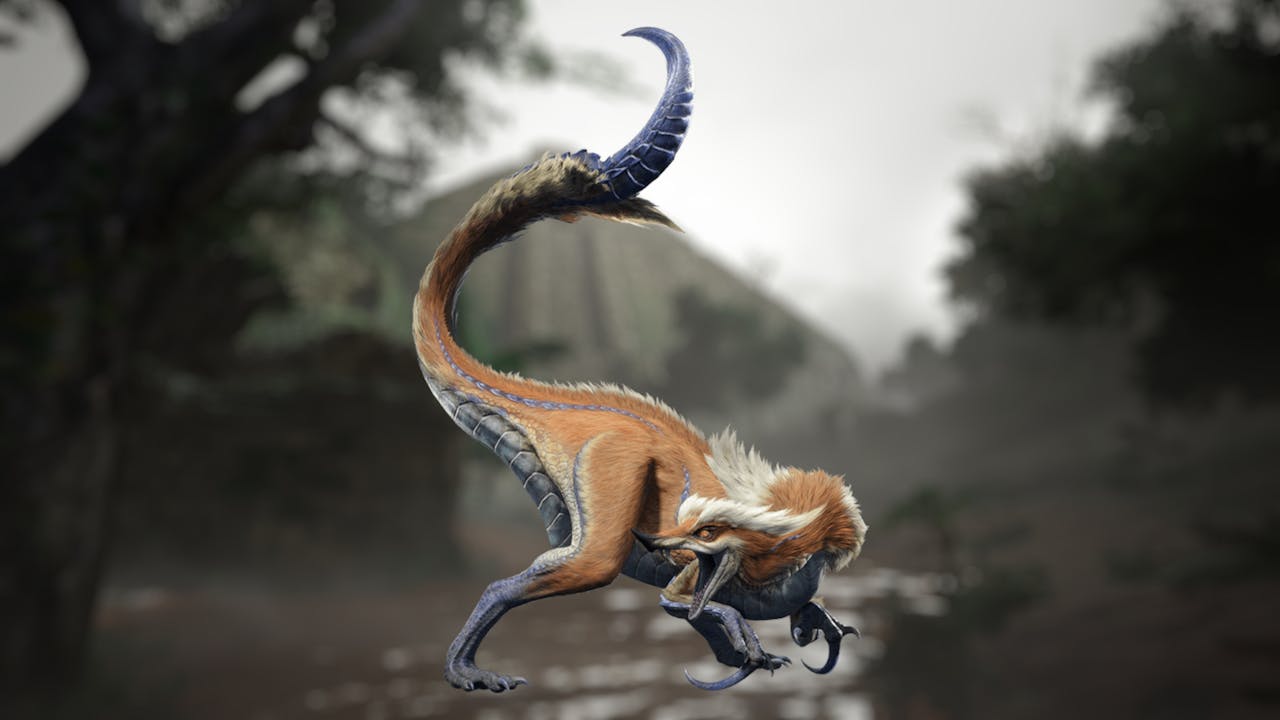 Type: Bird Wyvern
Elemental damage: (Poison)
Weakness: Thunder / Water
About: Another of the pack-type monsters, Great Izuchi has cobra-like fangs and a scythe-like blade blade on the end of its tail which it uses for slice attacks. This beast is pretty intelligent and uses two smaller Izuchi companions in its attack strategy and combos.
Great Izuchi is also able to regurgitate and spit rocks at Hunters for a mid-range attack. Severing the tail and damaging the fangs leaves Great Izuchi vulnerable, and taking it down will result in an easier task of picking off its Izuchi followers.
Great Wroggi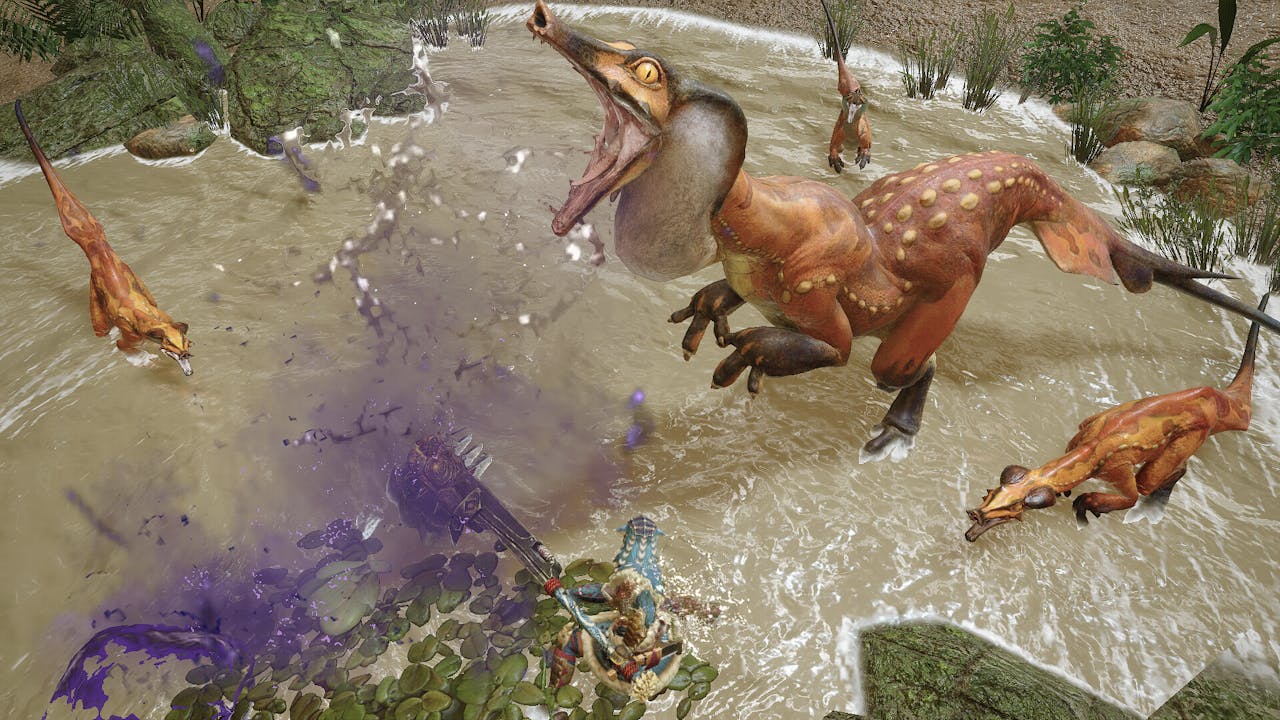 Type: Bird Wyvern
Elemental damage: (Poison)
Weakness: Ice
About: The Great Wroggi has salamander-like skin, and is most recognizable by the sac-like organ wrapped around its neck. This sac is where this beast concocts its poisonous cloud that it disperses near its enemies.
As with the Great Izuchi and Great Baggi, Great Wroggi leads a number of small Wroggi monsters and can call on them to help in battle. Breaking its poison sac will massively reduce its effectiveness at poisoning Hunters.
Jyuratodus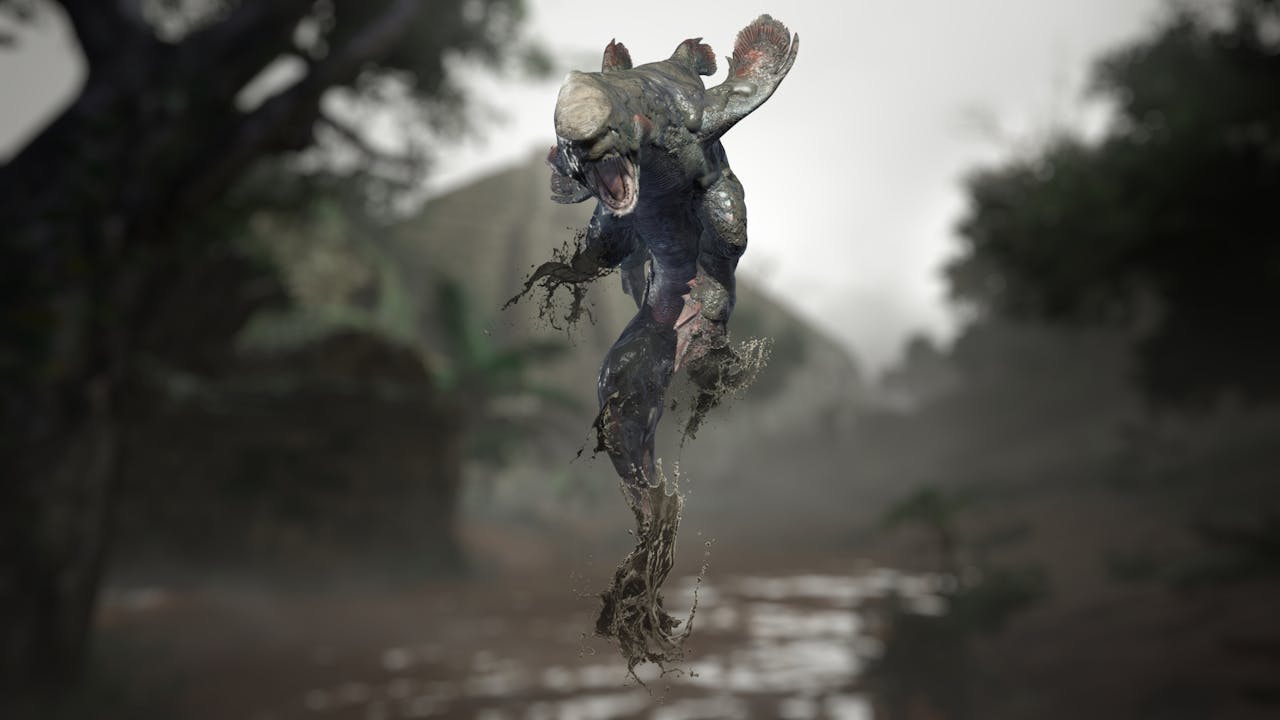 Type: Piscine Wyvern
Elemental damage: Water (Waterblight / Muddy)
Weakness: Thunder (When clean) / Water (When muddy)
About: Jyuratodus is a slippery customers, especially when it rolls in mud. It's pectoral and pelvic fins, along with its thick tail, help it to glide through water and mud with ease, knocking Hunters off balance or submerging to perform a surprise leap attack.
Rolling in mud helps harden Jyuratodus' armor and prevents it from sustaining heavy elemental damage from its primary weakness (Thunder). It can also create mud puddles which will slow and trap Hunters, leaving them open to attack. Using Water-based weapons and gadgets will help break down its mud core - as well as using the Aquatic Expert skill to avoid being slowed down so much.
Khezu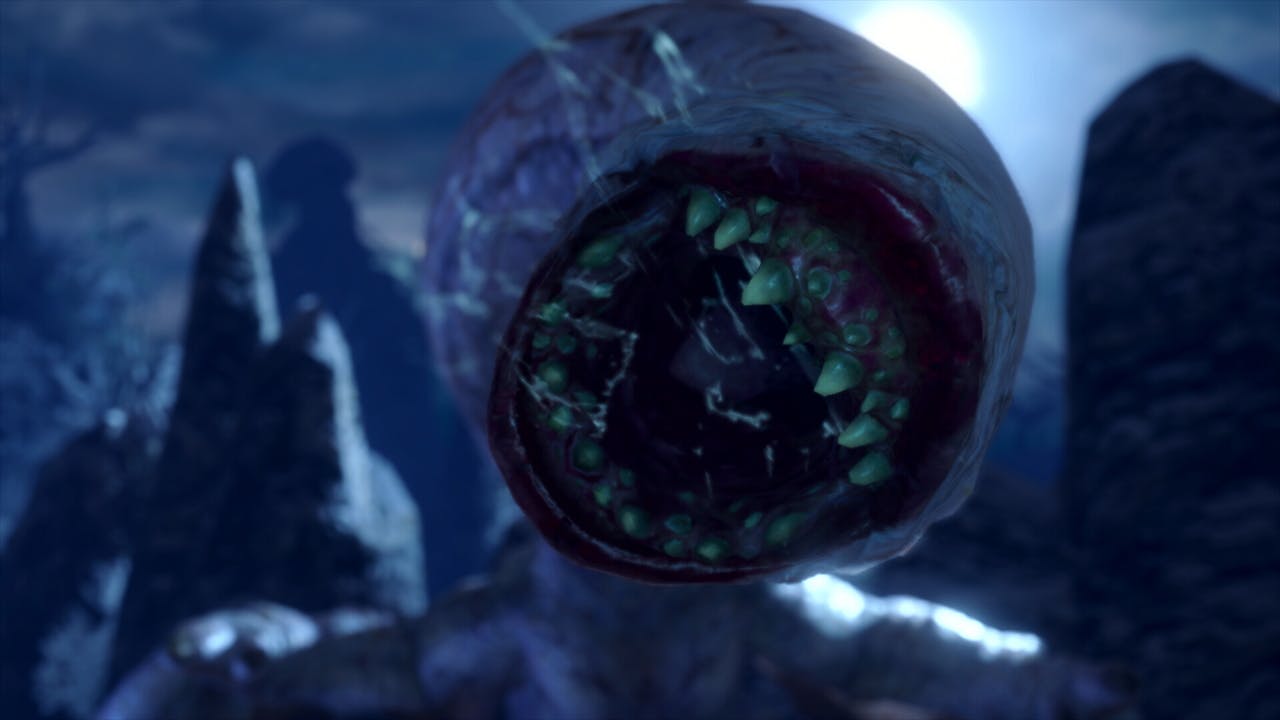 Type: Flying Wyvern
Elemental damage: Thunder (Thunderblight)
Weakness: Fire
About: Khezu is one of the more sinister, eerie looking monsters from the Monster Hunter series, mainly because it looks like the Fellbeast that has its head cut off in Lord of the Rings: The Return of the King. Despite its small eyes and lack of sight, it has a great sense of smell and can hunt its enemies down in no time.
Aside from its large wing-claws and large tail, Khezu has several rows of teeth to chomp down on its foes. An even more sinister feature of this monster is that, in order to reproduce, it paralyzes a creature and injects it with its young - which grow inside said creature until it dies or the young becomes strong enough to leave... nice!
A Khezu is more comfortable within caves and dark places, where it will cling to the ceiling and attack from above. Using Wiredash will help Hunters reach it when it's clinging above, helping them to knock it down - while exhausting the monsters reduces its elemental power.
Kulu-Ya-Ku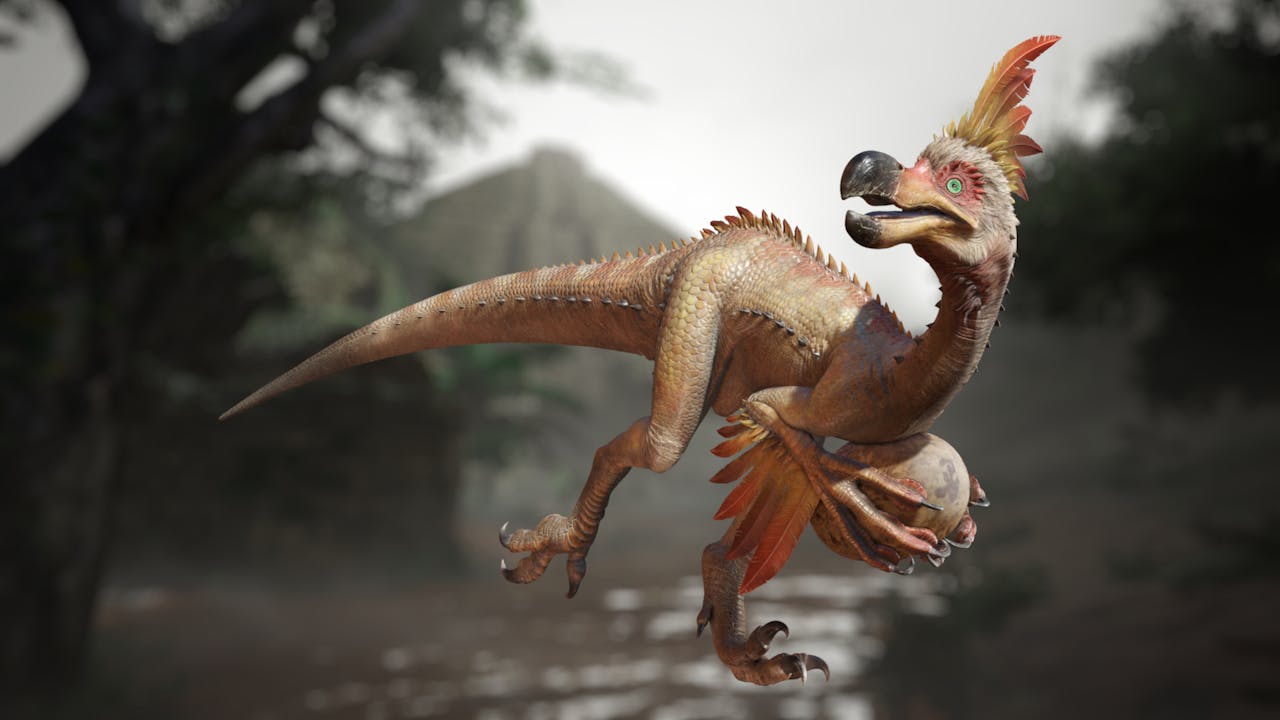 Type: Bird Wyvern
Elemental damage: (Stun / Fireblight when carrying flaming rock)
Weakness: Water
About: Covered in light scales and sporting a feathered mane, Kulu-Ya-Ku resembles a docile dodo in the New and Old World. It tends to keep itself away from danger and is often seen snatching eggs from nests.
A Kulu-Ya-Ku's favored method of defense it to dig up a small rock/boulder to protect itself from head-on attacks. Hunters taking it on in Master Rank quests can expect it to pick up flint rocks, which can combust and cause a small area of damage.
Aside from its rock antics, Kulu-Ya-Ku uses its beak to peck and legs to perform leaping attacks. Using your slinger ammo will make Kulu-Ya-Ku drop its rock on most occasions, leaving it to a whole world of hurt from all angles.
Sever the tail, break its break, smash up its wing claws... just kick the c**p out of it!
Kushala Daora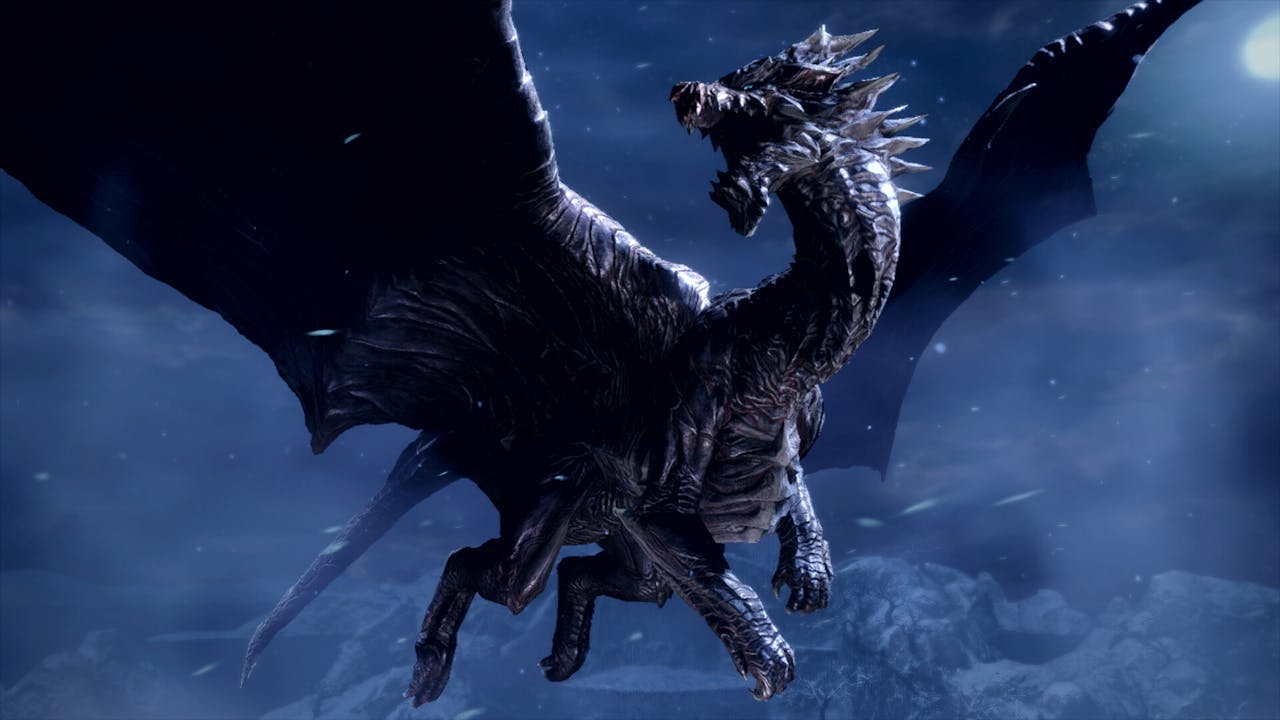 Type: Elder Dragon
Elemental damage: Dragon (Dragonblight)
Weakness: Dragon / Thunder
About: Known as the 'Steel Dragon', Kushala Daora can be easily recognized by its shiny metal skin and large wings that it uses to create whirl barriers to prevent Hunters from attacking it, as well as disabling them and leaving them open to an aerial attack.
Although dangerous and tricky to fight, this Elder Dragon will often avoid conflict unless provoked. Players will need to use the Earplugs ability to deafen its disruptive roar, and using Poison-based attacks will weaken its wind power.
Breaking its horn, wings, and severing its tail will also slow it down.
Lagombi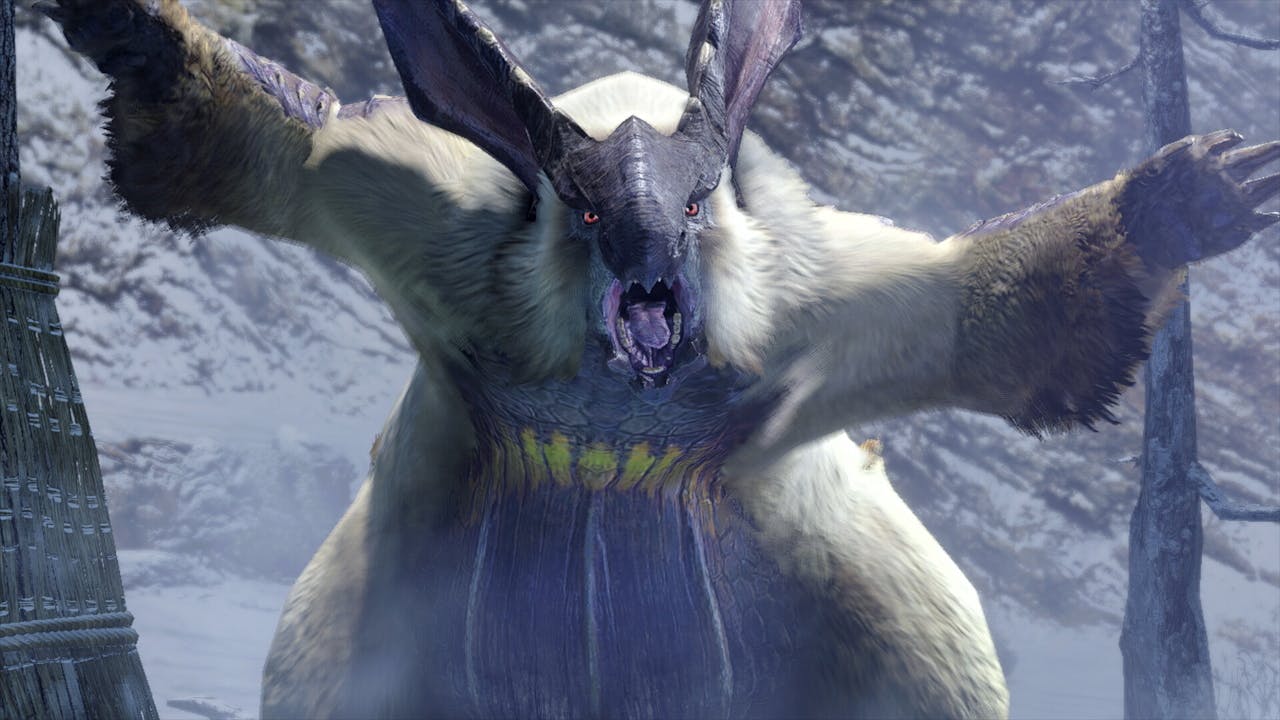 Type: Fanged Beast
Elemental damage: Ice (Iceblight / Snowman)
Weakness: Fire / Thunder
About: It may look cuddly, but Lagombi can be quite aggressive when provoked. This mash up of a bear, wombat, and rabbit-type beast means that it moves on its hind legs and swipes at enemies with its front legs, as well as having superb hearing with its tall ears.
Lagombi also throws chunks of ice at its foes, which it often uses to take down climbing Hunters. Its keen hearing does leave it open to disruptive attacks from Sonic Bombs, which can temporarily disorientate it and make it flinch - however, when enraged these bombs do little to stop its rampage.
Magnamalo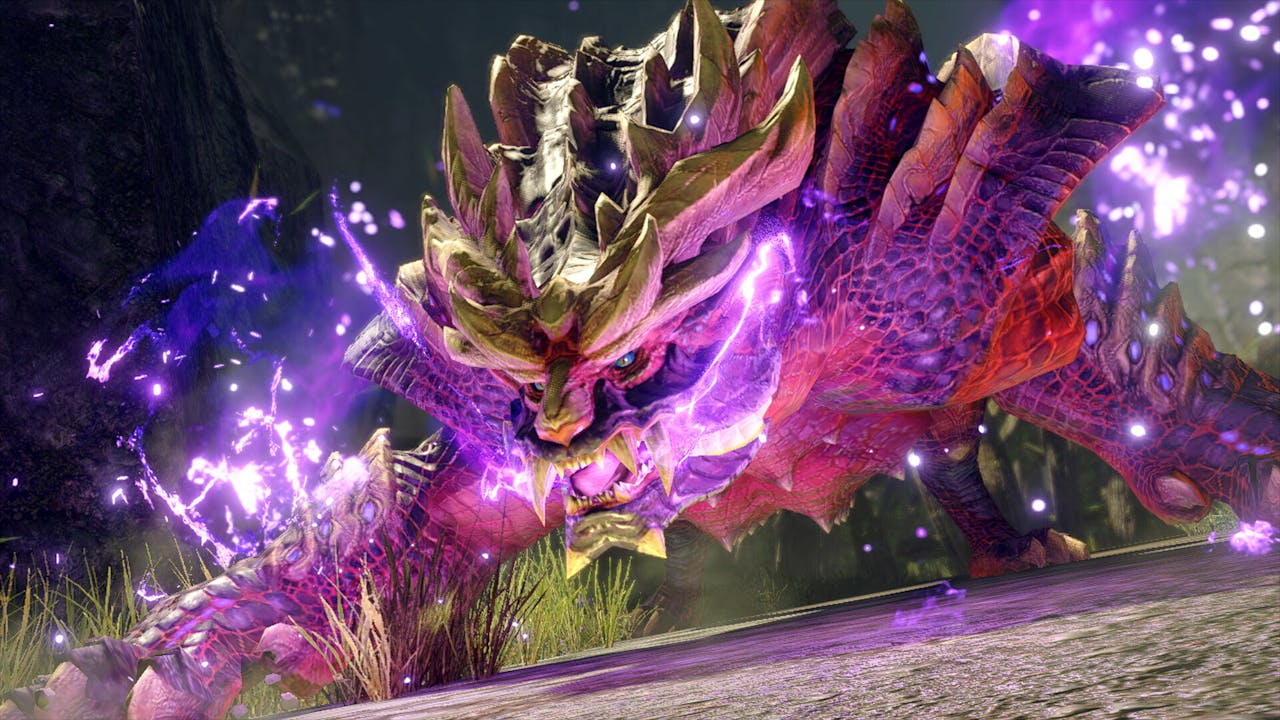 Type: Fanged Wyvern
Elemental damage: (Hellfireblight)
Weakness: Thunder / Water
About: The flagship monster of MH: Rise, Magnamalo AKA 'Devourer of the Rampage' is a fierce predator with plates of strong armor, vicious fangs and claws, and a spear-like tipped tail. One of its dangerous perks is its ability to create a cloud of purple gas, known as 'Hellfire', from its body after eating other monsters - making its attacks much more destructive.
It's relentless in its attacks, and chain a number of combos together to give Hunters little chance of evading. Its able to spit fireballs from its mouth and uses a somersault-type move using its spikes and tail in a whipping motion.
When it's taken too much damage, Magnamalo's Hellfire gas will work against it, seeping out and combusting as it hits the ground for a few seconds, which means Hunters can get a few hits in. If its gas turns pink, Magnamalo is about to produce a wide range attack - so players are advised to move away at this point.
It's a tough beast to take down, but breaking its armor and attempting to sever its tail will aid you in battle.
Mizutsune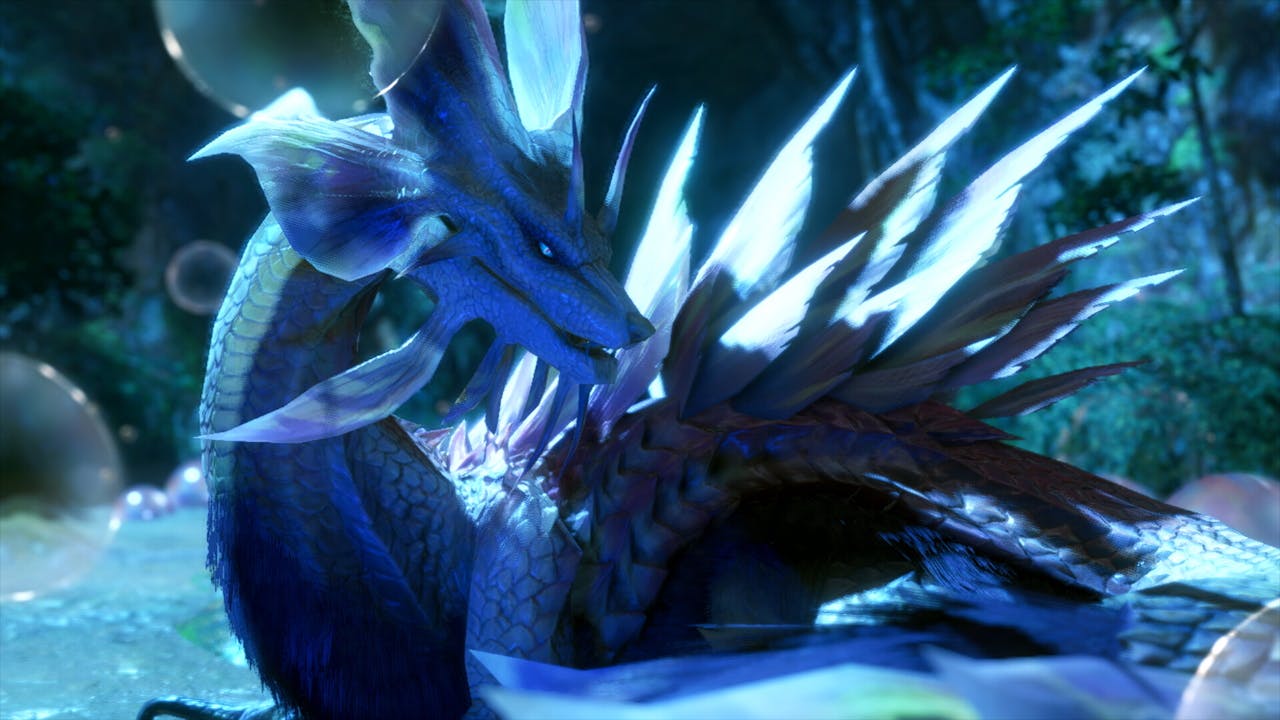 Type: Leviathan
Elemental damage: Water (Waterblight / Bubble)
Weakness: Thunder / Dragon
About: A mysterious, elegant monster for Hunters to come across in person, Mizutsune is covered in purple fur and light colored scales that resemble a fish, and can move swiftly on land and water. It's capable of producing bubbles from its fur, which its fires at its enemy to hinder their movement, as well as shooting pressurized water from its mouth.
This creature isn't known to be aggressive to Hunters, but when provoked - or if it's a male during mating season - they can go berserk. Keeping an eye on Mizutsune's fins will help your battle strategy, its fins will turn from yellow to blue when its stamina is low - or red when it's enraged.
Damaging its claws, fins/back and head will slow it down, as will severing its tail.
Apex Mizutsune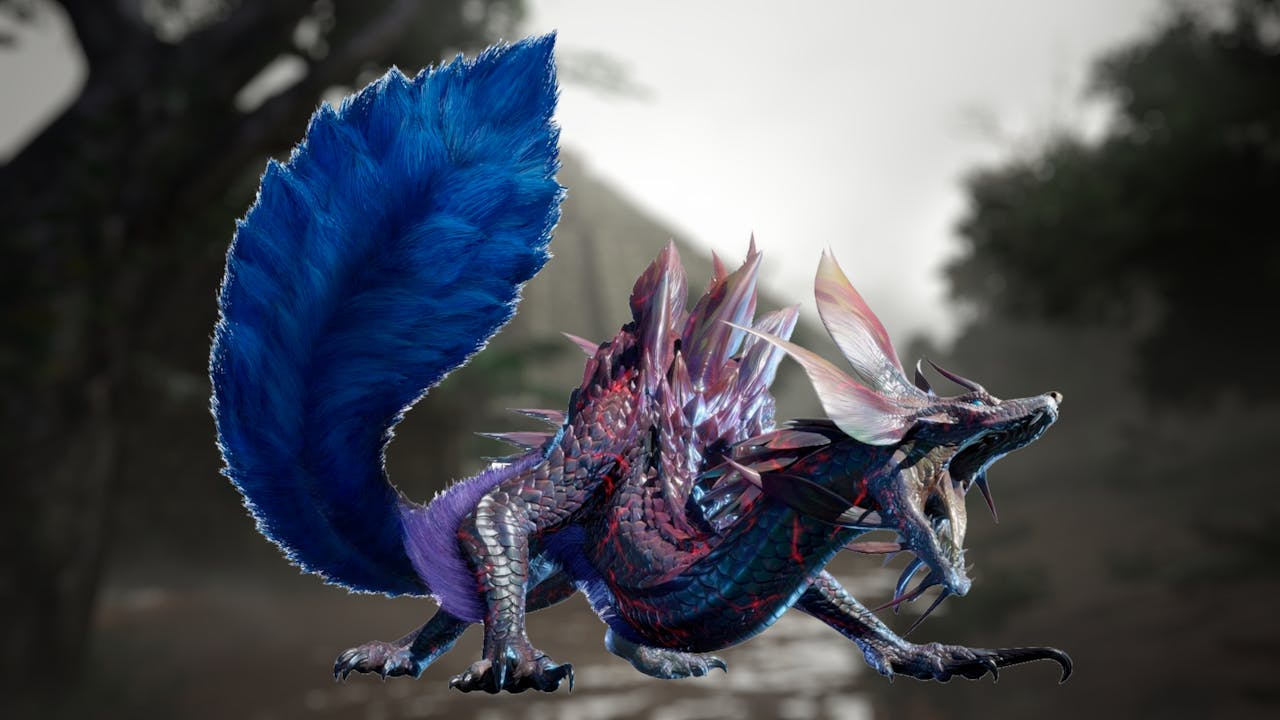 Type: Leviathan
Elemental damage: Water (Waterblight / Hellfireblight / Bubble / Blastblight when in Rampage)
Weakness: Thunder / Dragon / Ice
About: A fierce rival to Apex Zinogre, Apex Mizutsune is extremely aggressive and will attack on sight. Its bubble attacks are twice as powerful, causing Hellfireblight on unsuspecting Hunters.
Its shimmering blue tail is capable of whipping foes into the air in an uppercut motion, and its bubbles can also cause Blastblight when it's enraged. Using the Throwing Kunai, ranged weapon shots, or ballistas will thwart Apex Mizutsune's bubble shots, and taking on the same body parts as the standard Mizutsune variant will steady the fight in your favor.
Nargacuga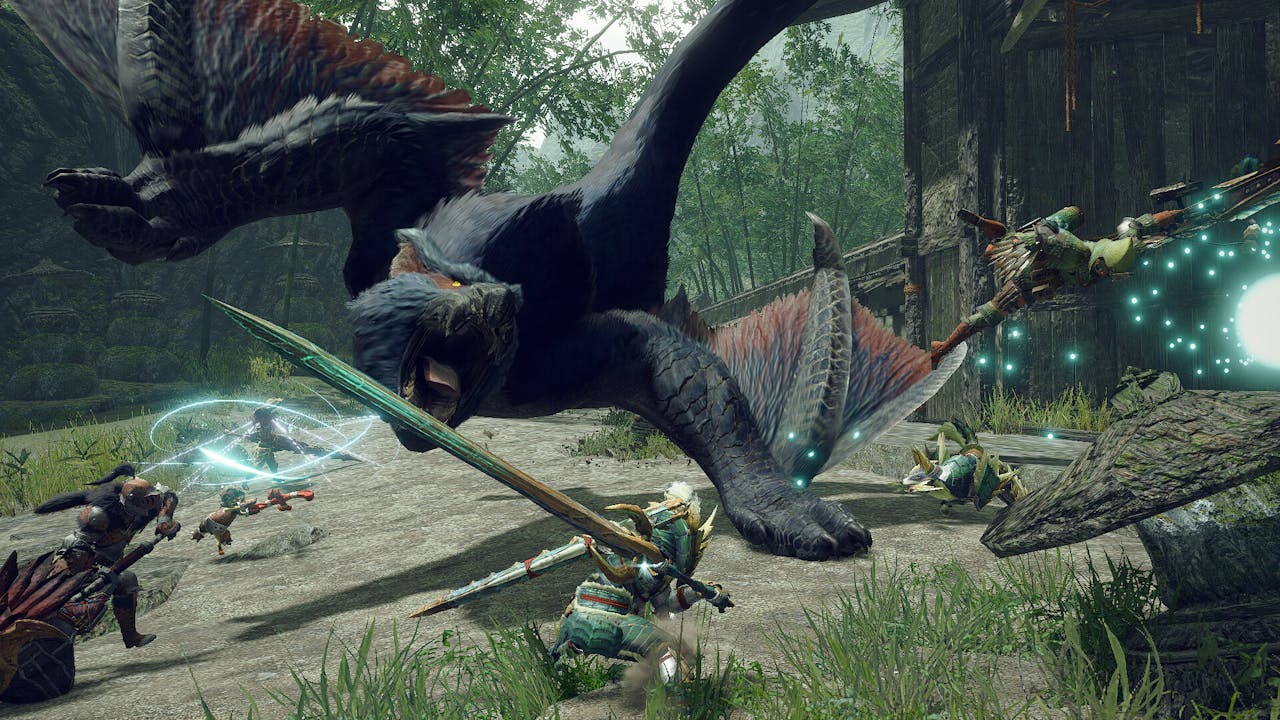 Type: Flying Wyvern
Elemental damage: (Bleeding)
Weakness: Thunder / Fire
About: Swift and deadly, Nargacuga is noticeable for its jet black fur, beady red eyes and black panther-esque predatory approach to hunting its prey. As well as using its claws, break and bladed wings to slash and stab at Hunters, it can also fire spikes from its tail.
Sonic Bombs and Barrel Bombs will throw Nargacuga off guard, but it will enter rage mode when it recovers.
Pukei-Pukei
Type: Bird Wyvern
Elemental damage: Poison / Stun
Weakness: Thunder
About: Like Chameleos, Pukei-Pukei has similar characteristics to a chameleon, due to its ability to change color. Its body is coated in feather-like scales, and it has a tail that can expand in width to spray poison at its foes.
As well as its tail, Pukei-Pukei uses its large tongue to swipe at Hunters and shoots poison balls from its mouth - eating Scatternuts will result in its poison containing the ability to stun you.
Pukei-Pukei is quite a laid-back monster and will not attack unless provoked. The simplest method of weakening it is by severing the tail and damaging its head and wings.
Rajang
Type: Fanged Beast
Elemental damage: Thunder (Thunderblight)
Weakness: Ice
About: The great ape-like beast of the New World, Rajang is a formidable foe capable of throwing Hunters around as if they were pillows... you'll probably as soft as one too after he's punched you. This extremely violent, ultra-aggressive monster is at its worst when enraged, whereby its fur turns from black to gold.
During enraged mode, it's able to shoot thunder blasts or beam and performs a flying tackle. Whilst enraged, Rajang will also go into rampage mode, which is visible by its glowing red arms.
When in rampage, it will let out a powerful roar which can knock down nearby Hunters and open them up to its diving attack. Ice is the strongest element against Rajang, and using your Clutch Claw to send it bouncing into walls is also a sound strategy to weaken it.
If grabbed, use slinger ammo to startle it, resulting in Rajang dropping whichever Hunter is in its grasp.
Rakna-Kadaki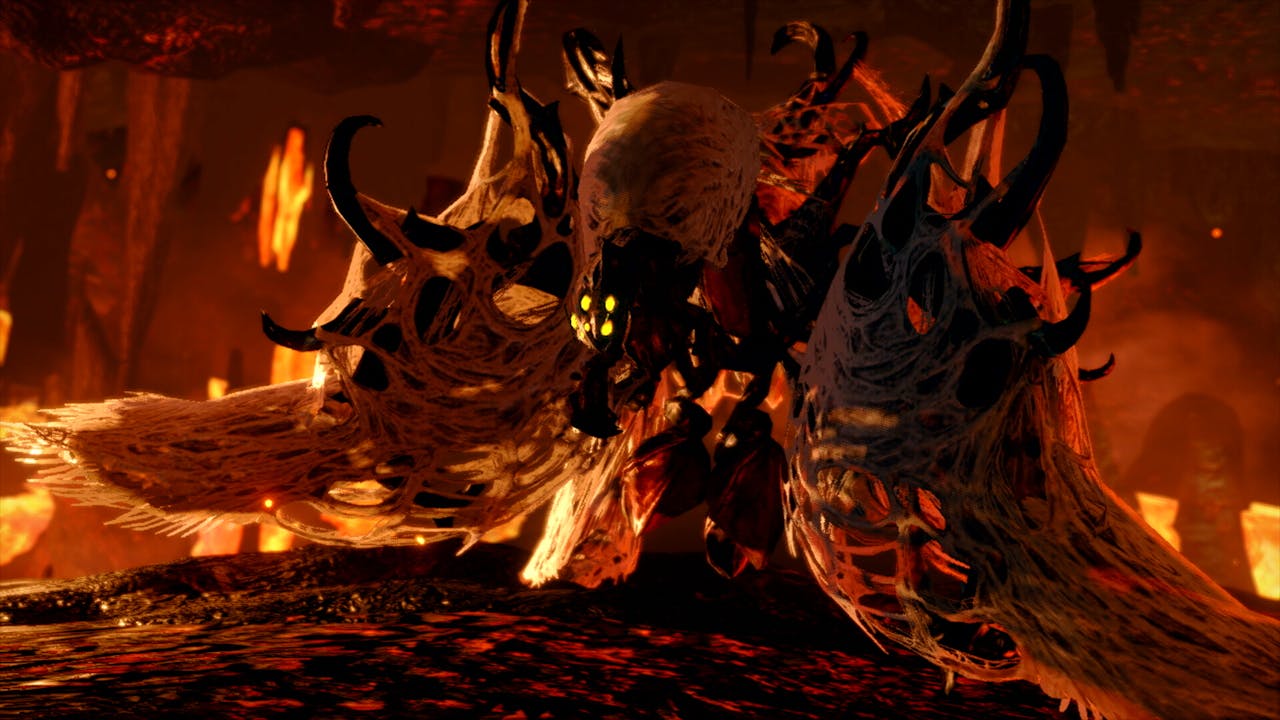 Type: Temnoceran
Elemental damage: Fire (Fireblight / Webbed)
Weakness: Ice
About: Arachnophobes, look away now! Rakna-Kadaki, known as the 'Wandering Widow, is a spider-like creature coated in webbing, inspired by two Japanese folklore - the Jorogumo and the Tsuchigumo.
It uses pedipalps as extendable attacking legs, and uses its offspring known as 'Rachnoid' to attack its prey, which hatch and live on its abdomen. Rakna-Kadaki can also spit burning gas and shoot a number of web strands at its enemy to cause Webbing and Fireblight damage.
Hacking the silk away from its walking legs will topple the monster, leaving it open to attacks. In its incubating mode, Rakna-Kadaki will coat its abdomen in silk and use this area of its body as a heavy attack - however, this leaves it open to attack and, if enough damage its, dealt it'll will topple and expose its head - so go to town on it!
Rathalos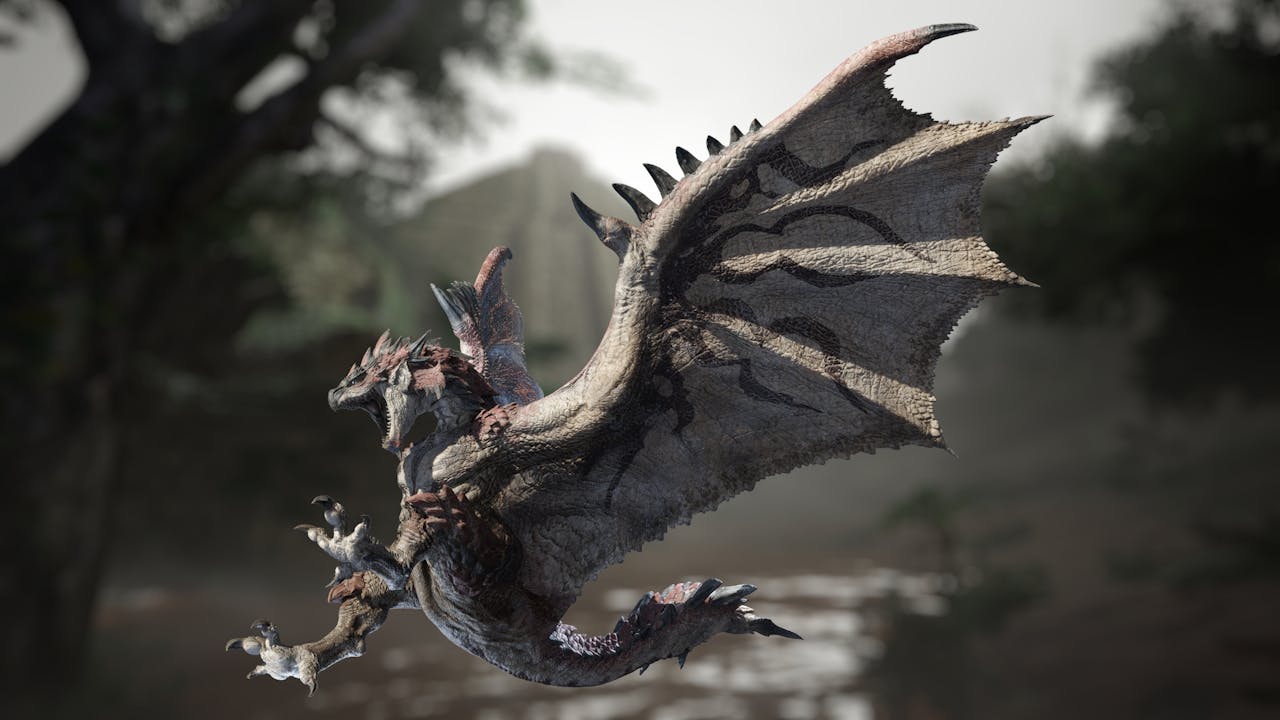 Type: Flying Wyvern
Elemental damage: Fire (Fireblight / Stun / Poison)
Weakness: (Dragon / Thunder)
About: The 'King of the Skies' and one of the OGs of the series, Rathalos is a dragon with red armored scales coating its body, with spiky wing, a sharp set of teeth and claws, and a bludgeoning tail from which it can deal Poison damage. Aerial attacks are its speciality, and it's able to breath fire down on its foes.
Being territorial, Hunters who trespass in its nest or nearby will immediately be hunted down. Using Flash Bombs helps ground Rathalos, and Dung Bombs can also be used to get out of being pinned.
Severing its tail will reduce the risk of being poisoned, and damaging its head and wings will prevent fire and airborne attacks.
Apex Rathalos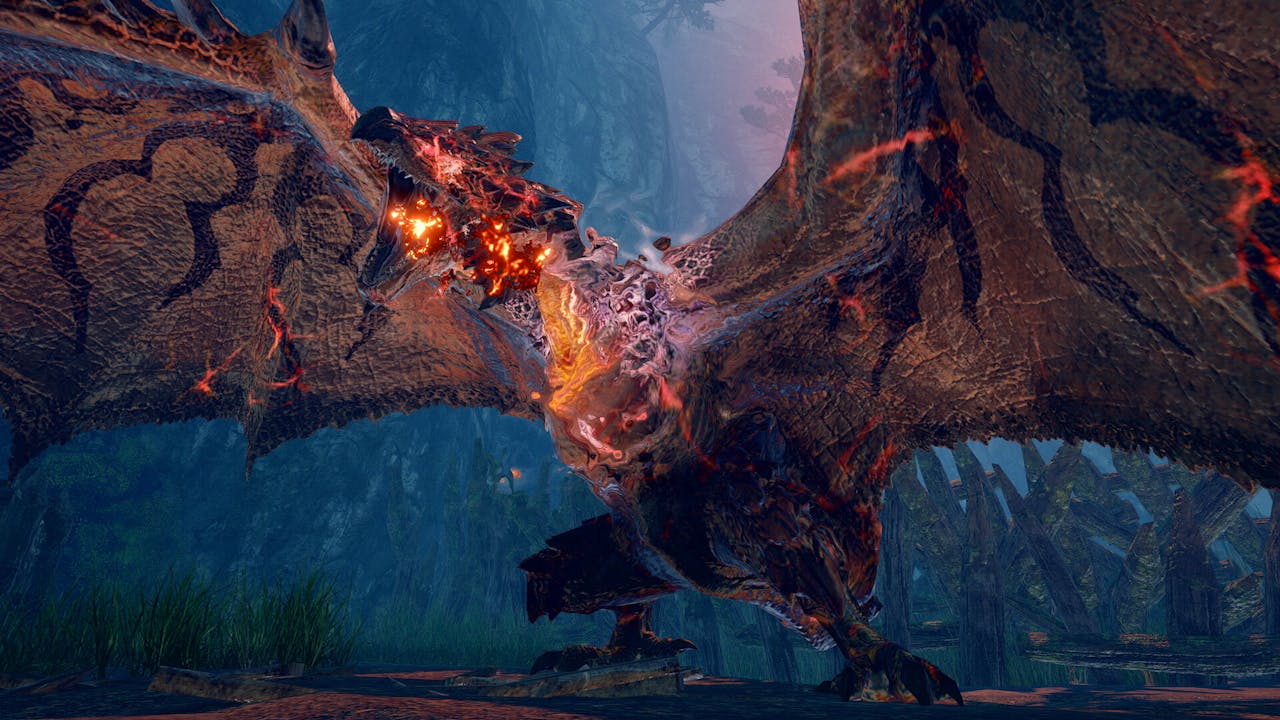 Type: Flying Wyvern
Elemental damage: Fire (Poison / Fireblight)
Weakness: Dragon / Thunder
About: Rathalos is no pushover, but Apex Rathalos raises the bar with its hyperviolent and extremely aggressive behavior - its appearance is quite striking, what with its glowing, fiery wounds. Most of its attacks are similar to the original variant, but Apex Rathalos also has a unique attack in which it uses its claws to grab and fling Hunters into the air, followed by a fireball blast.
These fireballs also explode a few seconds after impact and cover a larger area than standard Rathalos fireballs. Sticking with the hot stuff, when enraged this monster will fly overhead and unleash massive fireballs that will slowly land and explode.
Ensuring that your Fire resistance is high will certainly help when engaging with this monster - and taking the same approach as you would with Rathalos (Flash Bombs, severe tail, etc) should see you prevail.
Rathian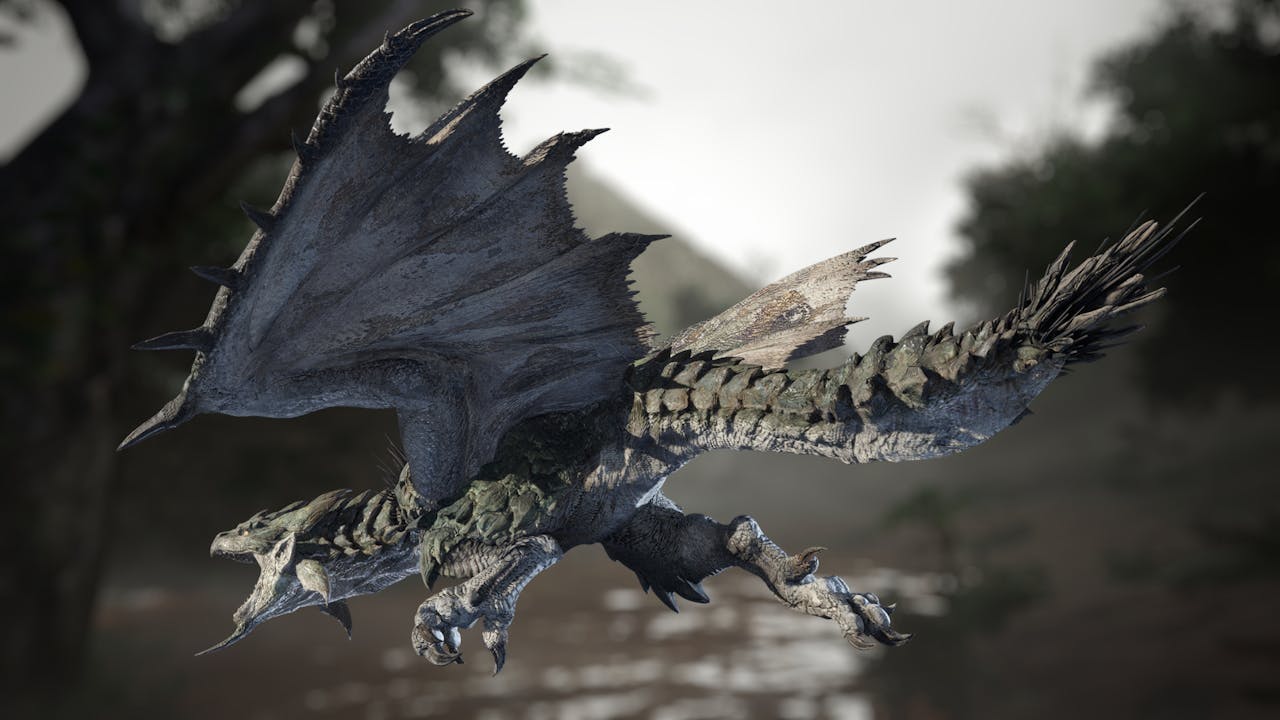 Type: Flying Wyvern
Elemental damage: Fire (Poison / Fireblight)
Weakness: Dragon / Thunder
About: The 'Queens of the Land', Rathian is the female version of Rathalos, sporting similar features and appearance, albeit that she is predominantly green in color and its wingtips and upper back are coated in moss-like fur.
It releases multiple fireball attacks at once and can cover ground quickly on foot even without her tail and wings at working capacity. As with Rathalos, Rathian is very territorial and, if you're carrying one of its eggs, you're in for a chase.
Using the same techniques and approach to Rathian as you would with Rathalos should see you make it out alive with no trouble.
Apex Rathian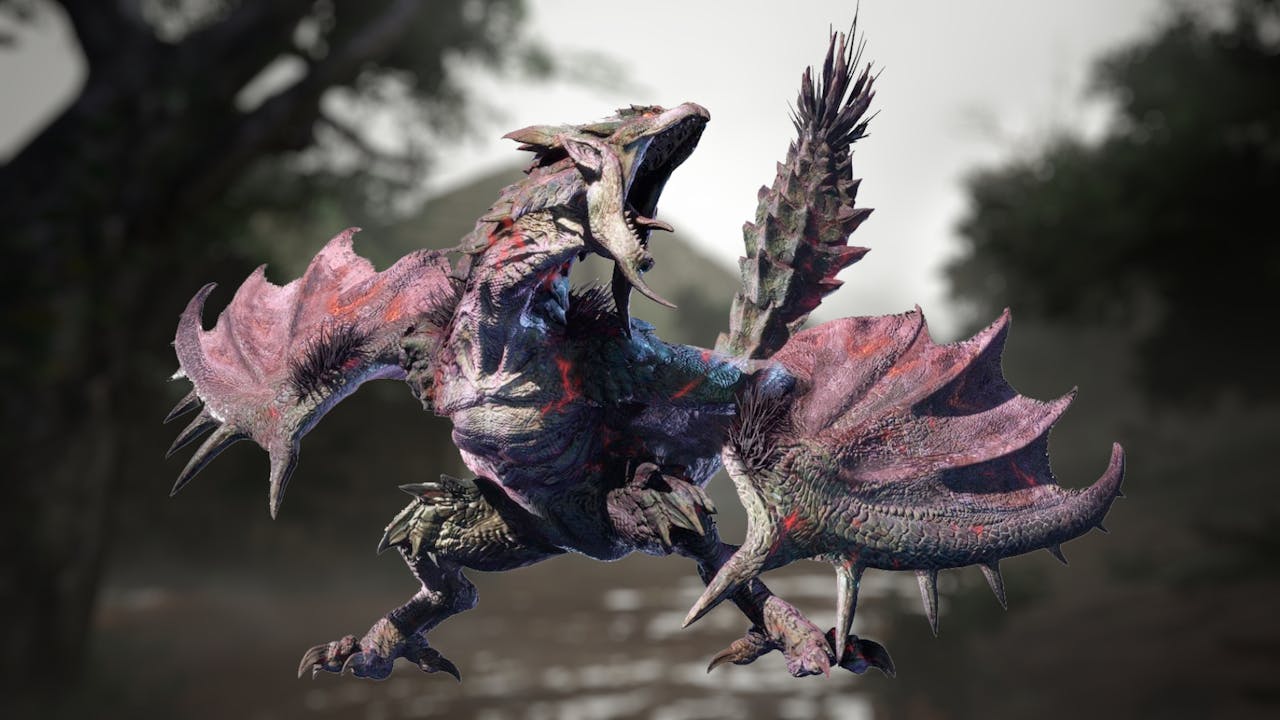 Type: Flying Wyvern
Elemental damage: Fire (Noxious Poison / Fireblight)
Weakness: Dragon / Thunder
About: Channelling the inner extreme aggression just like the Apex Rathalos, Apex Rathian is brutal and relentless against its foes. The majority of its attacks originate from the Rathian, though it also has the ability to fire Dreadqueen-esque poisonous spikes, filled with stronger poison.
When enraged, it will perform a triple tail swipe attack that will do heavy damage and spread multiple spikes. Its roar is much more ear-piercing than usual, stopping Hunters in their tracks who don't have the Earplugs, and is capable of sending nearby monsters into a frenzy.
Its longer spikes on its wings and legs make it more menacing, and its are a lot sharper than a normal Rathian.
Using the same strategy as you would with Rathian should see you through, but ensuring that you have resistance or items to combat Fire and Poison damage is a must.
Royal Ludroth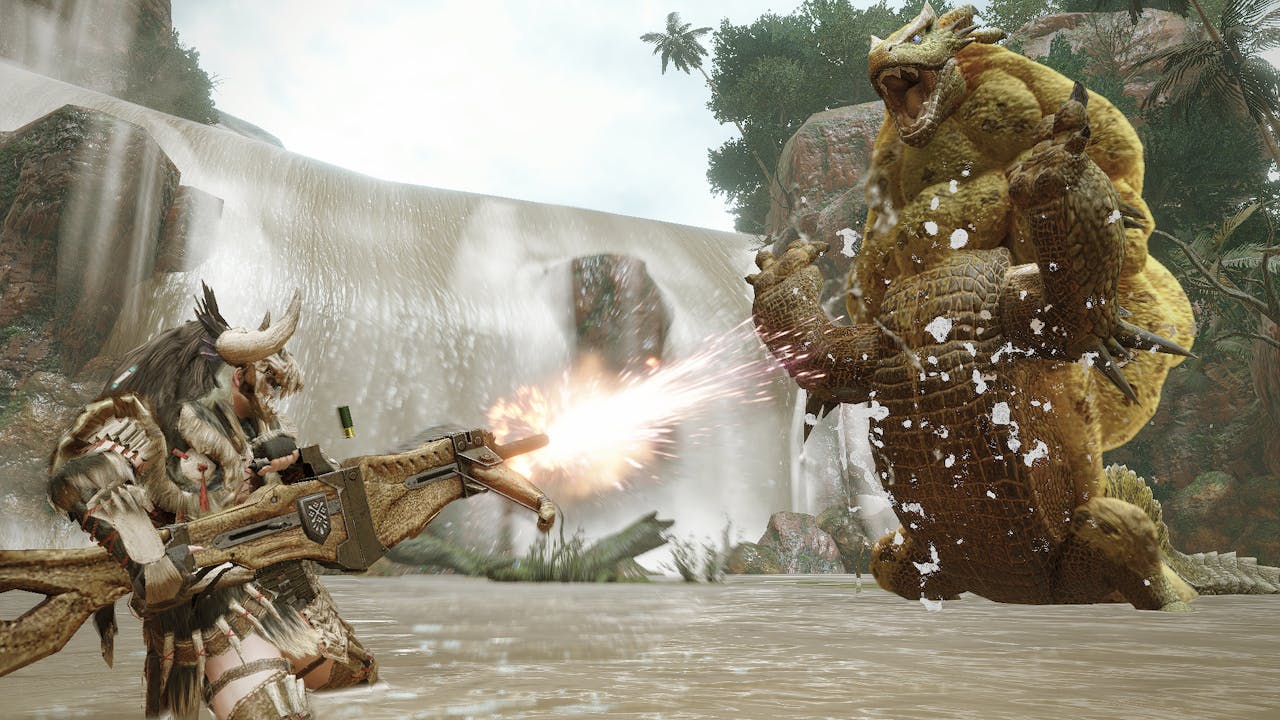 Type: Leviathan
Elemental damage: Water (Waterblight)
Weakness: Fire / Thunder
About: Royal Ludroth is a monster that thrives in the water, with rear legs shaped like paddles and a long scaly tail that make its ideal for swimming. Its large mane can collect gallons of water, which it then blasts out in numerous directions - as well as being able to producing mucus-based globules that it spews out at Hunters.
You'll often find it travelling with a clan of smaller female variants, and it will become aggressive towards anyone who threatens its kind. Drawing the beast away from water minimizes its chances of collecting water for its attacks, and damaging its mane will also prevent it from using widespread attacks.
Chopping off its tail will also stop it from performing sweep attacks.
Somnacanth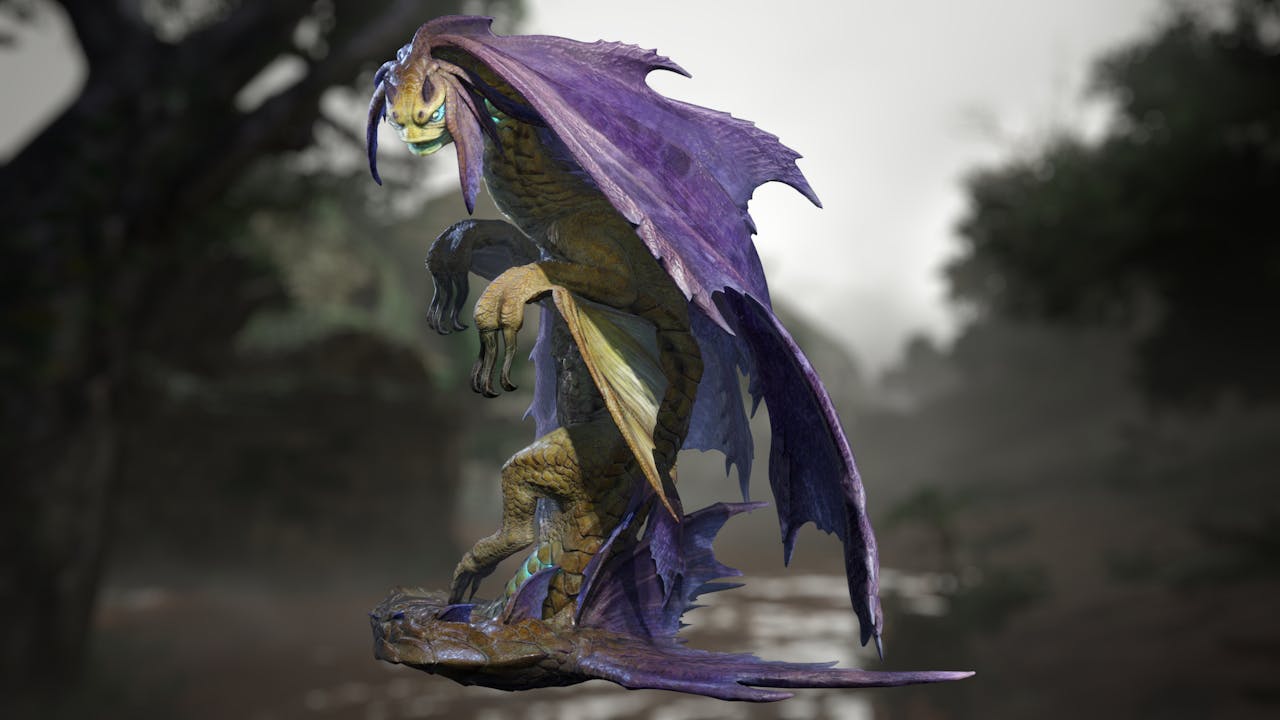 Type: Leviathan
Elemental damage: Sleep / Stun / Blastblight / Waterblight
Weakness: Thunder / Fire
About: Covered in large yellowy scales and long purple fins, Somnacanth is a eerie looking monster that can be seen swimming on its back and even crouching on its tail. It produces a sleep-inducing powder and sprays it from its mouth, as well as throwing dart-like quills in rapid succession.
From its perched position, it can perform diving attacks on Hunters, and can use its hard belly to crack open shells while laying on its back. These shells have a variety of potentially negative effects including Blastblight and Stun, but also a healing mist which can benefit Hunters.
Breaking its crest and tail will prevent it from performing dominant physical attacks.
Teostra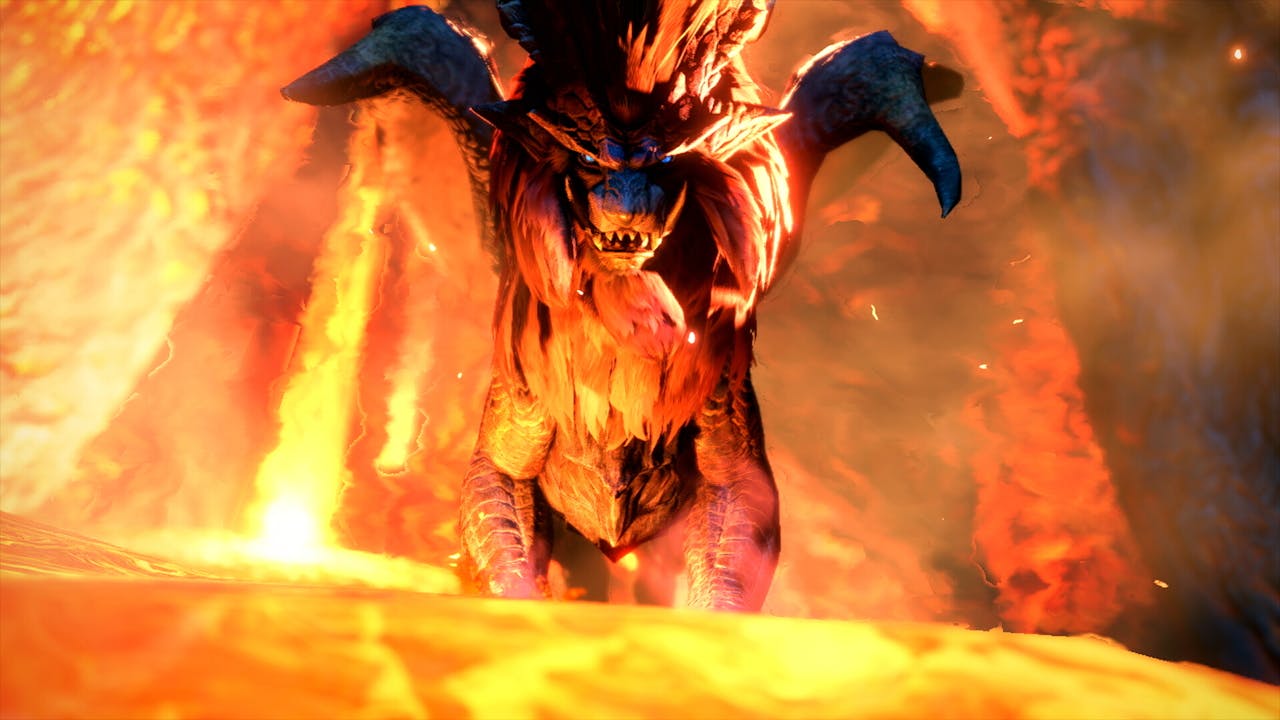 Type: Elder Dragon
Elemental damage: Fire (Fireblight / Blastblight)
Weakness: Dragon / Water / Ice
About: Known as the 'Emperor of Flame', Teostra is a fierce, fiery Elder Dragon that resembles a lion. Its large fangs, horns and bulky legs make its close-range attacks very powerful, as well as delivering fireball and flamethrower-like attacks.
When enraged, it gathers energy and flies up into the air to perform a supernova attack which can cause devastating damage for Hunters nearby. The best strategy to prevent this is to use a Flash Pod when Teostra enters the air.
Breaking and severing its parts will weaken it but it won't prevent further elemental attacks. In addition, having weapons with a high Elderseal rating can minimize the amount that Teostra performs its supernova attack.
Tetranadon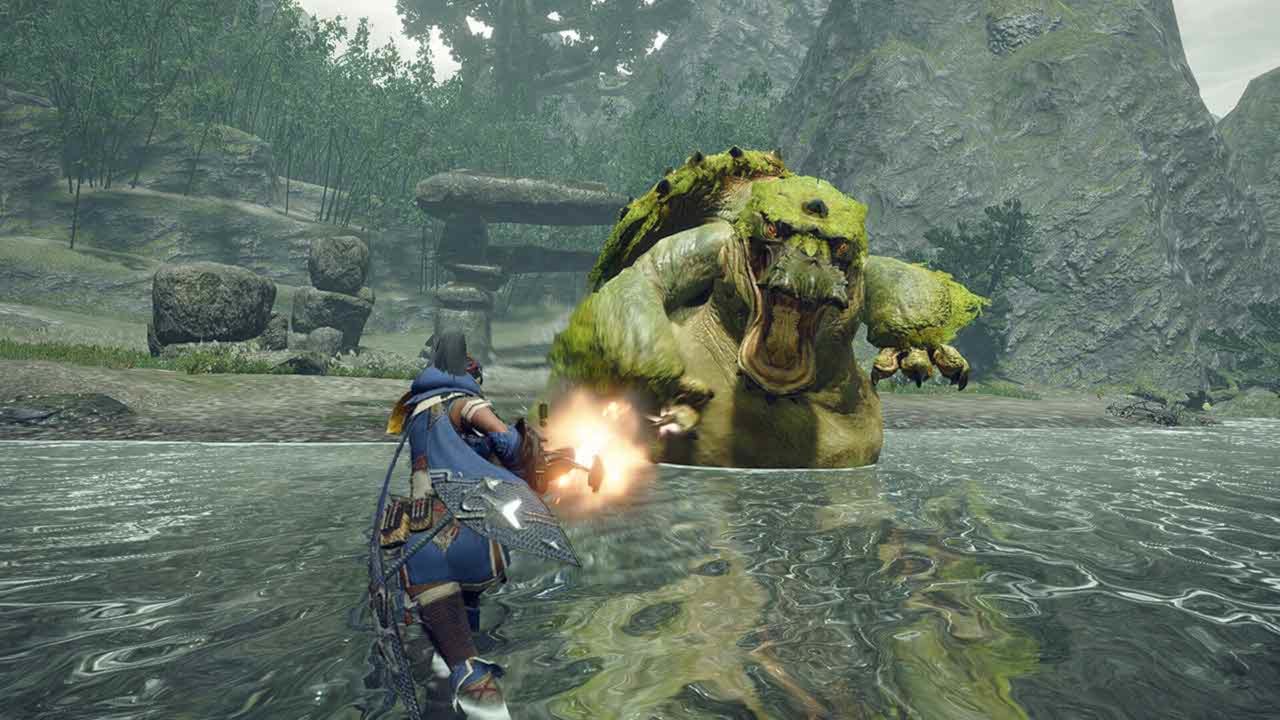 Type: Amphibian
Elemental damage: Water (Waterblight / Stun)
Weakness: Thunder / Fire
About: Rocking an inflatable belly and a turtle-like shell on their back, Tetranadon is a stocky foe with algae-like fur covering parts of its body, and a toothless, platypus-like beak and webbed feet - it's basically the Psyduck of your nightmares!
This Amphibian beast walks on all fours, with its shell protecting attacks from above, but once it inhales enough debris to bloat its stomach, it stands tall on its back legs. Despite becoming more sluggish during this state, its attacks are much more powerful - performing sumo-like belly flop attacks and throw large boulders.
In addition, Tetranadon can shoot water from its mouth to knock Hunters down. Avoiding its attacks and landing some hard hits on its stomach will make it throw up its gravelly meal and return to normal size, making the fight much more even.
Thunder Serpent Narwa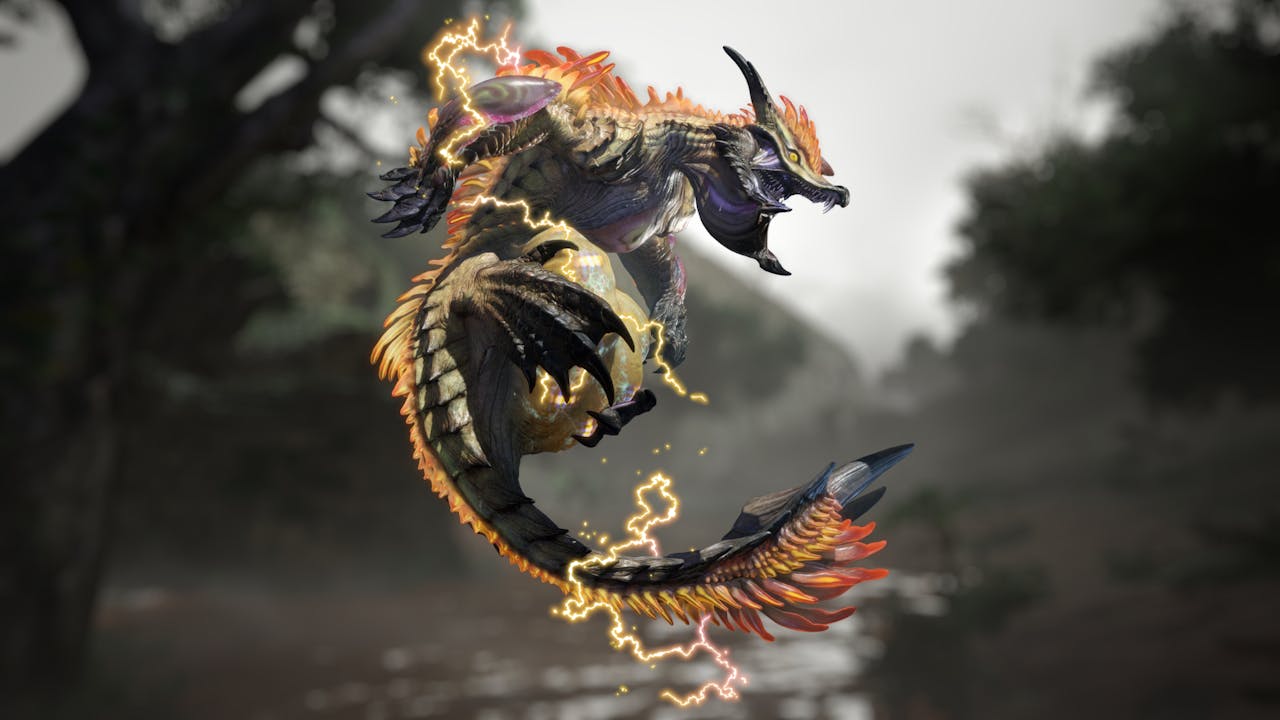 Type: Elder Dragon
Elemental damage: Thunder (Thunderblight / Stun)
Weakness: Dragon / Ice
About: Known as the 'Lady of Lightning', Thunder Serpent Narwa is the female Elder Dragon to Wind Serpent Ibushi and is based on the Japanese thunder god, Raijin. Its double jaws with sharp multiple teeth, and electrical organs that produce electromagnetic that lifts the serpent airborne, make it a dangerous and agile monster to face.
When fully enraged, it can unleash a powerful energy beam followed by a massive electromagnetic pulse that covers a large surface area, dealing massive damage - however, this can be avoided or interrupted if you deal enough damage to her before she strikes.
It is presumed that Thunder Serpent Narwa can use electromagnetic waves to locate a Wind Serpent Ibushi in order to begin its mating ritual, consuming Ibushi's bioenergy to seemingly fertilize its eggs. By doing so, it consumes enough bioenergy to transform into its evolved state... Narwa the Allmother!
Hunters will need to focus on breaking the Thundersacs attached to Thunder Serpent Narwa's belly in order to ground it, weakening its elemental attacks.
Narwa the Allmother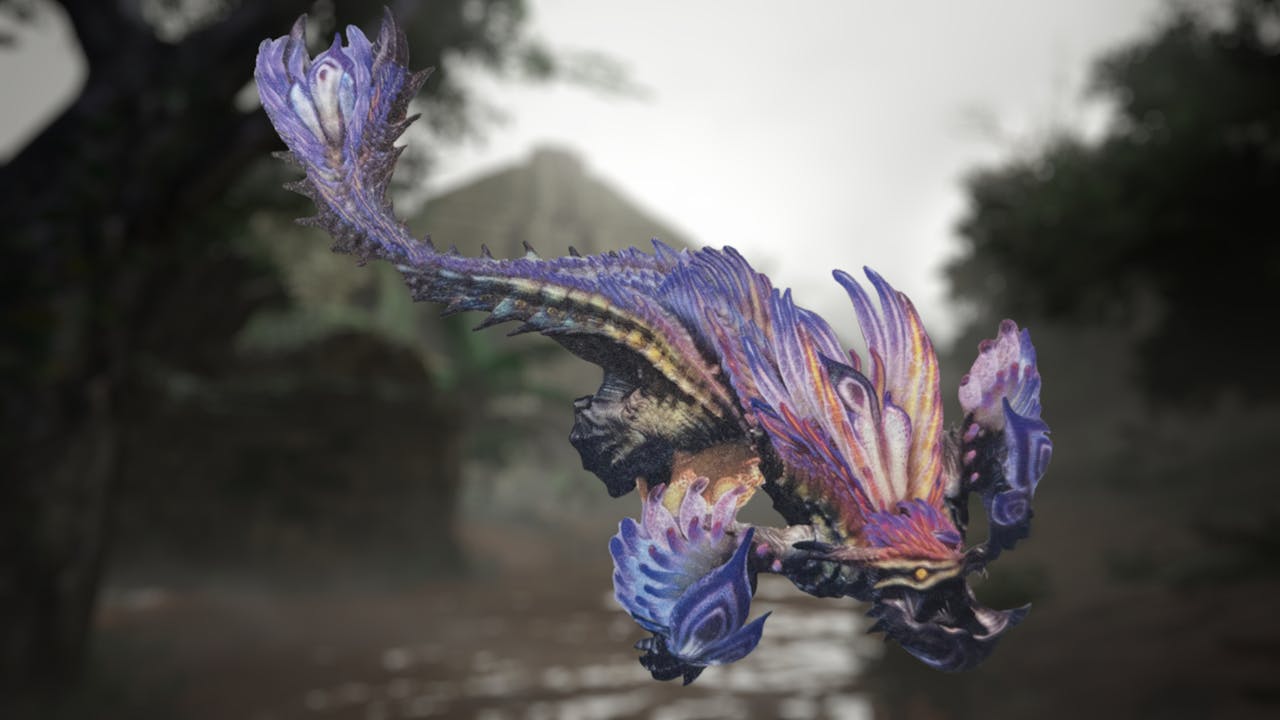 Type: Elder Dragon
Elemental damage: Thunder (Thunderblight)
Weakness: Dragon / Ice
About: Oh yikes, she's evolved! Narwa the Allmother is the upgraded variant of Thunder Serpent Narwa, now sporting bright purple skin across her body as a result of absorbing Wind Serpent Ibushi's bioenergy.
It can summon large rings of electricity that spread across a wider range of the battlefield, as well as being stronger and faster. From consuming Ibushi, it can also now summon strong gales to suck Hunters up into a mini vortex or throw them away.
Occasionally, Narwa the Allmother summons floating platforms which you'll need to climb onto to avoid its devastating long range ground attacks, so make haste!
A sound strategy is to monitor her stance and predict what attack she's about to release, as well as attacking the parts of her body that have stored up large portions of energy.
Tigrex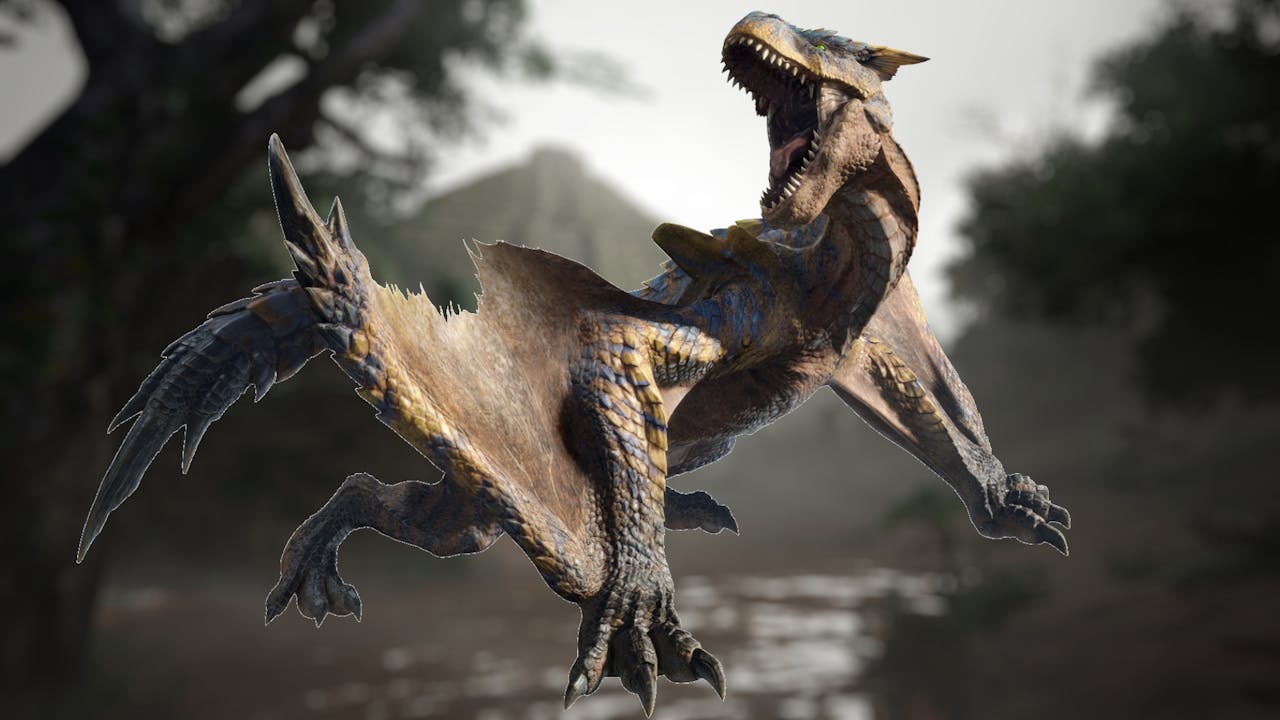 Type: Flying Wyvern
Elemental damage: (Fire / Water / Ice / Dragon - dependant on terrain)
Weakness: Thunder / Dragon
About: With its its muscular head and jaws, and powerful limbs with wings attached to the forelegs, Tigrex is a fierce beast that piles on the pressure with agility and strength. Though it doesn't fly, it will often glide across small areas, and often performs a relentless charge attack when in battle.
Its powerful lungs allow to perform a high powered roar which can daze Hunters and leave them open to attack. It can also toss boulders with its forelegs, a sweeping tail attack, and perform consecutive leap attacks.
Take advantage of its charge attacks by standing near a wall and, when evading at the right moment, will result in Tigrex biting the wall and becoming temporary stuck. It will also tire from these charge attacks, so take advantage when it takes a breath.
Using the Earplugs skill will also prevent Tigrex from overthrowing you with its roar and disrupting your attacks. Many Hunters aim for the tail and rear area of the body to avoid the chomping mouth, but be cautious of its swipe attacks when doing so.
Tobi-Kadachi
Type: Fanged Wyvern
Elemental damage: Thunder (Thunderblight)
Weakness: Water
About: Known as the 'Flying Thunder', Tobi-Kadachi appears as a squirrel-like monster with a snake-like head, with both scales and fur covering its body. The fur and spikes on its back, tail and legs can produce static electricity from movement, allowing it to produce powerful thunder attacks.
Using its surroundings, it can leap onto trees and nearby walls and uses its skin from its forelegs as wings to perform a glide and somersault tail attack. If it manages to cling on a surface for an extended period of time, it will go into its overcharged state - which means that its attacks are much more lethal.
Using traps will help immobilize it, as well as using Flash Pods to dazzle it from clinging to walls. Above all, damaging its limbs, head and tail to reduce its static build-up is of the upmost importance.
Crimson Glow Valstrax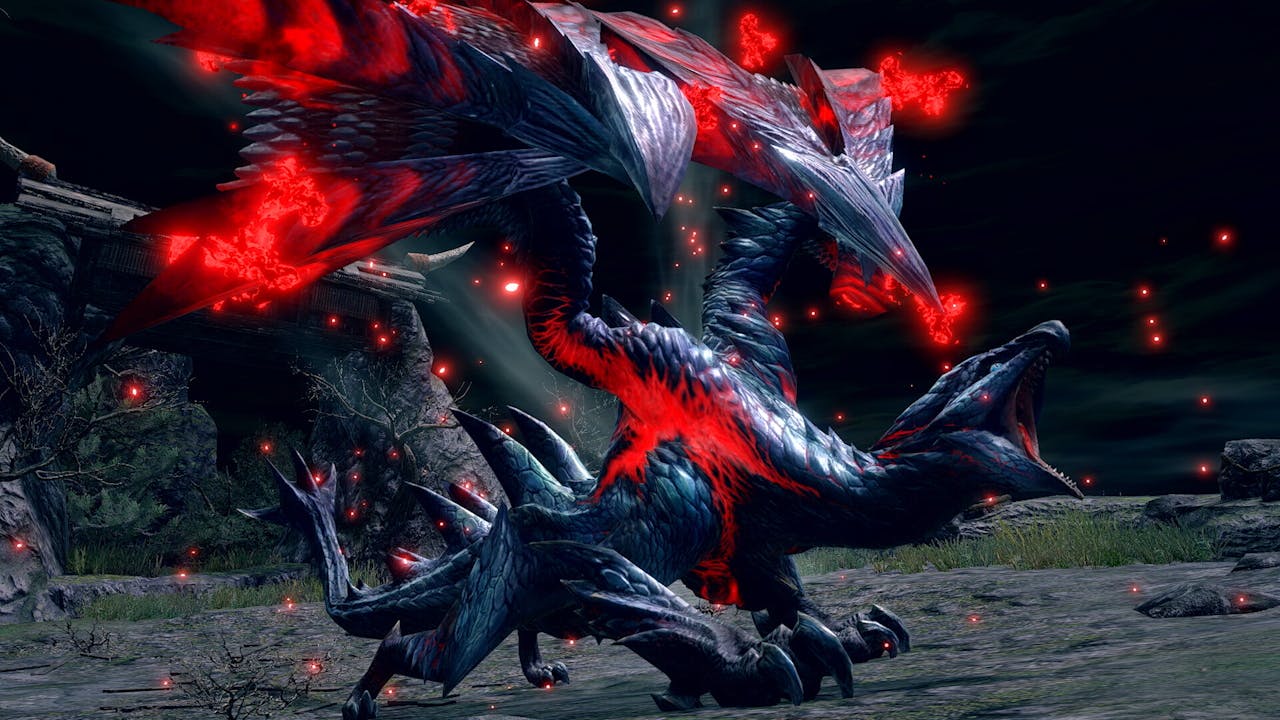 Type: Elder Dragon
Elemental damage: Dragon (Dragonblight)
Weakness: Fire / Thunder / Water / Ice
About: Soaring like a rocket-powered craft, Elder dragon Crimson Glow Valstrax AKA 'Sky Comet Dragon' is a fearsome monster that channels energy from its chest into its wings, giving it a distinct glowing red look and dangerous long range attack.
Driven mad by its own rampant energy, it lashes out at anything in its sight. It swoops down at its target, trampling them beneath its shifting wing blades.
Its rocket dash and draconic energy beam pose a threat to even the most experienced of Hunters. A critical method of dealing heavy damage to Crimson Glow Valstrax is to strike its chest during the brief moments where it's channelling its energy to its wings - which will cause said energy to combust and potentially topple this foe.
Its weak tail is also an easy hit point... and don't forget to bring plenty of Nulberries!
Volvidon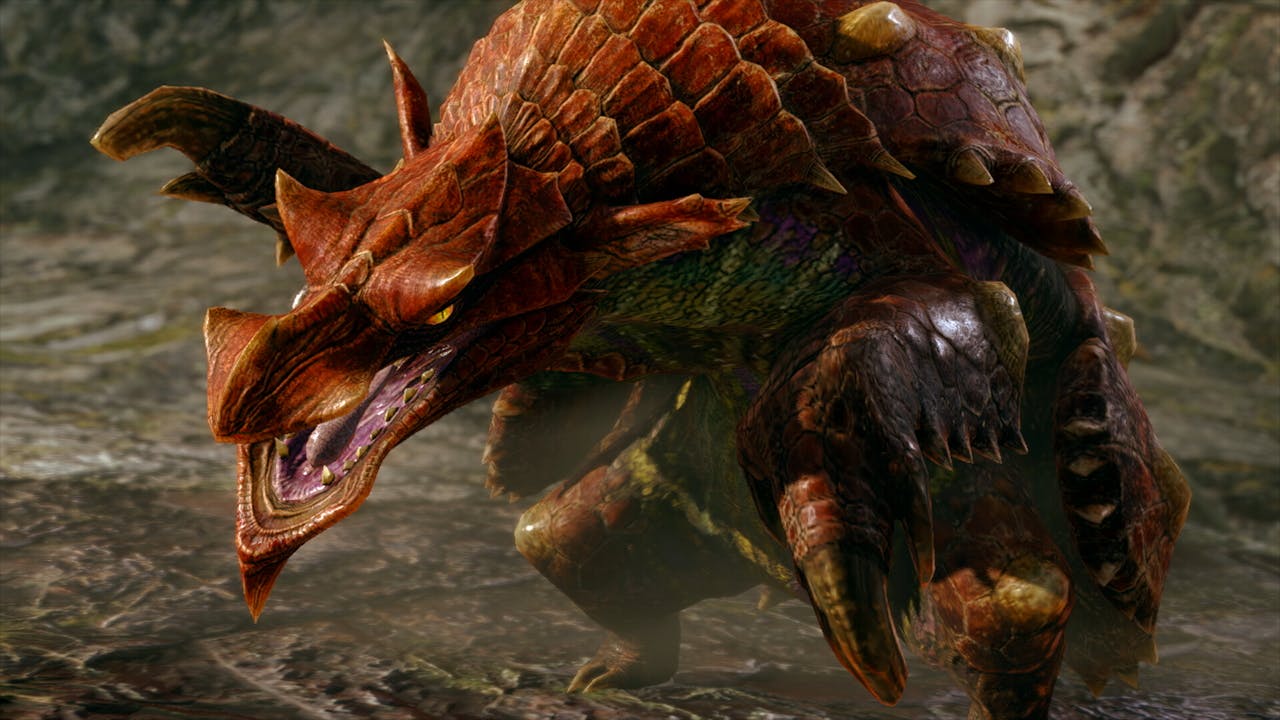 Type: Fanged Beast
Elemental damage: Thunder (Paralysis / Soiled)
Weakness: Water
About: Just a bit larger than an Aptonoth, Volvidon is an armored beast that can curl into a ball and roll at enemies, in an attempt to crush them. It also has an extremely long, chameleon-like tongue which is covered in sticky saliva, which can be used to pull Hunters in to deal close range attacks.
One of its other nasty habits is the ability to spit a paralyzing liquid that inflicts Soiling with a foul odor. Though this monster isn't found looking for trouble, it will turn aggressive should it be provoked.
Breaking its tough armor shell will help weaken it, and its tongue can be attacked and damaged too during its attempts to perform a paralyze attack. Volvidon's roll can be interrupted with a well-timed hit, and its low stamina makes it an easy target when catching its breath.
Wind Serpent Ibushi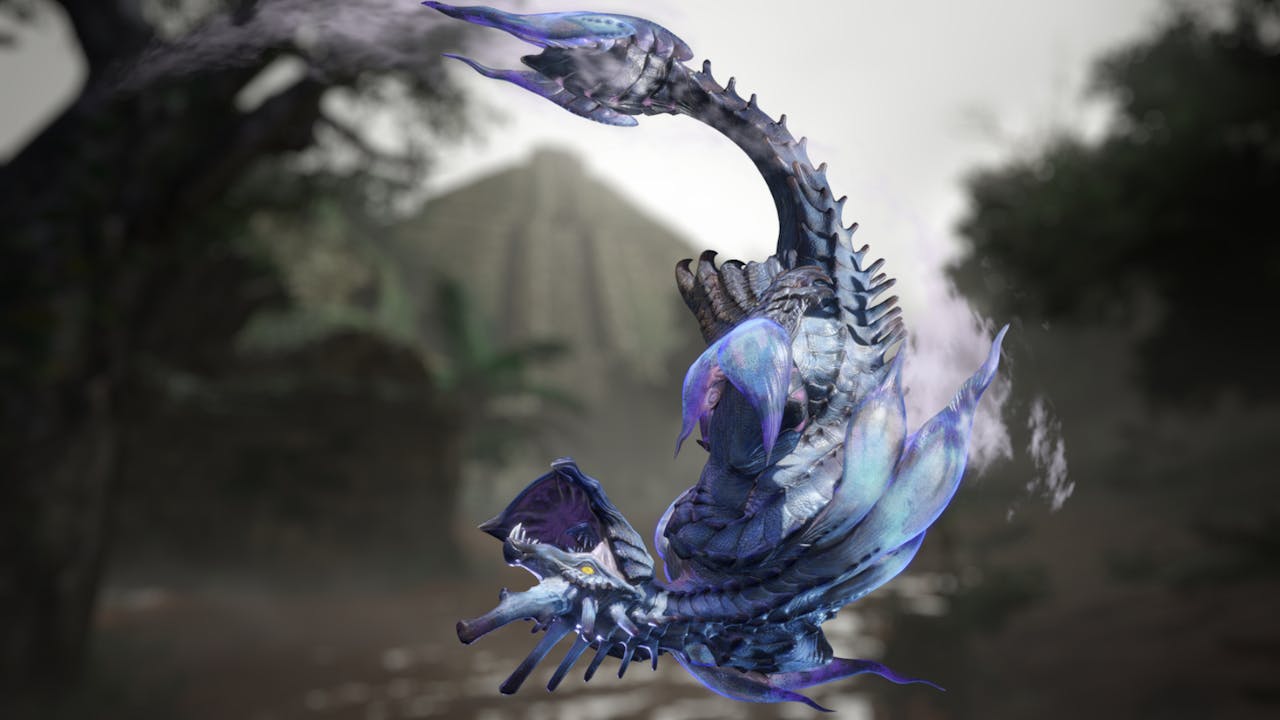 Type: Elder Dragon
Elemental damage: Dragon (Dragonblight)
Weakness: Dragon / Fire
About: We've briefly mentioned this Elder Dragon above in our rundown of Thunder Serpent Narwa, but now it's time to focus on Wind Serpent Ibushi. The 'Breath of Ire' has a leviathan-like body with short, paddle-like hind legs and a long tail - and is based on the Japanese wind god Fujin.
Much like its female counterpart, it features multiple sacs across its body on the forelegs, back, chest, and tail - which collects and stores wind energy allowing it to float. It's capable of spreading large amounts of dragon element into the ground, causing unnatural windstorms which can startle and scare other monsters into fleeing.
It can send out orbs of dragon element infused wind from its tail, as well as causing air explosions from the wind sacs on its arms. Combine that with shooting a beam of energy from its mouth, creating powerful tornadoes and throwing large rocks, and you'll understand what a tough opponent this is.
The obvious methods of dealing heavy damage are via the Splitting Wyvernshots cannon and Dragonator, as well as using Wyvernfire Installations and bombs by the gate as it spends most of the battle around this area. Using the Counter Signal will also benefit you and any fellow Hunters by boosting morale/attack power in order to land bigger hits.
Zinogre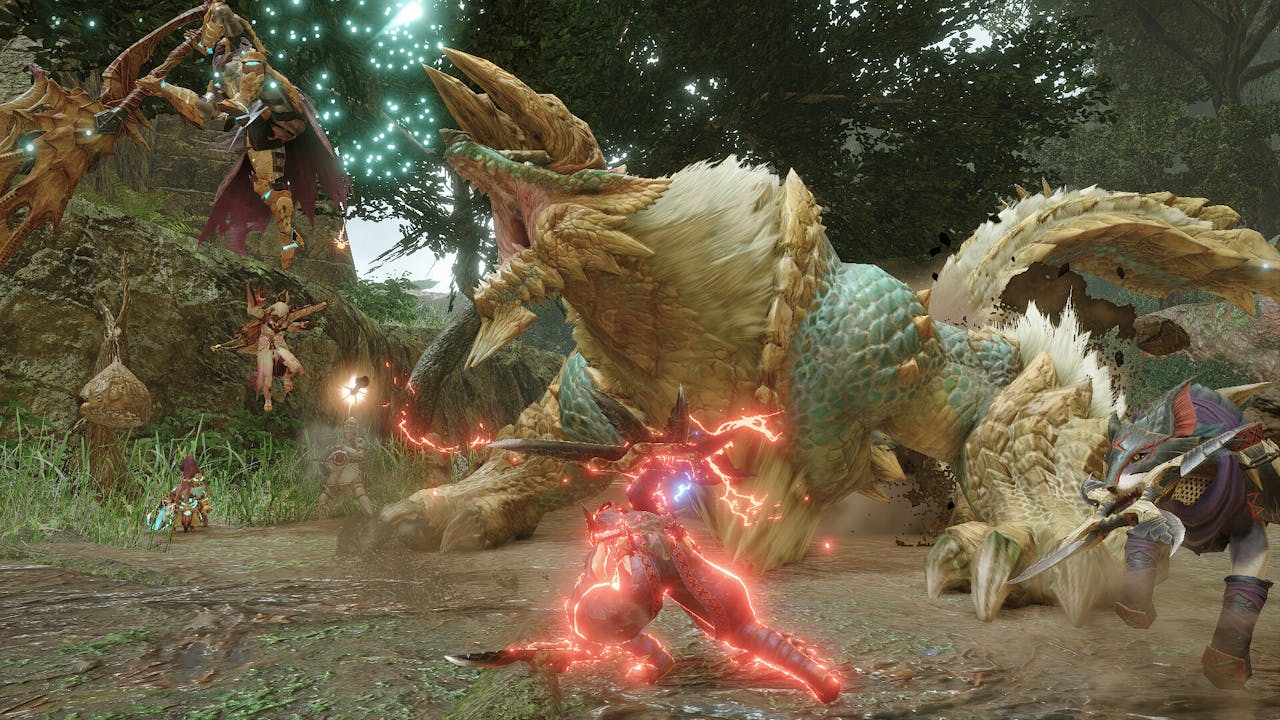 Type: Fanged Wyvern
Elemental damage: Thunder (Thunderblight)
Weakness: Ice
About: Zinogre is a supercharged beast that channels electricity through its fur, creating powerful attacks including Thunderblight. It uses a mixture of aerial and land-based maneuvers to attack, primarily with its claws and fangs.
It can charge itself by summoning nearby Thunderbug and utilizes their natural electrical abilities which causes its claws to emit blue light. This charge has two stages, the second obviously makes Zinogre more powerful, and can be identified by its fur standing on end in spiked clumps.
Its large, muscular limbs mean that even if its thunder-based attacks haven't charged, you can still sustain heavy hits. The thunder element to Zinogre's attacks are its main showstoppers, so breaking the build-up chain before it charges can help keep its powers low as well as its aggression.
Study its movement and close range attacks to know when to evade its shoulder drop move and swipes.
Apex Zinogre
Type: Fanged Wyvern
Elemental damage: Thunder (Thunderblight / Paralysis)
Weakness: Ice / Water / Fire / Dragon
About: Sporting yellow fur as opposed to its standard variant more beige/white fur, Apex Zinogre is a souped-up and much meaner version. It can perform new moves including a standard and electric-powered forward flip, followed by a claw slam, as well as bringing the pain with lightning showers.
Unfortunately, the only way to hack this beast down is to give it everything you've got in order to get rid of its enraged state and steady its temper to even the fight. Swing, shoot and hack its tail limbs and head to break its electric-channelling parts.
---
---
Share this post