Monster Hunter Stories 2: Wings of Ruin Deluxe Edition - What's included
Slash through Monsties with the follow-up to the 2016 Monster Hunter Stories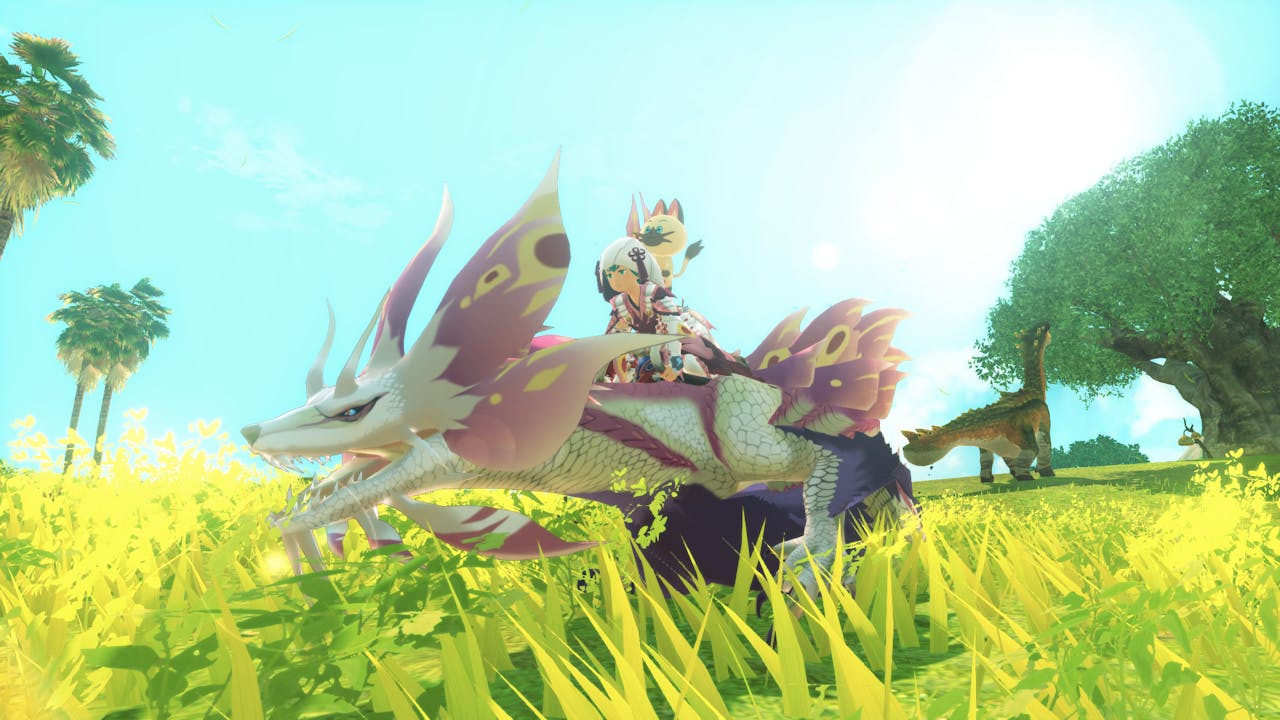 Monster Hunter Stories 2: Wings of Ruin Deluxe Edition a new adventure awaits you in this second installment of the turn-based RPG series set in the world of Monster Hunter!
After Monster Hunter: World's Steam release helped the title become one of CAPCOM's biggest ever games, the franchise is back with a spin-off that takes the combat in a different direction to the hack and slash in World. However, this doesn't mean the game won't be another smash-hit for fans of the franchise with new allies, a Felyne pal, and a dangerous Rathalos accompanying you on a journey to take down Monsties with unique abilities.
The base game (of course)
Monster Hunter Stories 2: Wings of Ruin, launching on July 9th, features turn-based strategic combat - much like other popular game franchises such as Final Fantasy.
The game takes place on Hakolo Island, a place where all of the Rathalos creatures have suddenly started disappearing. You'll be taking on the role of a young adventurer who is the descendant of a legendary Rider called 'Red'.
When embarking on your journey to learn more about what it takes to be a true Rider, you encounter a mysterious Wyverian girl called Ena, who previously knew your grandfather and has been entrusted with a rare Rathalos egg. While investigating the environmental abnormalities that have shook the island, the egg hatches - revealing a flightless Rathalos with unique markings and black wings. But it's not a nice Rathalos as this particular one is said to "bring ruin to the world in time".
Your character and the rare Rathalos form a strong bond, and together you'll encounter mysteries and plenty of battles along the way. With your Grandfather's Kinship Stone meaning you'll be able to activate special Kinship moves with your Monsties.
Some monsters making an appearance from World, Iceborne and previous entries in the hugely popular franchise include Diablos, Barioth, Anjanath, Nergigante, and Rathian.
For veterans of the previous games in the mainline series, you'll no doubt have been battered, bruised, and burnt by each monster's unique set of attacks and battle strategies. It'll be no different in Monster Hunter Stories 2, each 'Monstie' will have a set of attacks that it can unleash. However, as part of the story, you'll come across mysterious pits that emit bright beams of light from the ground,and within these pits are 'Rage-Rayed Monsters'- which are basically beasts that have become overly aggressive to anyone or anything they come into contact with. They also have beaming red eyes and possess unruly strength when affected by the Rage Rays,
Deluxe goodies to enjoy
As well as the base game, Monster Hunter Stories 2: Wings of Ruin Deluxe Edition includes awesome additional content:
Ena's Outfit: Kuan Coat - A new look for Wyverian character Ena, a girl who will accompany you on your journey.
Rider's Layered Armor: Razewing Armor Alpha & Beta - Epic armor for your player that'll make you look even more badass as you slay monsters. These do not include any weapons.
Rider's Hairstyle: Spiky Nergal - A new hairstyle for your player to give you more personalization than before.
Navirou's Outfits: Nergigante and Pukei-Pukei Costumes - Cute outfits for your Felyne friend, based on two of the Monster Hunter franchises' most popular monsters - Negigante and Pukei-Pukei.
Sticker Sets: Adventure Buddies 2 & 3 - Two packs of sticker sets of your in-game buddies to use.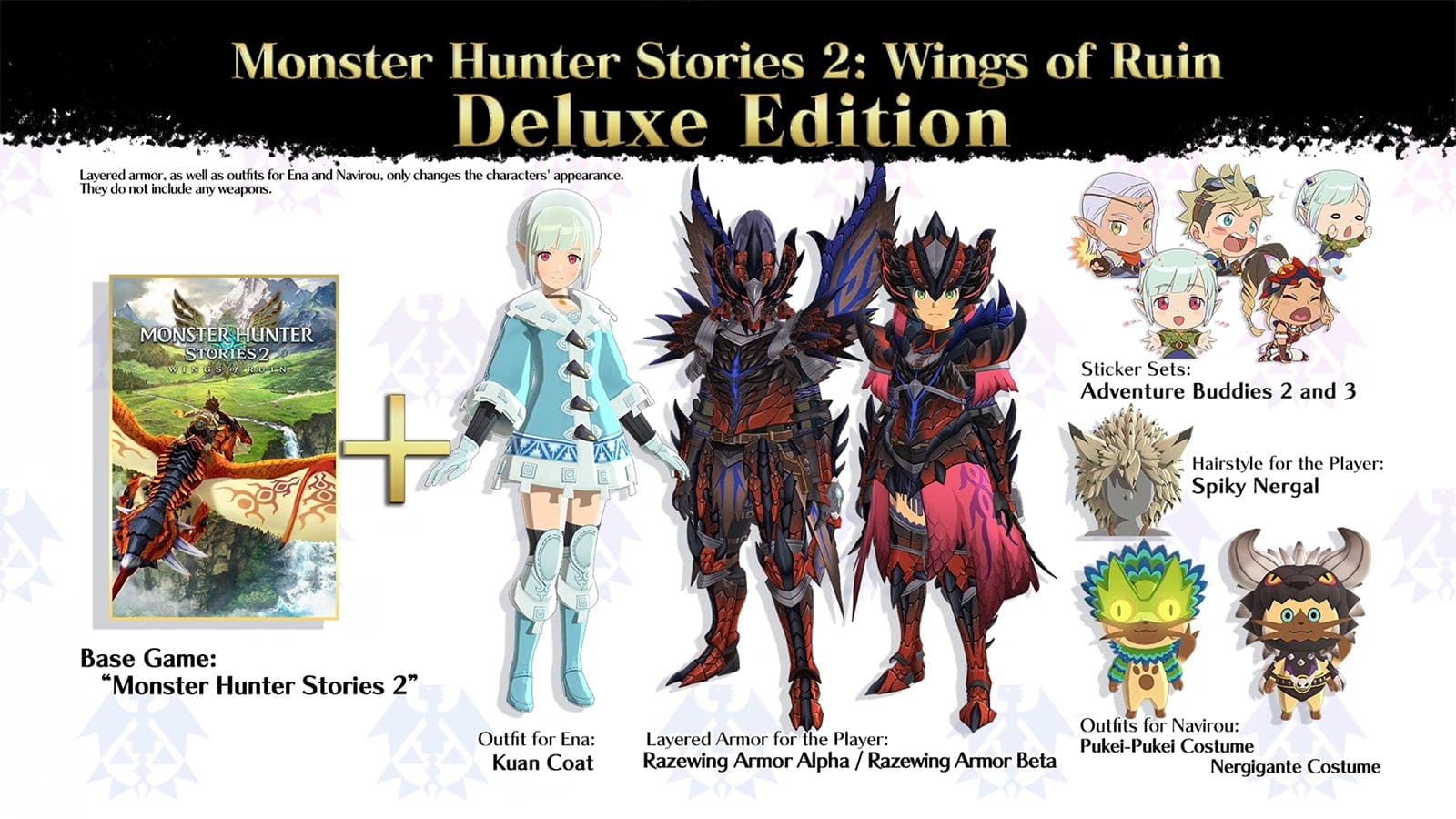 ---
---
Share this post