Monster Hunter World: Iceborne - New large monsters confirmed so far
Gigantic beasts arriving in the expansion for Capcom's hit action RPG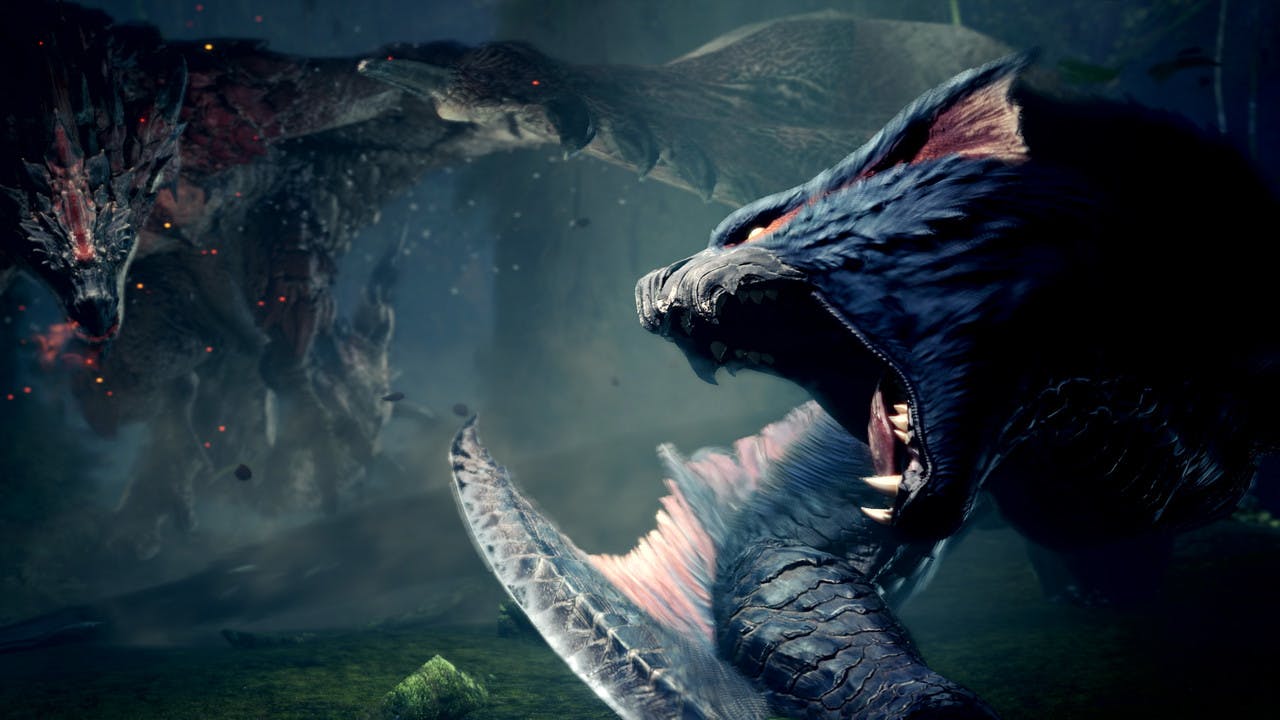 Get ready to explore a brand-new ecosystem in the critically-acclaimed Monster Hunter: World with your highly-anticipated Iceborne expansion Steam PC key!
Monster Hunter: World - Iceborne arrived on console in September 2019 and January 2020 for Steam PC, introducing exciting new features for the multi-award-winning action RPG from Capcom.
The Hoarfrost Reach is home to never-before-seen monsters, as well as creatures from previous entries in the Monster Hunter franchise who have yet to make an appearance in the New World. A good number of new monsters are set to appear in the expansion, which is the largest area of the ecosystems so far, from dog-sized to gigantic creatures.
Here, we look at the large monsters that have been confirmed so far in Monster Hunter: World - Iceborne.
Velkhana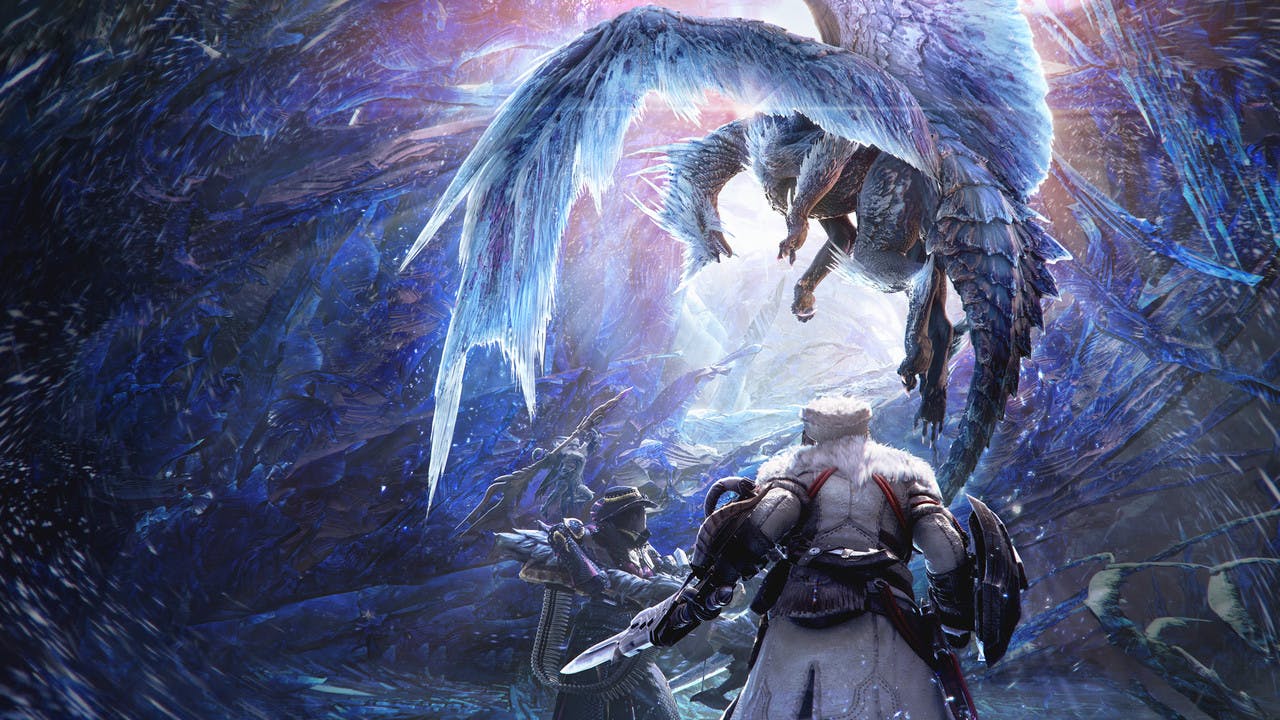 Type: Elder Dragon
Elemental Damage: Ice
The new antagonist for the Iceborne expansion - get ready for Velkhana!
A cross between Rathalos and Legiana, this dangerous foe can produce huge blasts of ice that will make Hunters think that they've somehow ended up between Kushala Daora's Wind aura and Xeno'jiiva's high power beams.
Velkhana can produce an icy spray across the ground which imprisons Hunters for a short period of time, as well as turning fog into ice with it breath. A neat feature to look out for is the slight change in its armor, with the female sporting an icy crown on its head.
Banbaro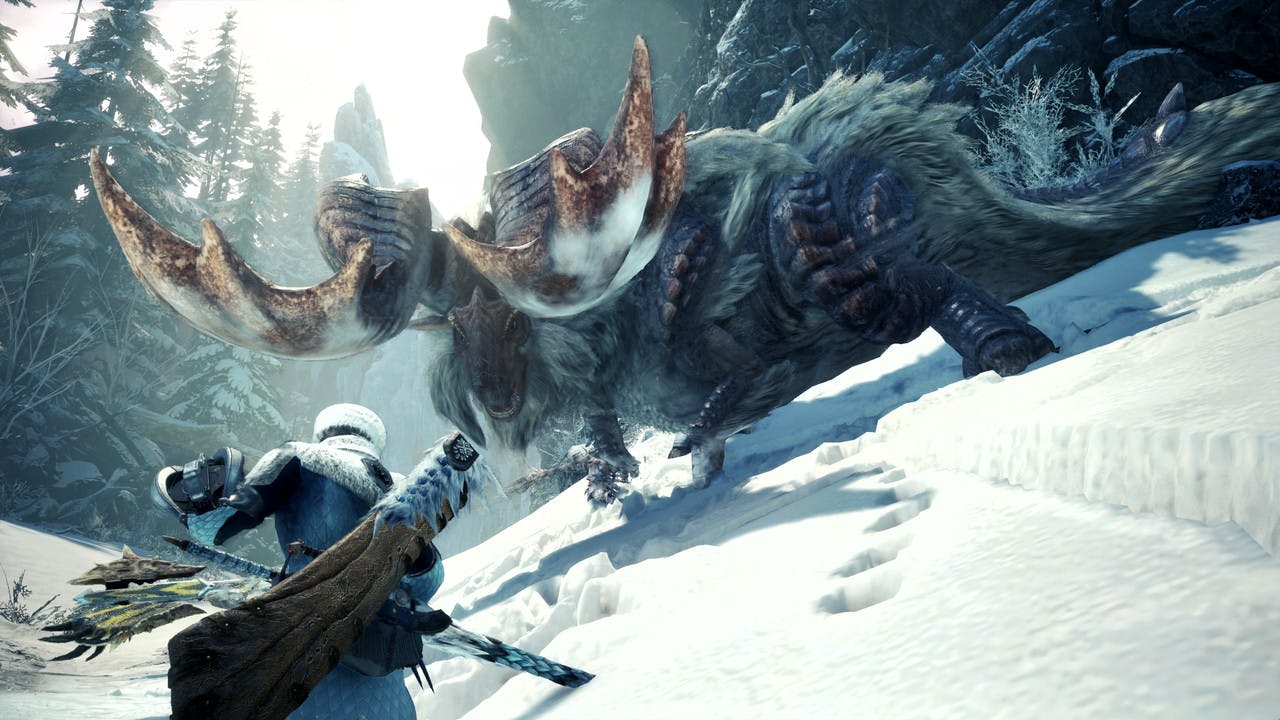 Type: Brute Wyvern
Elemental Damage: Ice
Banbaro is a brand-new monster and was one of the first to be showcased during Capcom's dev reveal of Iceborne earlier this year. It has two giant horns which it uses as a method of attack, often charging at Hunters or using them as a way to scoop up fallen trees or boulders before flinging them towards its foes.
Banbaro can inflict Iceblight if it hits you with its boulder/tree attack.
Nargacuga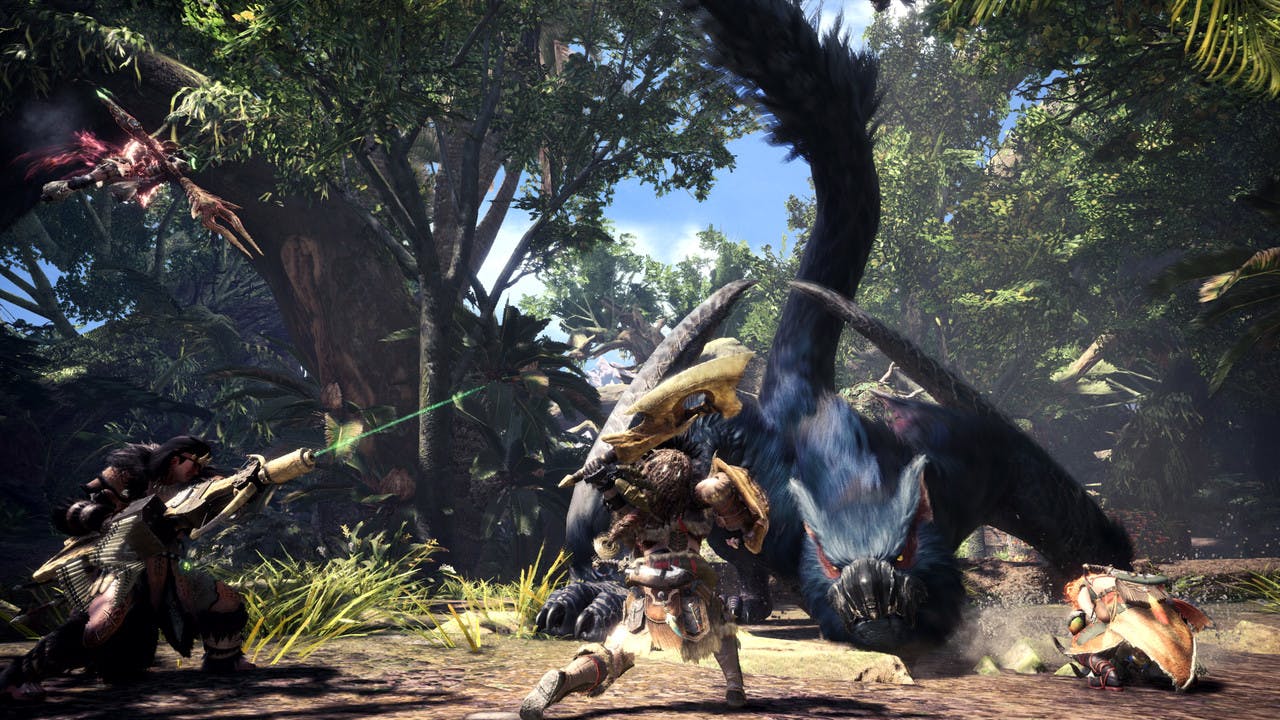 Type: Flying Wyvern
Elemental Damage: Unknown
Nargacuga first appeared in Monster Hunter Portable 2nd G / Monster Hunter Freedom Unite and has since appeared a number of Monster Hunter games, so it's no surprise that the powerful winged beast has made its way to the New World.
Hunters will most likely bump into Nargacuga in the Ancient Forest, though it may travel to other locations including Hoarfrost Reach. As well as being swift, Nargacuga has bladed wings and a spiked tail that it uses to inflict damage, as well as a sharp beak-like mouth for biting.
It's element type is unknown, but from previous games in the franchise we know that the ailments used were bleeding (MHWI) and poison (FrontierGen) effects - however, these correspond with rare versions of Nargacuga, so we might not see those types in MHW.
Beotodus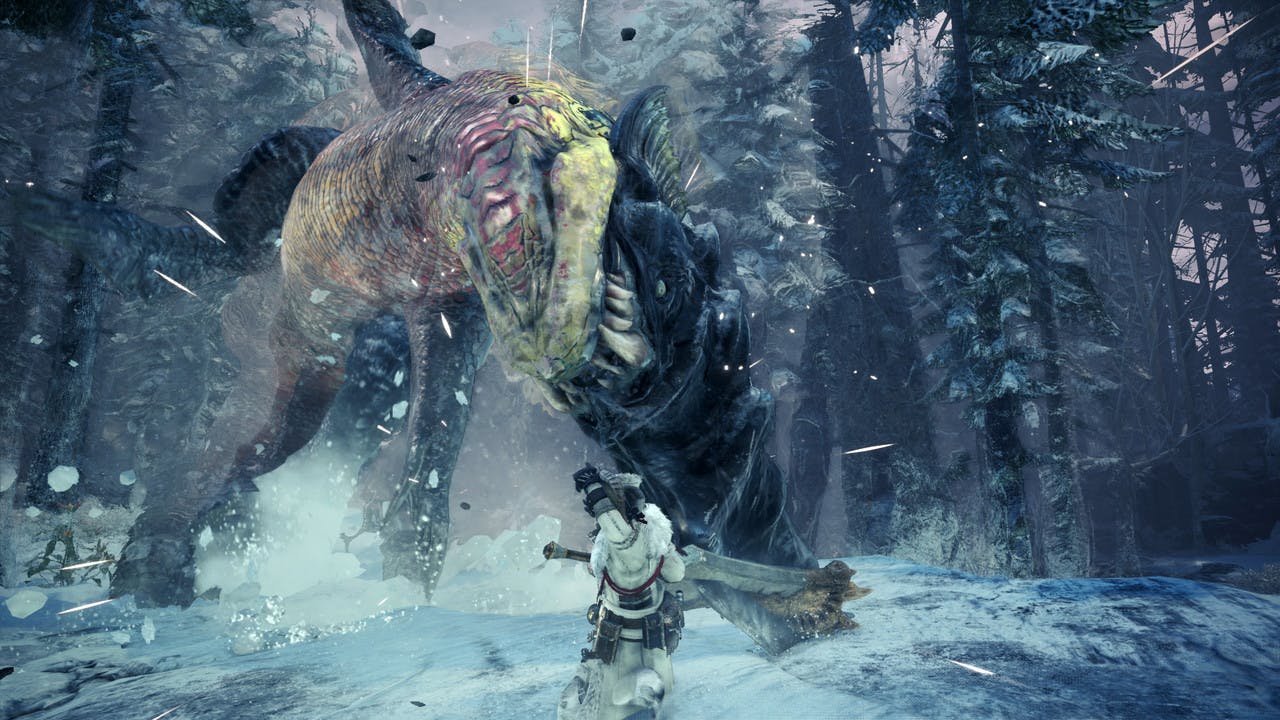 Type: Piscine Wyvern
Elemental Damage: Ice
Beotodus is a new monster that appears in the Hoarfrost Reach. It looks and behaves very similar to the Jyuratodus and Lavasioth that appear in Monster Hunter: World.
It has already claimed the nickname 'snow shark' as it burrows under the ground and has a fin that pierces up through the snow as it moves, which is helpful for Hunters during battles. Beotodus will often burrow into deep snow, which makes it difficult for Hunters to move quickly and leaves them open to attack - however, using Sonic Bomb attacks will help bring it to the surface.
Beotodus' main attacks cause ice damage, with some of its attacks (most like spitting or throwing large pieces of ice) causing Iceblight.
Shrieking Legiana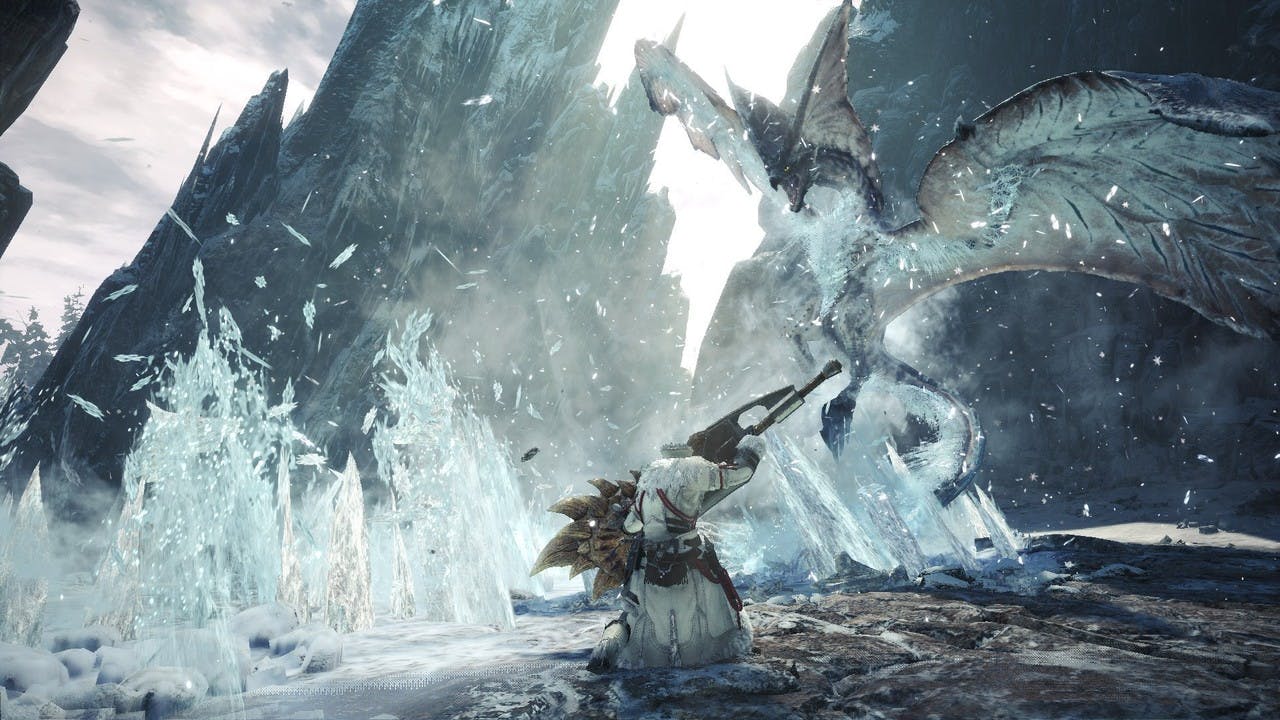 Type: Flying Wyvern
Elemental Damage: Ice
So, it's basically the Legiana seen in Monster Hunter: World but it...shrieks more?
Seriously though, the Shrieking Legiana is almost identical to the 'original' Legiana except for the fact that it has black coloration instead of blue. In addition, its chest, tail and and wing patterns are covered with spiky ice.
Same as Legiana, Shrieking Legiana's causes Ice damage, and its wing attacks cause Iceblight. With the two types of Legiana being very similar, Hunters will already have the upper hand in preparing for a fight when entering the Hoarfrost Reach.
Use weaponry that focuses elemental power on Fire and Thunder/Electric, and you should be good to go!
Barioth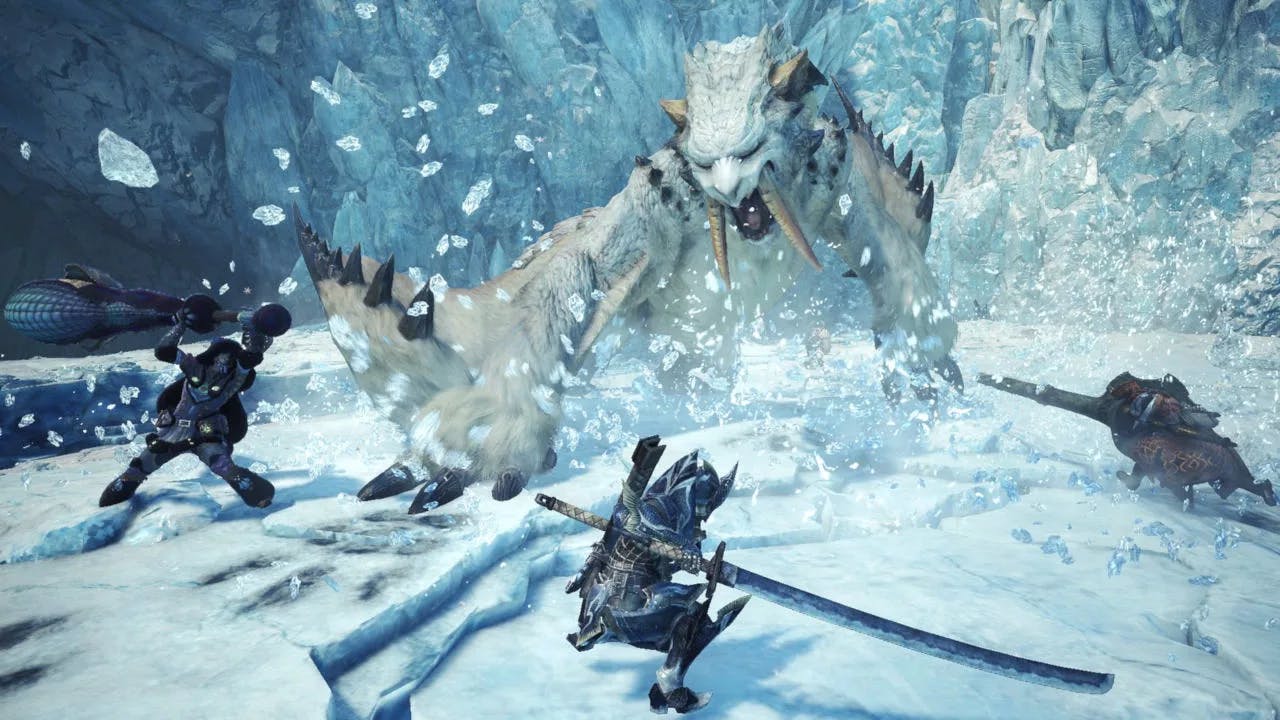 Type: Ice Tusk Wyvern
Elemental Damage: Ice
It first appeared back in the 2010 release Monster Hunter 3 and has since made a number of appearances throughout the franchise. Now, Barioth is back, and it's made the Hoarfrost Reach its new home.
A dragon-like beast with the head of a Saber-toothed tiger, Barioth has a roster of attacks to use against hunters. It can use its fangs and claws to slide around on ice to make it harder to hit, as well as using these in glide attacks.
Barioth also uses its tail like a hard-hitting club,, which causes Iceblight, and spits out an ice ball that creates a powerful tornado... no pressure, right guys?
Tigrex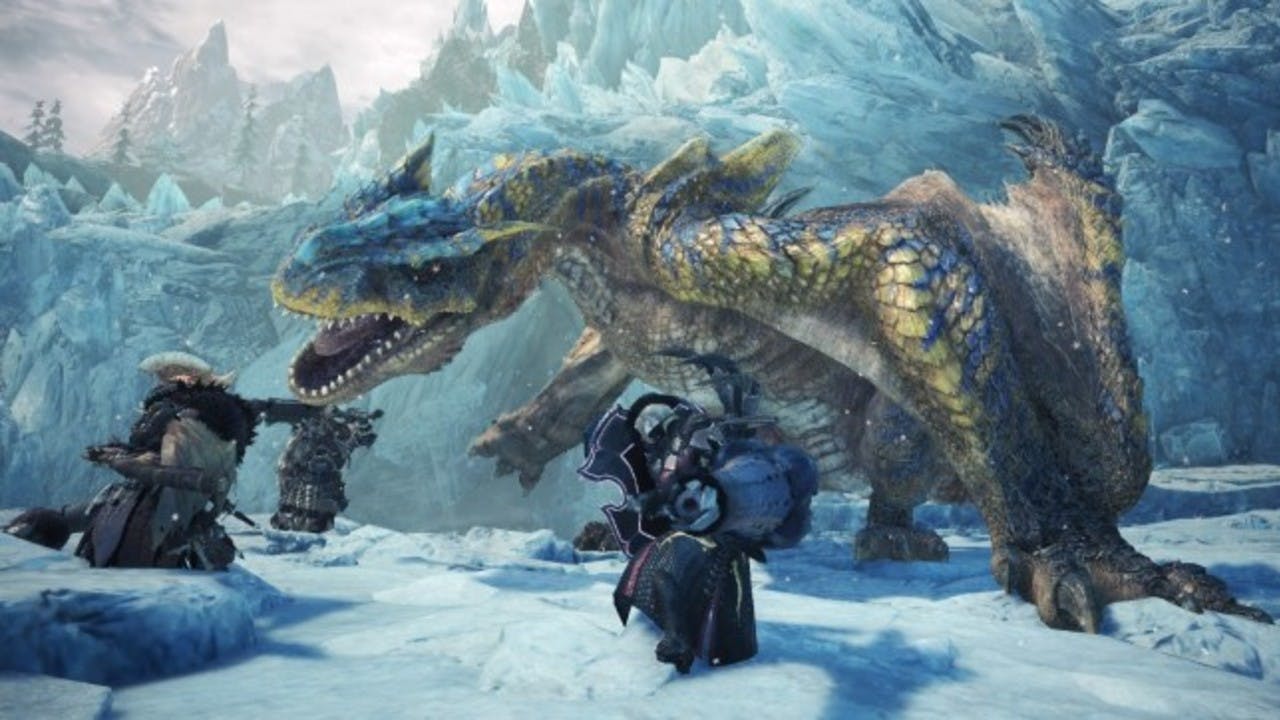 Type: Flying Wyvern
Elemental Damage: Unknown
Another popular monster from the franchise returns with Tigrex, who first appeared in 2007's Monster Hunter Freedom 2. Its speciality is brute force, using its powerful wings that have formed into legs.
Despite no known elemental type, Tigrex can inflict Iceblight and Waterblight by throwing chunks of ice at enemies. It also prefers to glide and can use a supersonic-type roar to confuse Hunters and monsters alike.
As well as the Hoarfrost Reach, Hunters will also find Tigrex roaming in the Rotten Vale.
Fulgar Anjanath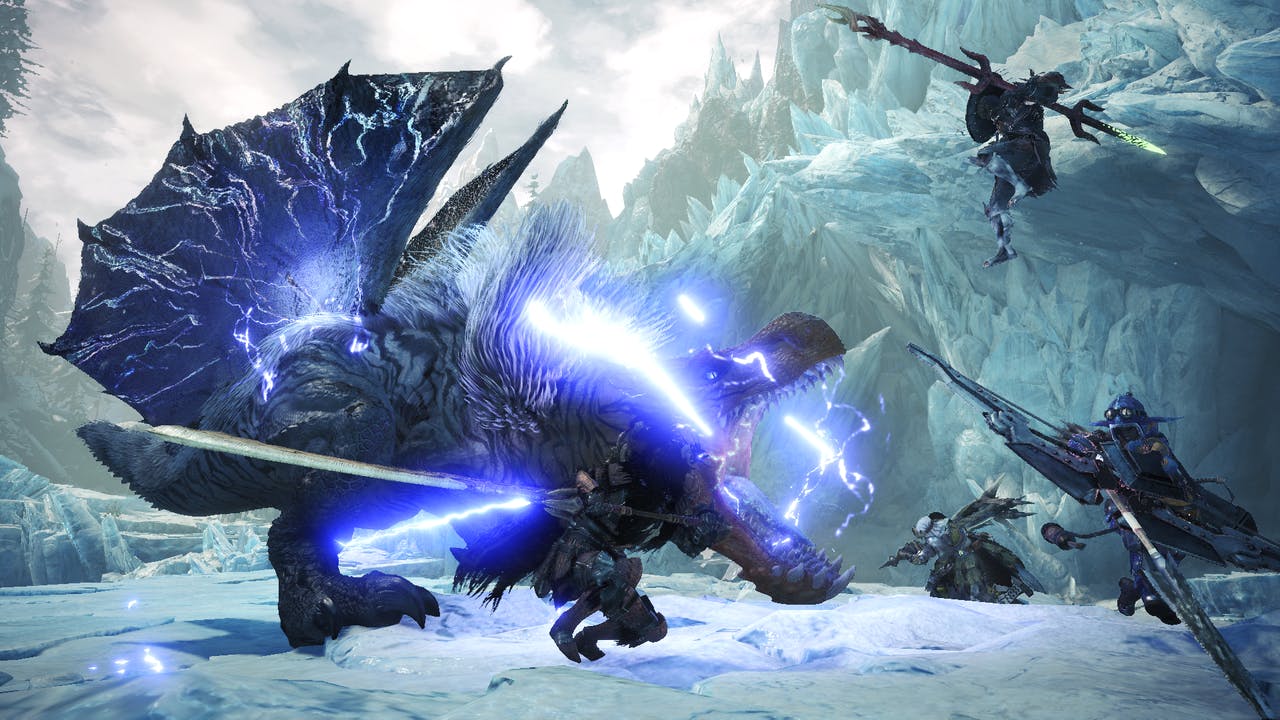 Type: Brute Wyvern
Elemental type: Unknown
Fulgar Anjanath is a sub-species of Anjanath, which appears in Monster Hunter: World and is commonly found in the Ancient Forest and Wildspire Waste. However, it looks as if the sub-species has found its way to the Hoarfrost Reach, and will prove to be a tricky opponent.
This species has a tiger-like print fur and conducts electricity to charge up its attack power. The devs have said that "finding a means to reduce its charge" will be key to success - based on the original Anjanath, we think that they're referring to its wing-type fans and bone headplate that appear when it's enraged.
With the Fulgar Anjanath using electric/thunder to charge its power rather than use it as an element, it's not clear whether it's actually confirmed as Thunder or rather a 'Fire-Thunder' type.
From the trailer, it looks as if it still uses the Anjanath's fireball attack from its mouth, but the fireballs are super charged and appear as blight white balls of energy.
Ebony Odogaron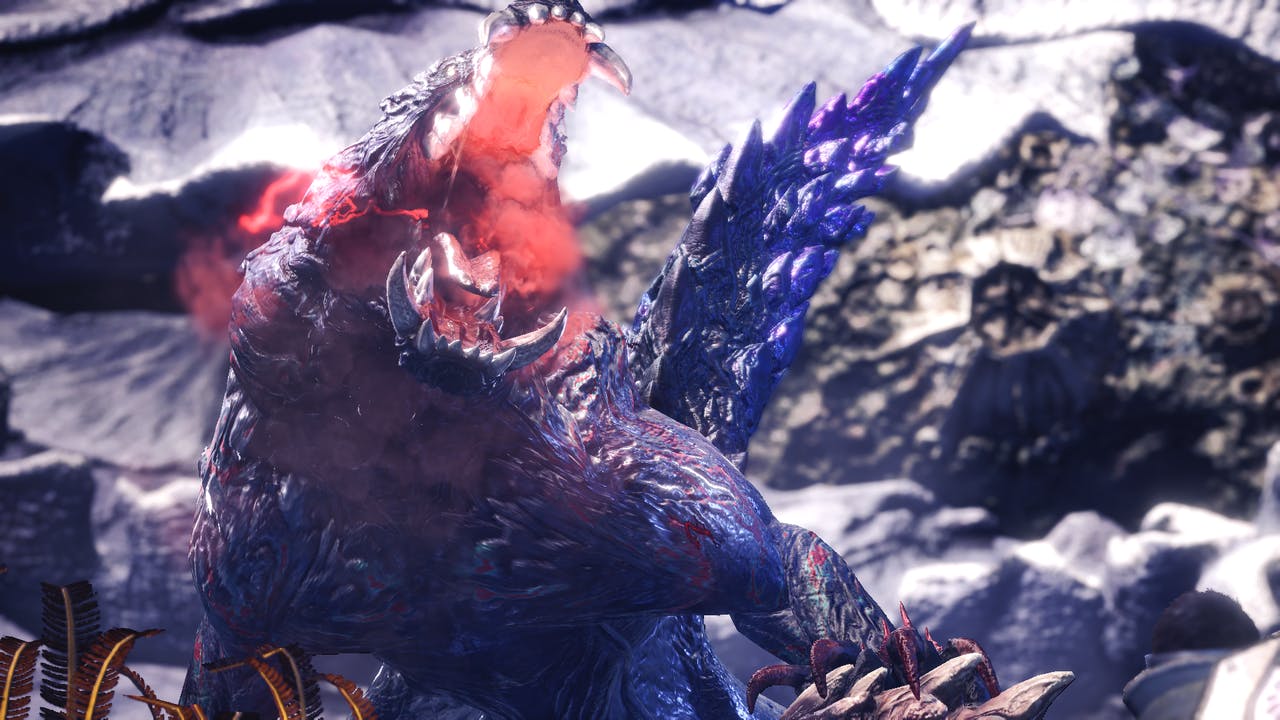 Type: Fanged Wyvern
Elemental Type: Unknown (Dragon...ish)
A sub-species of Odogaron, Ebony Odogaron features reverse colors of its predecessor (more black than red) with a hint of blue along its tail. It carries its prey in its mouth when hungry, which means that the creature is in an almost constant powered-up state.
Ebony Odogaron also has an affinity to the Dragon element and can reduce the elemental power of a Hunter's weapon if hit by its attacks.
Glavenus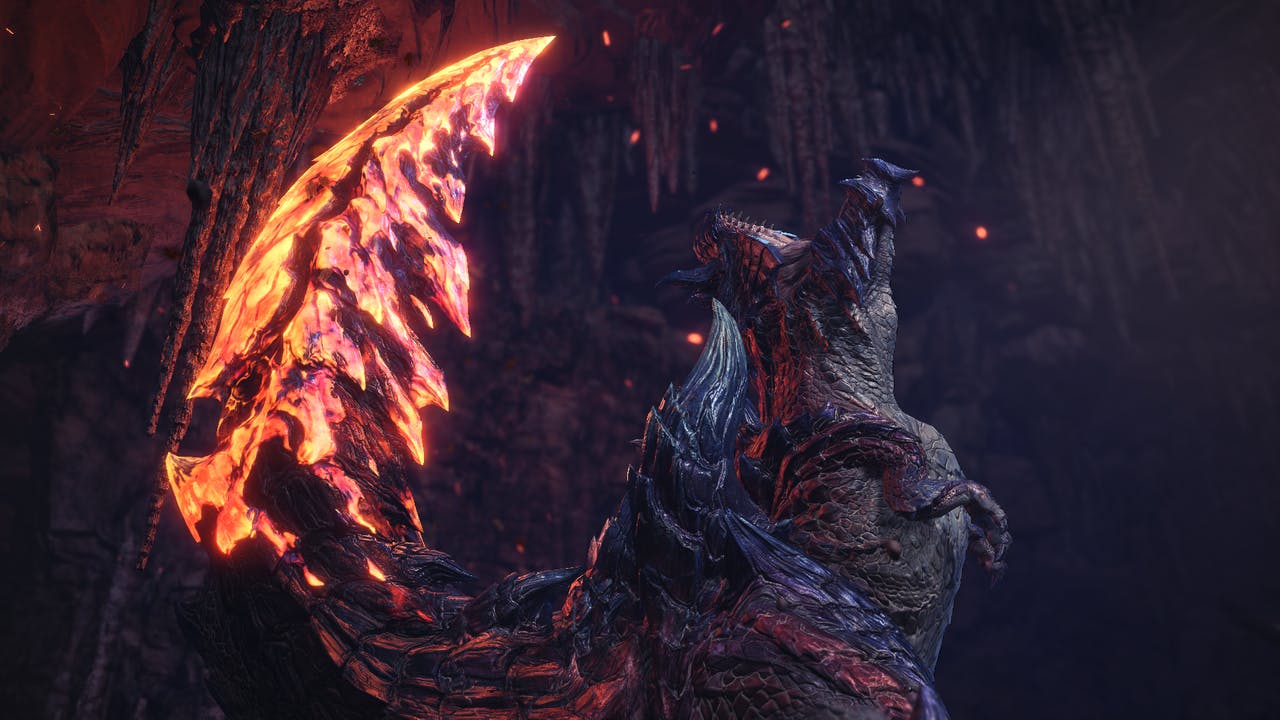 Type: Brute Wyvern
Elemental Type: Fire
It was first teased in the previous Iceborne trailer when players recognised the flaming tail swipe across the screen, and now, Glavenus has been officially confirmed. First seen in Monster Hunter Generations, this Brute Wyvern has blue and red scales and a giant tail shaped like a Great Sword.
Its tail varies between being blunt and a sharpened elemental state when seen glowing. When you see it drag its tail across its teeth, it's time to get ready to dodge!
In addition, Glavenus can also use its Fire element to charge up projectile attacks, which it fires from its mouth.
Acidic Glavenus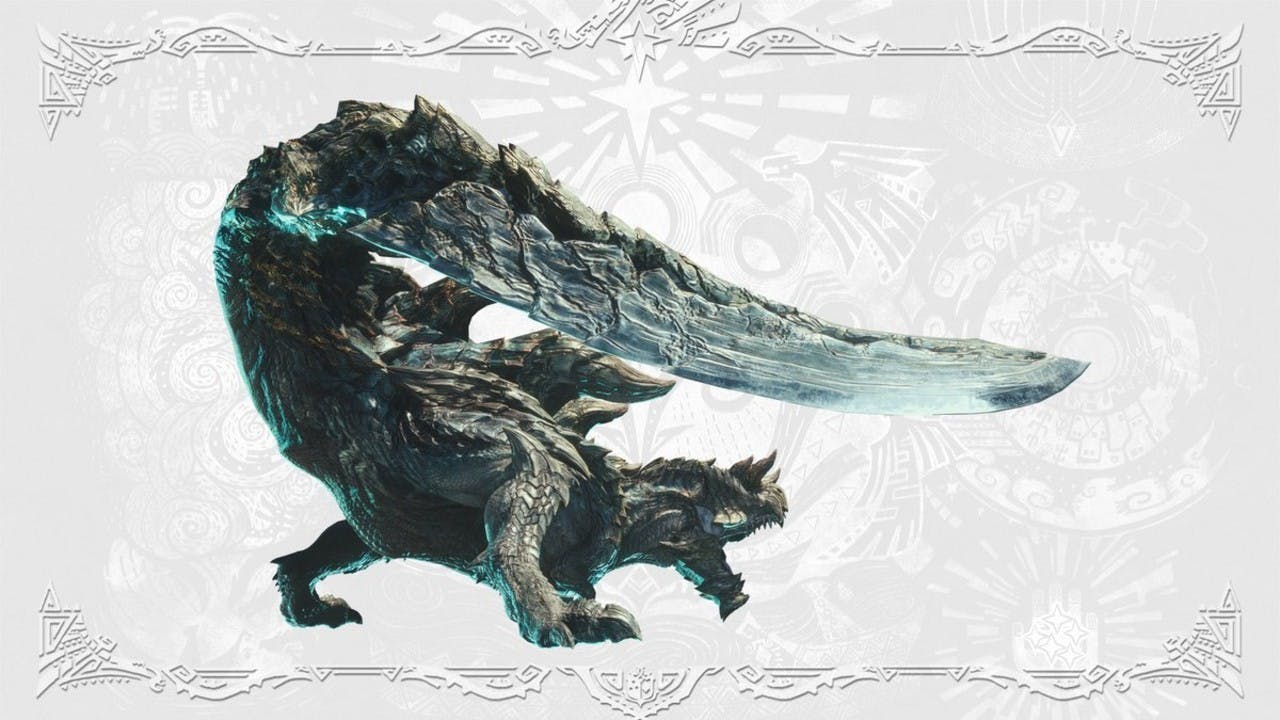 Type: Brute Wyvern
Elemental Type: Unknown
Recently revealed during a behind the scenes look at Iceborne gameplay, Acidic Glavenus will also be joining the New World. This subspecies of Glavenus is said to focus on more stabbing motions with its tail compared to the sweeping type motion used by Glavenus.
Also, its tail appears to take the shape of a Long Sword, with the Glavenus having a Great Sword shaped tail. Being an acidic species, this beast has acid covered spikes that form on its tail during what is known as a 'sulphuric state'.
We're assuming that this will result in either Effluvial Buildup damage or Poison Status for Hunters who are unfortunately within striking range. Similar to main species, Acidic Glavenus can sharpen its tail and can deal a lot of damage.
From the way that it slices through these Girros and Great Girros in the reveal video shown at San Diego Comic Con 2019, we won't be going into battle with Acidic Glavenus unprepared!
Coral Pukei-Pukei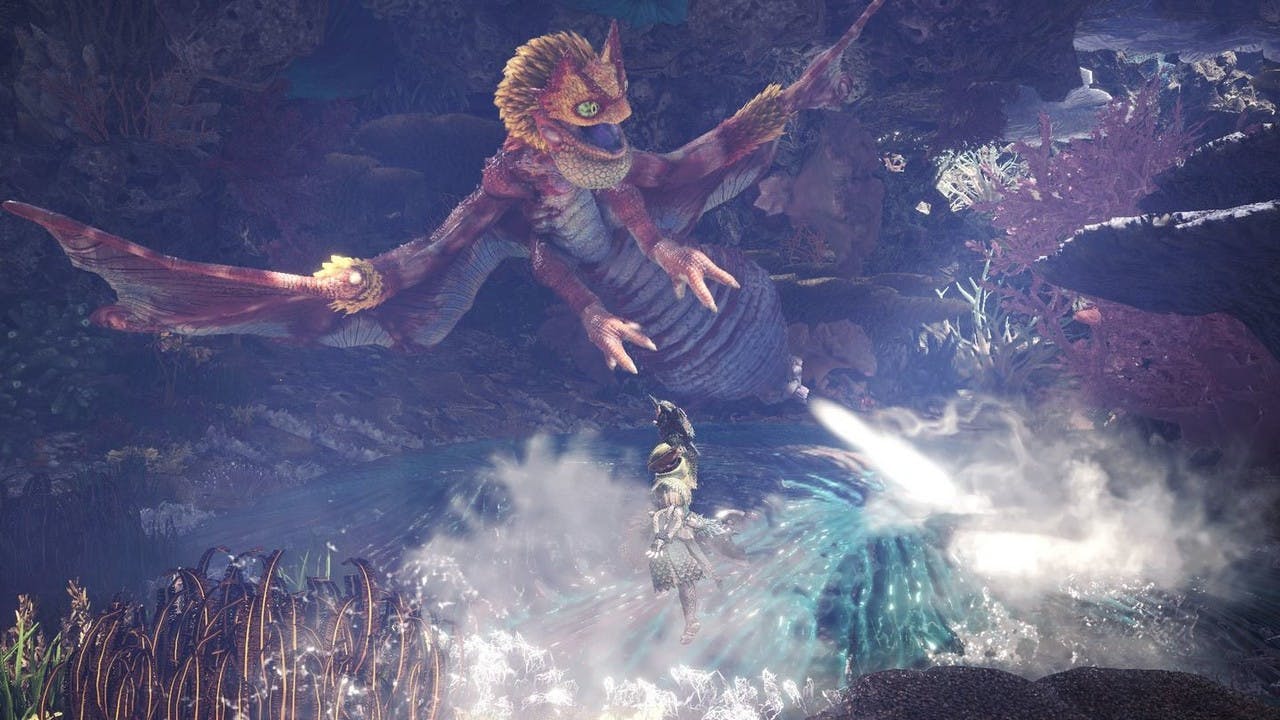 Type: Bird Wyvern
Elemental Type: Water
Unlike the core Pukei-Pukei that resides in the Ancient Forest, the Coral Pukei-Pukei subspecies has found its home in the Coral Highlands. As a result of its new surroundings, the monsters does not have poison element, instead it uses water, which is blasts from its mouth and tail.
The color variation is also different compared to the Pukei-Pukei, which had a primary green color - while Coral Pukei-Pukei is sporting a pink-purple type pattern.
Viper Tobi-Kadachi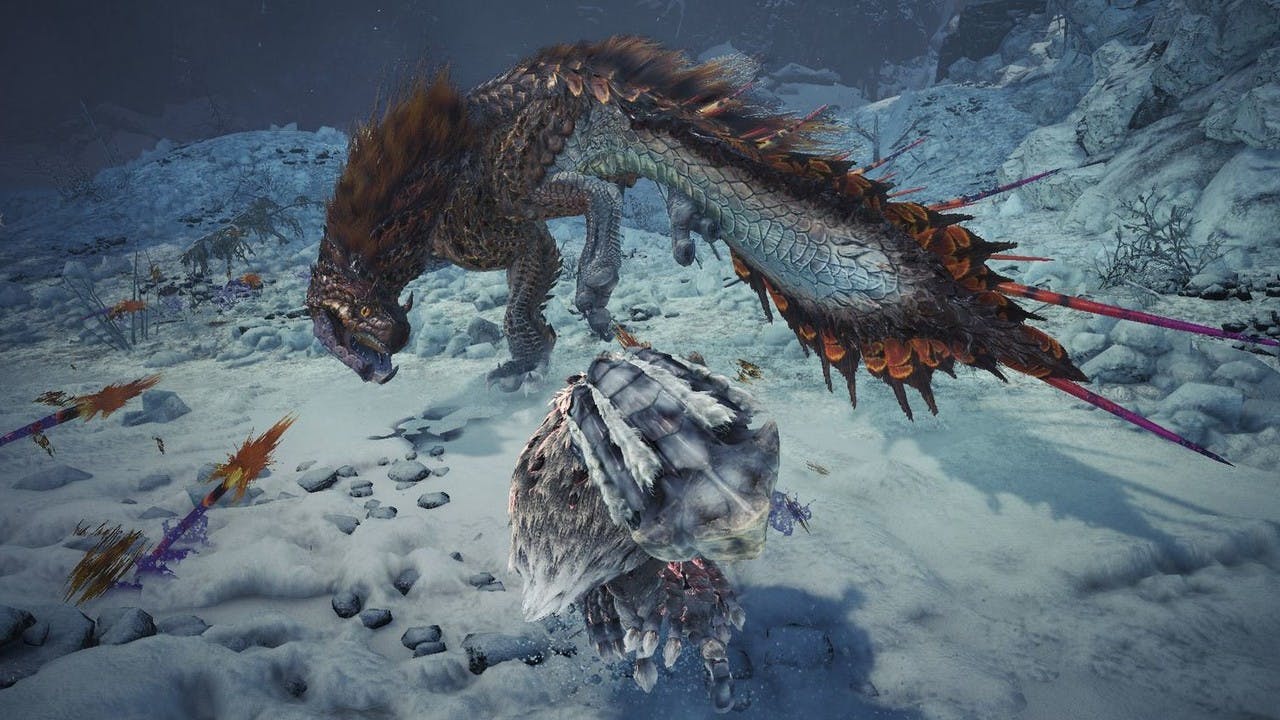 Type: Fanged Wyvern
Elemental Type: Poison
The 'snake squirrel' is bringing its a-game as subspecies Viper Tobi-Kadachi will be appearing in the Hoarfrost Reach. Its core species is known for strong thunder attacks, which are generated from its tail and fur.
However, Viper Tobi-Kadachi does not have thunder element, and will instead use a combination of paralysis and poison attacks, which will massively drain Hunters' health and affect their movement.
We expect to see a similar move set from this subspecies, using its winged legs to perform swooping attacks and climbing up trees and rocks to pounce on its prey.
Nightshade Paolumu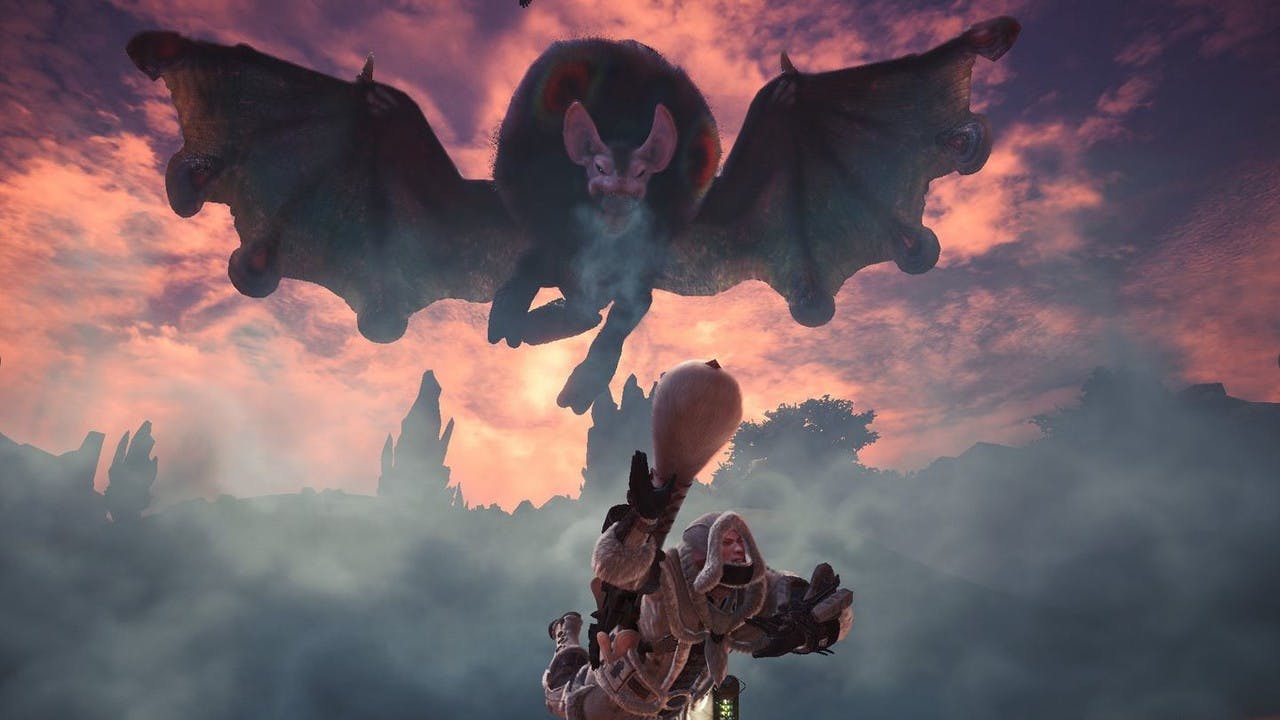 Type: Flying Wyvern
Elemental Type: Unknown
The Paolumu core species is a tricky foe, what with its constant movement and primarily being aerial in battle - but its subspecies is stepping up the difficulty. Nightshade Paolumu is a lot tougher and disperses sleep status clouds around it which can instantly send Hunters into snooze mode.
Even other large monsters can't withstand these sleep clouds, just make sure that you have plenty of Energy Drinks ready!
Namielle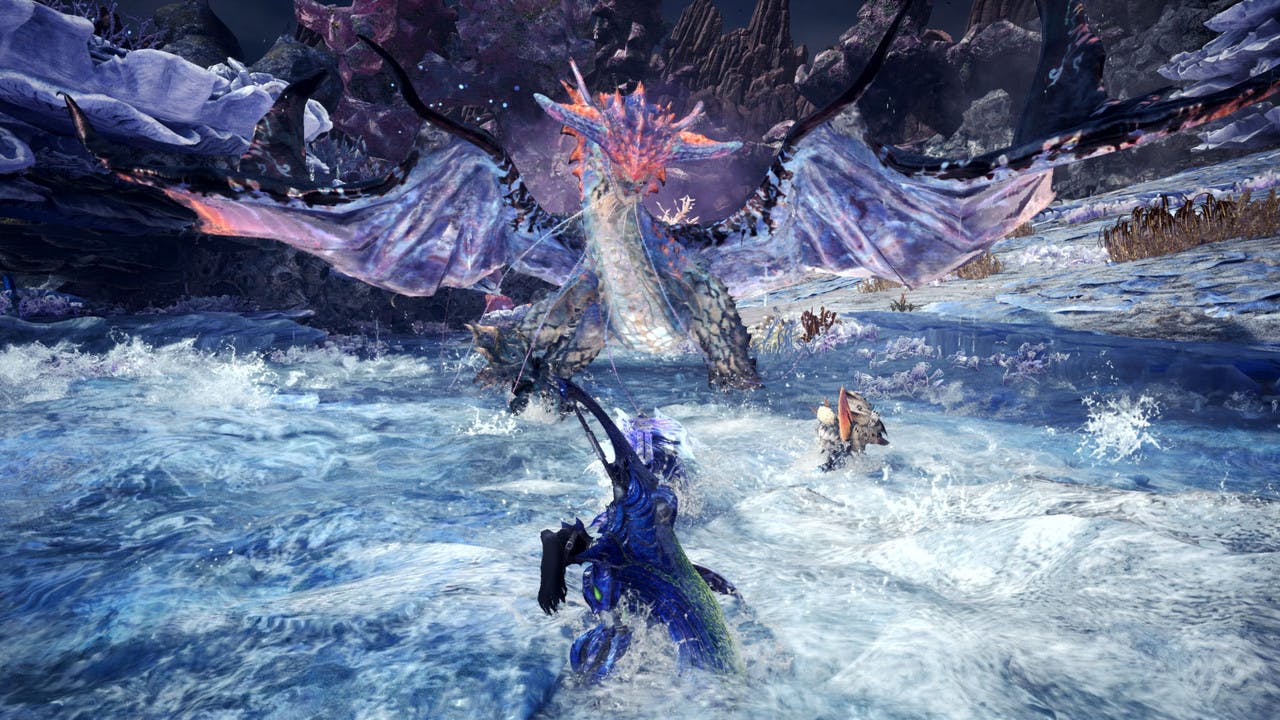 Type: Elder Dragon
Elemental Type: Water
The new Elder Dragon, Namielle, is said to be able to command water and use it as a shield. Located deep in the Coral Highlands, Hunters will need to use armor with good Water Resistance or the Waterproof Mantle to avoid taking too much damage from this mysterious beast.
Brachydios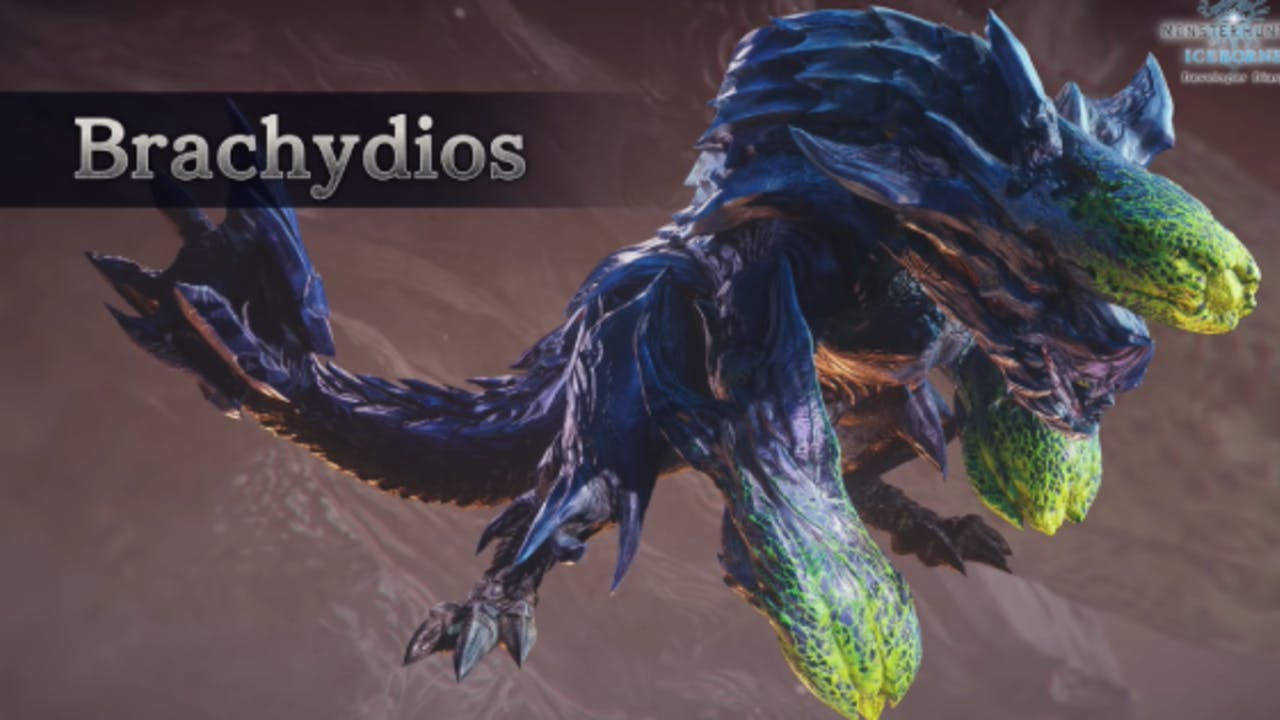 Type: Brute Wyvern
Elemental Type: Unknown
The beast that quite literally packs a punch.
Brachydios produces a slimy saliva to coat its huge hard-hitting arms, rendering it highly explosive. If Hunters stay in its slime puddle for too long, Slimeblight will be inflicted, which can be cured in a similar manner to Fireblight by rolling 3-4 times.
Zinogre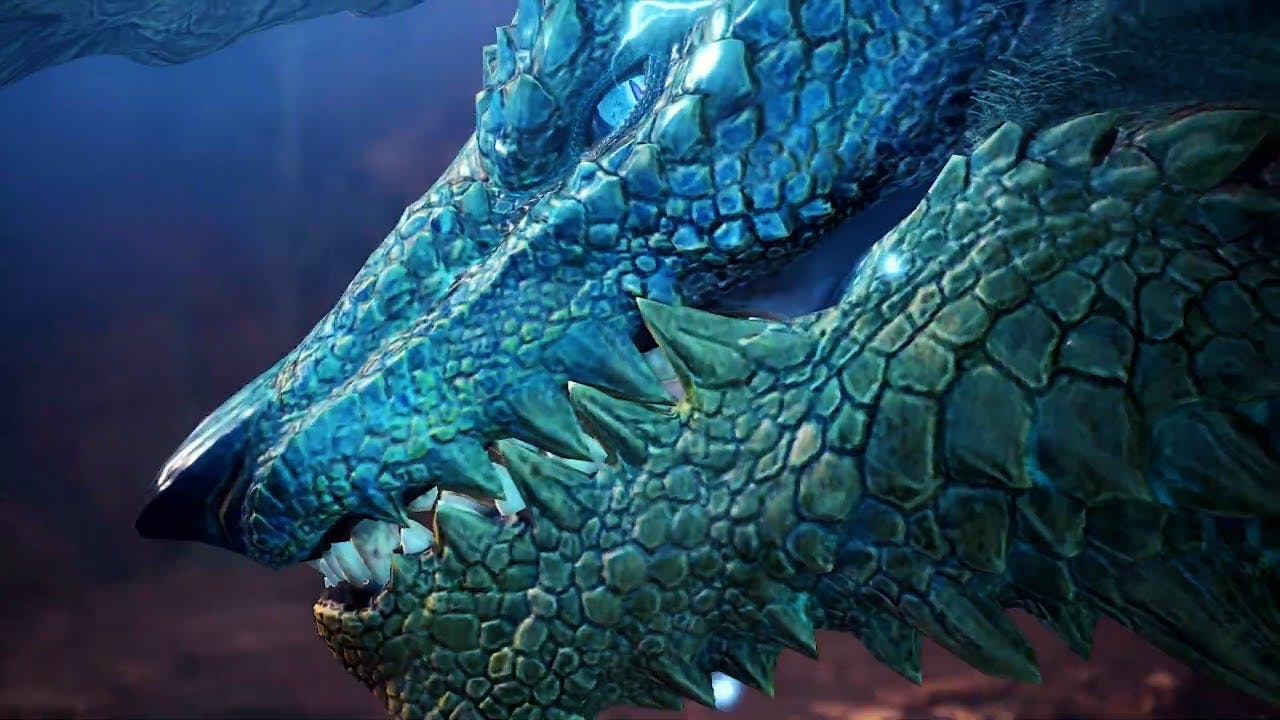 Type: Fanged Wyvern
Elemental Type: Thunder
First introduced in Monster Hunter 3 Ultimate, Zinogre is a supercharged beast that channels electricity through its fur, creating powerful attacks including Thunderblight. Located in the Guiding Lands and the Coral Highlands, it uses a mixture of aerial and land-based maneuvers to attack, primarily with its claws and fangs.
Rajang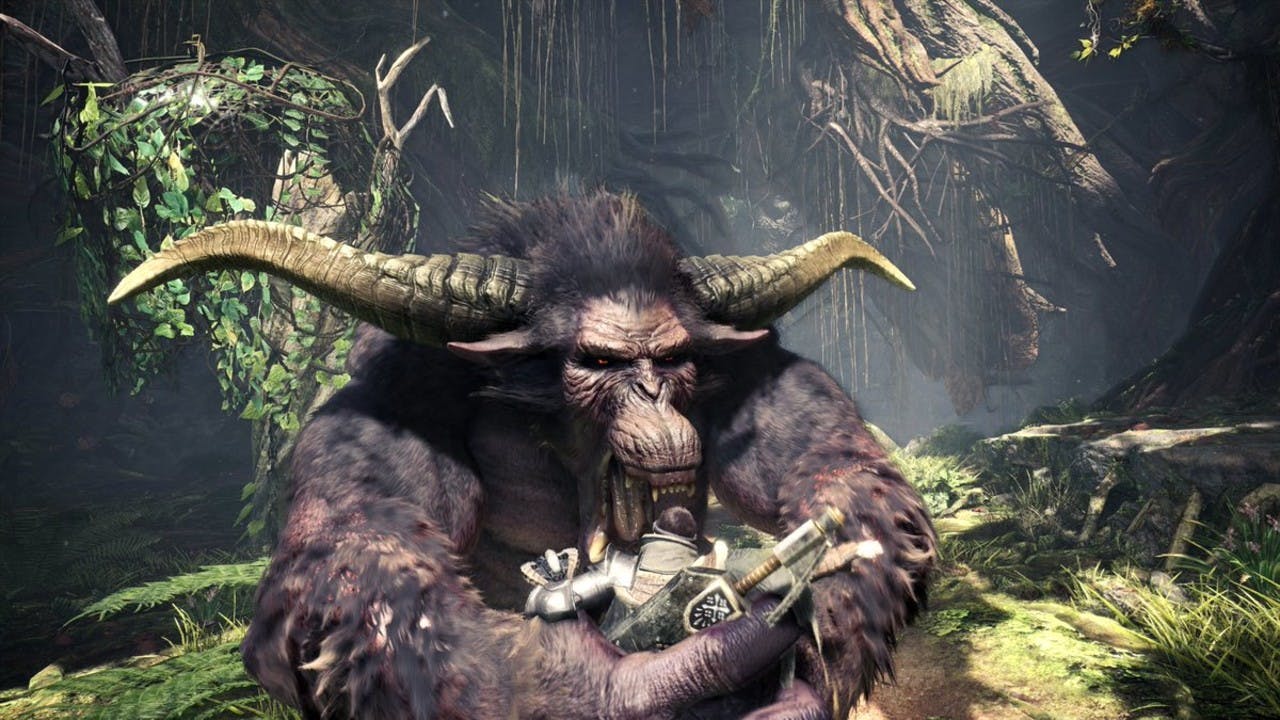 Type: Fanged Beast
Elemental Type: Thunder
Making a 'welcome' return from Monster Hunter 2, Rajang has many characteristics similar to an ape, but with the addition of a huge pair of horns on its head. Previous games in the MH franchise saw Rajang shoot powerful electric beams from its mouth, as well as using its muscular body to inflict damage on Hunters with melee attacks.
Due to its power and agility, Rajang will be a tough foe to face, when he arrives on the console version of the game in October 2019. Watch out for close range attacks, those horns and his grab attacks!
Shara Ishvalda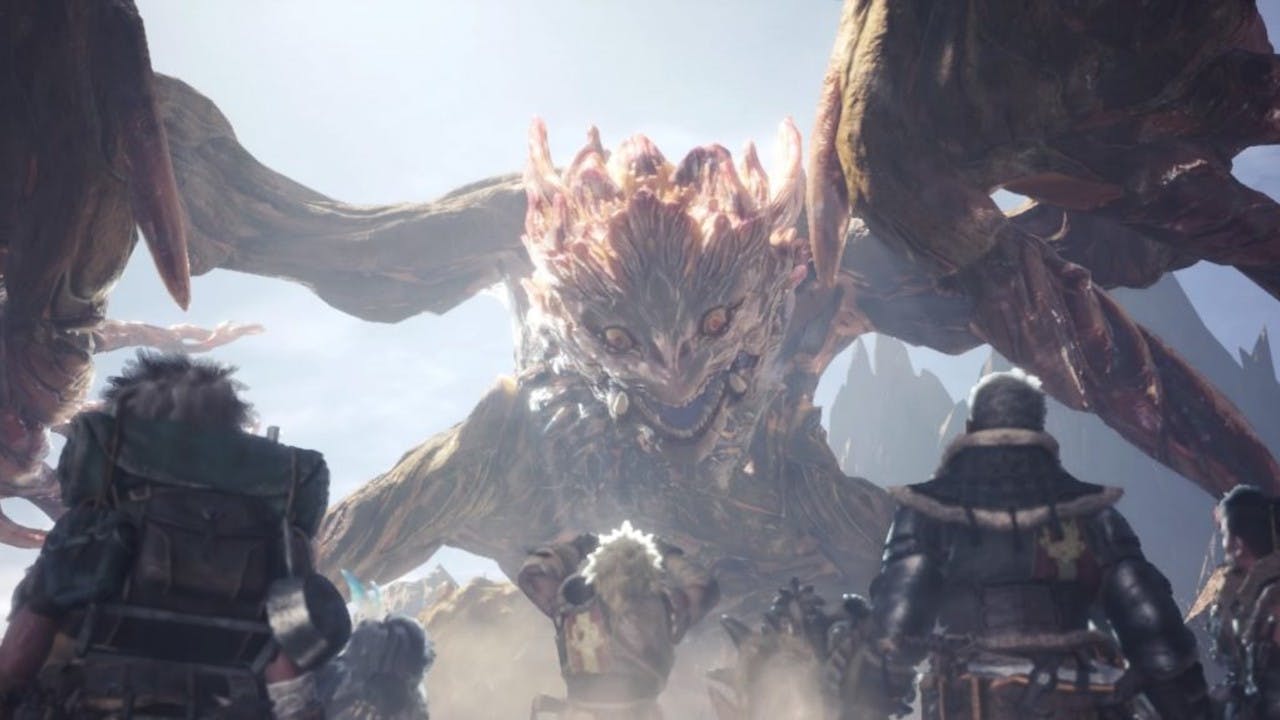 Type: Elder Dragon
Elemental Type: Unknown
Located in the Origin Isle, this new giant monster is able to manipulate the earth around it, which can result in Hunters losing their footing.
Once you've completed the Paean of Guidance assignment, Shara Ishvalda will randomly appear in the Faraway Lorelei optional quest, which lasts for two quests. If you're going up against this fierce Elder Dragon, be sure to take Stun resistance armor and your health booster or Vitality Mantle. It's able to stun Hunters and is resistant to Thunder, and is weak to Blastblight, Ice and Water.
Yian Garuga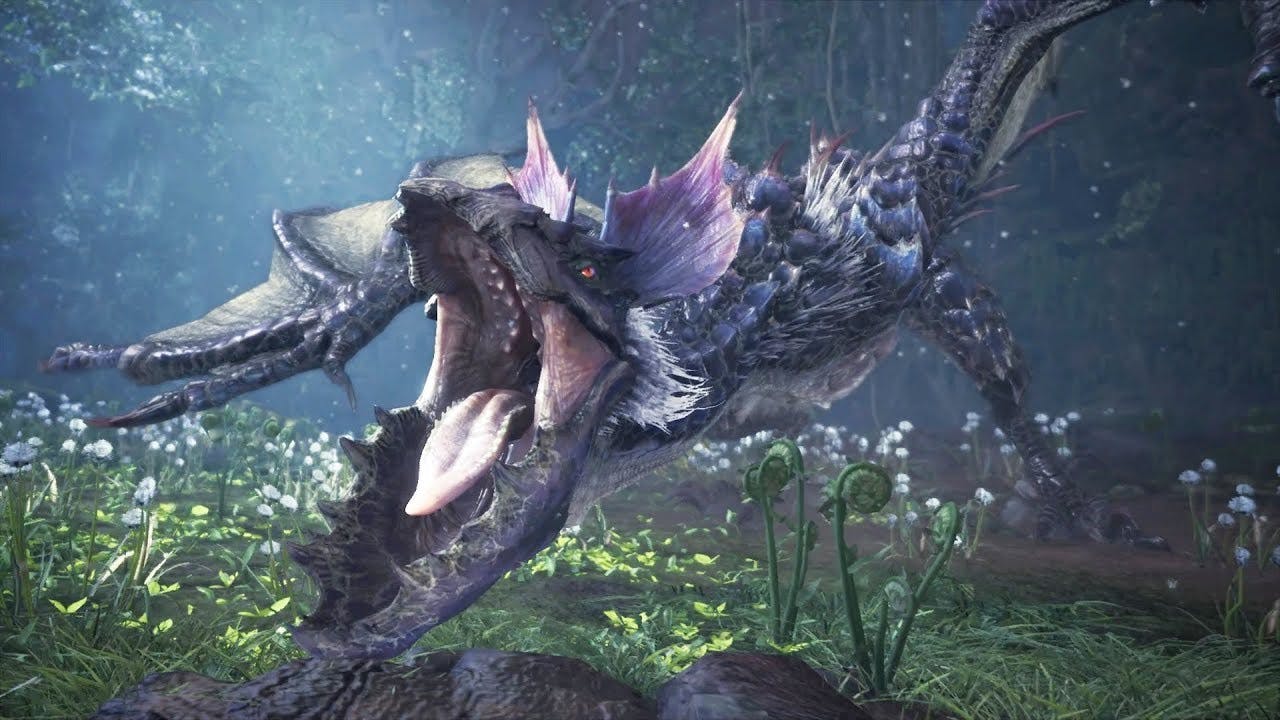 Type: Bird Wyvern
Elemental Type: Fire
First introduced in Monster Hunter Freedom, Yian Garuga is a flying monster that has obvious features including a long beak and quite a scrawny physique. It can be found in the forests of the Guiding Lands, and is said to behave similar to the Rathian, as well as being a Fire elemental beast.
Yian Garuga can be quick and aggressive, and is able to break pitfall traps when enraged. Sound advice would be to break parts from its body to slow it down or keep avoiding its heavy beak attacks to burn down its stamina.
As well as being a Fire elemental type, it can also inflict Poison, so be sure to stock up on Antidotes. Yian Garuga is weak to Water, Dragon and Ice.
Savage Deviljho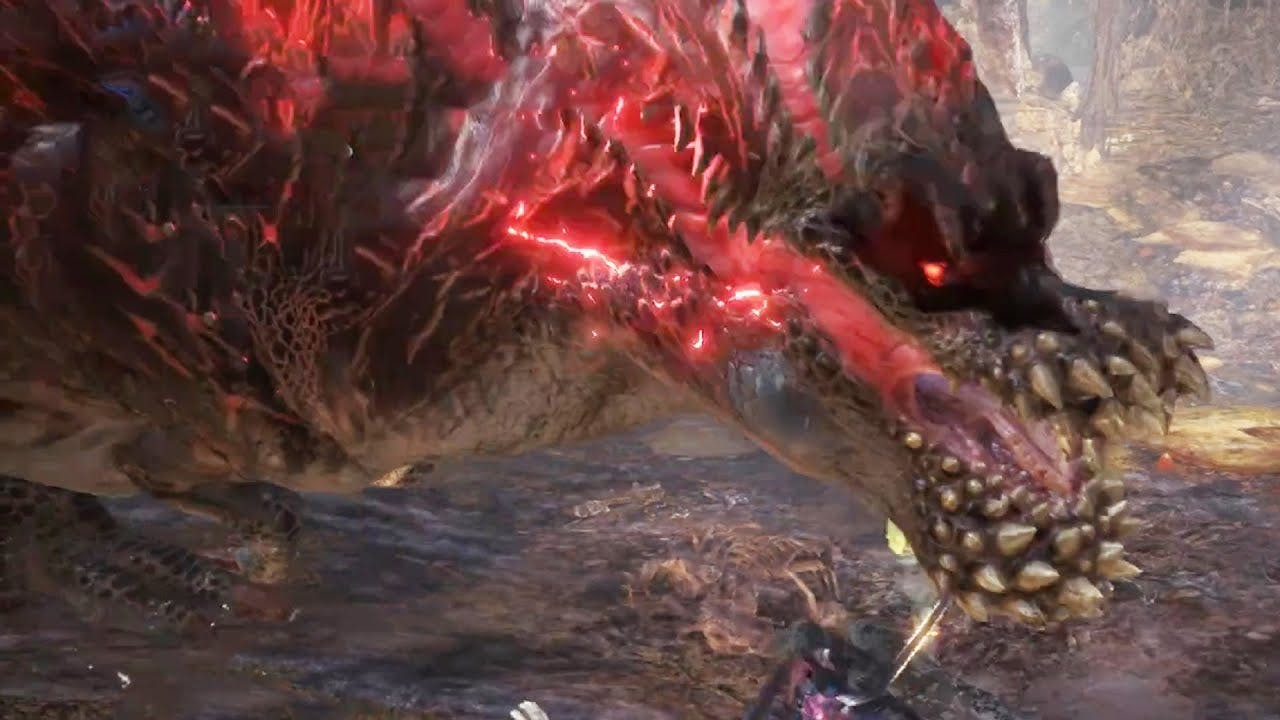 Type: Brute Wyvern
Elemental Type: Unknown
If you thought the core Deviljho breed was tough, you're in for a 'treat' with Savage Deviljho. It's a mutated variant, allegedly driven mad by its overpowering hunger.
As with the main species, Savage Deviljho is weak against Thunder and Dragon type weapons.
Blackveil Vaal Hazak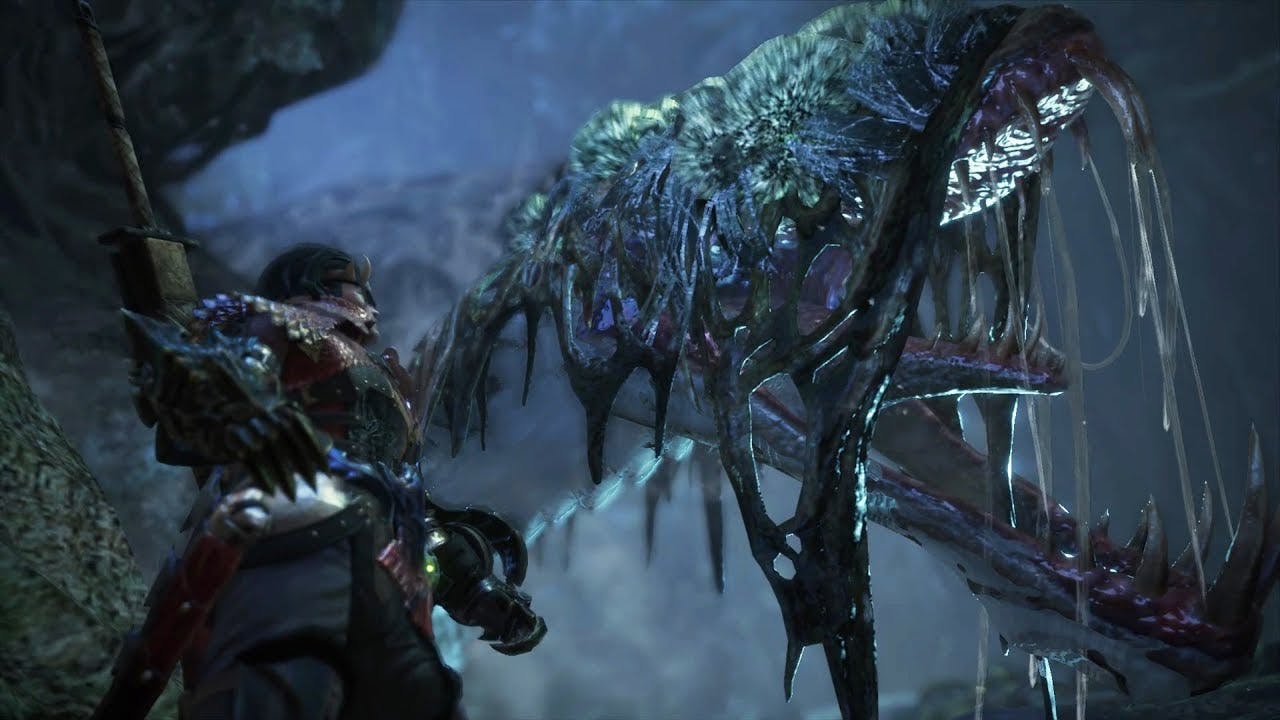 Type: Elder Dragon
Elemental Type: Unknown
Lurking in the Ancient Forest and Rotton Vale, the rotting-like Blackveil Vaal Hazak isn't the prettiest of monsters. a variant to the Elder Dragon Vaal Hazak, it's encrusted with spores that release a torrent of toxic effluvium, affecting Hunters and monsters close by.
Equipping armor with the Effluvial Expert will help prevent Blackveil Vaal Hazak from taking away half of your health bar in an instant when it releases in toxic aura attack.
Seething Bazelgeuse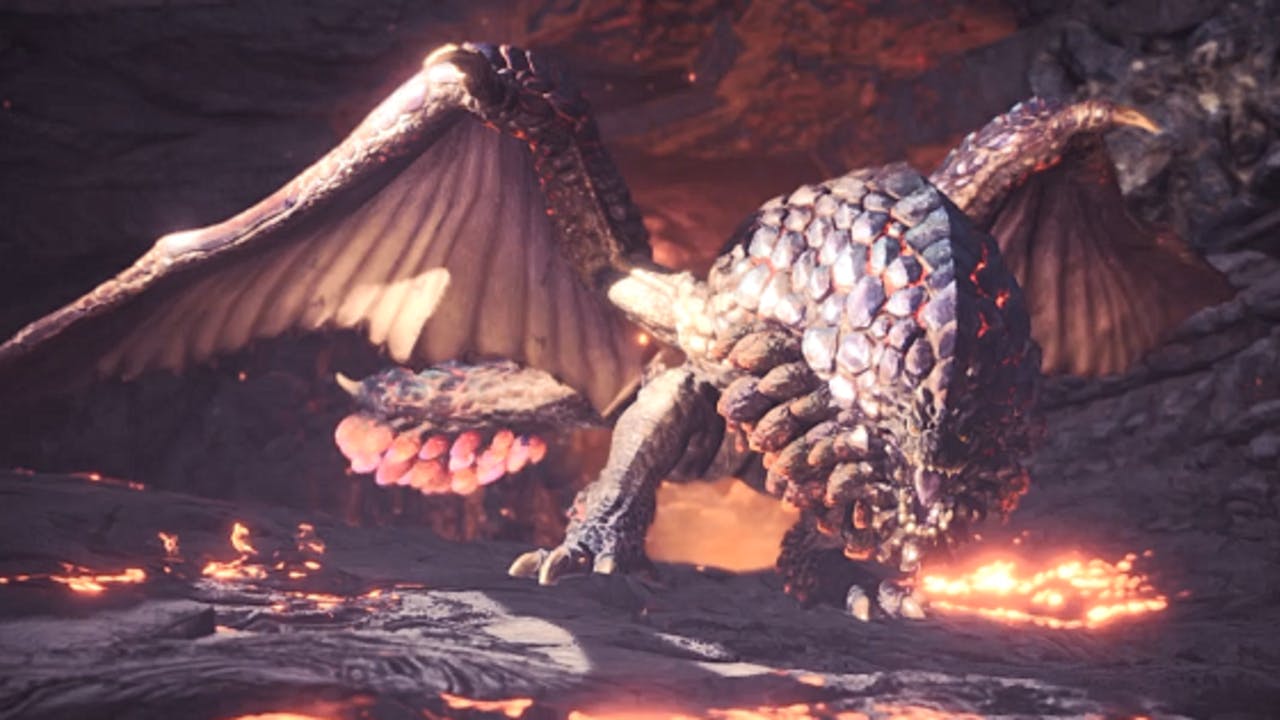 Type: Flying Wyvern
Elemental Type: Fire
The explosive Seething Bazelgeuse is a variant of Bazelgeuse, which often seems to crash the party in various ecosystems when you're hunting another monster. The core and variant types are practically the same, but Seething Bazelgeuse's scales burn hotter than normal, increasing in number and explosion radius as time passes.
It cause Fireblight with its explosive pods and fire blast attack, and is weak against Thunder, Dragon and Ice.
Gold Rathian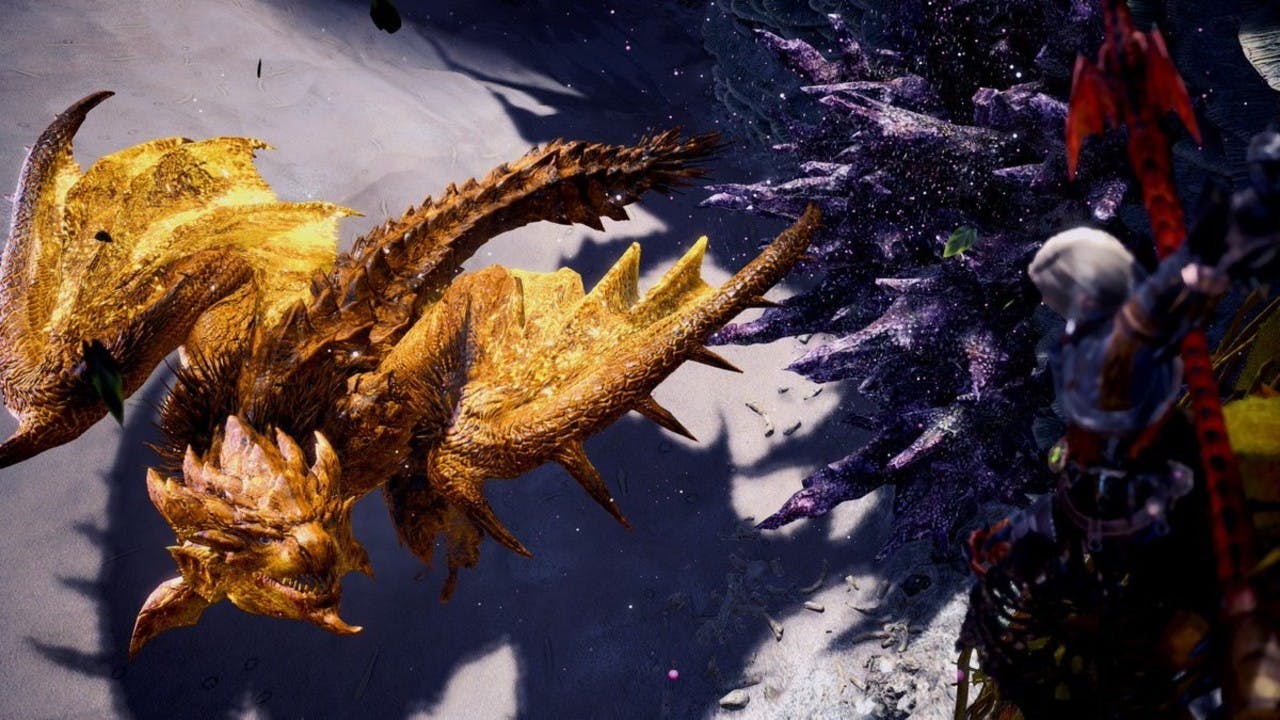 Type: Flying Wyvern
Elemental Type: Fire
We've seen the Pink Rathian make an appearance in Monster Hunter: World, and now one of the other beautiful variants has made its way into the New World as part of Iceborne. The Gold Rathian has slight advantage over its core species as its fire blast (breath) causes more damage and makes wider swipes with its tail.
Gold Rathian can be found in the Guiding Lands and is weak against Thunder and Water. Similar to its core and other variant species, it can inflict Fireblight and Poison.
Silver Rathalos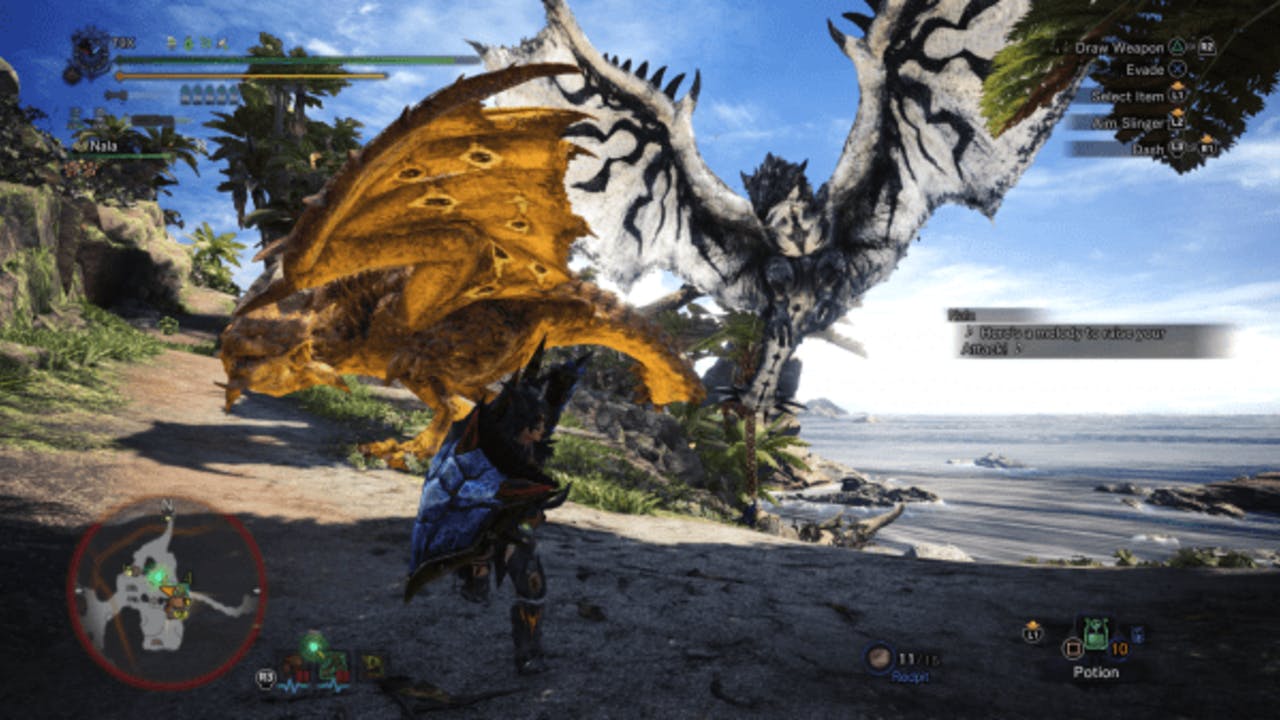 Type: Flying Wyvern
Elemental Type: Fire
Step aside, Azure Rathalos, there's a new variant species in town. The Silver Rathalos is often located in the Guiding Lands but is expected to pop up in other areas.
Little is known at the moment regarding its abilities when compared with the core Rathalos species or the Azure, which is deemed as more mobile than the core species, but Hunters can expect a similar challenge.
It can inflict Fireblight, Poison and Stun, and is weak against Thunder and Dragon.
Brute Tigrex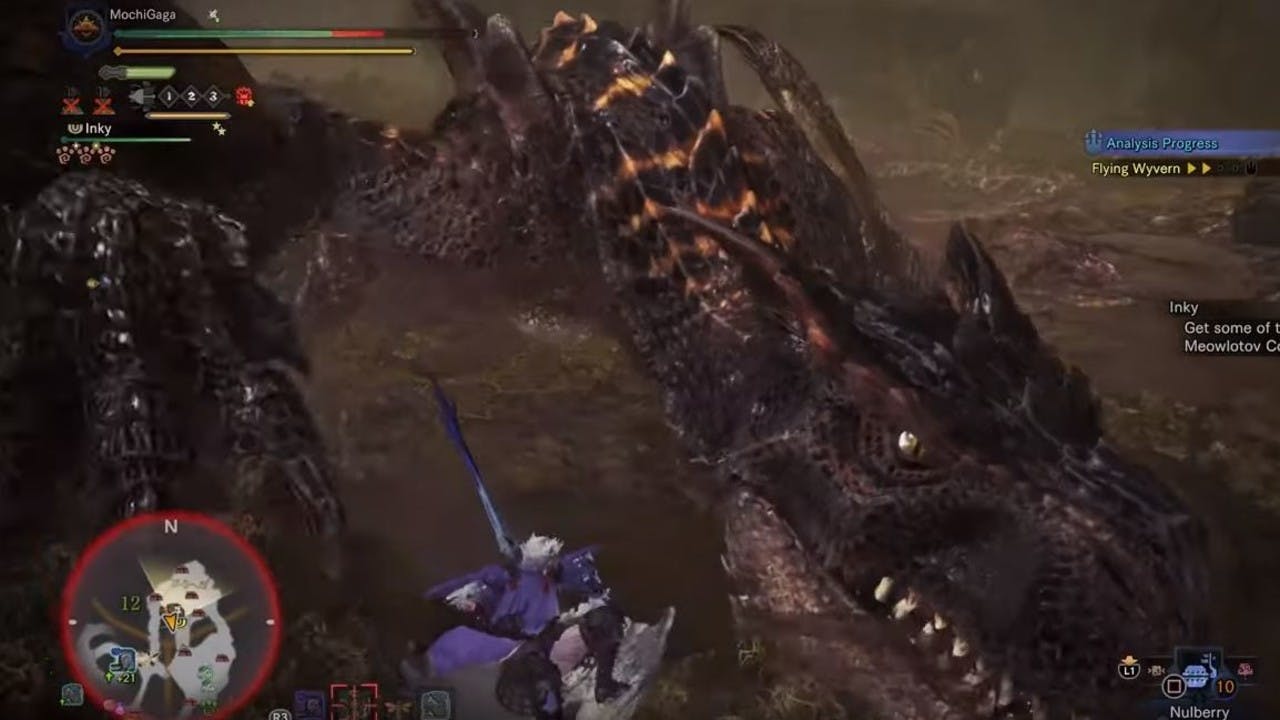 Type: Flying Wyvern
Elemental Type: Unknown
Tigrex is quite an aggressive monster, but Brute Tigrex takes it to another level. What it lacks in core elemental abilities it makes up for it strength, speed and range.
It's resistant to Fire and is mainly weak against Water and Ice. As you can see from the image (not many of those around at the moment so thanks to YouTuber tabiasobi) the Brute Tigrex is much darker in color.
Chopping off its big old tail will help reduce the range and effectiveness of its spin attacks. Much like its core species, Brute Tigrex has a deafening roar that will slow Hunters down and prevent them from being able to attack.
Ruiner Nergigante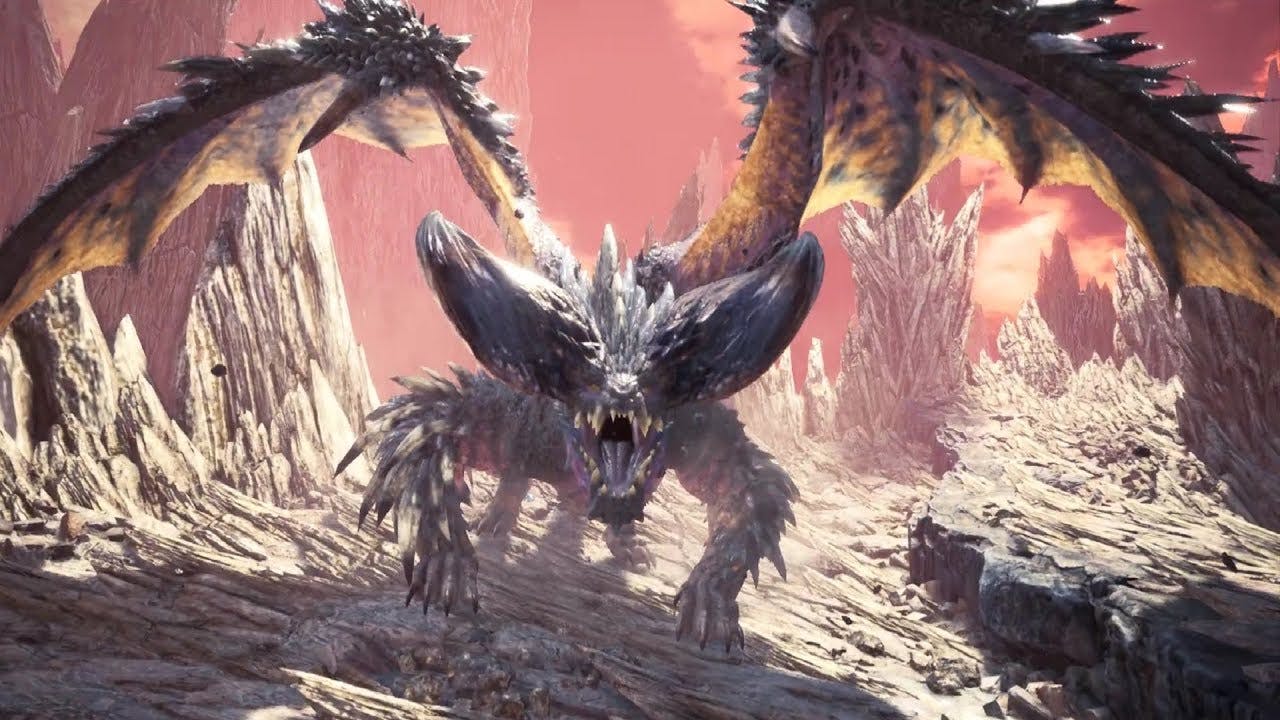 Type: Elder Dragon
Elemental Type: Unknown
The Nergigante core species is a tough cookie, with its ferocious physical attacks and hardening spikes that can be dispersed across a large area, causing heavy damage. We don't know much about its variant species, Ruiner Nergigante, but from what we've seen with the 'Eater of Elders' it's certainly one monster that Hunters shouldn't underestimate.
What we do know is that it's weak against Dragon and Thunder, and can be found in the Guiding Lands.
Furious Rajang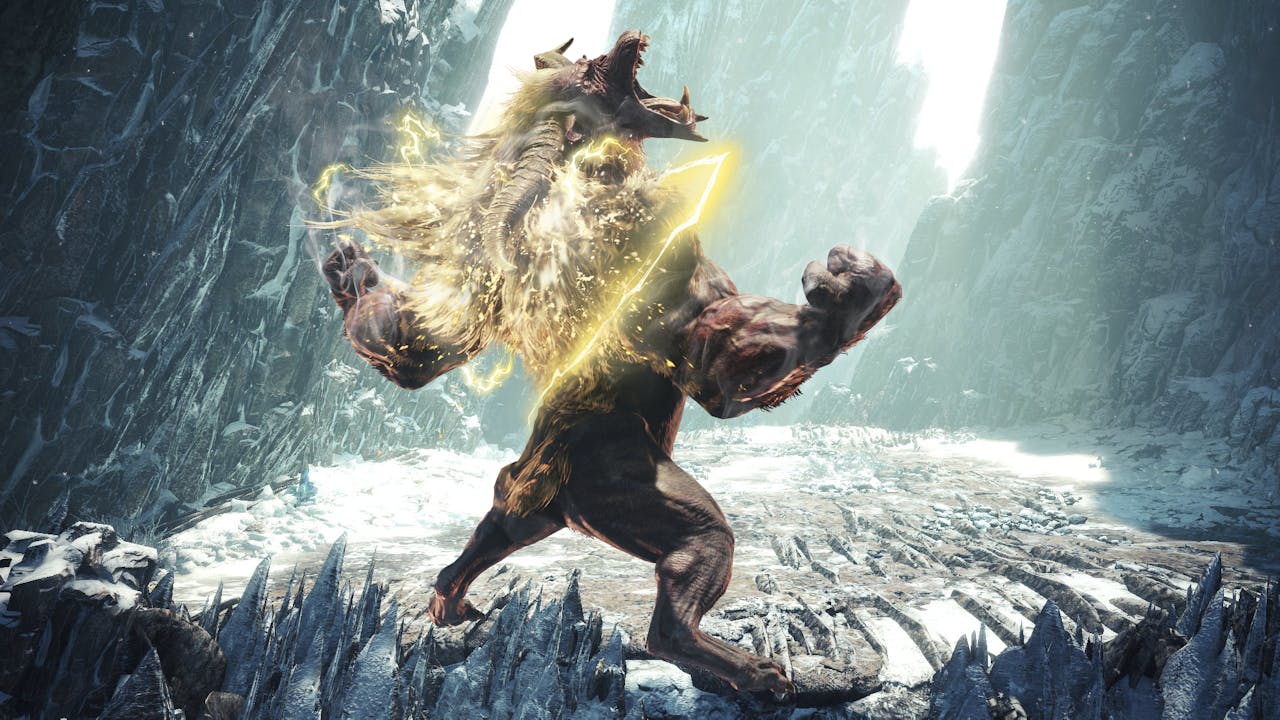 Type: Fanged Beast
Elemental Type: Thunder
Furious Rajang is always in its golden enraged state, which some Hunters have had the dis-pleasure of experiencing with the normal variant - this version can also perform new mid and long range attacks.
Unlike the base form, Furious Rajang doesn't have a tail, which is usually a weak spot when Rajang enters rampage mode. With this variant, Hunters will need to aim for the head!
It can be found in both the Hoarfrost Reach and Guiding Lands once certain requirements are met, and it's weak against Ice. It's worth noting that Furious Rajang will destroy Shock Traps and can still attack when trapped in a pitfall trap.
Raging Brachydios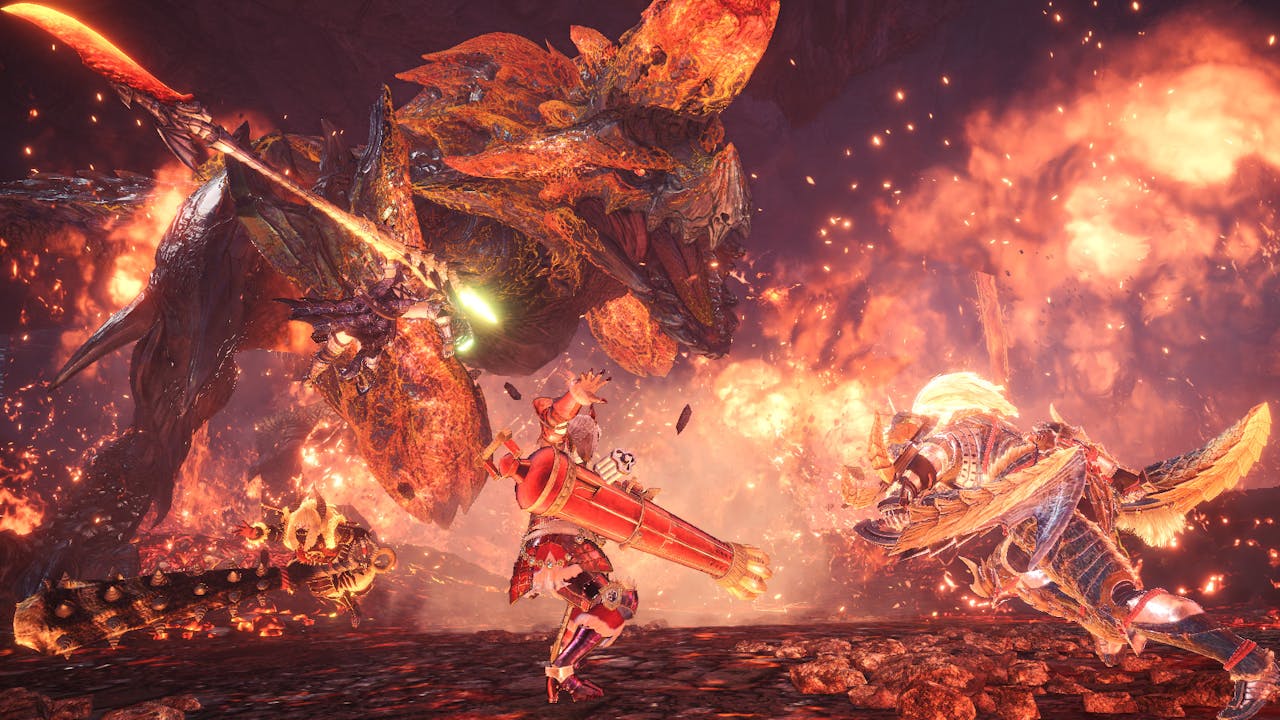 Type: Brute Wyvern
Elemental Type: Blast
Raging Brachydios is a larger, slower version of its base variant, however its slime is extremely volatile. It can also trigger explosions across a much wider area - and attacking the active parts of the body can stagger it.
When certain conditions are met in battle, Raging Brachydios will head to a specific area of the map and will perform a powerful attack which sets the entire place ablaze, restricting the use of Farcasters and preventing you from leaving that specific area - so make sure you've packed some Cool Drinks!
Recommended skills for taking on this beast include Blast Resistance, Health Boost, Earplugs, Tool Maintenance, Ice Attack, Evade Distance and Evade Window. It's weak against Ice (three stars damage) and Water (two stars) but is resistant to Thunder and Blast attacks.
Raging Brachydios can be found in the Guiding Lands, but to date it is only available in Quests and will not randomly appear.
Safi'jiiva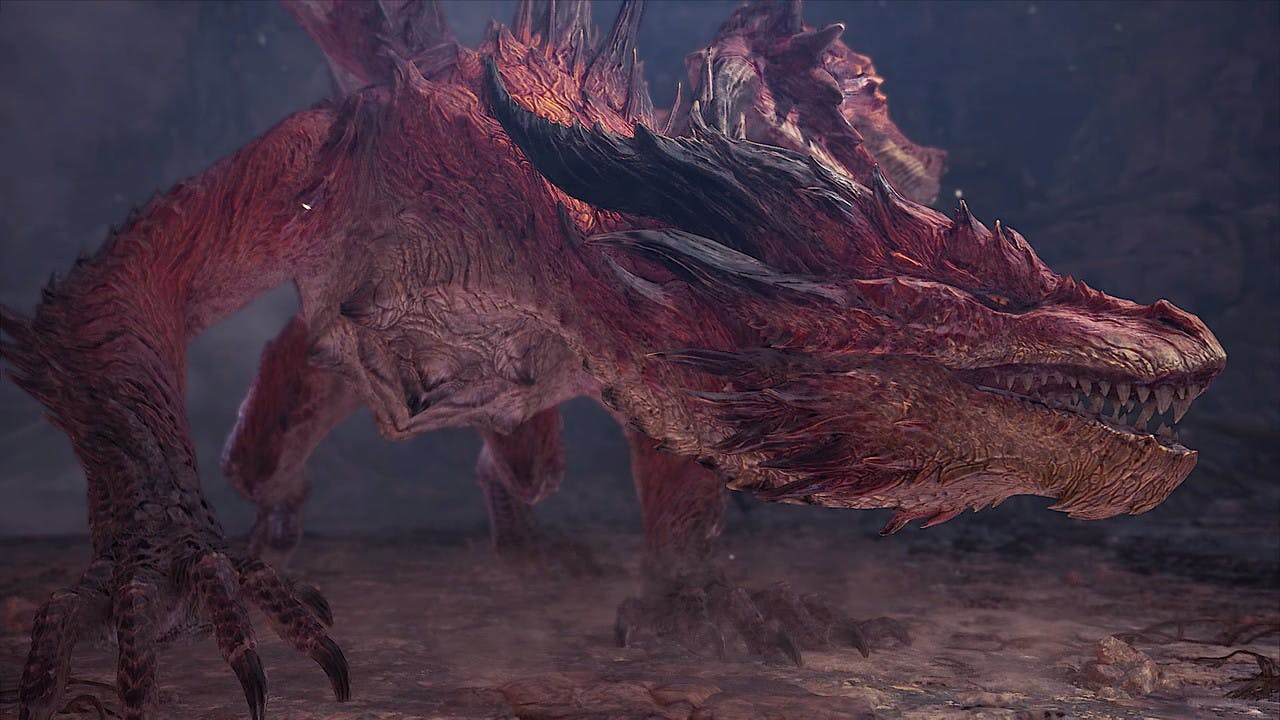 Type: Elder Dragon
Elemental Type: Fire & Dragon
It was teased back in November 2019 by the official Monster Hunter Twitter page, and in December 2019 during Capcom's developer diary 4.5, Safi'jiiva was unveiled - the adult form of Elder Dragon Xeno'jiiva.
Like Kulve Taroth in the Monster Hunter: World base game, Safi'jiiva appears in a Siege Mission. It is capable of absorbing energy from its environment to heal itself and can change the ecosystem around it.
Safi'jiiva can cause Dragonblight and Fireblight, so be sure to take Nulberries, the Dragonproof Mantle and/or the Cleanser Booster into battle with you.
Alatreon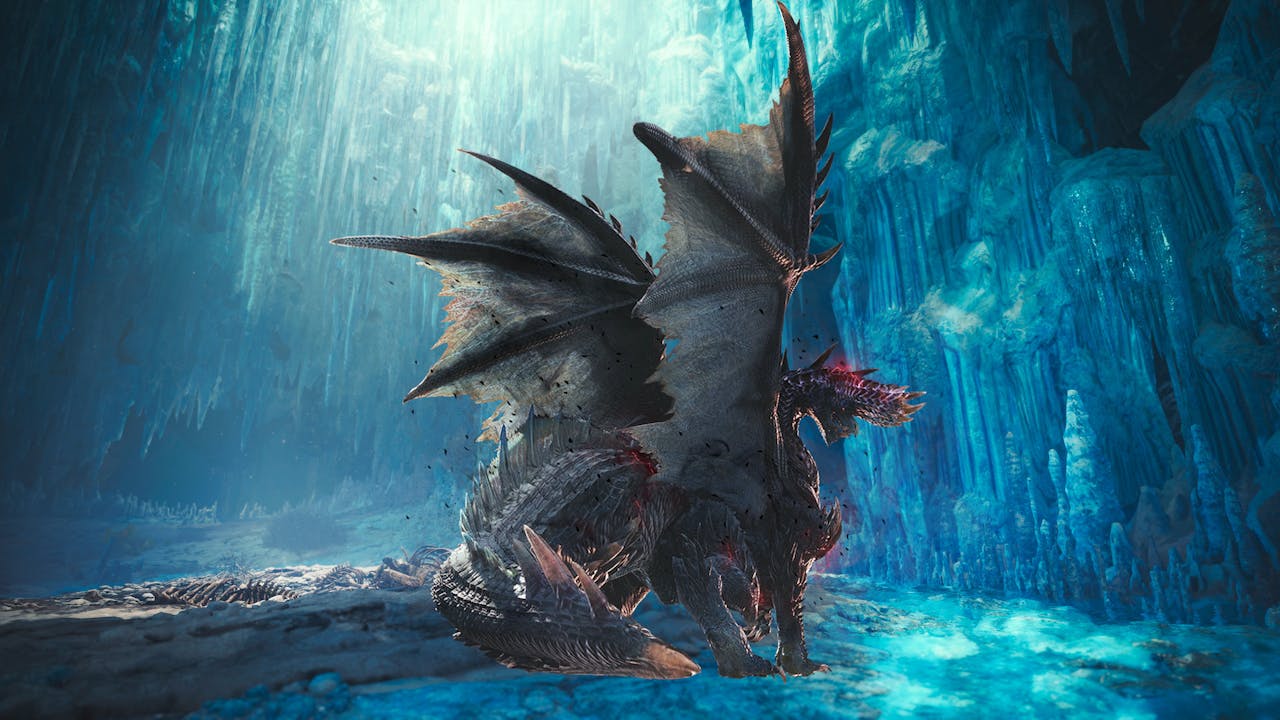 Type: Elder Dragon
Elemental Type: Dragon, Ice, Thunder, Fire
Capcom released a teaser trailer back in March 2020 of Alatreon for its next big free title update, which will see the Third Generation beast taking the total tally of large monsters in the critically-acclaimed action RPG to 69. This Elder Dragon is elementally unstable, which means that it can harness four different elemental types (Dragon, Thunder, Fire and Ice).
It has two large horns, powerful front claws with sharp scales as armor as well as large wings and a powerful roar similar to Teostra and Lunastra. Predominantly (and based on previous Monster Hunter entries), Alatreon will only use its Ice and Thunder elements while in the air, sending huge ice crystals and thunder down on its foes.
To date (April 27th) it is unknown exactly where you'll find Alatreon, but from the teaser trailer it would appear to be in the Hoarfrost Reach, or the Tundra Region of the Guiding Lands when it arrives in May 2020.
Frostfang Barioth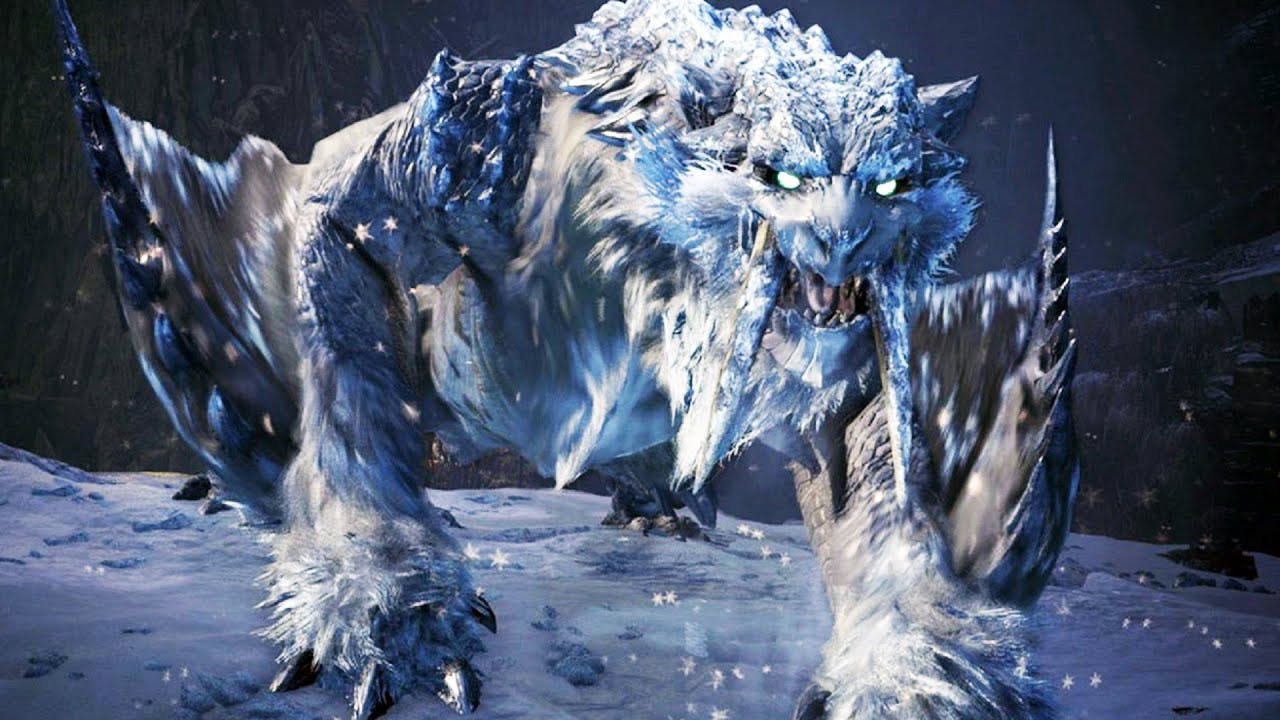 Type: Flying Wyvern
Elemental Type: Ice
A stronger variation of Barioth, the Frostfang Barioth resides in the Hoarfrost Reach and first appears as part of 'The Last White Knight' quest.
This monster uses a sub-zero breath attack to slow down its prey, and that includes you. When enraged, its eyes turn orange and, during this state, it's attacks become more ferocious and frequent.
One attack in particular that occurs during its enraged mode is 'The Super Slam' - a double hit attack, which Hunters are advised to stay down if they get caught by the first part. As with the base variation, damaging Frostfang Barioth's wings and fangs will severely lower its attacking capabilities.
Wearing an Iceproof Mantle will also help players when going up against this ice cool foe. It's weak against fire (three stars) and thunder (two stars) but is immune to water and ice attacks/weapons.
Fatalis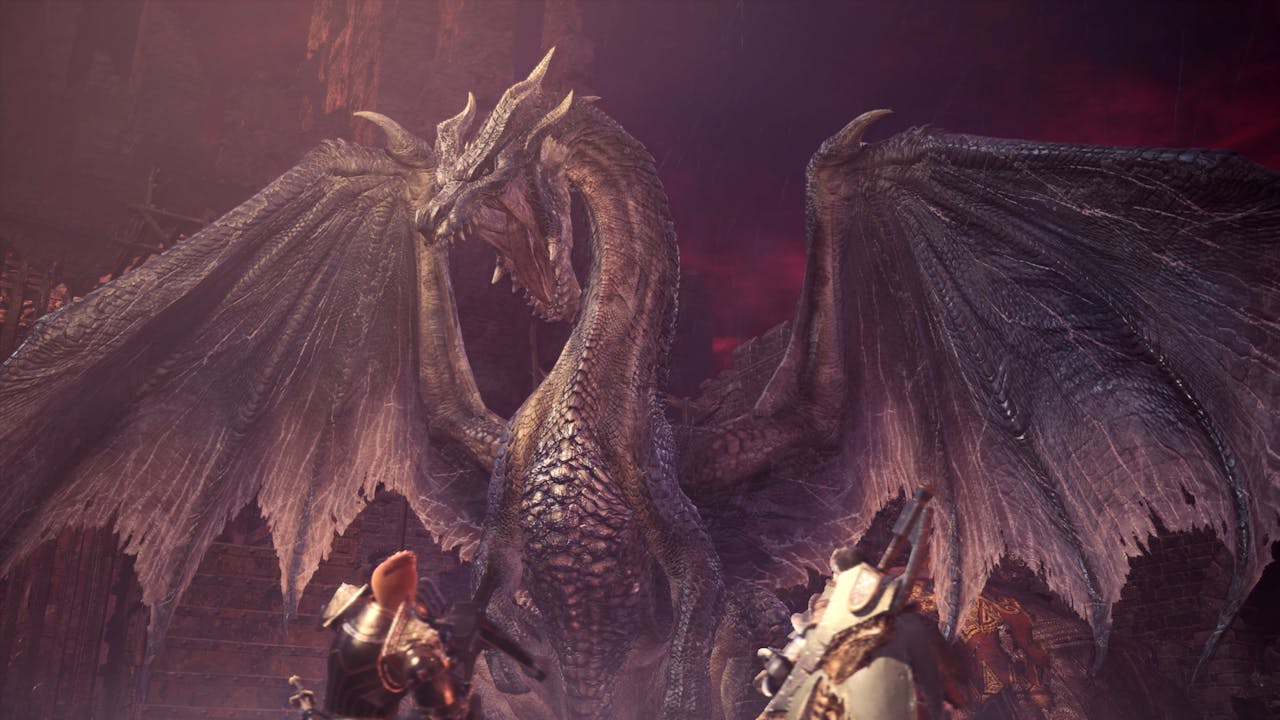 Type: Elder Dragon
Elemental Type: Fire
The 'Black Dragon' Fatalis was the final monster that arrived in Capcom's final big title update for the expansion, and will certainly pose a threat to even the most skilled Hunters out there.
Residing at Castle Schrade, Fatalis will be available to players who have successfully completed the Iceborne storyline - and encountered Safi'jiiva and Alatreon. Hunters will battle Fatalis across various stages at the castle, and will experience different 'nova' attacks depending on the area.
For example, it will use a wide spread flame breath attack in the first nova - which you can only hide from in a small shelter to the right of the arena - while novas 3-5 sees Fatalis perform a larger area attack, which Hunters will need to run straight towards the fierce dragon's body in order to avoid it.
Breaking its head/horns will minimize Fatalis' power in certain phases of the battle, and prevent it from using attacks that can easily end in a one-hit knockdown. Experienced Hunters recommend using skills such as Health Boost, Divine Blessings, Heavy Artillery, and Fire Resistance in what will be one of your toughest challenges in Monster Hunter: World - Iceborne to date.
Psst... don't forget to add Monster Hunter World: Iceborne.
---
---
Share this post