Check out Mortal Kombat 11: Aftermath's official Friendship moves trailer
Love overrules hate in MK11's latest update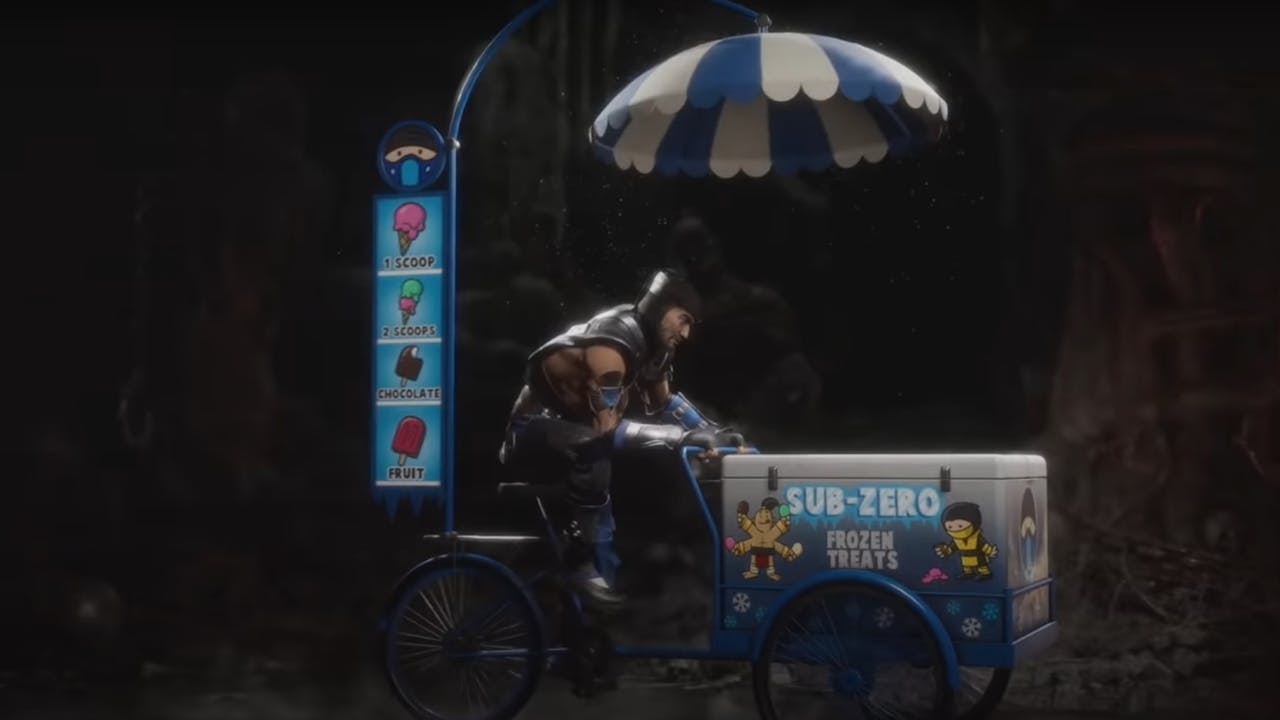 Experience Mortal Kombat's first-ever major expansion. Aftermath features a brand-new cinematic story centered around trust and deceit. Forge a new history.Includes:All-New...
Sub-Zero riding an ice cream cart, Kano showing off his barbecue skills and Liu Kang busting some dancefloor moves - all while Smash Mouth's Why Can't We Be Friends blares in the background... oh how we love the Mortal Kombat universe.
First introduced in the 1994 release Mortal Kombat II, Friendships were an alternate finisher to the often brutal Fatalities that we've seen throughout NetherRealm Studios and Warner Bros' popular arcade-style fighting series. These moves, as the name suggests, sees the fighters end the battle on a high note, often with a cutesy cutscene and colorful balloons spelling out the word 'FRIENDSHIP' behind them - just in case you were wondering what weird rabbit hole you'd fell down while gaming... maybe lay off the energy drinks?
Fans will be glad to hear that the Friendships will be making a return via a free update for all Mortal Kombat 11 owners, in conjunction with the upcoming paid-for DLC Mortal Kombat 11: Aftermath, the franchise's first ever story expansion.
The official trailer for the Friendships includes a host of moves being performed by warriors in the current MK11 roster (base game and Kombat Pack) including Sub-Zero, Scorpion, Jax, Terminator, Kitana, Kung Lao and many more. The MK11: Aftermath expansion sees Fire God Liu Kang, the new keeper of time and protector of Earthrealm, enlist the help of some unlikely allies and familiar foes, as players choose who to trust and who to defeat with fate on the line.
As well as a new storyline to follow, set after the events of MK11, you'll also get your hands on three additional fighters. Sheeva, a four-armed Shokan warrior who can summon fireballs and utilize a teleport stomp; and God of Wind Fujin, who can manipulate the elements and use them to his advantage, as well as wielding a sword for close-range attacks.
Also included is 80s TV and movie star RoboCop, a former police officer who became a cyborg after being killed by an infamous crime lord. After being 'reborn' he is now equipped with an armored shell, as well as a shield and firearms at his disposal.
---
---
Share this post