Check out everything we put out!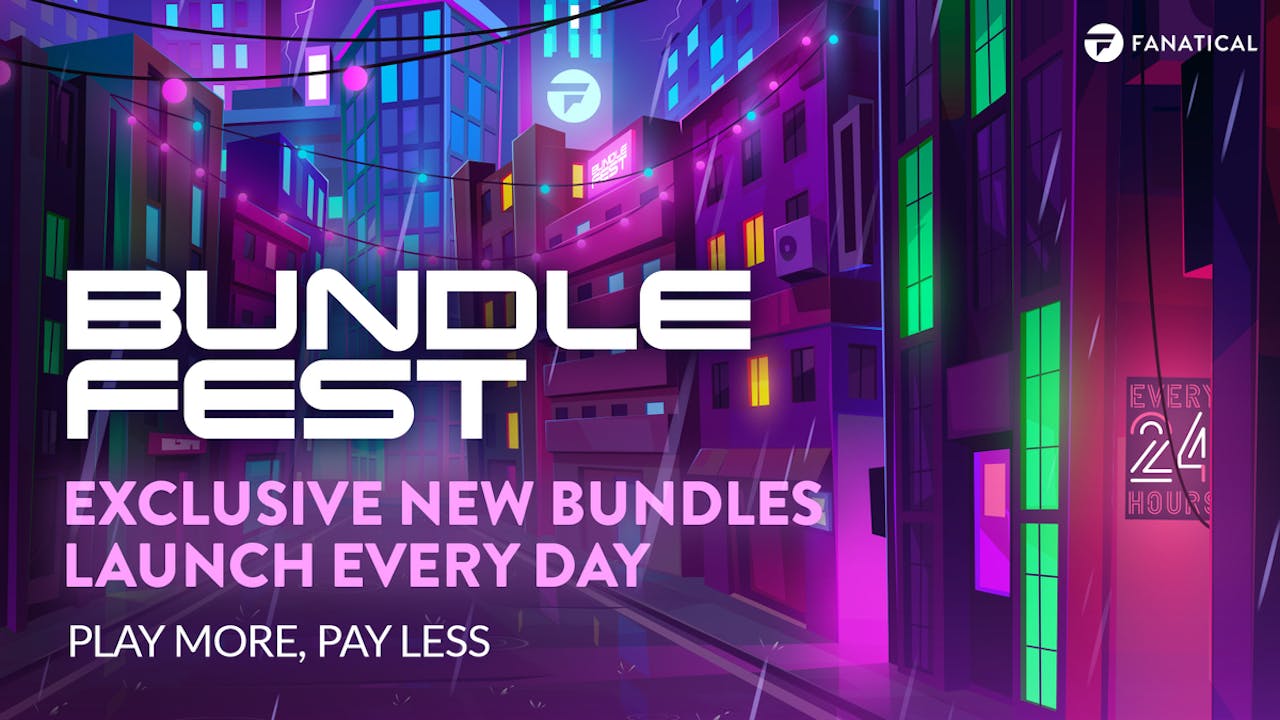 Although we've had a blast churning out all sorts of cool bundles to get you all sorts of discounts, our BundleFest has unfortunately ended. But that doesn't have to be a bad thing at all because you now have access to every bundle released! Let's do a quick overview of everything that happened this week so you can make sure you didn't miss anything! Skipping our VIP Mystery bundle and starting off with our very first one…
#1 — Prestige Collection
Our Prestige Collection is one of the community's favourites, and it's not hard to see why. Boasting a phenomenal list of high-quality titles, you can take home tons of great titles at a great discount!
Get up to four games from fantastic options for £28.99 / $28.99 / €28.99:
DEATHLOOP
The Elder Scrolls V: Skyrim - Special Edition
House Flipper
Pathfinder: Wrath of the Righteous - Enhanced Edition
Outward
Middle Earth: Shadow of War
Thymesia
And more!
With the Prestige Collection, you have a unique opportunity to create your own bespoke bundle. Don't miss out on this chance to save big on exceptional Steam PC games!
#2 — Killer Bundle 27
Next up is another great recurring bundle that has seen a lot of love from you all. In our latest entry to the Killer Bundle series, we offer just as many adrenaline-pumping titles as always!
Get 20 games for £24.99 / $24.99 / €24.99, including titles like:
Sniper Elite 4 - Deluxe Edition
Zombie Army Trilogy
Iron Harvest
Lost Castle / 失落城堡
Dreamscaper
Finding Paradise
And more!
Welcome to Killer Bundle 27, the ultimate collection of Steam PC games. Get ready to be immersed in a massive range of edge-of-your-seat action, strategic challenges, and...
#3 — Mastering Computer Simulation Techniques eLearning Bundle
With this bundle, you'll get a whopping nine courses that will help you grasp tons of different concepts related to computer simulation!
With a total of $2,871 worth for just £11.25 / €13.00 / $11.99!
Computer Simulation of Realistic Mathematical Models.
Computer Networks Security from Scratch to Advanced.
Computer Vision By Using C++ and OpenCV with GPU support.
Computer Science With Python.
Computer Hacking Forensic Investigator.
PIC Microcontroller Simulation.
Ethical RFID Hacking Course.
Fundamentals of Azure Virtual Desktop.
Introduction to Virtual Apps and Virtual Desktop Solutions.
We start with the Computer Simulation of Realistic Mathematical Models course which takes the basics of mathematical modelling and teaches how to apply the power of computing...
#4 — New Realms 2
Our fourth bundle was the second entry to the New Realms bundle! We love it because it offers a diverse spectrum of indie titles.
With it, you can take home seven games for just £8.99 / $8.99 / €8.99!
Iron Lung
Chop Goblins
Super Catboy
Garden In!
Lumberhill
Dreams in the Witch House
The Tarnishing of Juxtia
Featuring 7 New-to-bundle titles, embark on a journey of boundless imagination with the New Realms 2 Bundle, an extraordinary collection of diverse and captivating indie games...
#5 — Bethesda Favorites - Build your own Bundle
Throughout the years, Bethesda has released some phenomenal titles, which is why our fifth bundle offers you the chance to take home several of those award-winning games with much less guilt over the price!
There's a total of 14 titles to choose from, and you can take up to five for just £14.99 / $14.99 / €16.55!
Dishonored Definitive Edition
The Elder Scrolls IV: Oblivion Game of the Year Edition Deluxe
The Elder Scrolls III: Morrowind® Game of the Year Edition
The Evil Within Digital Deluxe Edition
DOOM
DOOM 3
Wolfenstein: Youngblood
Wolfenstein: The New Order
Wolfenstein: The Old Blood
The Elder Scrolls® Online
RAGE
Quake 4
Quake
Fallout Classic Collection
The ultimate Bethesda bundle is here! For the first time ever, 14 legendary games from one of the world's biggest publishers, have come together for an exclusive, limited-time...
#6 — 3D Printable Dungeons: Heroes and Monsters Pack
Our Printable Dungeons bundle offers a large variety of products that'll leave you wanting nothing more! Choose from four tiers, the last which offers the entirety of the 40 printables for just £19.15 / €22.35 / $20.00!
Here are some examples:
Pick Up Items Pack
Low Poly Trees Pack
Low Poly Characters Pack 1 - 20 Characters
Low Poly Farm Animals
Medieval Interior Pack Low Poly
China RTS Fantasy Buildings
Vampire RTS Fantasy Buildings
Stylized Dungeons Pack Low Poly
Low Poly City Asheville
Low Poly Fam Happylifeville
Low Poly Resort Islandville
The night is cold, the road is long and danger lurks outside the warm tavern glow. Will you encounter a friend or foe? Roll the dice and find out.
#7 — Dollar Collection
Yet another community-favourite are the Dollar Collections, which let you get some pretty great titles at a whopping $1 only! Sometimes, they'll even come in a pack.
Here are the games you can get:
Rebel Galaxy & Rebel Galaxy Outlaw Pack
Wet Dreams Double Pack
Leisure Suit Larry - Retro Bundle
Unity of Command Trilogy Bundle
TurnVex Quad Pack
Men of War: Assault Squad - Game of the Year Edition
Elven Legacy Collection
Warhammer 40,000: Space Wolf Special Edition
Embr & Golf Gang - Fast Fun Double Pack
Reventure & MageQuit Double Fantasy Pack
Roguelike Deckbuilder & Dungeon Manager Double Pack
Everhood & Minute of Islands Double Pack
Essential Certification Guides Pocket Pack
A Taste of Adventure Pocket Pack
Mightly Game Music Pocket pack
Mighty Pixel Game Asset Pocket Pack
#8 — Bento Bundle 3
Our Bento Bundle is famous for having tons and tons of anime-based titles. In our third entry of it, you can take home up to 10 games for just £14.99 / $14.99 / €14.99!
These are some of the games available:
River City Girls
Dark Deity
Ara Fell - Enhanced Edition
If My Heart Had Wings
Long Live the Queen
ITORAH
Blind Fate: Edo no Yami
Kaichu - The Kaiju Dating Sim
Henteko Quad Pack
Fight'N Rage
And more!
Introducing the ultimate gaming extravaganza - the "Build Your Own Bento Bundle 3" on Fanatical! Get ready to embark on a gaming journey like no other, where you have the...
#9 — Cinematic FX & Vocals Bundle
If you're in the market to find some great sound effects and vocals, look no further! Our ninth BundleFest bundle gives you just that. For just £11.30 / €13.25 / $12.00, get a value of $521 in up to 30 products that cover a nice variety of sounds and effects!
Here are some examples:
80s Neon Waves
AI - Speech Vocal Hooks
Astronaut Scifi FX
Funky Disco
Pop & RnB Vocal Kits
Hypnotic Female Vocals
Melodic Synthwave
Neon Future Bass
Dirty Tech Vocals
Tech SFX
Techno Synths
Vocal Cyber Pop
Cyber Pop 2027
Cinematic Future Trap
Dark Voices
Welcome to our newest music and sounds creative from our new friends at Function Loops.
#10 — Indie Legends Bundle
Our last gaming bundle is our Indie Legends one, which nets you up to eight games from a selection of phenomenal and outstanding titles for just £9.99 / $9.99 / €9.99!
Human: Fall Flat
Breathedge
DUSK
For The King
Rampage Knights
Black Book
Police Stories
PC Building Simulator + Esports Expansion Double Pack
The Sexy Brutale
Shantae: Risky's Revenge - Director's Cut
Speedrunners
Hello Neighbor
And more!
Introducing the Build Your Own Indie Legends Bundle, featuring worlds of indie gaming awesomeness!
#11 — 3D Low Poly Game Assets Bundle
And last but not least, our ending bundle to our BundleFest lets you get up to 40 products that'll help you spruce up any project! With four tiers available, there's a lot to choose from; the last one offers everything for just £19.15 / €22.35 / $20.00!
Here are some examples:
Pick Up Items Pack
Low Poly Characters Pack 1 - 20 Characters
Low Poly Farm Animals
Medieval Village Pack
Low Poly Kit Dungeon
Envirokit Retro Spaceship
Envirokit Retro Sewers
Rome RTS Fantasy Buildings
Low Poly Kit Sci Fi
Human RTS Fantasy Buildings
Poly City Big Cartoon Pack
Polygon City Pack Environment & Interior
Stylized Dungeons Pack Low Poly
Low Poly Resort Islandville
Low poly characters Pack 2 - 70 Characters

Here's a mega-sized bundle of fantastic game assets content, designed mostly around the Low Poly style and perfect for all types of game development projects.
That's it for our latest BundleFest! We hope you had a lot of fun waiting for what was coming up next and that you found tons of new and cool things to get. Thank you so much for supporting us, and we'll see you in the next one!
---
---
Share this post