Our 10 favorite Wonderkids in Football Manager 2021
These youngsters need to be on your shortlist in FM21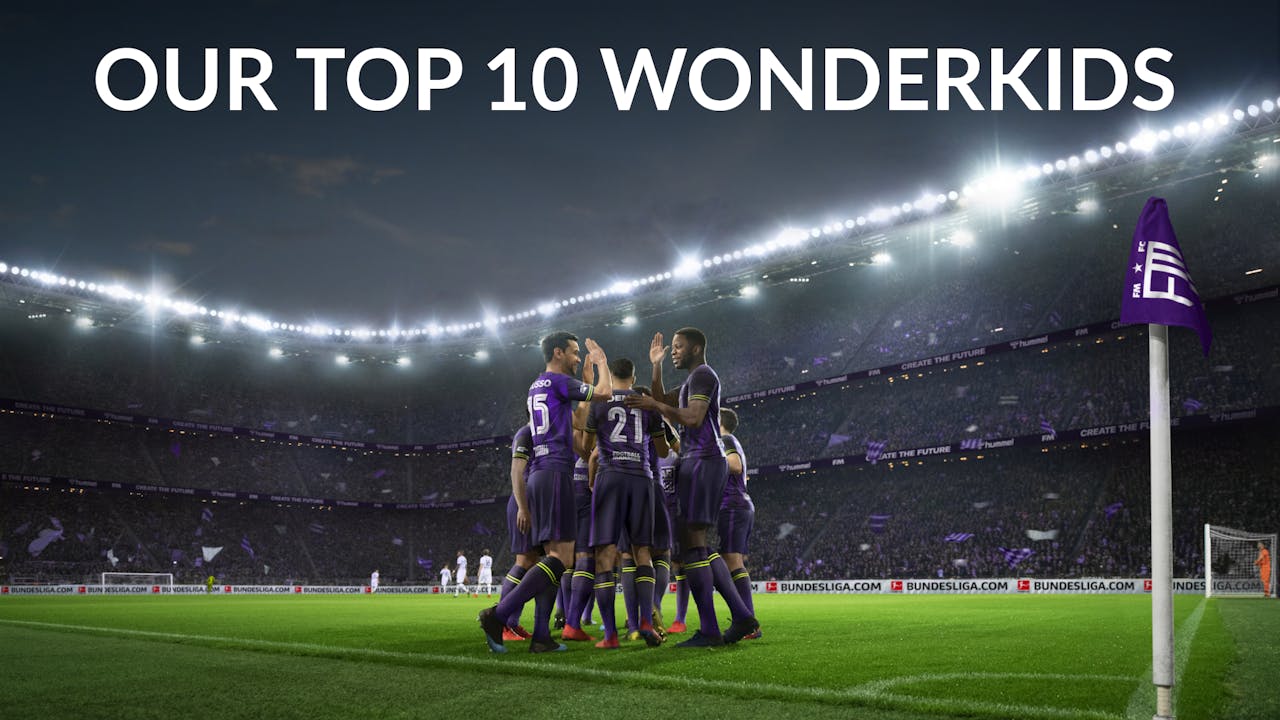 Finding the best potential youngsters can be difficult in Football Manager 2021, the latest management sim from SEGA and Sports Interactive.
With a realistic growth system, promising youngsters can look to be the real deal, before turning into a disappointing waste of money. But amongst these players, you can find a star or two.
Don't fret though, we're going to save your transfer budget and careers by running through the top ten highest potential players in the game.
In case you're not aware, every player in the hit simulation game has a potential rating out of 200 in which they can achieve in the game. A Wonderkid is defined as a player within the top bracket of potential and is under the age of 21 at the start of the game.
Kylian Mbappé - AM (RL), ST (C) - Paris Saint-Germain
French World Cup winner Kylian Mbappé is not just one of the best Wonderkids in Football Manager 2021, but also one of the best players in the game!
The pacey forward can play on both wings and upfront and has a deadly scoring touch that leaves defenders quaking in their boots. The only negative is that he will cost big money with a £403k weekly wage just one hurdle in acquiring the potential future best player of the year.
Matthijs de Ligt - D (C) - Zebre
Named as the best young player in 2019 by winning the Kopa Trophy and the first defender to win the Golden Boy award in 2018. There's no doubt that that Dutchman is one of the most skillful players of his generation.
De Ligt took Ajax to a domestic double before making a move to Juventus for a fee of €75 million at the beginning of last season. Since then he's been a mainstay of the Italian champions' team thanks to his tackling, marking, and leadership qualities.
Gianluigi Donnarumma - GK - AC Milan
Staying in Italy, Gianluigi Donnarumma has long been tipped as the future best 'keeper in the world, and the Italian number one already is classed as one of the best in the world.
He's already beaten many records, including to become the youngest goalkeeper ever to appear for the Italy national team. With his shot-stopping abilities, thanks to his great reach, he could save your team many points and be one of the first names on your team sheets for over ten seasons.
Kai Havertz - M/AM (C) - Chelsea
The 21-year-old German midfielder was linked to many sides before his move to Chelsea, including European heavyweights Real Madrid and Bayern Munich.
Following a big-money move from Germany to West London, Kai Havertz has had a big upgrade in FM21 with his technical abilities, including his ability to use both feet and find space against a compact defense. His versatility will also be a key asset for any manager who likes to keep a trimmed squad in the game.
Jadon Sancho - M/AM (RL) - Borussia Dortmund
With an ability to beat most defenders in a one-on-one situation it is easy to see why he'd be on most shortlists this season. The creativity he possesses makes him a threat against even the world's best players and an exciting player to watch in the enhanced 3D match engine.
After a big transfer saga involving the young English winger and Manchester United in the close season, Jadon Sancho remained at Dortmund for another season.
This is excellent news for Football Manager fanatics everywhere as, despite a still sizable fee, the value of the tricky winger will not be as high as it would have been with a move.
Trent Alexander-Arnold - D/WB (R), DM, M (C) - Liverpool
Fresh off a Premier League title victory, Alexander-Arnold's attacking and defensive abilities mean that in Football Manager 2021 he can fit into any side with ease.
The English full-back has an added versatility in the new version of the game as he is able to play in central midfield too.
Plus, with an ability to confidently take high-quality set-pieces, including a noteworthy Champions League semi-final corner against Barcelona, the player is one of the most all-rounded players in the game.
Martin Ødegaard - M (RC), AM (C) - R. Madrid
It feels like Ødegaard has been on these FM Wonderkid lists forever. After breaking into the Norweigan national team aged just 15 years old, the attacking midfielder is still touted as a promising youngster 6 years later.
A son of a former footballer, Martin Ødegaard had a breakthrough season on loan at Real Sociedad last season as they qualified for a European tournament for the first time in three years.
Utilizing his great vision, he contributed to 10 goals in 29 appearances and was the second-highest-rated player in the squad, according to popular site WhoScored.
Eduardo Camavinga - DM/M (C) - Stade Rennais
Defensive Midfielder Camavinga recently made his debut for France and became the youngest player to play for Les Bleus since 1914.
With high attributes in all of the core attributes for a player of his position at the young age of 17, the player is reminiscent of compatriot N'Golo Kante. Widely regarded as the best defensive midfielder of the current time, Kante was also the player that Camavinga replaced to make his aforementioned French debut.
What makes him even more impressive is his willingness to get on the ball and dictate a game for the whole 90 minutes. With his natural fitness and stamina extraordinarily high for a player of his ages.
Erling Haaland - ST (C) - Borussia Dortmund
The first teenager to score in five consecutive Champions League matches, and only the second to score 10 goals in the competition. The 2020 Golden Boy winner had to be on this list!
English-born Norwegian forward Haaland has everything it takes to become one of the best goalscorers of his generation thanks to his explosive pace, movement, and finishing. With his consistency shown over the past few years meaning that he would be a dream for any FM fan to have in their team.
Dayot Upamecano - D (C) - RB Leipzig
Dominant center backs are a fan favorite in Football Manager. With pace, strength, and a passing range that is as good as any defender, the RB Leipzig player is going to be a popular choice for top club managers.
Plus, with his contract expiring over the next few seasons, the French defender could be bought for a bargain price against rival defenders who may have longer contracts.
---
---
Share this post