Looking for some great games to play whilst out-and-about? Check out some of our favourites!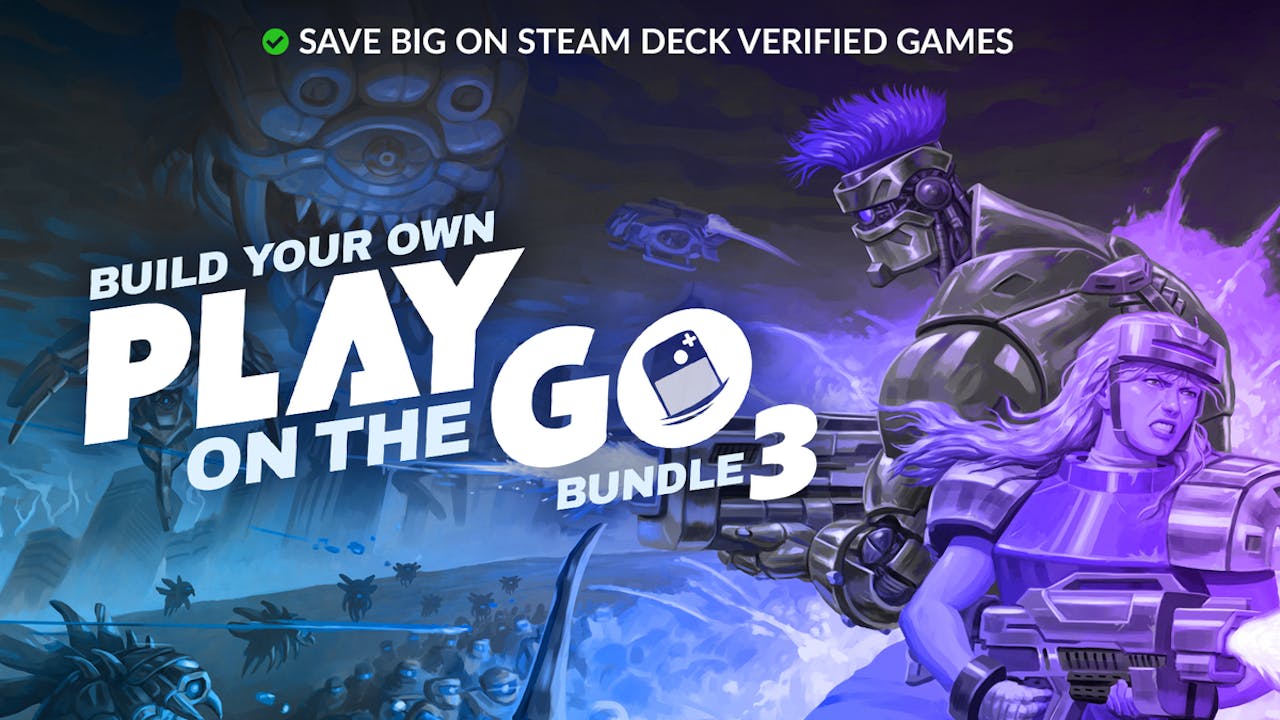 So you've finally got a Steam Deck and need some Steam Deck Verified games to really shine on it, or you're just looking for some extra fun to pad out your Steam library. Luckily we've got a selection of titles that are exactly what you're looking for.
Kingdom Rush Vengeance - Tower Defense
Kingdom Rush Vengeance - Tower Defense is a charming little — yep, you guessed it — tower defense game full of content. With over 30 different stages to battle through, a wide selection of difficulty modes, as well as Heroic and Iron Challenges for each stage, you'll have to effectively utilise your Hero units, as well your wealth of various towers, to keep the opposing empires at bay!
Face empires of mighty enemies. Clash against supreme bosses, unlocking and switching to new towers. Train legendary heroes and get all the achievements using your strategy in...
A relaxing winter sports game where you can choose to ski or snowboard across 12 different open-world resorts. As well as a selection of challenges on the slopes, there's plenty to explore in the backcountry and forests of each resort where you can find Ski Pass collectibles to unlock your next destination. Rather not have any challenges? The included ZEN Mode is exactly what you need, letting you unwind and tear down the mountains, perfect for that ever-frustrating commute.
Grand Mountain Adventure: Wonderlands lets you explore freely and at your pace entire ski resorts and the surrounding mountains.
Darkwood
A top-down survival horror, Darkwood boasts an intriguing new perspective on the genre. Ensure you get as much loot and supplies during the day, as things start to get a little more tense when the night rolls in. Explore the world around you, gain perks for your character, and talk to the various characters inhabiting the world to unravel the story.
Darkwood provides a new perspective on survival horror. Scavenge and explore the rich, ever-changing free-roam world by day, then hunker down in your hideout and pray for the...
Redout: Enhanced Edition
Inspired by futuristic racers such as WipeOut and F-Zero, as well as a healthy dose of influence from Star Wars' podracing, Redout is a fast-paced arcade racing game. Race through the 25 different tracks across various events, like the standard Race, to Speed Events, or even brutal Arena Races. Complete with online multiplayer with up to 12 racers, as well as VR support, Redout is a racer bound to keep you entertained whether you're at home or not!
The Ramp
The perfect little title to kill time when you're going through your day, The Ramp is admittedly a small game with no goals or progression, only a dedicated space to skate and bust some tricks. It is, however, an incredibly satisfying "digital toy" for you to mess around in. Got 15 minutes to kill whilst waiting for the bus, or just need something to pass the time on the train whilst listening to some music? Why not fire up The Ramp and attempt to shred the halfpipe?
LIBERATED
Described as a playable comic book, Liberated is a cyberpunk infused side-scrolling action game, steeped in noir aesthetics and dystopian intrigue. Dash between panels and pages of the comic book, sneak past enemy sentries, and shoot through whoever else stands in your way. The solid mix of action, quicktime events, and puzzle sections will keep you fixated on the fight for liberation.
Liberated is an open a playable comic book. Hear the rustling of pages. Maybe you'll even smell the ink. Immerse yourself in a dark, rain-soaked city. Finally, LEAP into the...
God's Trigger
A gory top-down shooter in the same vein as the Hotline Miami series, God's Trigger sees an Angel and a Demon partnered together to stop the apocalypse. You'll need to switch between each of the characters — with their own unique abilities — to survive the firefights, or team up with a friend in jolly cooperation to really amp up the bloodshed!
Bask in an intense skill-based action where one shot is enough to kill the enemy or… you.
Shadow Tactics: Blades of the Shogun
If you need something more substantial to sink your teeth into, look no further than the masterclass in tactical stealth games, Shadow Tactics: Blades of the Shogun. Utilise the five different characters with their own skill sets to face insurmountable odds. Evaluate the situation ahead of you before striking in a campaign that sees you travel through the gorgeous locales of Edo era Japan.
Take control of a team of deadly specialists in hardcore tactical stealth action with your Shadow Tactics: Blades of the Shogun Steam PC key.
There you have it, a fine selection of games ready to be played on your Steam Deck. You can find all of the games included on this list, as well as some other fantastic choices, in the Build Your Own Play on the Go Bundle 3.
---
---
Share this post