OUTRIDERS Preview - Everything you need to know
The new third-person shooter combines frenetic gunplay with RPG mechanics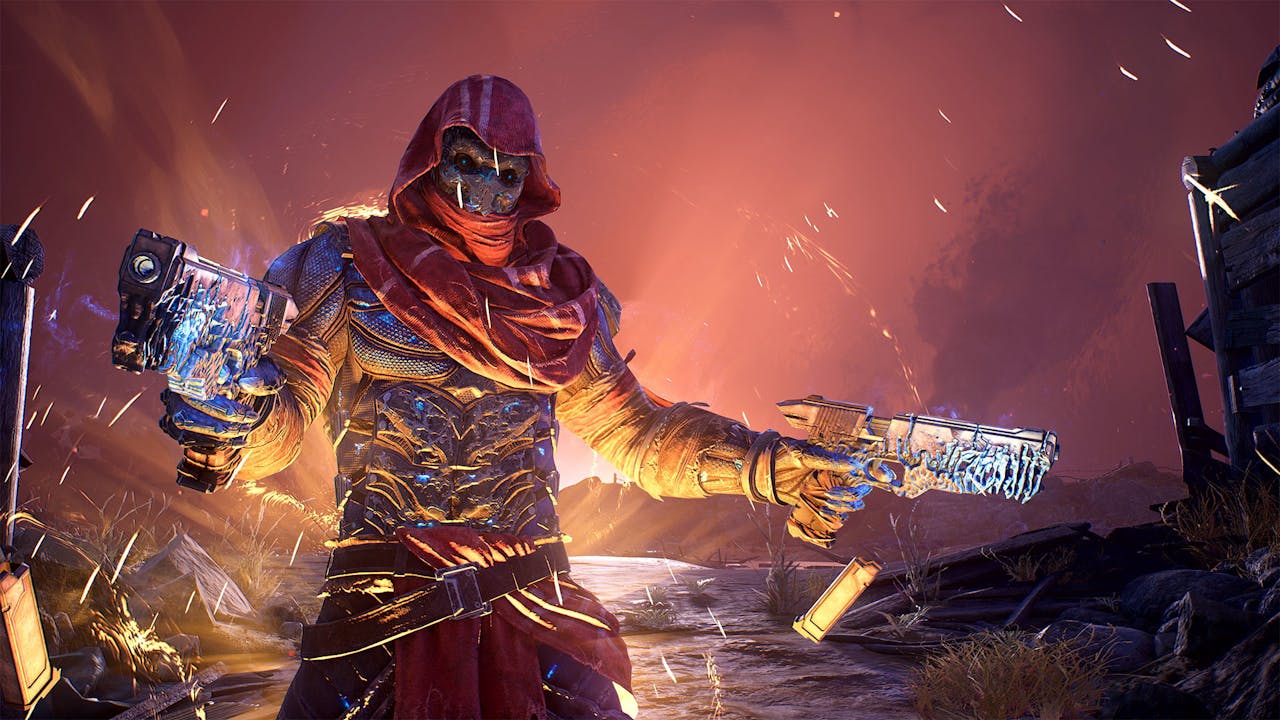 Explore Enoch
Set in a world with no more Earth, a war rages across the diverse, new homeworld of Enoch. You'll find yourself in the trenches of a brutal battle as mankind bleeds out. But you'll leave the slums of the First City behind to travel across the world in the pursuit of a mysterious signal.
It's a beautifully designed world with varying biomes that you'll travel through, including forests, mountains, and a desert. Each breathes life and personality that'll take you from the darkest places of the world to the most vibrant. With tranquil waterfalls and dangerous icy mountains all yours to roam and give the world a realistic atmosphere that you'll want to keep exploring.
But don't knock it until you try it, as the planet is hostile and though you may have left the war behind you, there're still beasts and soldiers all ready to take you down at the first opportunity.
So get your weapons and powers ready as this journey isn't going to be a walk in the park.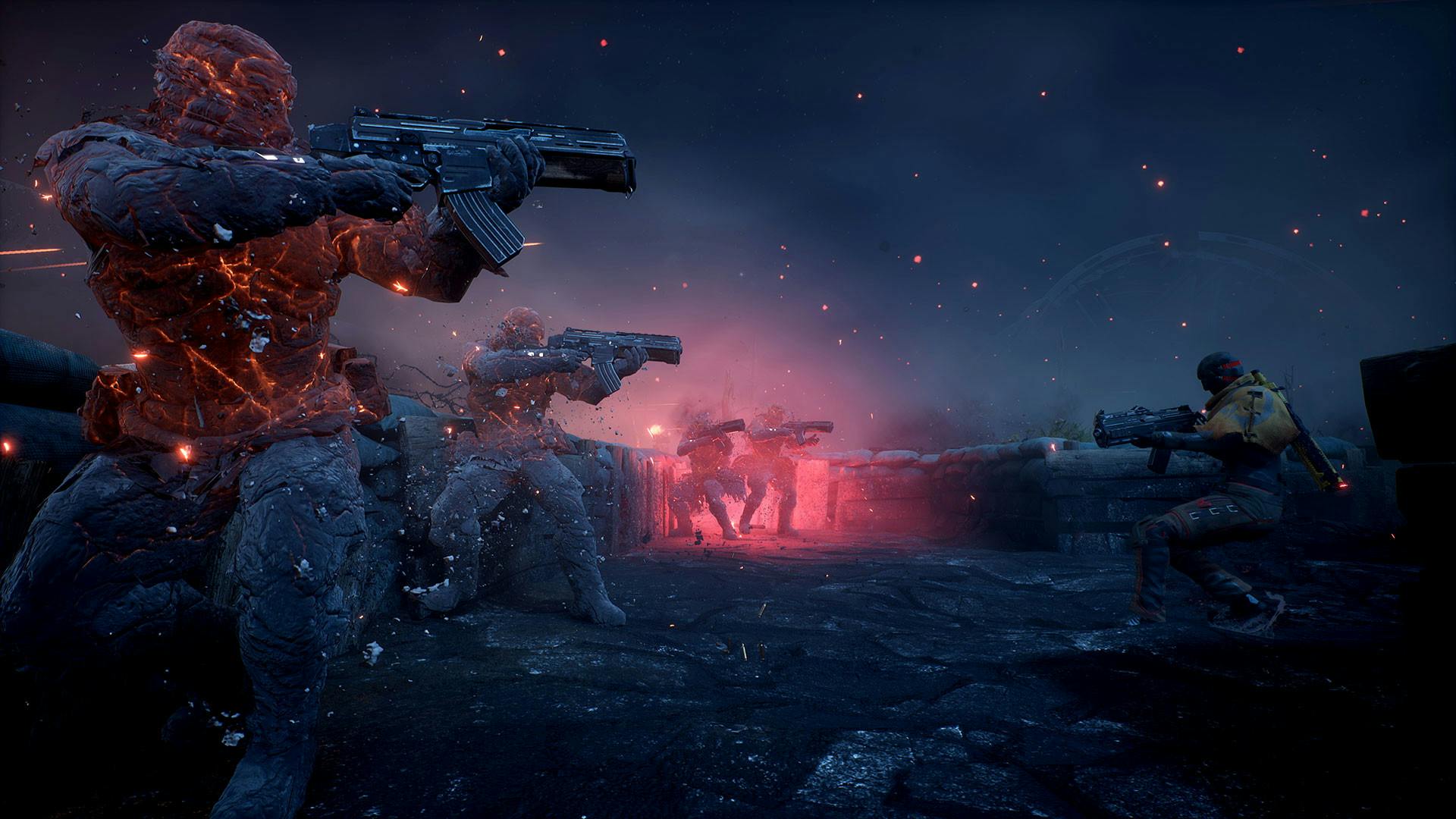 Intense Gunplay
People Can Fly's shooting style will be very familiar for those who have played Gears of War. The Polish developers created Gears of War: Judgment and they're taking this cover-based, third-person shooting mechanic into OUTRIDERS.
It's an explosive take on the shooting genre with high-powered weapons and abilities facing off against big enemies. You can pick up assault rifles, sniper rifles, shotguns, and handguns, to take down the soldiers and beasts. With each weapon feeling different and solving different problems, just as you'd expect.
Having played the demo myself, the great thing about the game was that the guns are responsive and that each weapon has a different weight to them depending on their type.
Weapons can also be picked up, with the looter-shooter game having ranks based on the ability of the weapon. So make sure you look out for those gold Legendary guns as you go about your journey.
Violent Powers
As well as the weapons in your arms you'll have powerful class-specific powers. There are four classes to pick from with each being a typical archetype that you'd expect and perfect for all types of gamers.
You can choose to be more support-based with healing and long-range missile launching being the focus of their abilities, or be more aggressive and have flame-based attacks that'll set your foes alight.
RPG Mechanics
Getting up in the face of your adversaries is one thing, but how can you make sure you're dealing the most amount of damage?

OUTRIDERS' deep RPG mechanics will allow you to level up, so you can kick even more ass. But first, you must pick between four different classes.
These all change how you play with the Devastator - which is the 'Tank' style whose all about getting in the enemies' face and dealing devastating damage. Whereas the Technomancer is about Long Range attacks and healing.
Each has their own powers which you unlock by leveling up. However, only three can be equipped at a time, and powers will vary depending on your class and will fit the profile of the class.
The four classes also have traits that can do everything from giving you more armor, right the way through to increasing Weapon Damage for long-range weapons.
It doesn't stop there though with the game allowing you to really become your best, outrider self! Each class has three sub-classes which you can use your Class Points to progress through their skill trees.
These focus on either Weapon Damage, Survival, or Anomaly Power with different node sizes signaling how big of an effect this is to your abilities.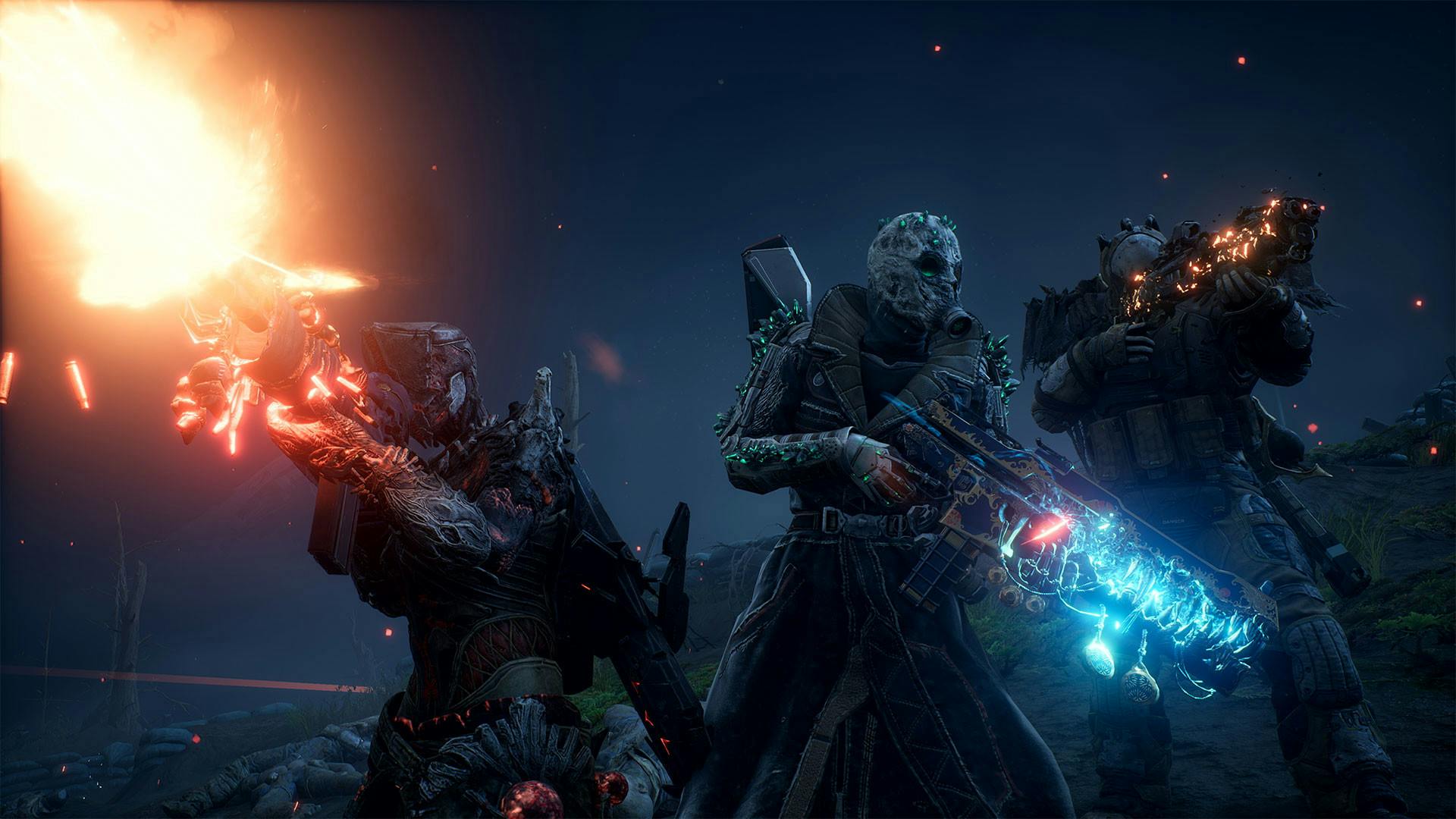 The Hubs
The story is split into groups of missions with explorable areas in the game,
known as Hubs.
These Hub areas are built-up zones containing NPCs, Vendors, and exploring will grant access to side quests.
These side quests aren't key to finishing the game's story, so don't worry if you're not one of those people who like to 100% a game due to your massive backlog.
Team up, soldier
You can choose to play the game alone or you can team up with up to three friends.
Whilst couch co-op is not supported, drop-in, drop-out online co-op is a big part of the game if you wish to play with your friends.
It's all Player vs Enemy, rather than Player vs Player,but balance is still important. Too many attacking classes and you'll find you and your squad overwhelmed by enemies all attacking you from multiple directions, and a lack of healing to survive.
Too much healing, however, and you won't deal the damage needed to progress.
Cross-Play and PC Support
Got a beastly PC but your friends are on consoles?
Full cross-play support across all platforms will allow you to squad up with your best teammates to reach the conclusion of the story.
Speaking of your PC, you'll be able to customize graphic settings and options - including having unlimited frames per second. Plus the game will allow key remapping for both keyboard and mouse and controllers.
But by now, you're probably asking about your sweet Ultra Wide Screen monitor.
Well, you can enjoy the beauty of Enoch in Ultra Widescreen Support, and if you want to see even more of the environment, then an adjustable Field of View will allow for that!
---
---
Share this post