PES 2021 will be 'season update' DLC ahead of next-gen switch says Konami
The dev team has confirmed that PES 2022 will also run on Unreal Engine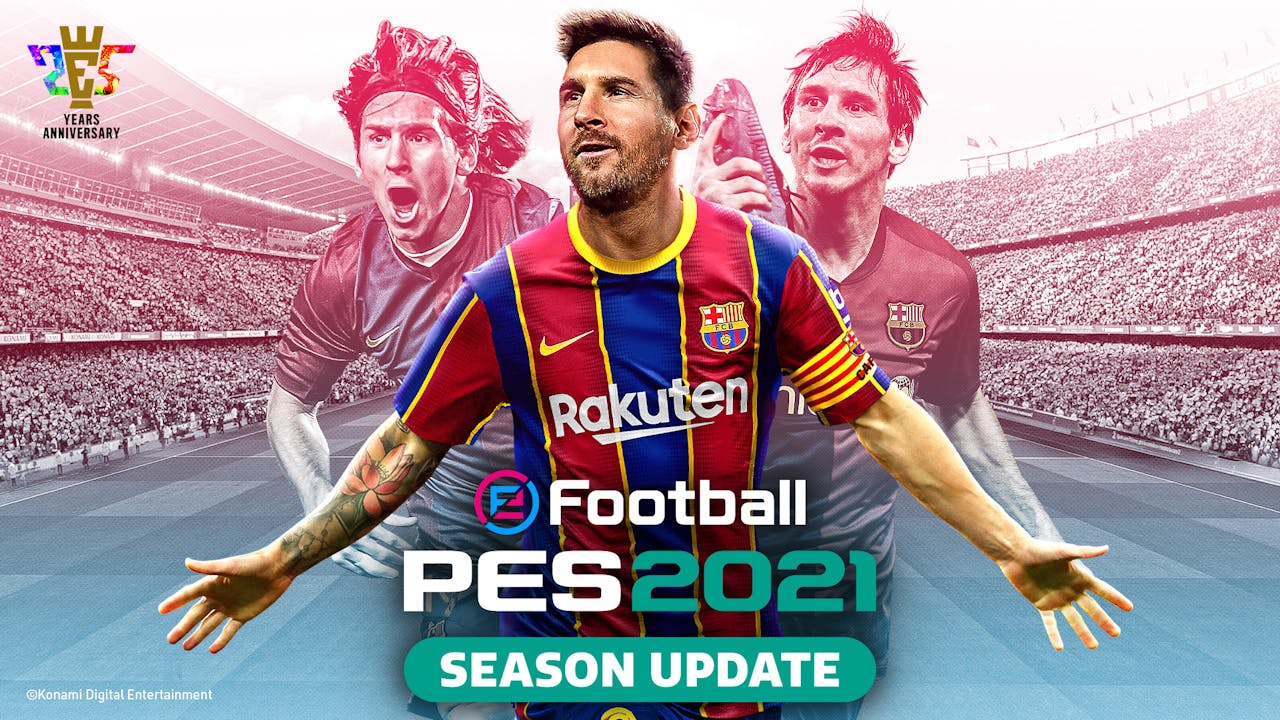 As football/soccer begins to transition back to the norm after being affected by the pandemic, the virtual side of the sport is also going through some unique changes with the news this week that the upcoming Pro Evolution Soccer game will not launch as a standalone title.
For the past 25 years or so, players have been used to an annual release of PES to coincide with each season, but Konami has made a surprise substitution for eFootball PES 2021 as the team begins to prepare for the next-gen consoles. With the development team focusing on making a new PES game which "aims to truly embody our core concept of 'The Pitch is Ours'" on the Xbox Series X and PlayStation 5, Konami has decided to make PES 2021 a paid-for 'season update' for the existing eFootball PES 2020.
The season update DLC will be available at a 'budget price point' and will include "several bonuses" which are so far undisclosed. The primary role of this update will include new kit updates, player transfers and teams either being promoted or relegated from featured leagues.
With news that PES 2022 is being built using Unreal Engine, replacing the Fox Engine used for the PC and console versions, footy fans can expect a life-like experience, one that Konami says will "dazzle" players.
In a statement on social media, the PES development team said: "As the industry stands at the precipice of an exciting new generation of consoles, we believe that now is the perfect time to share some of our plans for the future of the PES franchise with you. To that end, we are excited to announce that we are hard at work on a next generation football title that aims to truly embody our core concept of 'The Pitch is Ours'.
"This title is being developed with an updated engine that will enable us to dazzle you with staggering improvements to all areas of the game. Expect more realistic player models and animations, enhanced physics, photorealistic visuals, and much much more.
"We recognize that many of you are enthusiastic for new myClub and Master League content, and we are also excited to share that large updates are in the works for both of these modes. However, the sheer scale of everything we are aiming to achieve for our next gen debut has made it necessary to pare back our efforts in other areas of development.
"As a result, we have made the decision to launch this year's PES as a streamlined offering in the form of a 'season update'. That being said, we are still extremely confident that this year's game offers fans more than enough thrills to tide them over until our next gen title is ready for launch.
"This year also marks a quarter of a century since the very first PES title was released. To commemorate this important milestone, and more importantly, to show our gratitude to you, our loyal fans, we are pleased to announce that this year's PES will launch at an affordable anniversary price and will also come with several bonuses.
"Currently, we aim to begin testing of our next gen title sometime in mid-2021, with an estimated release date later in the same year. Until that time, we hope to see you back on the pitch in this year's season update."
Despite developing its own game for current next-gen, EA - Konami's main rival in the sports sim scene - looks set to release a full version of FIFA 21 later this year as planned, with a next-gen version set to me released.
eFootball PES 2021 will be available on September 15th 2020 for Xbox One, PlayStation 4 and Steam PC.
---
---
Share this post