The Fanatical
Blog
Latest AAA, Indie & Game Bundles
Receive Games Instantly
Save Money
100% Authentic Keys
Pick and win one of ten top Steam PC games
By Sam Jones - 1st Dec 2017News
Chance to win one of ten popular games in our latest contest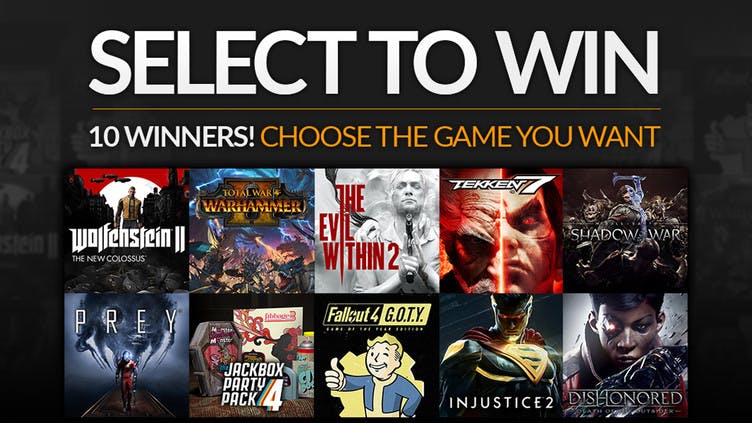 Looking for another game to add to your library in time for the Christmas holidays? You could win one of ten awesome games in our latest contest.
Simply pick one of the ten games featured in the competition and complete as many actions as you like to earn entries. The more actions you complete, the more entries you'll get towards scooping one of the action-packed games up for grabs.
Here are the games you can pick from, and don't forget to enter below!
Don't miss out
Wolfenstein II: The New Colossus
An exhilarating adventure brought to life by the industry-leading id Tech 6 game engine, Wolfenstein II: The New Colossus sends players to Nazi-controlled America in the 1960s, with the objective of recruiting the boldest resistance leaders in your fight against an overpowering enemy.
Blast Nazis to bits with high-tech weaponry such as the Laserkraftwerk - a multi-purpose, high-intensity laser weapon that can disintegrate enemies - or the Dieselkraftwerk, a rapid-fire, gas-powered grenade launcher.
Total War's latest Warhammer installment returns with a bang in Total War: Warhammer II, the epic turn-based strategy game. Lead your army into huge battles and command legions of soldiers in both the campaign to save or destroy the Great Vortex, or in online multiplayer modes. Choose from four races and engage in statecraft, diplomacy and exploration as you build your empire.
Experience the frights, visceral horror and suspense in The Evil Within 2. Join Detective Sebastian Castellanos as he returns to the eerie nightmarish world of STEM, filled with mutated creatures that lie in wait. Craft traps and try to battle enemies with limited ammo, or sneak, run and hide using the shadows.
One of the greatest arcade fighting game franchises returns with glorious graphics and adrenaline-pumping combat in TEKKEN 7. Discover the epic conclusion of the Mishima clan and unravel the reasons behind each step of their ceaseless fight - impressively powered by Unreal Engine 4. Choose from over 40 customizable fighters ready to brawl in breakable surroundings in both local and online multiplayer modes.
Middle-earth: Shadow of War
Returning to Middle-earth after the events of Shadow of Morder will be no walk in the park for any budding warriors, as Sauron and his Nazgul army grow stronger. Middle-earth: Shadow of War sees Talion and Elven wraith Celembrimbor take on Orc and Uruk warchiefs, conquer fortresses and forge a new ring of power in their fight to cleanse the lands from despair - powered by the improved Nemesis System, where actions have consequences.
Take the battle online with Social Conquest mode, where players must attack or defend their fortress.
A sci-fi thriller that will have you on the edge of your seat, Prey sees players exploring the Talos I space station to discover clues left behind after horrific events led to hostile aliens overthrowing the station's residents - and you are now being hunted. Gain alien abilities to develop a distinct combination of powers and upgrade your unique skills, as well as crafting items from blueprints, gadgets and tools on board the station to overcome dangerous obstacles in your way.
Grab your friends and family and have a blast with The Jackbox Party Pack 4. Play local multiplayer and enjoy gameplay over streams with remote players. Dive into Fibbage 3, Survive the Internet, Monster Seeking Monster, Bracketeering and Civic Doodle - ranging from three to 18 player game modes.
Fallout 4: Game of the Year Edition
Survival is key in Fallout 4 after a nuclear blast has left the world in ruins. Emerge from your vault and venture across a vast and dangerous Wasteland, make alliances, build communities and take on mutated enemies in hours upon hours of addictive gameplay. Use the S.P.E.C.I.A.L. character system to upgrade your character in strength, perception, endurance, charisma, intelligence agility and luck.
Continue the epic cinematic story set in motion in Injustice: Gods Among Us as Batman and his allies unite once more in Injustice 2. In the midst of this chaos, a new threat appears that forces old enemies to forge new alliances.
Send your enemies packing with Super Moves unique to each character, launching a cinematic beat 'em up experience that can turn the fight on its head. Decide the fate of characters and storylines, customize your character for local and multiplayer modes and, above all, kick some butt!
Dishonored: Death of the Outsider
The latest standalone adventure in the critically-acclaimed Dishonored series has all the stealthy movements and brutal attacks found in the original games. Dishonored: Death of the Outsider welcomes back Billie Lurk one of Dunwall's most notorious killers-for-hire and her mentor, the infamous assassin Daud, as they embark on missions to defeat the god-like Outsider.
With immersive storytelling that responds to your every choice and compelling characters and exhilarating action, Death of the Outsider is the perfect entry point for those new to the Dishonored series - while delivering a significant expansion of the gameplay and surroundings for longtime fans.
Looking for games to pre-order? Check out our Coming Soon section at fanatical.com
---
Share this post
Enter a dark fantasy world and become a masterful assassin with your Styx: Master of Shadows Steam PC key. Build up your skills via six unique skill trees in order to sneak, steal and take down...
Enter a dark fantasy world and become a masterful assassin with your Styx: Master of Shadows Steam PC key. Build up your skills via six...
Enter a dark fantasy world and become a masterful assassin with your Styx:...
Ends in
35

:

04

:

40
or until sold out
Subscribe to our Email Newsletter to get Fanatical promotions direct to your inbox.
You can unsubscribe via the newsletter at any time. By subscribing to our newsletter you agree to our Privacy Policy.