beat 'em up developer talks old-school games and teaming up with Team17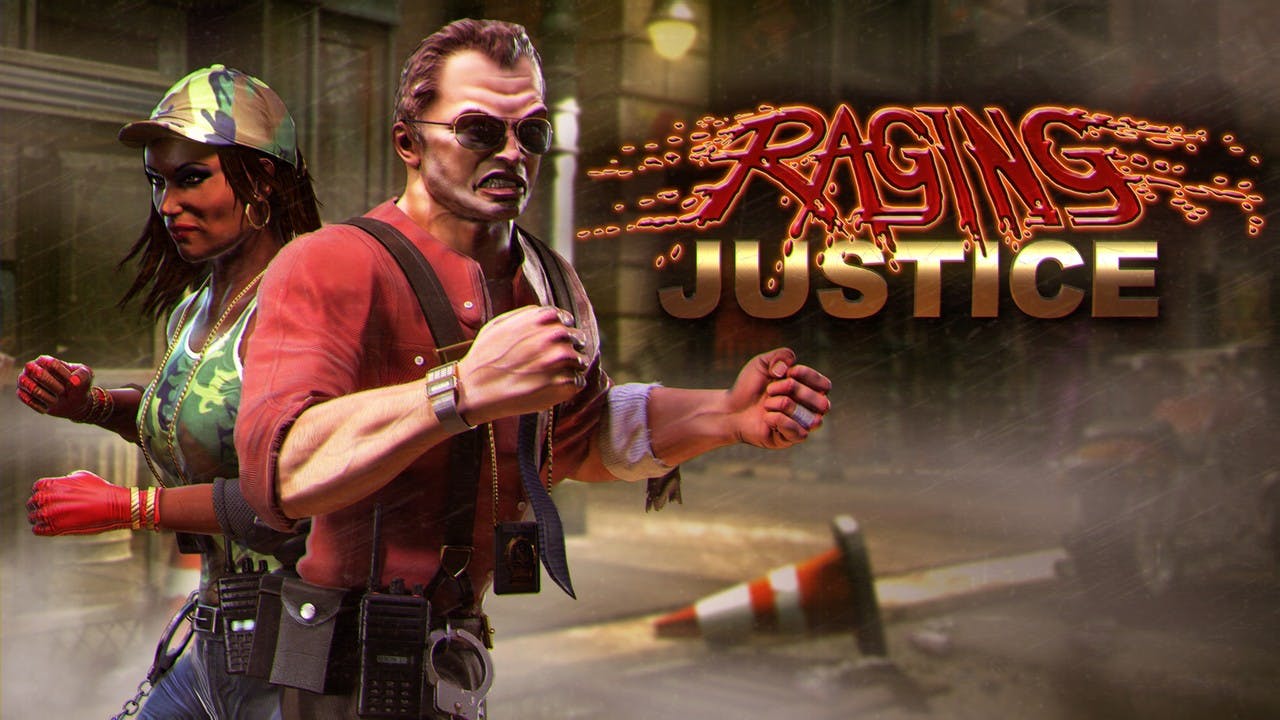 You can't 'beat' a good arcade-style beat 'em up game – a beacon for the industry in the 1980s, 90s and even now.
Growing up as a Mega Drive kid, Streets of Rage was my go-to option for this particular style of game – the brutal bare-knuckle combat, the overpowered bazooka specials from supporting cops (that 99% of the time would be accidentally pressed) and the fun factor element.
Fast forward 20-plus years, and this game still holds a place in my heart. So, the fact that current developers are still working on games of this genre, whilst maintaining the same level of passion, consistency and juicy nostalgia, is a very good thing indeed. Towards the end of 2015/early 2016, I discovered an indie developer working on Raging Justice – a game involving a crime-fighting duo taking on corrupt streets filled with violent gangs.
I still recall meeting Nic and Anna Makin, of Makin Games, in a pub in Ashby-de-la-Zouch to talk about the game and how they were juggling game development, full-time jobs and raising a baby. Nic presented me with a prototype (demo) of the game there and then, among the bustling pub of lunchtime drinkers.
Within minutes, no, seconds… the rush of nostalgia filled my mind, the memories of Streets of Rage, Golden Axe and so many other old games that I'd played came flooding back. The team had captured the essence of games I, and others, loved by keeping the core of the game the same and improving it, visually, for a modern generation.
Things went quiet for a while, Nic and the team went back to working on the game and everyday life, and I pondered when I would see the next big announcement. Nearly two years later, the game is edging towards the light at the end of the tunnel.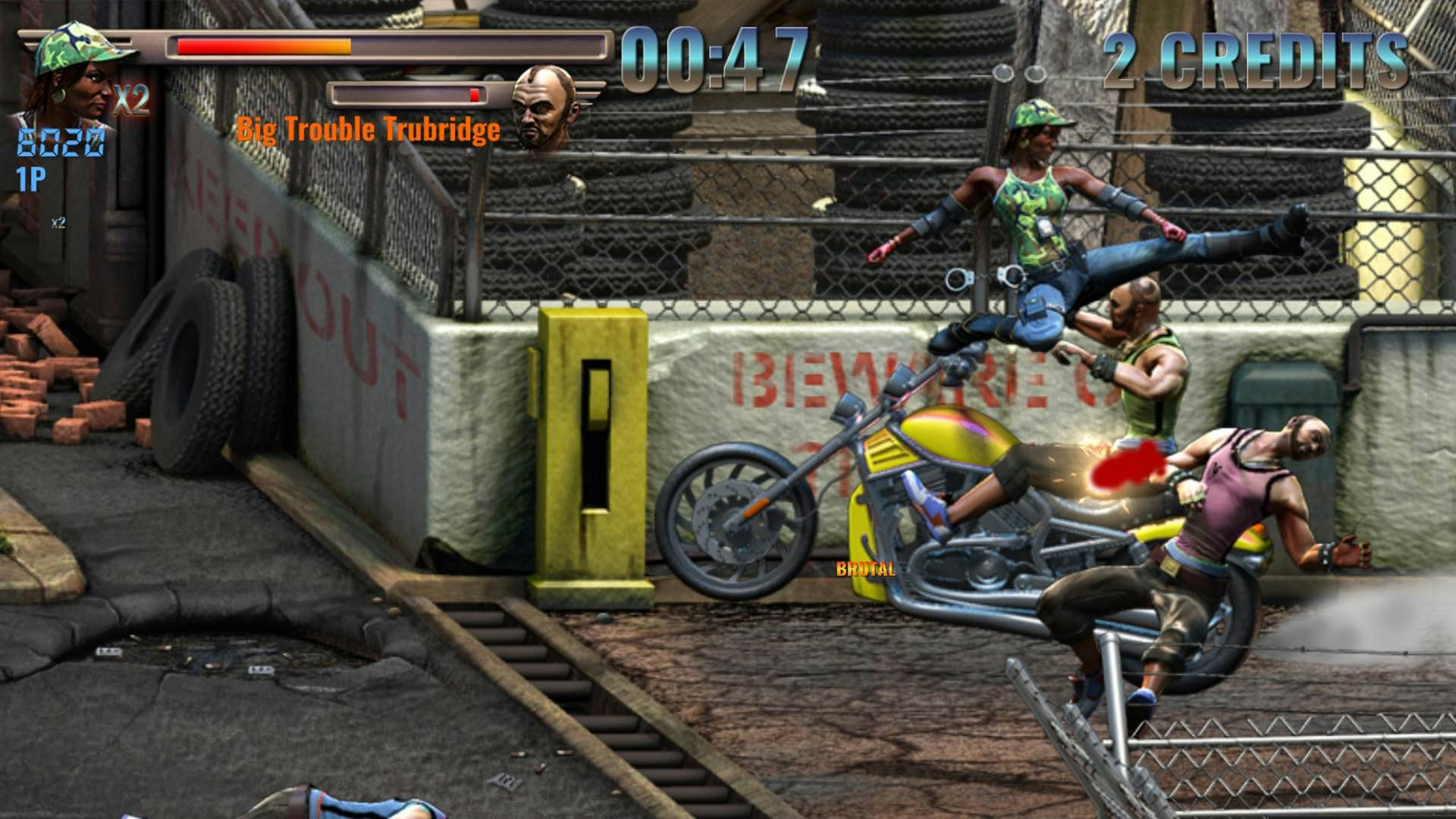 Speaking exclusively to Fanatical this month, we caught up with Makin Games' Nic Makin, Steve Burke and Jay Howse to talk about how their passion for nostalgic arcade games built the foundations for Raging Justice.
"For me, some of my earliest and best gaming experiences were as a child, playing beat 'em ups in the arcades with my friends – Double Dragon, Final Fight, Golden Axe, Vendetta (and later Streets of Rage on the Mega Drive.)" says Jay, a former senior artist for Rare. "There was something really special about battling through hordes of thugs with a friend, arguing over who gets to use the baseball bat, sometimes even turning on each other!
"Those games had a slightly gritty look to them, which appealed to me, in contrast to everything else that was around at the time. By the time I got into making video games as a job, those games were long gone – but I still had the urge to try to recreate something similar myself, taking my favorite elements from each and adding our own take on it."
"I'm a huge fan of arcade games," says Nic, director and lead programmer at Makin Games. "Probably because they were the 'IMAX' of gaming back when I was growing up, home machines just couldn't compete – the look, the feel, the audio – they were leaps ahead of consoles and home computers. I always wanted to make an arcade game, and the beat 'em ups were the best of the best (for me), so this was a dream project."
The team also went into detail on how they captured the unique character movement and look of the game, to give players that old-school vibe of arcade beat 'em ups predominantly seen from games of the 80s and 90s.
"For the graphics I wanted to use pre-rendered sprites from the beginning, rather than real-time 3D, or pixel art," says Jay. "Some of the early Rare games like Killer Instinct used this technique to great effect. You can do amazing things with a 3D engine today, but games often end up looking very similar to each other.
"For Raging Justice, I thought 'what if real-time 3D had never caught on?' 'What if people just carried on making beat 'em ups with pre-rendered sprites and backgrounds – what would that look like?' – in some ways it is restrictive, but in others, as an artist, it is very liberating.
"We can have as many characters as we like on screen, I can use techniques like cloth simulation, motion blur and dynamics on the characters to give extra secondary movement or smoother animation with no additional CPU or GPU cost. But the main reason to do it like this is to get a unique look and feel to the game, and hopefully people will like it!"
"The game design has been inspired from so many places, from a mix of classic arcade games to modern action films, anything with an instant hit of action has influenced what Raging Justice has become," says Nic. "One of our core tenet was to keep it fun, anything we add has to be fun, or funny (humor is surprisingly important in a gritty action game!), if not then we'd go back to the drawing board and find a new way to do things.
"From this, ideas like the ride-on-lawnmower evolved, it's laugh-out-loud funny when you first get on the mower, plus the fights that we've caused when playing co-op as you both want to ride it. Another major consideration was to keep everything fast, to 'get to the gameplay quickly', I don't want to make you read a big story (we've a backstory, it's awesomely cheesy, but extra to just having fun), to have you spend time in a tutorial to learn the game.
"No, we want to throw you into the game as quick as you like and let you just press buttons and have fun. Pick-up-and-play was what arcade games were, if they couldn't hook you inside of 30 seconds of game, then you'd not spend another 20p on them and they'd fail.
"Well, Raging Justice has to be gratifying from the off, that's the challenge we set, and one we believe we hit."
"For the music I went in with a totally blank slate," says Steve. "I'd not heard the music to Streets of Rage, Street Fighter, or any other arcade beat 'em ups. My early gaming memories were from the ZX Spectrum, C64, then Amiga. International Karate + was one of my favorites on the C64, that was such a classic.
"On Raging Justice, we have grungy 8-bit game sounds, modern synths, rock guitar, lots of programmed in percussion, and orchestral instruments. There's even a fairground style piece of music, and some high-speed harpsichord.
"There's lots of variety in the music on this game, hopefully a throwback to the early game soundtracks that I enjoyed. Nearly every game I get chance to create the sound effects on, I always try and come up with voices for the characters if they allow me.
"On Raging Justice, I voiced Rick, the street thug baddies, large bellied 'likes to run at you' fella, Max, all the bosses, hulk dude (I'm sure these characters all have their own names, but this is how we names things in development), the final baddie (you'll just have to play it). Oh, and also the little rats that hide under the bins.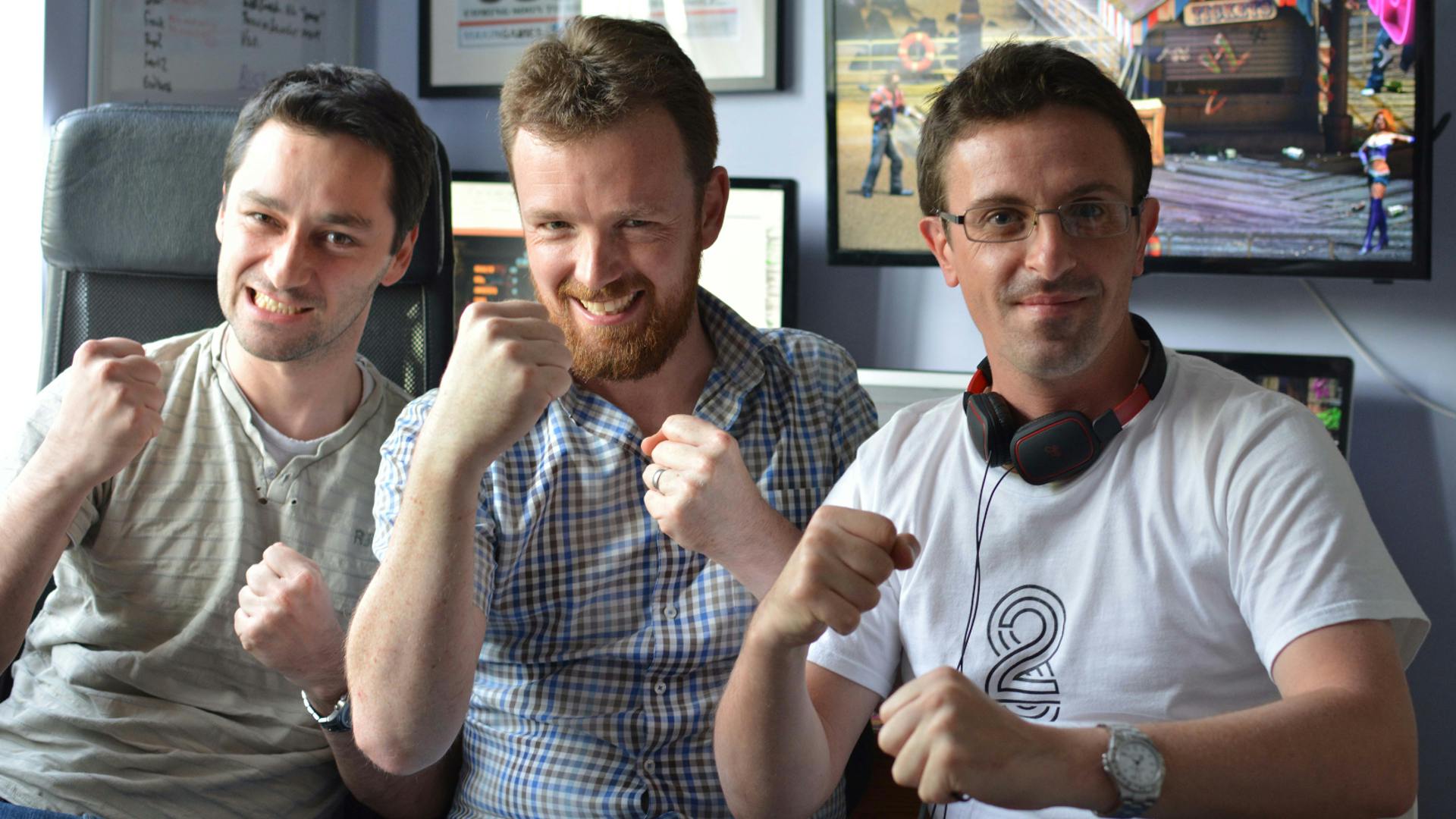 "I lost my voice a few times and terrified the neighbors on more than one occasion recording the voiceovers – just another day in game dev."
Going it alone as a small indie developer team can be daunting for some, what with juggling game design, PR and marketing and various other tasks behind closed doors. The arrival of Team17, who are now the official publisher for Raging Justice, will have no doubt provided a much-needed boost for Makin Games – allowing them to solely focus on what looks set to be a great indie game release.
We asked Nic what the challenges are of having a small team working on a game, and how important is it to have the support of a large publishing brand.
"As we started thinking about how we're going to launch Raging Justice, we realized that we don't have the expertise, or experience, or, frankly, the time to spend marketing the game as wide as we'd like," admits Nic. "As a small team, we're all working on so many parts of the game development itself that we were struggling to spend the time on the publishing side of things – we know it's one of the main things that can make-or-break a game, but finding a balance that meant our small team could finish the game to the level of polish we wanted – and find time to engage with gamers and plan our launch was impossible.
"When the opportunity to work with Team17 to release Raging Justice came about, well, we couldn't believe it, our small team of developers, working with one of the longest running UK gaming brands – whoa, that's so cool!
"In the months since we teamed up, they've helped us push Raging Justice to new heights, with tweaks and polish that we were too close to see, with help and support to bring us to more platforms, it's been a heck of a ride, but the game has improved beyond our expectations!"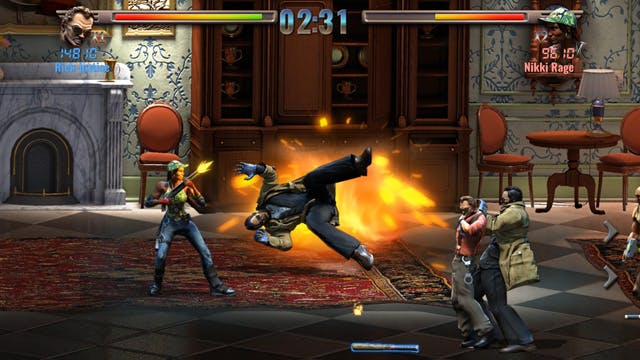 In Raging Justice, players will control one of two protagonists, Nikki Rage and Rick Justice, capable of not only kicking numerous enemies through the air and running them over with a lawnmower – but also arresting downed enemies – if gamers prefer a more lawful approach.
"I don't know about real life people, but Rick is somewhat inspired by the Clint Eastwood character Dirty Harry, crossed with a bit of Sly Stallone in Judge Dread (actually I read that the original comic book character was based on Dirty Harry) and Mel Gibson in Lethal Weapon," says Jay. "Nikki is less influenced by specific actresses or roles in terms of her look but I had films like Columbiana with Zoe Saldana in mind, Kill Bill (pretty much every character) – even going back to classics like Aliens, not so much for her look but the attitude – strong, intelligent, protective…and tough!"
Makin Games have hit the road on several occasions to showcase early versions of Raging Justice over the past two years or so – attending events such as the well-attended EGX in Birmingham, UK. We asked the team what the feedback has been like and how have different generations of gamers reacted to the game?
"The feedback has been overwhelming," says Nick. "It's been so great to show previews of the game to gamers, and the reception has been something that's help keep us motivated throughout development!
"Gamers of my era definitely find nostalgia from Raging Justice, we've taken a number of inspirations from most of the classic beat 'em ups, so players always mention how much Raging Justice reminds them of whichever game they played most as a kid. Nostalgia has always been a part of what Raging Justice is, a modern take on a classic genre as though played directly through the rose-tinted specs that we remember our favorite childhood videogames.
"Younger players took to Raging Justice like fish to water, it was possibly the biggest surprise for me. A lot of them haven't played a side-scrolling brawler in this style before, the only fighting games they've seen are the recent Street Fighters or other competitive fighters, and once they realize they're working together to fight the criminal gangs, they really get stuck in.
"During many of the shows, we've found that players keep coming back for 'one more go', this as much as anything give me a great sense of pride in what we've made, that players had so much fun that they wanted to play it again."
---
---
Share this post