Keep calm and carry on gaming with our top picks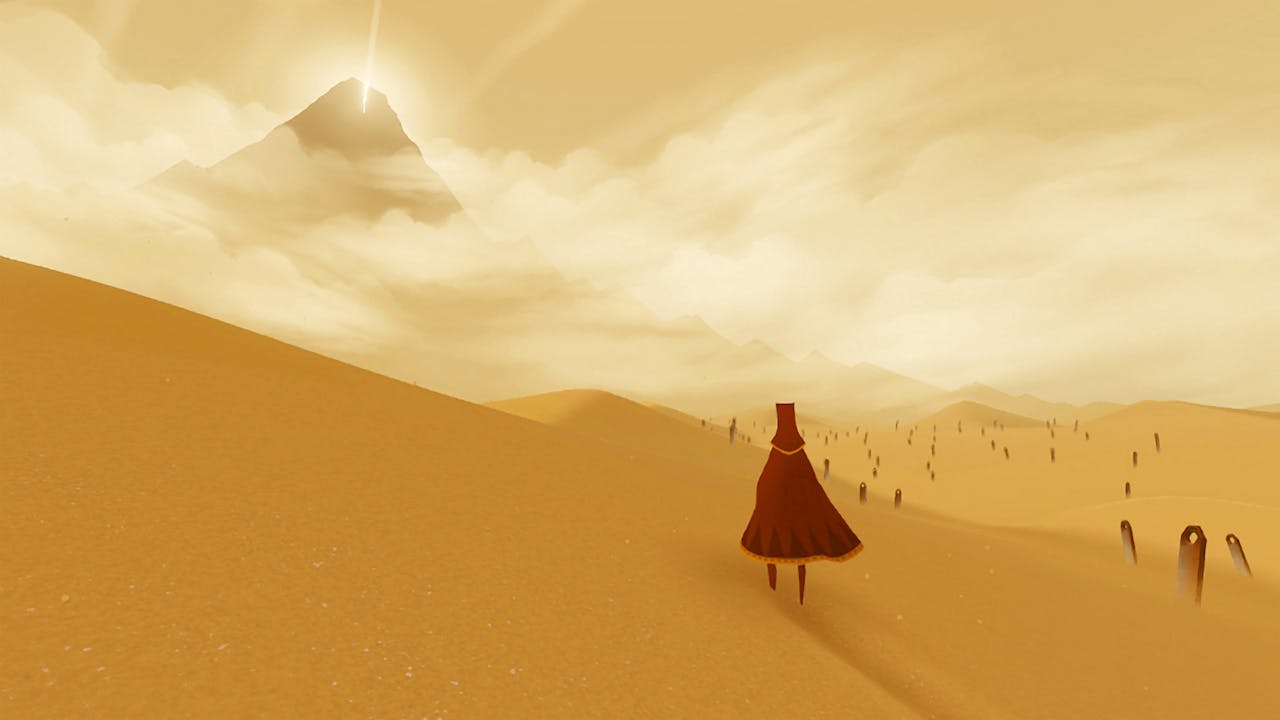 Self-isolation, whether it's due to the coronavirus or general health problems, can be a really tough time for many of us - and it can certainly have an effect on our mental health.
Keeping yourself busy on a day-to-day basis is tricky in such a restricted environment, but at least video games offer some form of comfort and activity so that you can lose a few hours. Many of the team here at Fanatical are now self-isolating due to COVID-19, as are probably most of you reading this post, so we know how difficult the next few weeks/months is going to be.
Here, we've picked out some relaxing video games to play whether you're in self-isolation or if you're at home and simply want to chill, and look after number one... you!
RiME
If exploring ancient ruins and their hidden marvels sounds like a tranquil gaming session, then let us introduce you to RiME. This single-player adventure sees you plat as a young boy who has awakened on a mysterious island after a torrential storm.
You'll witness wild animals wandering around the island as you venture deeper into long-forgotten ruins, and a massive tower that beckons you to come closer. Armed with your wits and a will to overcome, and the guidance of a helpful fox, players must explore the enigmatic island, reach the tower's peak, and unlock its closely guarded secrets.
Solve puzzles with sound, light and shadow - using projection, perspective, platforming, and even time manipulation to progress - all while diving deeper into the young boy's backstory by uncovering dozens of secrets and collectables on your travels.
It has the adventure and problem-solving elements of action-packed games, but with a more subtle, relaxing tone.
Journey
Austin Wintory has composed some fantastic scores for a variety of games over the years, and one of the most memorable titles is PlayStation 4 & Epic Games exclusive Journey. You follow the 'journey' of a robed figure, exploring a vast desert to reach a mysterious mountain in the distance, venturing through ruins and collecting precious stones in order to unlock visions of a tall white-robed figure - as well as learning more about the remnants of a once-thriving civilization.
Speaking of the music, the developers built the game's audio around dynamically responding to the player's actions, representing the game's emotional arc throughout the story. In addition, you'll also be able to encounter other players within your world, and they will be able to assist you on your quest - but neither of you can communicate with voice or text.
Having no set communication and merely exploring together, using your magical robes to unlock new paths, is a rather peaceful method of gaming.
Stardew Valley
Rated 'Overwhelmingly Positive' on Steam and now available for Nintendo Switch gamers to enjoy, Stardew Valley sees you inherit your grandfather's old farm plot and make it your own. Armed with hand-me-down tools and a few coins, you set out to begin your new life.
You'll need to learn to live off the land and turn these overgrown fields into a thriving home, but it won't be easy. Ever since Joja Corporation came to town, the old ways of life have all but disappeared.
The community center, once the town's most vibrant hub of activity, now lies in shambles, but the valley seems full of opportunity. With a little dedication, you might just be the one to restore Stardew Valley to greatness!
If you feel like relaxing at home, but would prefer the company of a friend, you can invite 1-3 players to join you in the valley. Players can work together to build a thriving farm, share resources, and build relationships with townspeople or each other.
Animal Crossing: New Horizons
Paradise is what you make it in Animal Crossing: New Horizons, and you'll enjoy hours of relaxing gameplay as you build on your deserted island. You'll be able to collect DIY Recipes and gather the materials needed, as well as crafting tools needed for everyday use or outdoor furniture, which can improve life for everyone.
Decorate your island in all kinds of creative ways and build bridges, paths, slopes and rivers to fashion the island however you like. It won't happen overnight, but seeing the results take shape will be oh-so satisfying!
Better still, up to eight people registered on one Nintendo Switch can live on the same island - and up to four can enjoy island life simultaneously. You can also play with up to seven people either locally or online, travelling to their islands or inviting them to yours.
Whether you're sharing gifts, competing in bug contests or just enjoying each other's company, there's always more fun to be had with friends!
GRIS
Winner of 'Outstanding Visual Style' in the Steam Awards 2019 and rated 'Overwhelmingly Positive' by Steam gamers, GRIS is a beautiful atmospheric platformer that's not to be missed. You'll lead a hopeful young girl lost in her own world, dealing with a painful experience in her life.
Her journey through sorrow is manifested in her dress, which grants new abilities to better navigate her faded reality. The game is a serene and evocative experience, free from danger, frustration or death - as you explore a meticulously designed world brought to life with delicate art, detailed animation, and an elegant original score.
Light puzzles, platforming sequences and optional skill-based challenges will reveal themselves as more of Gris's world becomes accessible.
From Dust
Immerse yourself in a world as exotically beautiful, that's sometimes deadly, with From Dust.
In this game, you control the destiny of a primitive tribe against the backdrop of a world in constant evolution - a universe where mighty Nature reclaims what is hers - and your mastery of the elements is your people's only chance of survival. The world can be sculptured to your preference (and for safety of your tribe).
Control the forces of nature to sculpt the world in your image. Hold back lava, stop raging waters, empty lakes, grow forests and raise mountains.
You'll come up against some tricky scenarios such as erupting volcanoes and huge tidal waves, but the majority of your time with From Dust is one of peace and creativity.
Snake Pass
Slither into your gaming room, coil up on the chair and enjoy the wonderful world of Snake Pass. In this physics-based adventure platformer, you'll follow Noodle the Snake and his hyperactive best friend, Doodle the Hummingbird, on their journey to reunite the missing Keystones with the magical gates, which give Haven Tor its mythical power.
Using various combinations of buttons, you'll need to slither, coil and climb around objects in vibrant levels to unlock new paths. It's a real feel-good platformer, perfect for chilling out and playing on your own or with a friend - and it's great for the 'little gamers' too.
Pool Nation
Fancy a game of pool but without the commotion and dread of catching colds and viruses from others? Then you'll enjoy Pool Nation, where gameplay is king. Online or offline, the ease of control gives you the ability to pull off shots you wouldn't dream of in the real world.
The balls behave exactly as they should use the table surround to create the most unbelievable trickshots and view them back in super slow mo. The graphics are as shiny and pixel-perfect as the physics, with beautiful locations, stunning exterior landscapes, eye-catching interiors, the ability to change the time of day, and customize your games with a huge array of balls, cues and table decals creating your ideal pool playing environment.
Every detail has been considered and polished, from the super-detailed table baize and deforming cushions, to the explosions of chalk dust from the cue tip. There are 11 addictive game modes including the adrenaline pumping Endurance, extensive career modes and seven exciting online modes including the new Speed Pool.
In addition, you'll be able to utilize a variety of objects including ramps, pikes, loop-the-loops and speed up strips. Heck, you won't even have to put a coin in the pool table to play it every time!
---
---
Share this post