Our pick of the popular mods for Capcom's hit survival horror remake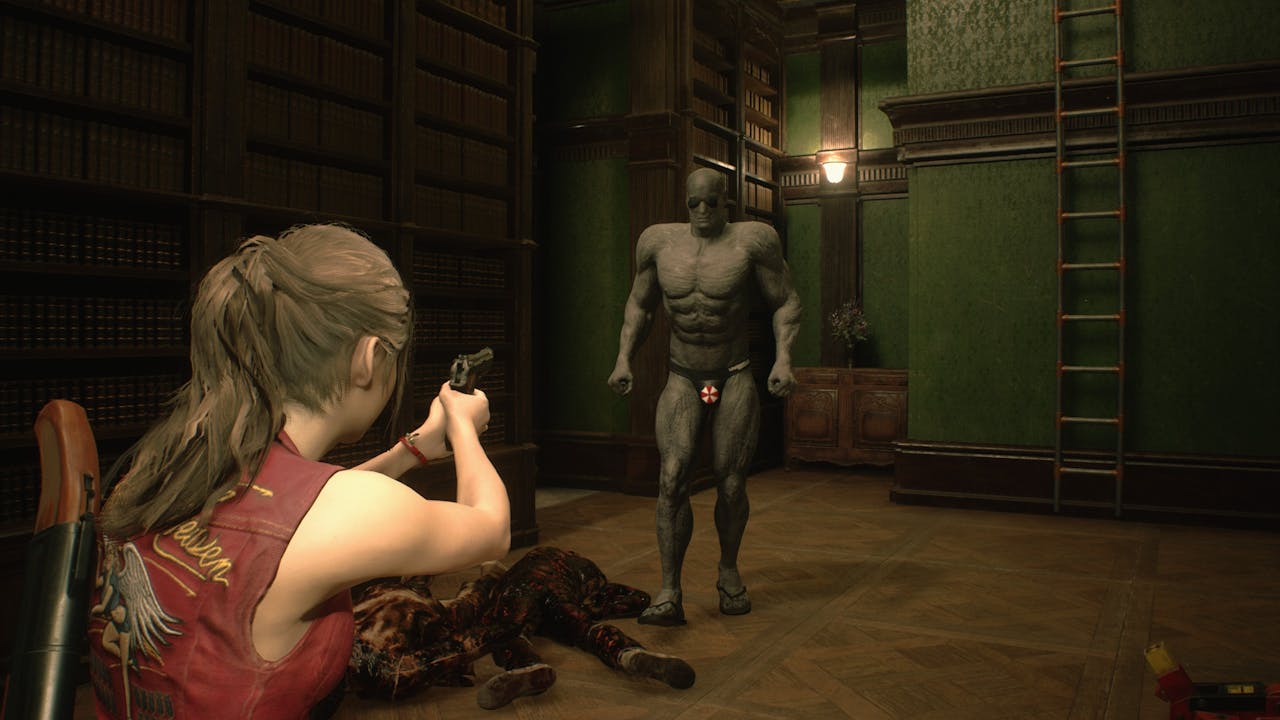 Flesh-eating zombies roam the streets for any survivors. A gripping storyline and unimaginable horrors await you! Return to Raccoon City with your Resident Evil 2 Remake Steam...
Strange things are happening in Raccoon City, and it's not just the flesh eating zombies roaming the streets in search of innocent civilians.
The 'Overwhelmingly Positive' Steam rated Resident Evil 2 remake reintroduced rookie cop Leon S. Kennedy and college student Claire Redfield back into our lives in 2019, thanks to Capcom's critically-acclaimed revamp of the 1998 classic. Their stories intertwine as they attempt to flee from unimaginable horrors in the Raccoon City Police Station and onto the streets and sewers where more monstrous foes await.
Resident Evil 2's gripping storyline and heart-pounding horror is enough to satisfy many fans of the series, it is highly rated after all, but some modders have decided to 'jazz up' the experience with some quirky costumes, and refined gameplay and graphical enhancements.
Courtesy of the talented folks featured on Nexus Mods, we've put together a list of our top pick from Resident Evil 2 mods.
Everybody's Gone to the Rapture (kinda)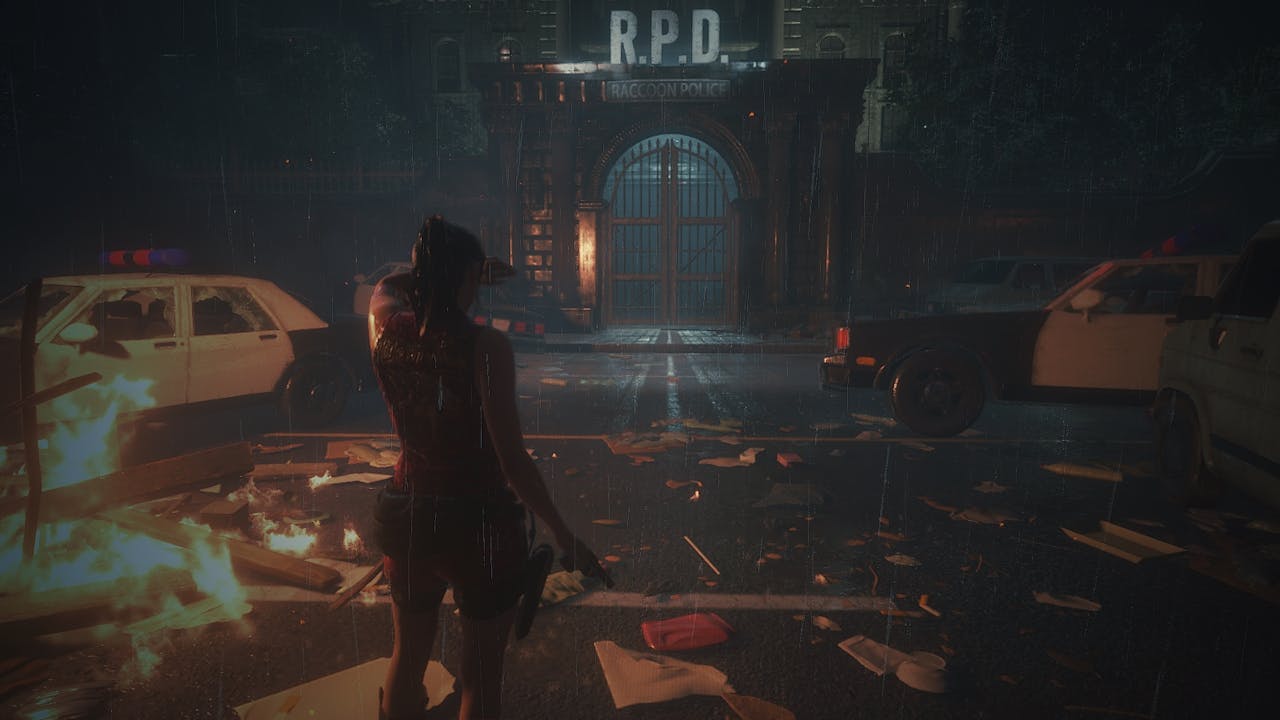 Created by: MaVeRicK
Are you the type of player who buys a survival horror game that has zombies in it, but doesn't want to encounter zombies...
Good news, Nexus Mods user MaVeRicK has created this 'Everybody's Gone to the Rapture' mod which removes all non-boss zombies from the game - paying homage to the non-enemy gameplay of the first-person adventure art game developed by The Chinese Room and SCE Santa Monica Studio.
Say goodbye to the undead police officers and civilians, the Lickers and zombie dogs, because you're going on a much quieter adventure.
However, we did say that it's a mode that removes non-boss zombies only, so Mr. X and Dr Birkin are still on the hunt to kill you.
Witcher character are you?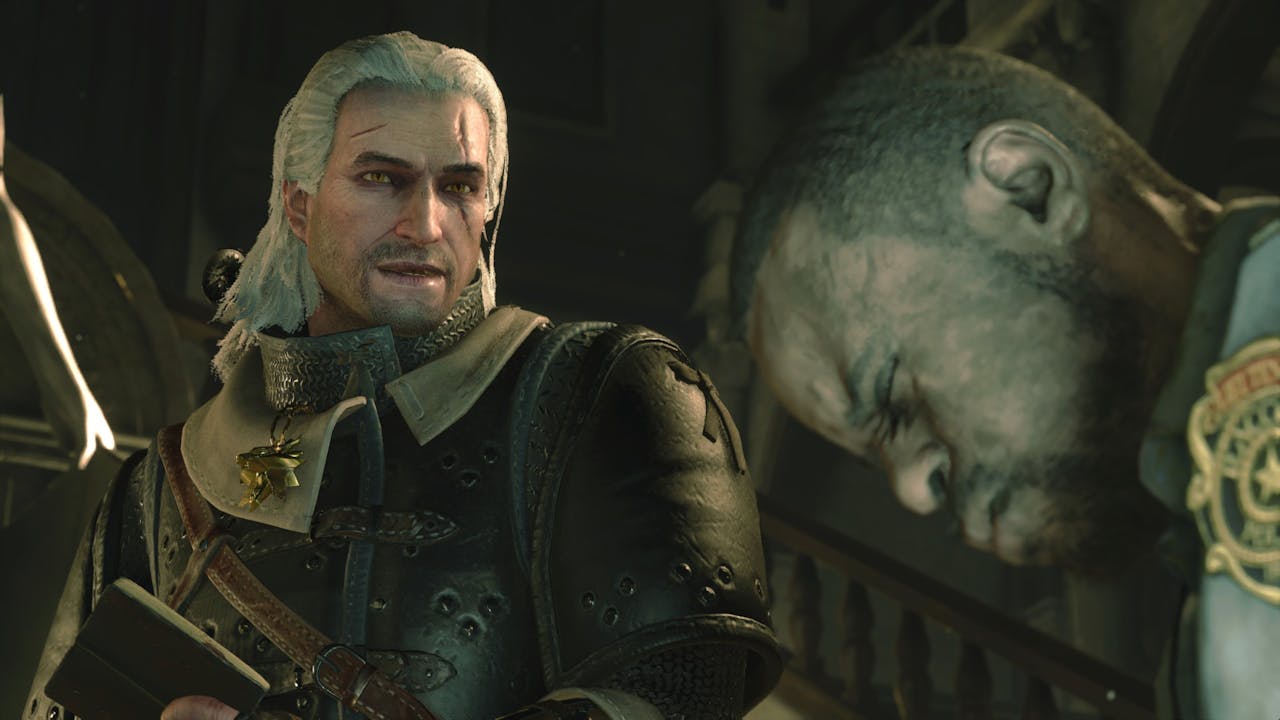 Created by: Wiwilz
"Damn portals..."
He's traveled across the Continent in video games, books and now a TV show - but the famous 'White Wolf' has taken a trip to Raccoon City. Wiwilz has created a mod which replaces Leon S. Kennedy's 'Arklay Sheriff' outfit with Geralt of Rivia from The Witcher 3: Wild Hunt.
We've already seen an official collaboration event between CD Projekt RED & Bandai Namco with Capcom for Monster Hunter: World - and gamers who loved playing as Geralt can now enjoy him in a brand new adventure.
With a mass horde of zombies and mutated G-Virus monsters surging through the city, we doubt that he'll have time for a game of Gwent!
Win or lose, you're covered in ooze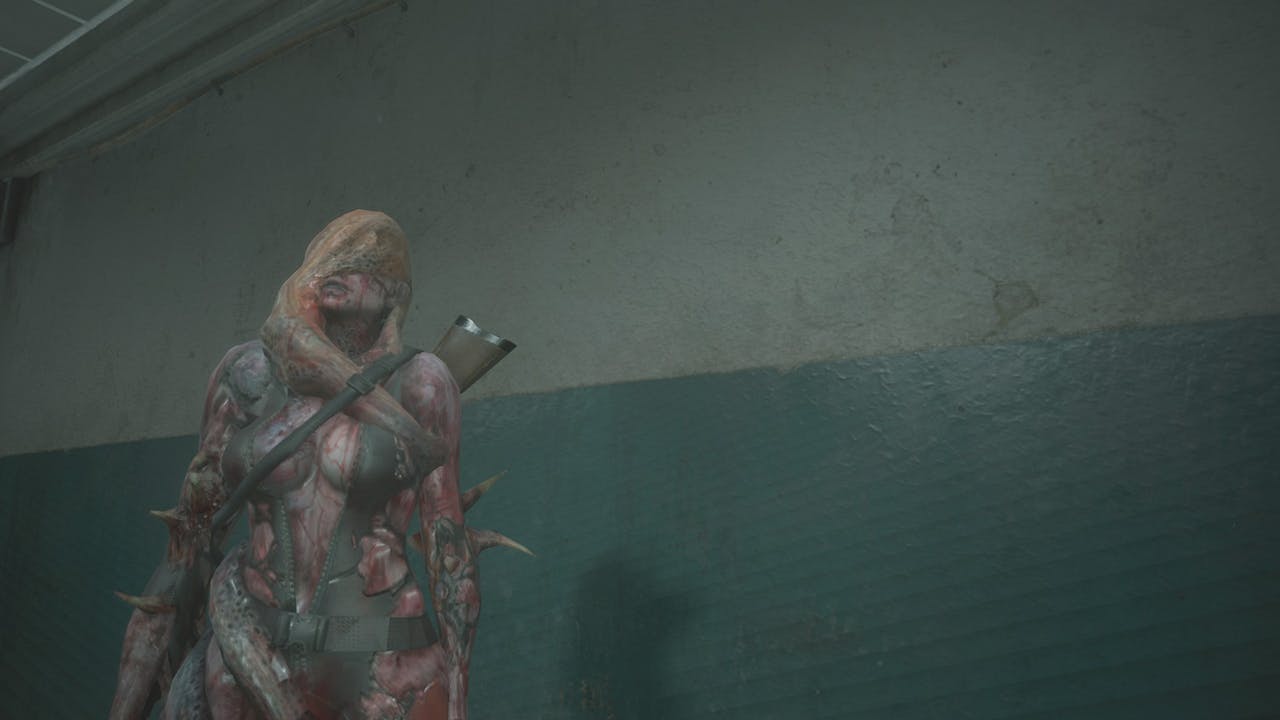 Created by: JTeghius Kittius
Is... she okay?
Nexus Mods user JTeghius Kittius created this creepy replacement for Claire Redfield, which replaces her 'Classic Jacket/ Tanktop' outfit with former agent Rachel Foley from Resident Evil: Revelations - who was killed and mutated by the t-Abyss virus, becoming 'Rachel Ooze'.
JTeghius Kittius posted: "I made sure to keep the walkie talkie from Claire, and fitted the strap for 2 handed weapons to not clip through the chest. I skinned half of the claw to function as the hand, the other half is skinned to the wrist."
Now, she roams the corridors of the Raccoon City Police Department hunting down zombies. We wondered why the floors have become so slippy.
Guns... lots of guns!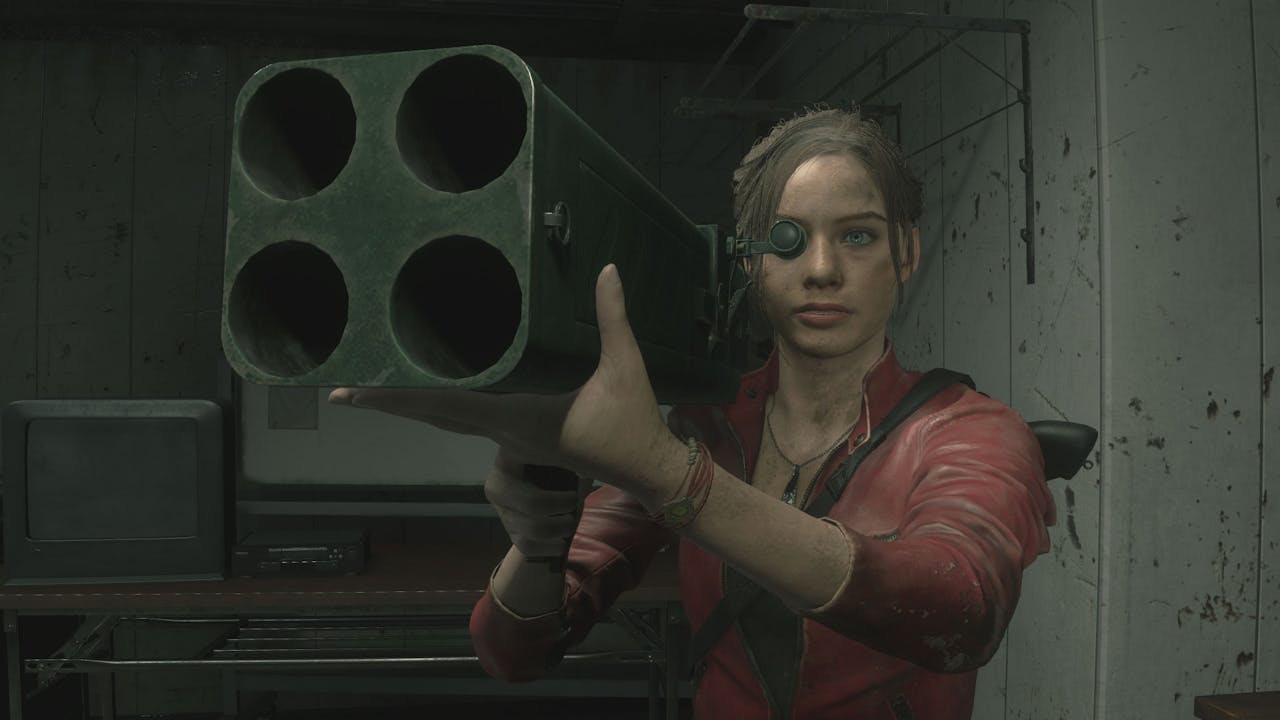 Created by: qiuyuewu1987
One of the unique features of the Resident Evil games is that certain characters have specific weapons that they carry or can unlock - but wouldn't it be great if we could all just share and get along?
The 'Weapons and ammo overhaul' mod from qiuyuewu1987 grants access to both Leon and Claire's full inventory of available weapons for either character. Plus, all ammunition are full packs, and portable safes have been replaced with spare keys instead.
So, feel free to run around with the Rocket Launcher and plenty of ammo, blasting zombies into little pieces of meat... just keep your distance, OK?
Life's a beach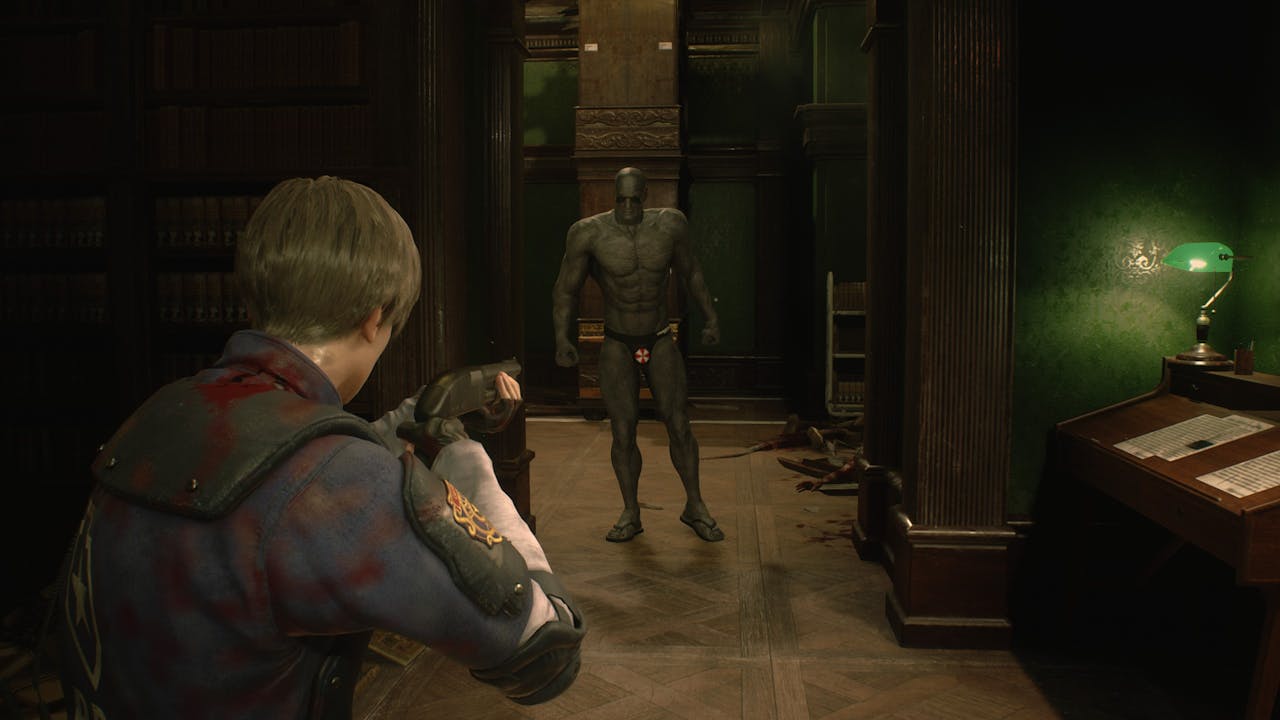 Created by: MisterHecks
Sun's out, guns out!
When he's not hunting down survivors in Raccoon City and mutating into a ferocious monster, Mr. X likes to enjoy the soft sand on his grey,cold skin.
His vacation looks like it was cut short in the 'Beachboy X' mod created by MisterHecks, as Mr. X has rocked up wearing nothing but a pair of sunglasses, Umbrella Corp-themed trunks and flip flops/ sandals.
Hey, maybe he's proud of his genetically enhanced bioweapon body, but please put some damn trouser on at least!
Crisis... what crisis?!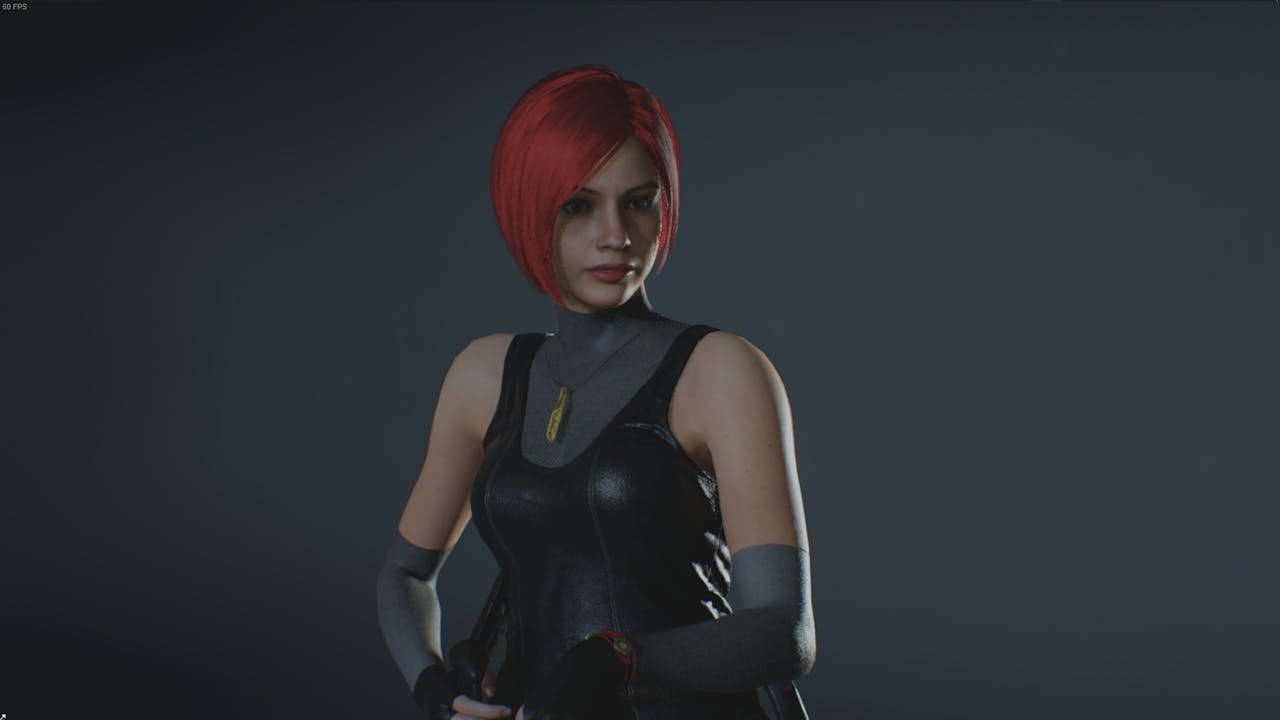 Created by: Crazy Potato
Here's a dino-rific mod from Nexus Mod Crazy Potato, which some of you might recognize if you're from the original PlayStation era. This mod changes the 'Claire Classic' outfit into Secret Operation Raid Team agent Regina from the hit 1999 survival horror game Dino Crisis, also made by the folks at Capcom.
Crazy Potato posted: "Claire Classic is now Regina from Dino Crisis as well Dylan Morton for Leon! At the RPD main hall there will be goodies for you to collect... [wink emoji]
"Sherry will also be joining in on the fun with a sweet jacket, Have fun and enjoy!"
This mod also changes the 'Classic Leon' outfit to appear similar Dino Crisis 2 character Dylan Morton. There speciality is taking down prehistoric creatures, but we're sure that they'll S.O.R.T these zombies out!
Played the Resident Evil 2 remake and want more survival horror action? Be sure to pre-order your Resident Evil 3 remake Steam PC key from Fanatical now to get the 'Classic Costume Pack' as a digital bonus.
---
---
Share this post