Scathe is a chaotic 3D bullet hell shooter where you take on the role of an Enforcer of the Legions of Hell who has been tasked with escaping the maze of demons and proving himself worthy to the Divine Creator himself.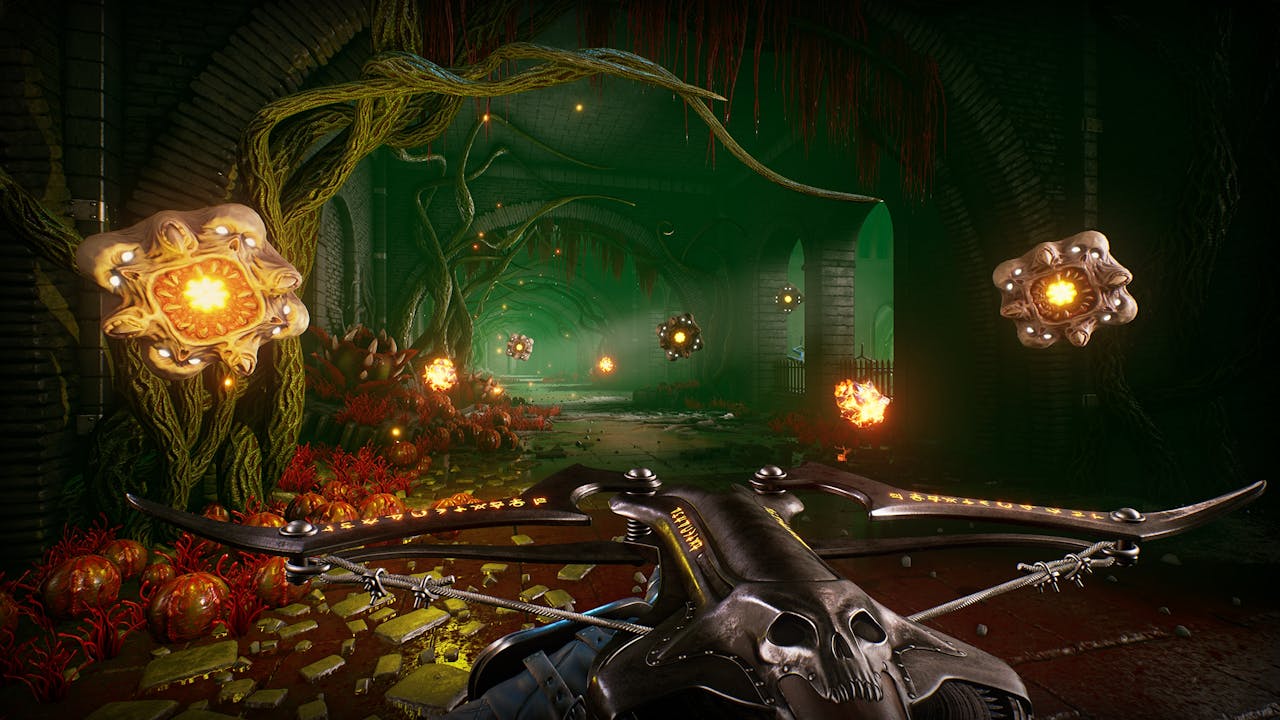 Scathe is an intense, classic FPS with big guns and even bigger demons. You are Scathe, Enforcer of the Legions of Hell, forged from the earth by the Divine Creator himself.
Although it obviously draws inspiration from Doom, the developer has really added their own allure by implementing a bullet hell system into the game. I found it quite thrilling, as not only do the bullets add to the chaos happening on the screen, but it also makes it feel more cinematic; when you dodge a bullet by a frog's hair, it's much more evident and looks almost Matrix-like.
That was one of my favourite aspects of Scathe — the ambience of the entire game came together quite well through the fantastic soundtrack (which was reminiscent of Devil May Cry 3) and the chaotic settings. The zones felt well-crafted to remind you you're in a hellish area, from the fire bursts, constant lava streams, and cage-esque aesthetic to the steady waves of demonic enemies. Scathe just really excels at that metal, hellish look.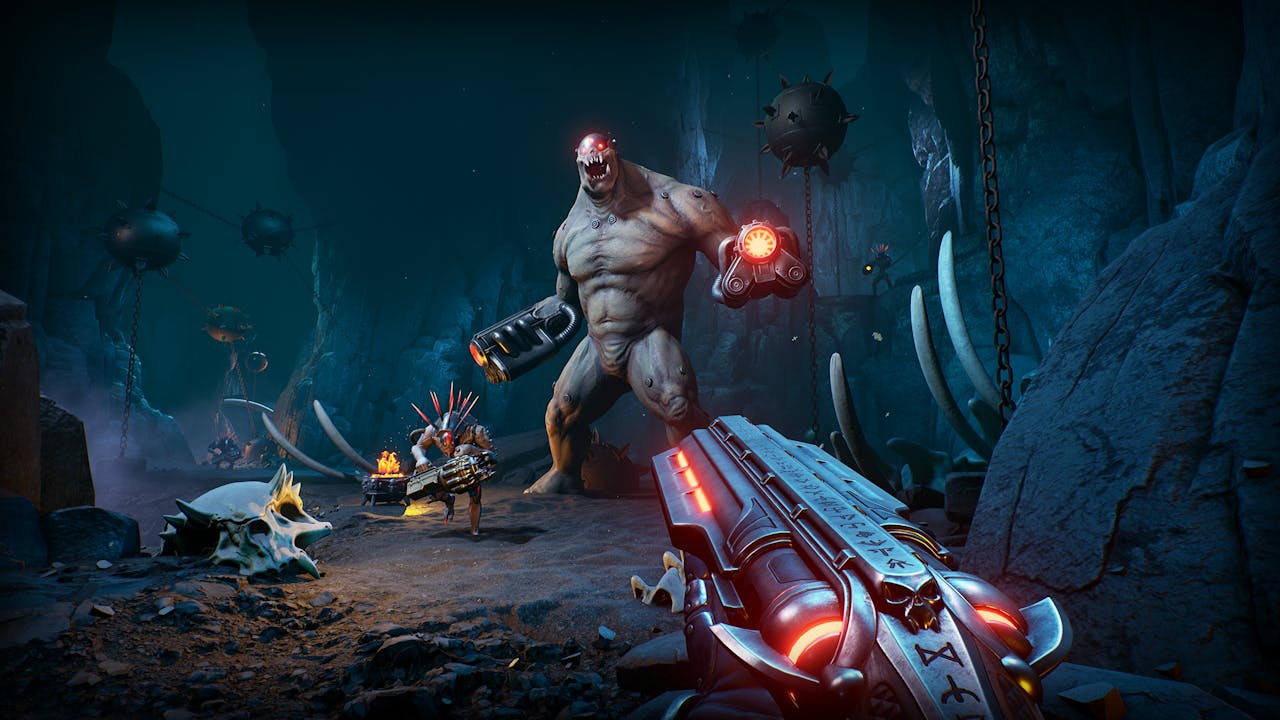 In addition to properly capturing the essence of Hell, the game is just all-round very pleasing to look at, which I hadn't expected. Although I'm usually a fan of large, open spaces with mountains and trees, Scathe's dark dungeon look really popped on my OLED TV display. The red coming from lava, fire, and bullets was stunning, especially in comparison to the darker areas of the zones.
Gameplay-wise, Scathe is very fast-paced. Even the character's movement speed is quite accelerated, making it feel a tad trippy at the beginning because it looks like you're watching a sped-up video. Personally, I'm a fan of the extra movement because it adds to the chaos of running around gunning at the demonic enemies, but it is something worth mentioning. Additionally, I got lost quite often in the different worlds I went to, but I have a notoriously bad sense of direction in games.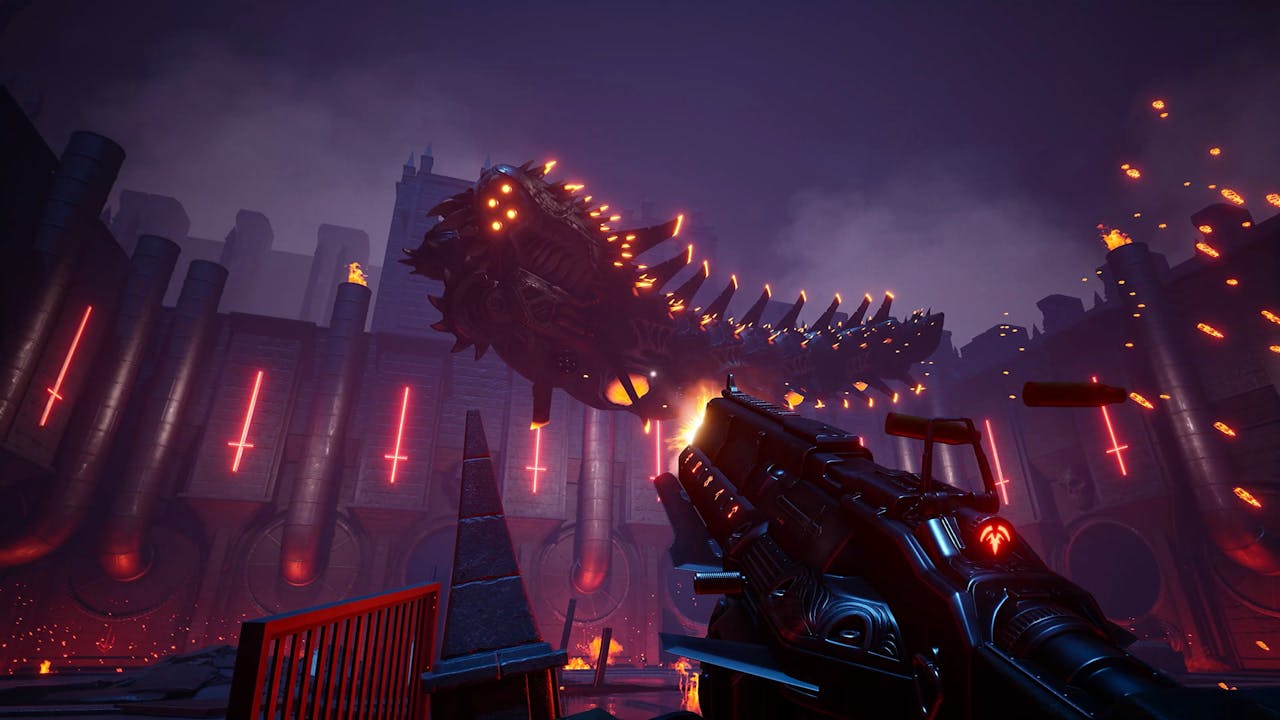 Although there isn't much else to do apart from run amok shooting at enemies and finding some collectibles (such as extra lives, runes, and spells), that was enough to keep my wife and I enthralled for hours. In some worlds you will encounter bosses to defeat, and they are the epitome of chaos. I really appreciated how much bigger and badder they looked, causing not only me and my wife to look puny and pathetic but also his own minions. And although we hadn't been struggling a lot against the other enemies (except some that explode upon impact), the boss really gave us a good run for our money.
Speaking of struggling — the co-op life-sharing adds quite a bit to the gameplay. Each player has their individual life bar, so whenever I'd stupidly run into an enemy's bullets and lose a chunk of life, my wife's would remain intact; only when you fully die do you lose a life, which you have several of and can find scattered throughout the worlds. Additionally, I really appreciated that the game can be taken at your own pace, so you can either rush and attack everything or take it a bit more slowly and tactically. This meant that whenever I played too impatiently and nearly died, I could take a more careful approach and let my wife frontline until we found a health pack.
Scathe is an intense, classic FPS with big guns and even bigger demons. You are Scathe, Enforcer of the Legions of Hell, forged from the earth by the Divine Creator himself.
All in all, Scathe was very fun to play with my wife. The variety of enemies is good enough, the bosses are challenging, the worlds have an awesome setting, and the co-op is satisfying and fast-paced. The developer is taking it down the right path.
---
---
Share this post