The Fanatical
Blog
Latest AAA, Indie & Game Bundles
Receive Games Instantly
Save Money
100% Authentic Keys
Social hype round-up of new Batman game speculation
By Sam Jones - 23rd Sep 2019Games
Rumors suggest that the Caped Crusader could return for another action-adventure game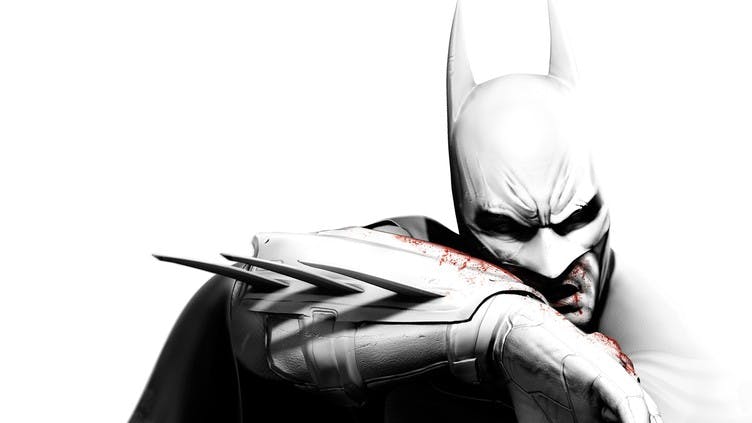 It's been four years since Rocksteady and Warner Bros brought the award-winning Batman: Arkham trilogy to a close, but there's a been a social media rumbling that we might see the Dark Knight return.
They're are four Batman Arkham titles in total (Asylum, City and Knight under Rocksteady) with Batman: Arkham Origins developed by WB Games Montreal & Splash Damage, and it's this particular game in the franchise that has got people talking.
With the recent celebrations for Batman Day (September 21st) WB Games Montreal was among many posting on social media about the Caped Crusader and the the fact that one of DC Comics most popular heroes has been around for 80 years. But this celebratory message wasn't just met with appreciation, it was also met with confusion and, more importantly, excitement.
Now, the rumor mill is spreading and many believe that WB Games Montreal is set to continue the Batman: Arkham series with a sequel to Origins. This is all speculation and nothing has been confirmed, but from our round-up of social media hype and rumors below, we're feeling pretty darn excited.
What's appeared on social media?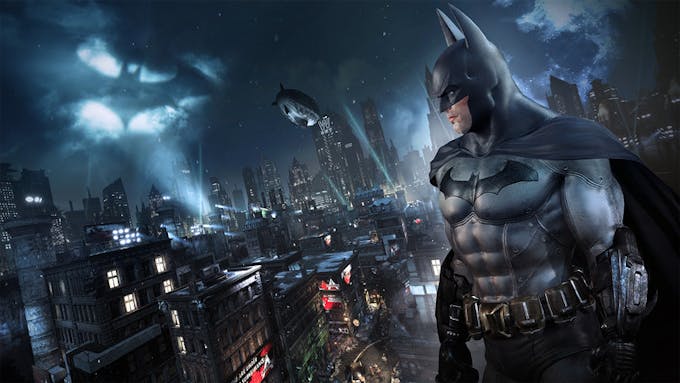 The biggest clue that some form of Batman game is on the horizon is the short video on the official WB Games Montreal Twitter page to celebrate Batman Day.
The video shows a tall building with the Bat signal being beamed on the side of it - however, the video glitches for a matter of milliseconds to reveal something else. At around three seconds, 13 seconds and 21 seconds, three different emblems appear.
The first emblem looks like an Arkham 'A', the second is unclear, but the third appears to be a demon/devil face. Now, here's the thing, Ra's al Ghul's name in Arabic translates to 'Demon's Head' - which could mean that if a new Batman game is announced, the League of Shadows (League of Assassins) could play a big role in the game.
Players will be familiar with Ra's al Ghul after his appearance as one of the main antagonists in the Batman: Arkham City plot, as well as one of the main villains in the Gotham's Most Wanted missions in Batman: Arkham Knight.
As for the other emblems, it's no clear what they represent exactly, but another social teaser below might hold the answers for one of them.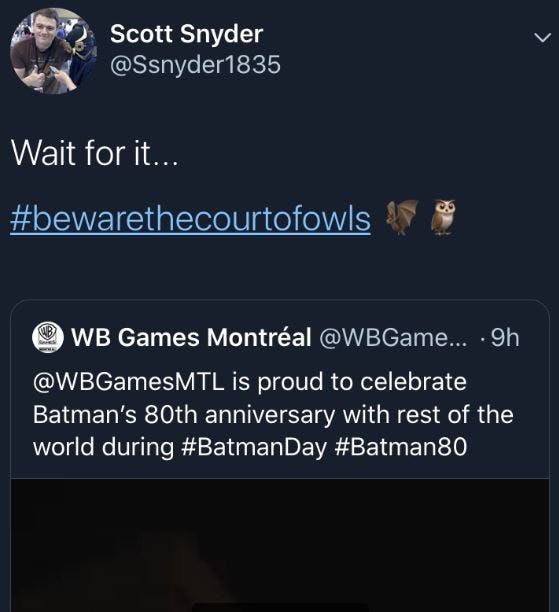 In response to WB Games Montreal's mysterious glitching tweet, Twitter user @SSnyder1835 retweeted the video with the message "Wait for it... #bewarethecourtofowls"
This is the account of Scott Snyder, a well-known American writer who has worked on DC Comics and DC animated movies. It's worth noting that this tweet has since been deleted, so we're unsure whether Scott has removed it to avoid giving fans the 'wrong impression' - or whether the 'bat' has been let out of the bag too early.
The hashtag is a reference to the Court of Owls, an organized crime group that appeared in the Batman comics, the same comics that Snyder worked on. It could be that one of the emblems that flashed up in WB Games Montreal's video resembles an owl-like image.
This fresh supply of rumors follows the picture posted on Twitter back in November 2018 when @valvez - Associate Producer at WB Games Montreal - showed off a staff t-shirt with the Court of Owls logo on the back, with the caption "[Redacted], best. DevTeam. EVAR."
Again, this is all speculation at present and we're sure to find out what they actually mean in the near future... hopefully.
Update from WB Games Montreal
Oh hello, the hype count is rising after WB Games Montreal's latest teaser on Twitter today (September 24th)
The developer has shown the three logos in clearer detail - tell us what's happening already!
---
Share this post
Enter a dark fantasy world and become a masterful assassin with your Styx: Master of Shadows Steam PC key. Build up your skills via six unique skill trees in order to sneak, steal and take down...
Enter a dark fantasy world and become a masterful assassin with your Styx: Master of Shadows Steam PC key. Build up your skills via six...
Enter a dark fantasy world and become a masterful assassin with your Styx:...
Ends in
35

:

16

:

24
or until sold out
Subscribe to our Email Newsletter to get Fanatical promotions direct to your inbox.
You can unsubscribe via the newsletter at any time. By subscribing to our newsletter you agree to our Privacy Policy.