Steam makes 'several algorithmic changes and bug fixes' in big update
Changes will help areas such as Recommendation Feed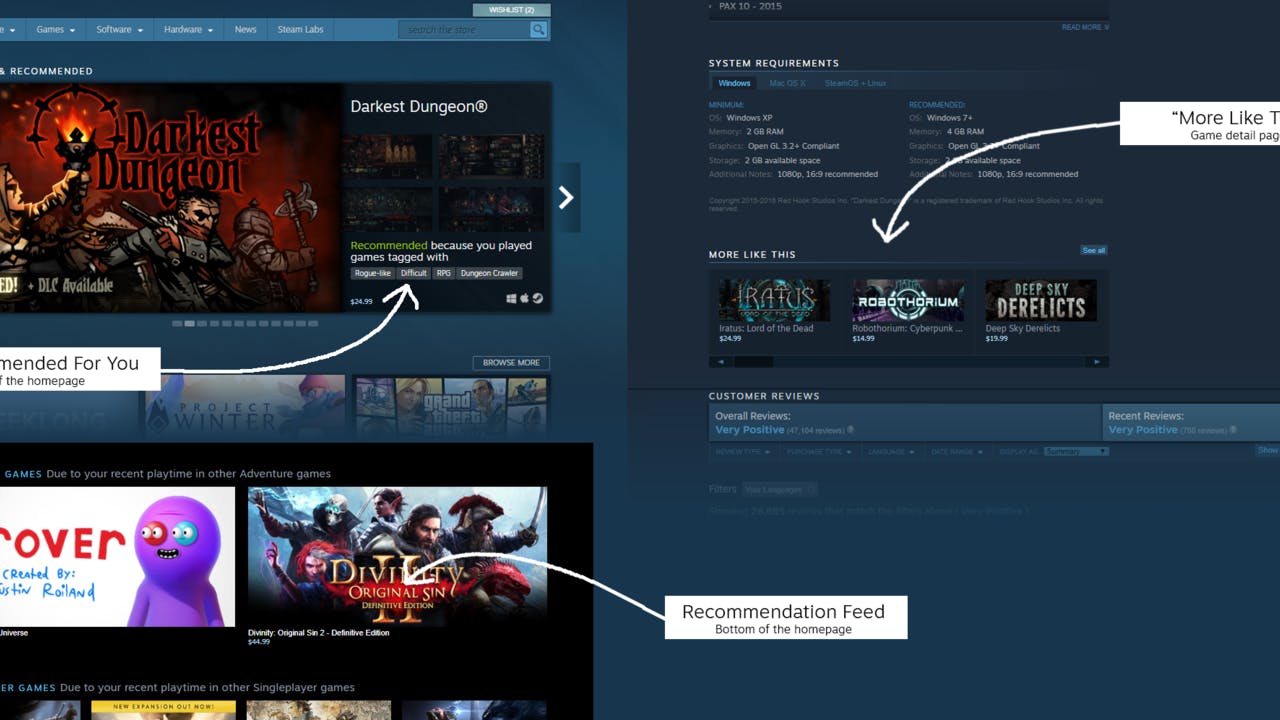 Steam has rolled out a big fat algorithmic change in order to fix a few pesky bugs and help improve its overall experience for gamers.
Under the 'Store Discovery Update' announcement section of the Steamworks Development page, Steam has confirmed that the several changes are "an effort to be more precise and more diverse in how Steam presents games via tags in the Recommendation Feed, as well as the 'More Like This' and the 'Recommended for You' sections of the store.
From user feedback, Steam noticed that weren't seeing as many different games as they would've liked when browsing the Recommendation Feed or More Like This. Feedback from gamers also stated that the Recommended for You was "too biased towards only the most popular games and didn't feel very personalized".
After running an experiment, Steam found a bug within the 'Similar by Tags' section of the Recommendation Feed, which was driving too much of what players saw. An issue with the timescale used to calculate popularity was too narrow, which was resulting in unpredictable visibility for some games. Steam have since expanded the time period being use in those calculations.
In addition, Steam made changes to how it shows customers games in the places on its store that are driven by the 'recommendation code', which was shipped to 5% of customers to test for the past few weeks, along with the bug fixes.
What impact has this update had on Steam?
The big update appears to have had a significant effect on overall, increasing qualitative specificity and showing a wider range of titles has helped users find games that they may not have seen or known that they wanted before.
"We're encouraged by these results and have now rolled them out to everyone," the SteamDev page concluded "We continue to make changes and run experiments like this in order to improve Steam's existing features, while we also explore entirely different ways for customers to find games they love.
"If you head over to Steam Labs you can use one of these new methods: the Steam Interactive Recommender experiment. With a few clicks, we're confident you're going to find or rediscover a game that interests you. As we keep working on discoverability, we encourage your feedback on these store-wide changes as well as The Interactive Recommender.
"It's immensely valuable and helps guide our continued work."
---
---
Share this post