The best PC games to play on or around Halloween
By Sam Jones
- 28th Oct 2021
Games
PC games for the spooks and thrills of Hallow's Eve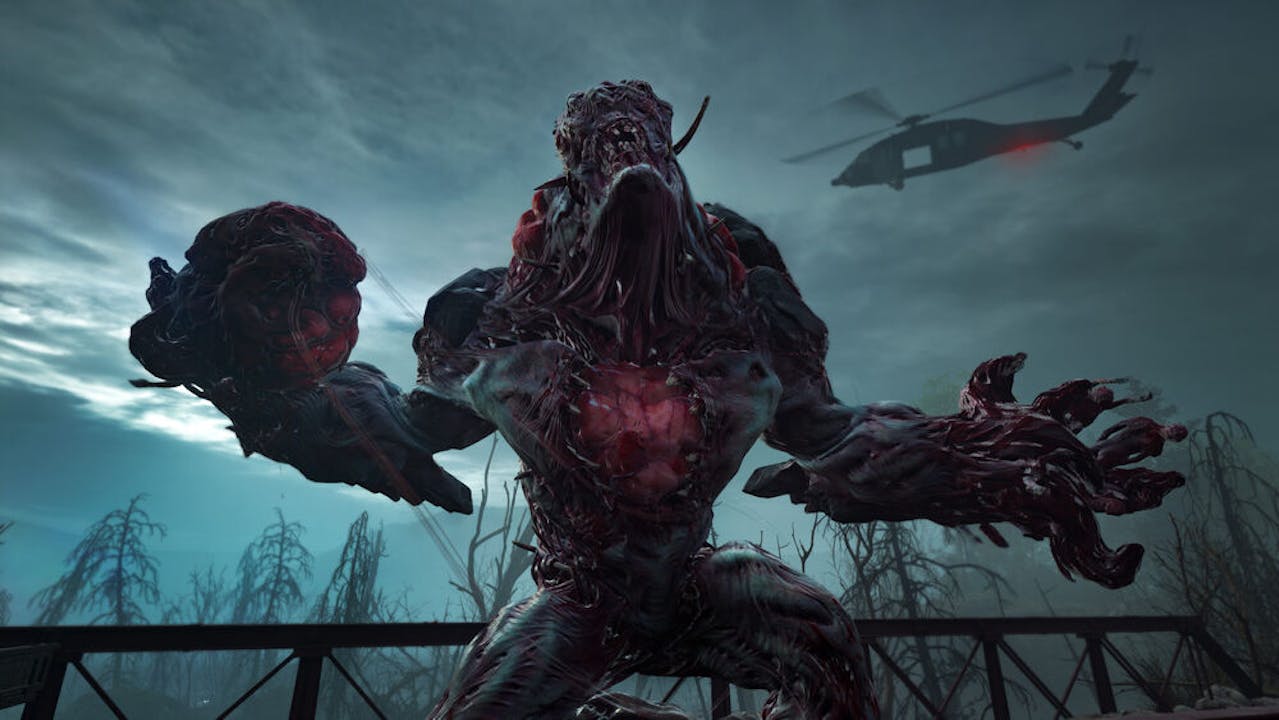 October 31st - a day of trick or treating, a huge consumption of candy and a 200% increase in people dressing up as black cats (oooh scary).
While most of you will be heading out to parties or donning your Halloween costumes to knock on neighbor's doors for treats, there are just as many of you who will be keeping it low key and firing up your PC for an evening of gaming. If you're looking for some new games to try out tonight, we've got a few Halloween inspired Steam PC games that we think you'll enjoy.
With everything from horror, gore, action and survival - feast your eyes on our top pick of Steam PC games to play on Halloween, or any time for horror fans!
Alien: Isolation
If there was ever a game to play with the lights off and your headset on, this is it. First-person survival horror Alien: Isolation sees players go up against an AI Xenomorph which adapts to your methods of evasion in order to kill you in many, many brutal ways. You'll have to take shelter in various locations including ventilation shafts, lockers and in dark corners to stand the slightest chance of escaping this space-age threat.
The story follows the adventures of Amanda Ripley, daughter of Ellen Ripley, who has set out to find what became of her mother fifteen years prior. Taking place aboard the damaged Sevastopol space station, gamers will discover more than they bargained for.
To get the full experience, it's worth picking up the Alien: Isolation Collection, which features the base game and seven DLCs - with additional missions to test your nerve!
Remothered: Tormented Fathers
Realistic survival horror Remothered: Tormented Fathers has unpredictable, psychological plot-twists that will keep you on the edge of your seat - with several game genres including stealth, action and strategy. You play as Rosemary Reed, who visits the home of Richard Felton in order to investigate the disappearance of a girl called Celeste.
Your investigation will not be easy as an eerie presence begins stalking you - so prepare yourself for a chilling narrative adventure where players must study their enemy's behavior and solve puzzles in order to progress.
Killing Floor 2
It's creepy, it's chaotic and you'll bloody well love it. Dismemberment is the norm in action FPS Killing Floor 2, where players must survive against mutated creatures spawned from a biotech experiment gone wrong. With more monsters, weapons and new endless horde mode, this sequel steps up the ante when it comes to monster-slaying, co-op action.
A multitude of varied playable characters await for players to choose from in this 'Very Positive' rated game as they enter the fray in online co-op mode - or solo mode for those willing to brave the horrific specimens alone. There's also Be the Zed mode, a 12-player PvP mode where two teams take turns playing Humans vs. Zeds in a pair of short matches.
In the first match, one team plays Humans and the other Zeds until the humans all die during a single round or they beat the boss. For the second match the teams switch sides and when the battle is completed both teams receive a score based on their performance and the higher score wins!
From modern militaristic assault rifles, brutal improvised makeshift weapons, classic historical guns, and off the wall 'Mad Scientist' weapons, Killing Floor 2 has a unique blend of killing tools that will satisfy any gamer
Dying Light
Open-world action horror game Dying Light can give quite a few scares during the day, but during the night, it's one hell of a scary experience. Set in the city of Harran, players take on the role of a skilled parkour runner exploring a dangerous urban environment overrun by zombies and dangerous human gangs.
Supply drops are scarce, and rival groups will be tracking and scavenging through the same zones as you in an attempt to find ammo, medicine and weapons. When the sun goes down, a whole new zombie appears in the form of the Volatiles - a dangerous breed that will get your heart racing... just remember, they fear UV light.
Craft some melee weapons for close quarter combat and find yourself a nice ranged weapon, because you're going to need them when the undead come a-calling. With the huge expansion and multiple DLCs, it's well worth getting the Dying Light - The Following: Enhanced Edition to truly discover the terrors that lie ahead... plus, you get to drive buggies as part of the huge expansion!
The Dark Pictures Anthology: House of Ashes
The end of the Iraq War. Special Forces are hunting for a weapon of mass destruction, yet they find something much more than they bargained for - and it's up to you to help them survive the night in The Dark Pictures Anthology: House of Ashes. This latest instalment in the critically-acclaimed survival horror series from Bandai Namco and Supermassive Games brings more gripping, intense encounters with supernatural beings, multiple endings and - if you're unfortunate - gruesome deaths for a new cast of characters.
In order to survive the night both opposing factions will have to put aside their differences and work together. Can you do it? You can also share your experience with friends, allowing them to help or hinder you in your story. Can you get out of the underground temple?
If you haven't experienced the previous Dark Pictures entries yet, the first three titles are available in one collection with The Dark Pictures Anthology - Triple Pack.
Outlast
Red Barrels' Outlast is a pure heart in your mouth horror that offers little weapons to help you survive while exploring the eerie Mount Massive Asylum as investigative journalist Miles Upshur. With just a camera to help you see into the pitch black, you'll have to hide under beds and sneak through rooms to avoid the terrifying patients that lurk around this facility - with the ultimate goal of discovering the dark secret that lies ahead.
Your camera battery, much like in real life, will only have so much juice so be sure to look for batteries as your vision will become impaired and that creepy noise up ahead will sound a lot more daunting when you can't see what it is!
Resident Evil 2 Remake
In the Resident Evil 2 Remake, you'll get to relive the events of Raccoon City 1998 in glorious remastered graphics. In this gripping survival horror, you'll experience a complete remake of Capcom's original sequel in the Resident Evil franchise - following the adventures of rookie cop Leon S. Kennedy and college student Claire Redfield.
Attempt to escape a city in the midst of a zombie apocalypse with flesh-eating zombies on the rampage at every turn. Witness an unparalleled adrenaline rush, gripping storyline and unimaginable horrors in over-the-shoulder third-person-shooter and melee action.
Fight or flee from Lickers, zombie dogs and mutated G-Virus monsters as you venture deeper into the unknown, and feel the fear as the dreaded Tyrant 'Mr. X' relentlessly pursues you. Featuring a combination of gameplay mechanics and camera style from the likes of RESIDENT EVIL 4 with the powerful RE Engine used in Resident Evil 7 - players will venture through a HD remastered Raccoon City and experience RE2 like never before.
Back 4 Blood
If you're a Left 4 Dead fan, you'll no doubt enjoy jumping back into four-player co-op shooter action in Back 4 Blood. In B4B, you are at the center of a war against the Ridden - these once-human hosts of a deadly parasite have turned into terrifying creatures bent on devouring what remains of civilization.
With humanity's extinction on the line, it's up to you and your friends to take the fight to the enemy, eradicate the Ridden, and reclaim the world!
You'll get to choose from eight customizable Cleaners, one of the immune survivors, and a range of lethal weapons and items - and strategize against an ever-evolving enemy bent on your total destruction. A new 'rogue-lite' Card System creates different experiences each and every time, putting you in control to craft custom decks, roll different builds and undertake more demanding fights.
The Game Director is constantly adjusting to player actions, ensuring exciting fights, extreme gameplay diversity, and tougher legions of Ridden - including mutated boss types up to 20 feet tall.
Resident Evil Village
Experience survival horror like never before with your Resident Evil Village. In the eighth major installment in the storied Resident Evil franchise, you'll once again assume the role of RE7 protagonist Ethan Winters in terrifying first-person action with new enemies to face.
Set a few years after the horrifying events in the critically acclaimed Resident Evil 7 biohazard, the all-new storyline begins with Ethan and his wife Mia living peacefully in a new location, free from their past nightmares. But as they begin to build their new life together, tragedy befalls them once again.
Chris Redfield, the legendary hero from previous Resident Evil games, suddenly disrupts their life - throwing a devastated Ethan into a new and twisted nightmare in search of answers. Chris has typically been a hero in the Resi Evil series, but his appearance in Resident Evil Village seemingly shrouds him in sinister motives.
Witness a host of new adversaries inhabiting the enigmatic village that will relentlessly hunt Ethan and hinder his every move as he attempts to make sense of the new nightmare he finds himself in. Test your nerve beyond the realms of Resident Evil's notorious zombies and Las Plagas parasite-controlled beings with a new threat... Lycans (werewolves!)
Escape the towering presence of the vampiric Lady Dimitrescu, the sinister witches and many more. Familiar characters including Chris Redfield will arrive in the village, and you'll discover why.
The Evil Within 2
From mastermind Shinji Mikami, The Evil Within 2 sees you take on the role of Detective Sebastian Castellanos, a man who has lost it all. But when given a chance to save his daughter, he must descend once more into the nightmarish world of STEM.
Horrifying threats emerge from every corner as the world twists and warps around him. Will Sebastian face adversity head on with weapons and traps, or sneak through the shadows to survive.
Craft traps, sneak, run and hide, or try to battle the horror with limited ammo - and survive the onslaught of horrifying creatures determined to rip you apart.
Dead by Daylight
Death Is Not an Escape... Dead by Daylight is a multiplayer (4vs1) horror game where one player takes on the role of the savage Killer, and the other four players play as Survivors, trying to escape the Killer and avoid being caught, tortured and killed.
Survivors play in third-person and have the advantage of better situational awareness. The Killer plays in first-person and is more focused on their prey.
The Survivors' goal in each encounter is to escape the Killing Ground without getting caught by the Killer - something that sounds easier than it is, especially when the environment changes every time you play. Each level is procedurally generated, so you'll never know what to expect. Random spawn points mean you will never feel safe as the world and its danger change every time you play.
Each Killer and Survivor has their own deep progression system and plenty of unlockables that can be customized to fit your own personal strategy. Experience, skills and understanding of the environment are key to being able to hunt or outwit the Killer.
---
Share this post