A new entry for the classic beat 'em up series - our review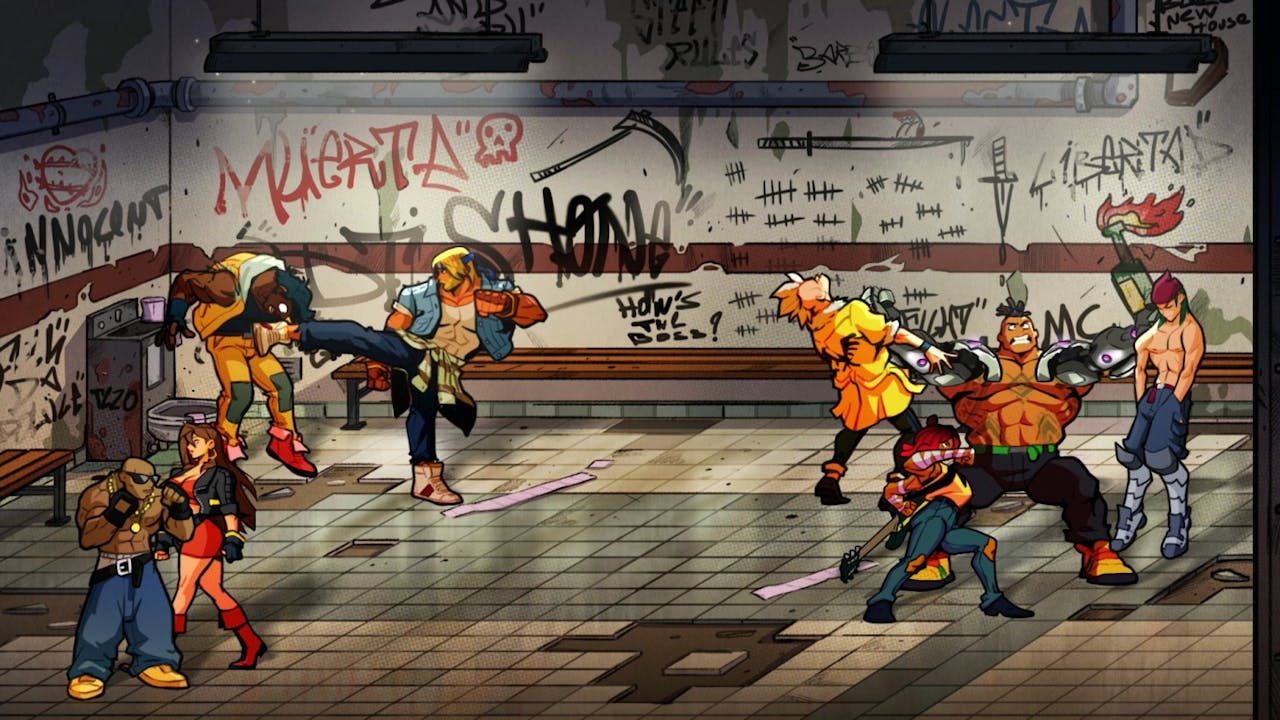 The all-time classic beat 'em up series returns for an exciting new era - get your Streets of Rage 4 Steam PC key now!
It's been 10 years of bliss for the unsung heroes who defeated Mr. X and his evil Syndicate organization - but his children, the Y Twins, have decided to carry the torch passed on by their father, with a new crime empire on the rise in Streets of Rage 4.
Cracking his back, knuckles and other ageing body parts, Axel Stone and fellow ex-detective Blaze Fielding must return to the streets of Oak Wood City to take down these thugs and corrupt supernatural warriors in order to bring back peaceful times. Fortunately, they're not alone as Cherry Hunter, the daughter of former cop and SoR protagonist Adam Hunter, and the cybernetically enhanced Floyd Iraia, an apprentice of SoR 3 main character Dr. Gilbert Zan, have also joined the team as much needed back up.
It's been almost 30 years since we last some of these brave fighters smash, grab and throttle enemies - and now the classic beat 'em up series has returned thanks to developers Lizardcube, Guard Crush Games and Dotemu.
Here's our review of Streets of Rage 4, and what the game got right.
The combat you love, made even better
If you haven't played any Streets of Rage titles before, or it's been a while, it might take the first stage or so to get used to the tempo of the game and how the characters move and react. Getting the hang of moving across the screen in a diagonal-like manner will most certainly help you dodge airborne and pesky long range attacks.
The combat system is very similar to the original trilogy, with a main button to mash for light combos, as well as a powered up light attack (holding the light attack button), a heavy combo attack, grapples and tosses, and a special attack. However, the developers appear to have made building combos a priority in Streets of Rage 4 - and it pays off!
Landing 3-4 light attacks, followed up with a heavy attack and bouncing enemies of a wall or the edge of the screen allows you to continue your combos well into the 10-20 hit mark - perform this on a few on-screen enemies, and you'll easily achieve a 50-plus hit combos.
Equally, enemies can cause havoc by catching you in a combo spiral - like if Galsia thugs with knives charge at you from opposite directions, you could find yourself whipped into the air after being hit by one of them and then hit again mid-air by the other.
Street thugs and bosses now give you a stronger indication on what attack they're winding up, ready to unleash. Enemies that flash red for a couple of seconds are about to perform a grab and throw attack, so the best option here is to create some distance between you and your foe, or a timely aerial counter should do the trick.
Baddies that flash white will most likely counter your attempted aerial or charged attack, so don't go rushing in!
Certain enemies, predominantly bosses, can break your combos too, such as the punk Syndicate member Diva, who uses her snake to conduct electric jabs and surrounds her with electricity, and the Commissioner's hard-hitting punch combos.
Weapons also make a welcome return and perfecting the throw and grab technique (throwing the object at an enemy and then catching it mid-air as it bounces back) will massively help when taking on shielded enemies or those with higher health bars.
Crowbars, baseball bats and knives all return, as well as new weapons including meat cleavers, electric stunners and even an eight-ball.
Aside from kicking the crap out of people, there are a range of traps that you can make use of in order to quickly dispose of enemies in crowded areas. From throwing thugs down deep gaping holes in the floor (which you can fall down too if you're not careful) and a huge swinging demolition wrecking ball to dropping chandeliers on unsuspecting victims, and luring enemies into walls of flames, toxic puddles and electricity - each environment is a creative and deadly playground for you to utilize.
With a number of new and returning characters to choose from, it's worth playing back through some stages to find your feet and see which hero has the right moves and stats to your playstyle. Axel and Adam are quite similar fighters, averaging across speed, power and agility - though I prefer Adam as his 'Sword Strike' special attack tends to have more range - and Cherry and Blaze are both quick and agile but lack a bit in power - between these two, I found Cherry to be really effective for racking up combo hits and she also uses her electric guitar as a heavy attack.
Newcomer Floyd is pretty fun to use, what with his brute strength being a main attribute. His cybernetic arms can dish out hefty damage to thugs, and combining his light attacks with a well-timed heavy attack grab can build a decent combo.
He can also grab two enemies at once, slamming them together to deal even more damage.
---
---
Share this post