The Falconeer preview - StarFox meets Eagle Flight in an open-world RPG
We got the chance to play the open-world exploration game ahead of launch, here's what we thought!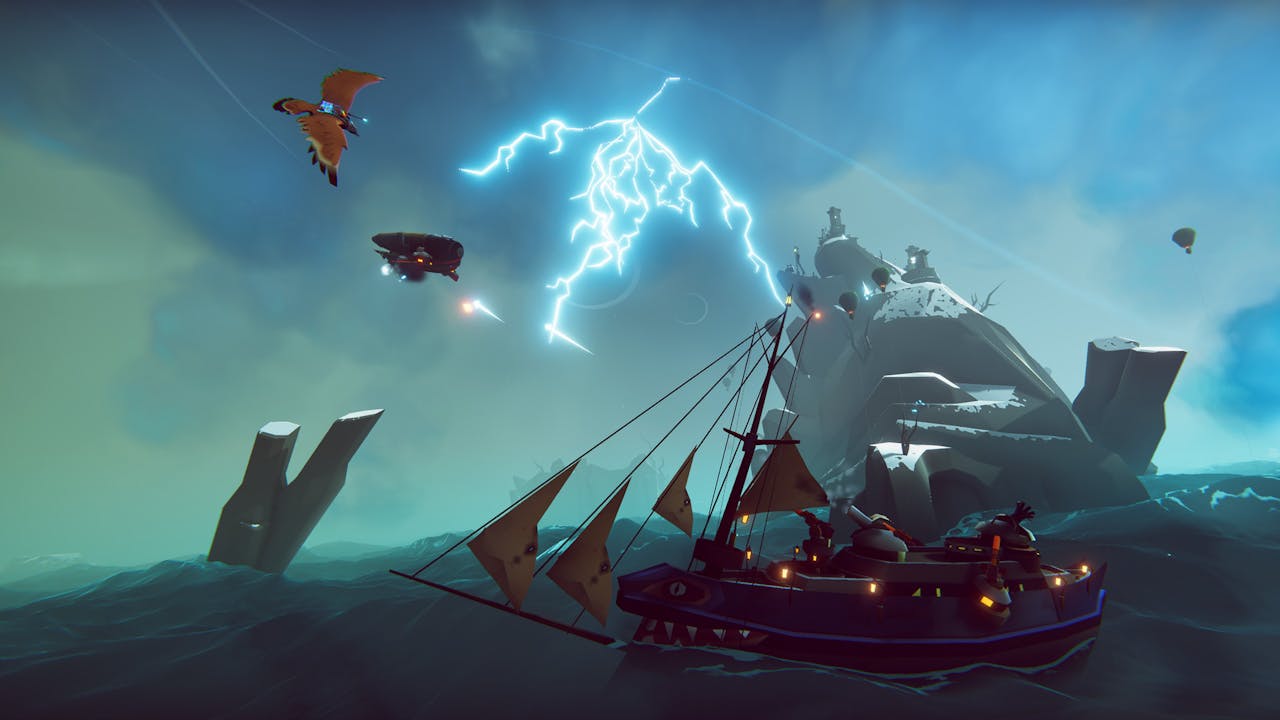 Prepare to soar through the skies aboard a devastatingly powerful Warbird with your The Falconeer Steam PC key. An open-world game wth action-packed aerial combat!
There was something inviting and mysterious about The Falconeer's presence from the early screenshots and reveal trailer - so when Wired Productions offered us the chance to check out the game ahead of launch, we took flight right away!
We were given access to a beta version of the open-world, third-person game due to launch on November 10th for Steam PC and console, in which you command a mighty falcon and embark in air combat. We experienced the Prologue and one of the first main levels of the game during our playthrough, and here's what we thought of it.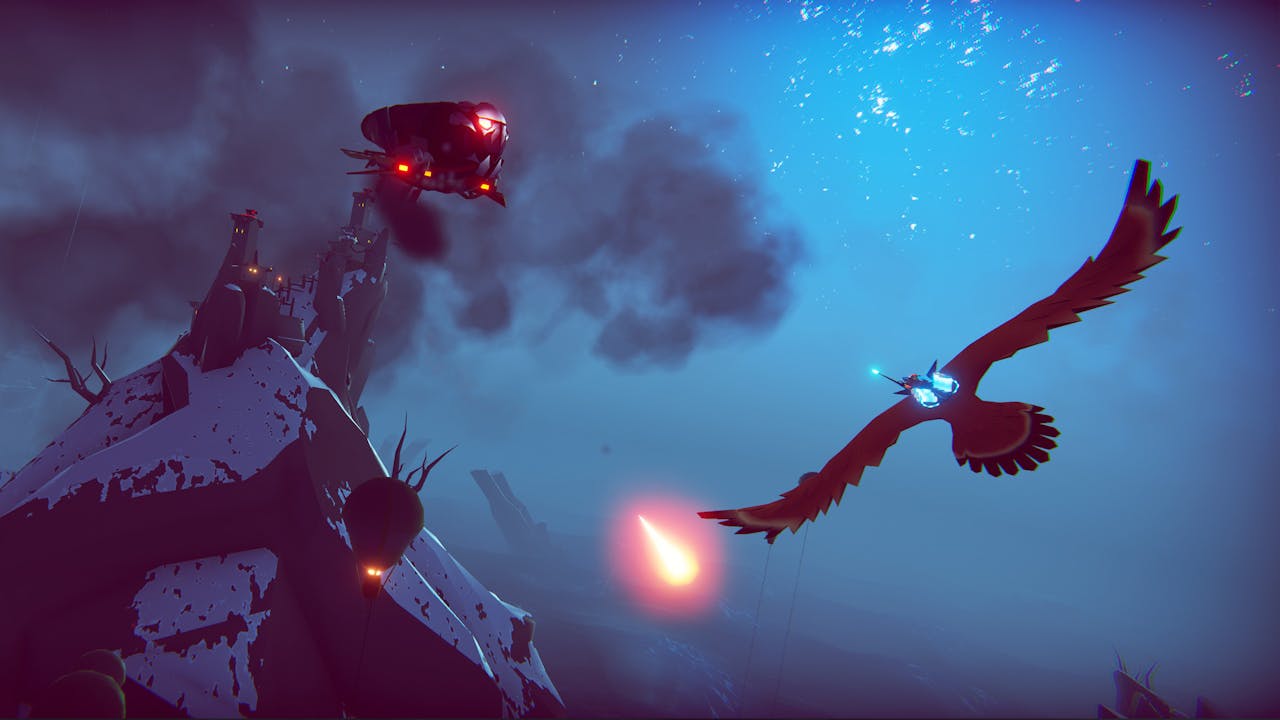 Before we embark on our grand adventure into The Great Ursee, it was time to get some practice in via the Prologue, taking us to the Imperial Peak - the highest attainable seat in the empire that towers above the Imperial Harbor... and the clouds!
Your first task is to choose your rider, and there are quite a few to choose from, with each having different appearances so you can look suave during your missions. We chose 'Joshua' as he had cool facial hair and a beret.
Next, you get to choose your Falcon. Each has unique ratings for areas such as accuracy, speed and damage - so it's important to choose one that suits your playstyle, but we wanted to try a couple of them as it was the early stages of the game.
The Prologue guides you making basic manoeuvres, taking out targets, and learning how to recharge your attacks through lightning storms without meeting a fried end.
Before the real action begins, it's worth changing the settings early if, like us, you preferred the inverted flying controls where up means up and down means down. Once we were in, we couldn't help but stare at the beautiful environments in which our Falconeer was so lucky to traverse across.
After a quick dive to regain energy, and showing off a few dashes and mid-air rolls, it was time to let our trigger finger do the talking. To ease you in, there are some floating mines that need taking out.
It took us a few minutes to get use to lining up our shot and swooping back around to pick off the remaining mines, but it wasn't long before we'd eliminated all targets.
After a brief skim through the storm clouds to get energized, we had a crack at picking up mines floating on the water and dropping them on some barge targets - again, once you've had a few tries at lining up the drop, it becomes second nature.
It wasn't long before our first aerial battle commenced against some Pirate Warbirds. The lock-on and track buttons really help out in these tight situations where the opposing birds just won't keep off your back - so be sure to use these in every battle.
Similar to the likes of Ace Combat, successfully landing shots on a moving target requires you to fire at a specific target area, which appears as a small white circle ahead the target. Aiming here will keep you at the right angle and trajectory to really lay down some damage, so don't confused why your weapons aren't landing shots if you're just aiming at the enemy bird's body.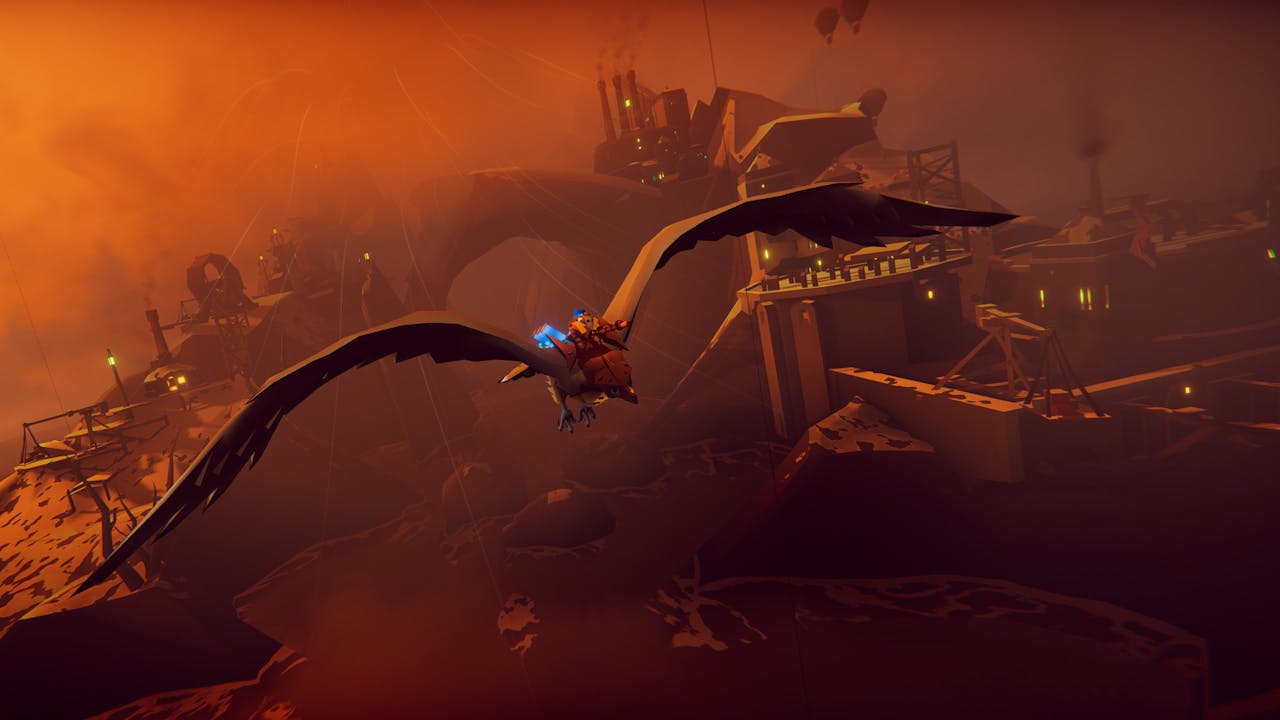 Prologue completed, we headed into Chapter One of the main campaign, transporting us to the small harbor of Dunkle - a popular locale for traders. We had the choice of two falcons during this chapter - the Falconeer and the Mercenary - each with very differing abilities.
While the Mercenary has more accuracy, the Falconeer can withstand more damage with a larger HP. After swapping between characters and fancy falcons, we embarked on the Lay of the Land mission - a small patrol assignment to take out threats in the area.
It's during this mission that we were first introduced to our trusted wingman, Freeman Serson, a charming Northern Irish-sounding chap willing to help our newbie self through what would be a action-packed level.
A nearby fortress was under attack and required our help to thwart the airborne pirate raiders... why couldn't they just be in ships on the water!
We swooped, swerved and rolled through the skies, narrowly missing flurries of bullets in an attempt to free up some space to lock onto a target. This game certainly requires your full attention and the challenge of keeping enemies in site is really engaging.
Your wingman comes in handy for more than just a bullet sponge or distraction, as you're able to target enemies for them to focus their attacks on. After disposing of some pesky flocks (Serson took out most of them to be honest) we returned back at Dunkle for a well-earned rest.
Apparently we were "instrumental" says Captain McMillan... oh stop. please!
-
PREVIEW VERDICT
We can't quite get over the fact that one man has built this beautiful game, so huge credit must go to Tomas Sala and his creative efforts in putting this project together.
With engaging flight combat and open-world gameplay that oozes Eagle Flight, StarFox and many other classic flight sim-type games, The Falconeer is certainly an enjoyable Indie title - and one that we'll be looking forward to exploring more of when the game launches on November 10th.
Pre-purchase your officially licensed The Falconeer Steam PC key from Fanatical now!
---
---
Share this post