The HOTTEST Upcoming Game Releases in September 2020
In-depth strategy titles, faithful remasters and much more are coming out over the coming month.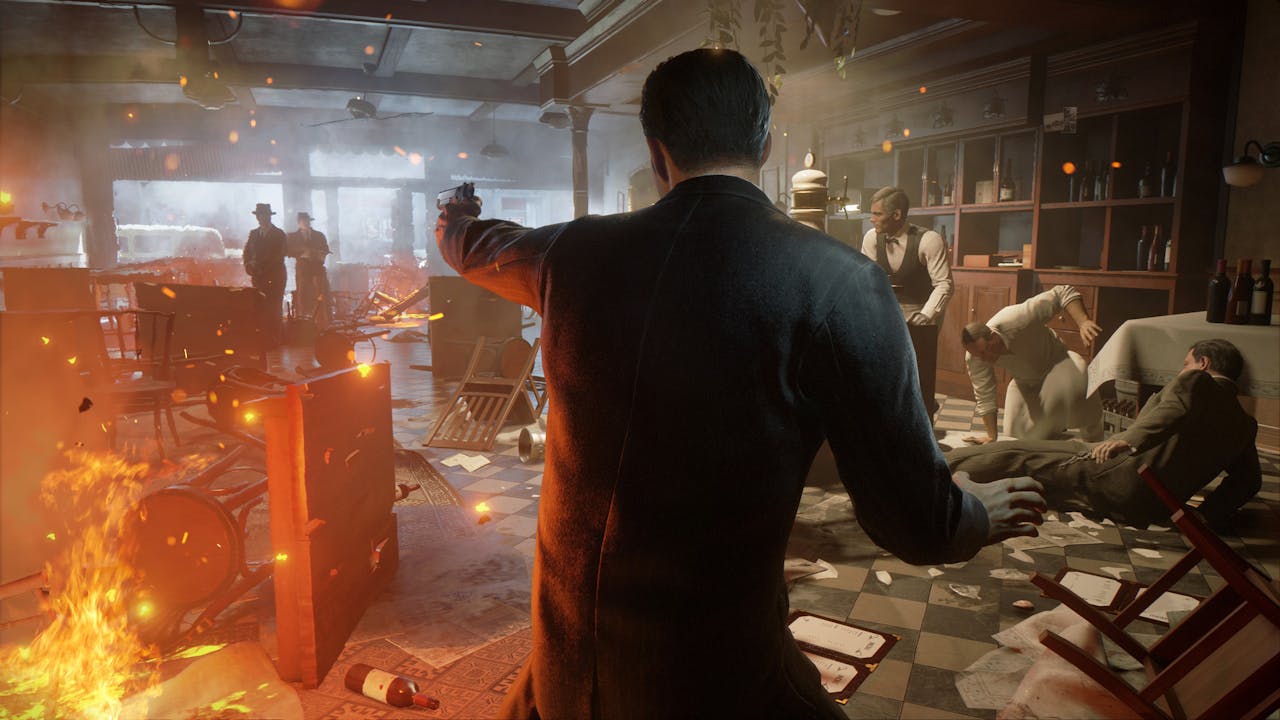 September is going to be an action-packed month of games. As we get nearer to the next gen console launches, there are still plenty of games coming out that will get you excited for the here and now!
September 1st - Crusader Kings III
Eight years after the previous Crusader Kings game. The grand strategy series is back with Crusader Kings III launching on September 1st.
Choose a royal or noble house and personalize your king to rule the way you want. You can be a violent ruler or side with religion by creating your own. All of this is in aid of you conquering a map that stretches from Iceland to India. Be careful though as the realistic gameplay will punish you if you decide to go against your nature causing stress for your king and more.
You will also have to train an heir or decide on an appropriate guardian to develop them into a worthy successor to your reign.
The game is a realistic take on Middle Age warfare as you experience Knights, peasant revolts, pilgrimages, Viking raiders and much more. It's just about warfare that you have to worry about, you can seduce other characters for political power and recruit agents to spy and murder anyone who stands in your way.
All while managing the lifestyle of your kingdom and trying to grow it. Who said being a king is easy? Paradox's take on the task is certainly not for the faint of heart with big decisions needed at every turn.
September 1st - Iron Harvest
Dieselpunk real-time strategy is coming to Steam! Set in an alternate reality 1920, Iron Harvest is a singleplayer or co-op strategy game where you have to mix tradition with technology at the end of the Great War.
Iron Harvest's story spans more than 20 missions over three campaigns. You will be in command of three diverse factions with over 40 unit types. Plus, nine heroes and their beastly companions will be joining the battle. Some may not look much of a threat, but they do big damage, others however look the real deal.
As well as the many units you will have to command, you will have to build your base to protect your production and research from getting attacked. Whilst you blast buildings to shreds. How you do that though is up to you. You could go with my favorite approach of destroying everything in sight, but if you're more patient a stealth approach is possible in the game.
If you're still not content, you can choose to play a competitive multiplayer where you try and defeat a rival in a selection of skirmish and challenge maps. Expect lots of mech-on-mech action during this with only one winner.
September 4th - Marvel's Avengers
Square Enix's take on the massive Marvel franchise is launching in the coming month. The Superhero team of Hulk, Iron-Man, Black Widow, Captain America, Thor, and a young Ms Marvel will be smashing, flying, and hammering their way to Playstation 4, Xbox One and PC, though don't expect the game to look like the MCU characters you love.
This action-adventure title is inspired by the comic books and will contain a unique story where the heroes are no longer super in the eyes of the public and instead have been outlawed. In typical Marvel style, they need to come back to save the world as a 'Mental Organism Designed only for Killing', or M.O.D.O.K for short, creates an Avengers level threat.
The game will also contain additional characters through DLC with Hawkeye already announced as part of the roster post-release. You may also have heard about the controversial decision to make the web-slinger Spider-Man a Playstation Exclusive. These, as well as the original characters, will be able to be upgraded in four key areas - Melee, Range, Defense and Heroic, as well as having special Heroic moves. The gear and upgrades will be your choice and allow you to play with each Avenger in your preferred style.
The game isn't just a single-player campaign either, you will be able to head into missions from the War Table. You can also dive into other modes, such as the four-player co-op mode War Zone, or test your skills with the shorter Drop Zone game mode.
September 4th - Tony Hawk's Pro Skater 1+2
Tony Hawk is back with remasters of the first two games. The remasters will be launching on September 4th, nearly 21 years after the original Tony Hawk's Pro Skater released on September 29th, 1999. It's also the first non-mobile game release since the disappointing Tony Hawk's Pro Skater 5 in 2015.
Developed by Vicarious Visions who made the Crash Bandicoot N. Sane Trilogy. As well as previous Tony Hawk games including the Playstation port of Pro Skater 4. They've teamed up with the original developers as they obtained Neversoft's original code in order to ensure that the level geometry is the same as the original games.
It's safe to say that they're pulling out all the tricks for this as all of the 19 levels have been reproduced up to 4K resolution and all but three songs from the original games will return, plus 37 new songs! Speaking of tricks, popular moves from later titles such as the revert, spine transfer and wall plant will feature in the games for the first time.
There are also updates to the roster with several new pro skateboarders joining in on the fun. You can now Nosegrab as the highest-paid Skateboarder in the world Nyjah Huston, plus others.
If you think you've got the skills to pay the bills then you can also create your own skater, or if you'd rather then you can create your own park.
September 8th - Kingdoms of Amalur: Re-Reckoning
Remastered with stunning new visuals and refined gameplay. Kingdoms of Amalur: Re-Reckoning takes the hit Fantasy RPG from 2012 and brings it to modern-day standards.
If you don't know about Kingdoms of Amalur: Reckoning, then it's created by New York Times bestselling author R.A. Salvatore in collaboration with Spawn creator Todd McFarlane and Elder Scrolls IV lead designer Ken Rolston. It was a star-studded development team that paid off as it sits on a 'Very Positive' review rating from over 10,000 reviews.
The game has a massive world to explore with plenty of versatility with the game showing off grim dungeons and vibrant cities. We expect Re-Reckoning to further this contrast with updated graphics.
The action blended magical and melee attacks which fit seamlessly into the story with you able to evolve your character class throughout the game. You will also be able to finish opponents off with Fateshift kills that are brutal kills not too dissimilar to the Fatalities from the Mortal Kombat series. With the customizable classes offering millions of combinations as you could mix skills, abilities, weapons and armor to your heart's content.
As for the story, you will play the first warrior ever to be resurrected from death and you'll be tasked with stopping a vicious war in a universe that has had 10,000 years of fiction! Not stopping there though, the remaster will come with all DLC from the original release to give you more than 100 hours of gameplay to enjoy.
September 24th - Serious Sam 4
The weapon-wielding, minion destroying Sam is back. Shooting is never far away when Sam "Serious" Stone is involved and the stakes will be raised in this action-packed prequel to the series.
A new engine means over 10,000 enemies will be on the screen at the same time, so if ripping through hordes is your thing then Serious Sam 4 is going to be right up your scope.
Our hero will again face off against Mental's minions, but this time there are new foes to shoot in the face. Take on the Belcher and their deadly acid vomit or shoot through the stylish orange jumpsuit wearing Processed who will run at you like the mad person that they are! As well as the memorable enemies from previous games.
Don't worry though, there's a new arsenal to help you. The auto shotgun is an… automatic… shotgun. Huh, funny that? Or level up your weapons to get the explosive lock-on rocket launcher and much more.
If you're more of a vehicle type of person then don't fret. There are motorbikes, crop dusters and other forms of transport which you can turn into your personal kill-mobile.
September 25th - Mafia: Definitive Edition
Have you ever wanted to be a mobster? Here's your next game purchase then.
After Mafia II received a Definitive Edition earlier in the year, the game that kickstarted the crime action-adventure franchise is getting a faithfully recreated Definitive Edition.
If you didn't play Mafia back in 2002 then let me catch you up. You are Tommy Angelo, a hardworking cab driver in the American city of Lost Heaven circa 1930. However, driving cabs gets a bit boring and the allure of money becomes too strong when a meeting with an Italian mob boss puts you into a crime war between two families.
In the game, you drive and shoot your way through the levels in an open-world map filled with classic cars and dynamic weather and time systems. Think of it being a bit like a 1930s Grand Theft Auto with some changes to the police and missions taking place at set times.
Take Two are bringing the classic up-to-date with amazing 4K graphics that just looks amazing and will be well worth owning a high-end PC for.
This isn't just a straight port with updated graphics though, there's a new score and lifelike cutscenes that will bring a whole new immersion to the 1930s organized crime game. Plus, the gameplay has been updated as you can ride motorcycles for the first time in a larger Lost Heaven map.
Also new to the Definitive Edition will be collectables which will add more things to do for the completionists amongst us, but with an 88 Metascore on the original PC version, this is never a bad thing!
September 30th - Baldur's Gate 3
Baldur's Gate returns and Divinity: Original Sin 2's creators are promising a next-gen, party-based RPG experience with the new Divinity 4.0 engine. This will bring more detail to the world than previous games in the Baldur's Gate series.
The plot in Baldur's Gate 3 is an original Dungeons & Dragons story focusing on a mysterious ability awakening inside of your character from a Mind Flayer parasite. This will be reactive to decisions as you can choose to turn against the darkness, or embrace corruption and become the ultimate evil.
Apart from your character's struggles, you will be caught in the middle of a conflict between devils, deities, and otherworldly forces and your actions will determine the fate of the Forgotten Realms.
If you prefer playing with friends than having a single-player experience then you can combine your forces with up to four-player online multiplayer to get a jump on your enemies within the Forgotten Realms. You can also split up and follow your individual quests within the same game.
As for the combat, it's based upon the D&D 5th edition rule set. You will make choices in turn-based moves where you can pause the world to plan your next move. The game uses roll modifiers, combat cameras, expanded environmental interactions, and a new fluidity in combat that makes strategy the number one priority in this RPG.
The Early Access period will originally launch with Act 1 which promises to be 3 times larger than Divinity: Original Sin 2's first act. According to the developers, this will be approximately 25 hours of self-contained content with 6 player classes supported and 5 origin characters to recruit.
There's currently no date for the game coming out of Early Access, but it's been stated by Larian Studios that it will be at least one year before the release of 1.0.
---
---
Share this post